Detailed PESTEL Analysis of McDonald's
EdrawMax's PESTLE Analysis of McDonald's examines the various external factors like political, economic, social, technological (PEST) which impacts this fast food giant.
1. Lead-in
McDonald's is one of the restaurant chains with a name and tagline recognized worldwide. Their tagline, "I'm Lovin' It," is well known to customers all over the globe. Its high sales and loyal customer base have helped them to cement its position as one of the brands with high brand value. Certain external factors can work on the present status of their business.
A thorough PESTEL Analysis of McDonald's can show how political, economic, social, technological, environmental, and legal factors can impact their business and sales numbers. The PESTEL Analysis of McDonald's can also give an idea about their potential for future growth. In this article, we will help you understand McDonald's PESTEL analysis and how you can use EdrawMax to create professional-looking analysis diagrams.
2. About McDonald
2.1 Introduction of McDonald
McDonald's is one of the dominating fast food chains that have customers all around the world. They serve in more than 119 countries and have 37,855 outlets (2018). They were noted for having the ninth-highest global brand value in 2020. Though McDonald's is one of the top fast-food restaurant chains, multiple macro factors can impact their business. An objective PESTEL analysis can be beneficial to get an idea about their future potential. For a proper PESTEL Analysis of McDonald's, it is significant to know the basic information about McDonald's. Here are some basic details about the brand:
2.2 Overview of McDonald's
| | |
| --- | --- |
| Company Name | McDonald's Corporation |
| CEO | McDonald's Corporation |
| Company type | Fast Food restaurant |
| Year founded | 15 May 1940 |
| Number of employees | Approximately 200,000 (in 2021) |
| Annual revenue | US$ 23.24B (in 2022) |
| Founder | Richard and Maurice McDonald Ray Kroc |
| Area Served | Worldwide |
| Headquarters | Chicago, Illinois |
| Operating Income | US$10.356 billion (2021) |
3. McDonald Pestel Analysis
The America-based fast food chain is recognized worldwide and has a strong brand image. They serve more than 69 million customers worldwide, leading them to become one of the largest restaurant chains in terms of revenue. A detailed PESTEL Analysis of McDonald's can show how multiple external factors have contributed to its present status. It will also give an insight into their future growth and threats.
Political Factors:
The governments of multiple countries have eyes on the fast food chains for the safety of people. Hence, if they disregard the government policies regarding food safety, there are chances that they will be banned. Even though McDonald's is a leading fast food chain, it can get impacted by multiple political factors:
The political relationship between two countries can impact the business of the companies that serve on multiple continents. For example, Iran has banned McDonald's due to its unfriendly political relationship with America. Bermuda stopped the business of McDonald's because of its policies regarding fast food. McDonald's closed their business in Russia after Russia attacked Ukraine.
The trade laws, taxation rules, and policies regarding foreign investment can impact the business of fast food chains like McDonald's. Apart from that, the health policies of countries may have an impact on the business of McDonald's. Many countries have strict laws regarding food safety, which is difficult for McDonald's to comply with, thus, creating a hurdle for the brand.
The political stability of a country is favorable for a business, and any significant political change and turmoil can negatively impact the business of McDonald's. As the company has a global presence, its business can get severely affected due to such conditions.
Economic Factors:
Though McDonald's is a US-based food chain, its customers are all over the globe. Therefore, their success is not solely dependent on the economic condition of the USA but on the other countries they serve. Here is how multiple economic factors can work on the business of McDonald's -
After the 2008 recession, the business of McDonald's received a blow during the pandemic. Like most other businesses, the fast food chain had to slow down due to the lack of customers visiting the stores due to the lockdown. Their global sales decreased by 22% during the pandemic. As a part of precaution, they also had to work with a lesser number of employees, limiting their production.
Though McDonald's is known to be the second largest private employer, its turnover rate is also high. They hire and lose employees regularly. Thus, they have the tagline, "McDonald's is always hiring." However, as they frequently employ workers, this can be good news for economies with high unemployment rates.
The company may influence the economic condition of the area they operate. The tariff and trade conditions can increase production costs, leaving them with a low-profit margin.
Socio-cultural factors:
The seller's buying habits and preferences heavily depend on society with its culture. There are social trends that can increase or decrease the sales of some items. Here are some socio-cultural conditions that can impact the growth of McDonald's -
The number of health-conscious people is increasing. Therefore, there is a tendency to avoid sugary and oily foods. McDonald's fast-food chain cannot keep up with the demand for healthy food, making them less desirable to many customers. However, McDonald's has added protein smoothies and low-calorific alternatives to sugary drinks to their menu.
The demand for healthy food is increasing, and people are looking for ready-to-serve foods that are less in calories and high in proteins. Besides their regular menu, McDonald's can add food and drinks that are less sugary and less oily.
As a global business, McDonald's has considered the palette of the people they serve. The items like burgers and fries are not in much demand in countries with a local cuisine different from the USA. McDonald's has added special items to their menu To earn revenue in countries like Canada and Japan. It is costly and may leave the company with a lesser profit.
Technological factors:
Though McDonald's is not entirely dependent on its online sales, they rely on technology. Almost all businesses are trying to reach more customers and potential customers using the internet. McDonald's can also take the help of advanced technologies to expand their business.
McDonald's already has a strong brand image. However, they use multiple social media platforms to garner the attention of their customers. They are very active on social media and post offers regularly. It will give them an upper hand against their competitors.
McDonald's can use advanced technology to create a smooth and strong connection with its supply chain. It will help them decrease their waste. Moreover, they will get the items on time.
The brand can improve its online platforms, which they use for taking orders, to improve customer experience. They can invest in AI-based technologies to offer better customer support. They can also add loyalty points to people using their website to increase the number of returning customers.
Environmental factors:
Most businesses are paying attention to their strategies and activities to create sustainable changes to decrease the harmful effects on nature. McDonald's can also make some eco-friendly changes to strengthen its brand image.
Most businesses are paying attention to their strategies and activities to create sustainable changes to decrease the harmful effects on nature. McDonald's can also make some eco-friendly changes to strengthen its brand image.
The company has more than 37000 outlets. They can switch to renewable power sources like solar energy to decrease the use of non-renewable power sources.
Since McDonald's is a brand that has an enormous customer base and has the power to reach a massive number of people in a short time, they can plan campaigns to save nature, decrease the use of plastics, etcetera.
Legal factors:
A business can smoothly get impacted by government rules and regulations. Thus, it must try to abide by the laws of the country they serve to avoid its business getting banned. McDonald's is a dominating name among the fast food chains, but there can be some legal factors that can impact their business:
The governments of operating countries have different taxation and tariffs, which the company must take care of to sustain in the market. They should follow the trade laws to avoid legal consequences.
Fast food chains must comply with food safety laws in every country. The countries' animal welfare regulations can threaten McDonald's growth because they have meat dishes on the menu.
The nation's labor laws also decide on the minimum wage. Some countries have increased the minimum wage rate, often decreasing the brand's profit margin.
4. How to Do a PESTEL Analysis in EdrawMax
If you are using the offline version of EdrawMax, open the tool in your system. If you wish to access remote files, head to https://www.edrawmax.com/online/ and log in using your registered email address. If this is your first time using the tool, you can register with your personal or professional email address. Go to 'Marketing' diagrams under Business diagram type and click on 'PEST Analysis.'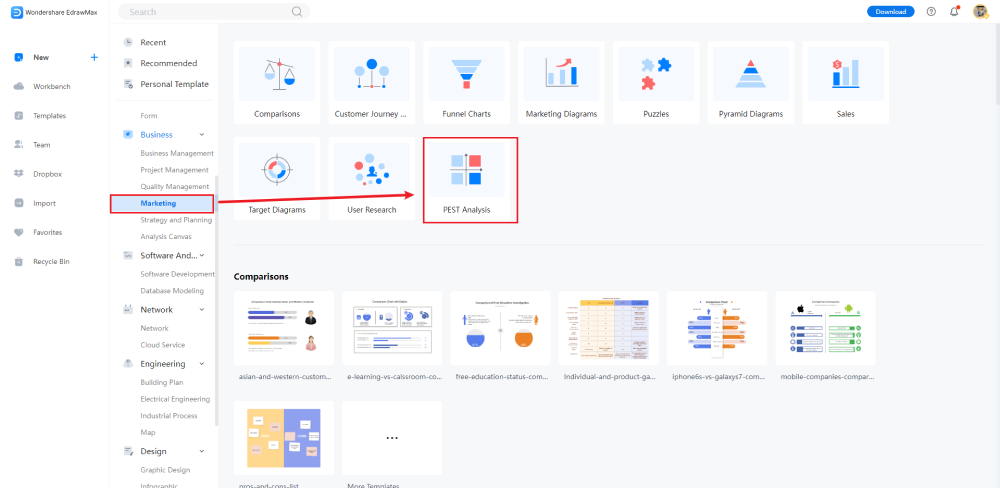 Step - 2: Template Selection
EdrawMax has thousands of free templates. Head to the Template section on the left and type 'PESTEL Analysis' to see all the pre-built PESTEL Analysis templates like Netflix PESTEL Analysis, Amazon PESTEL Analysis, IKEA PESTEL Analysis, and more. Check the template that resonates closely with your business model. Click on 'Use Immediately' to import the template's contents to the EdrawMax canvas. You can start customizing the PESTEL analysis diagram as per your requirements. If you want to draw the PESTEL analysis diagram from scratch, you can click '+.' It will open up the user-friendly canvas of EdrawMax that has several features that ease your efforts in making PESTEL analysis diagrams.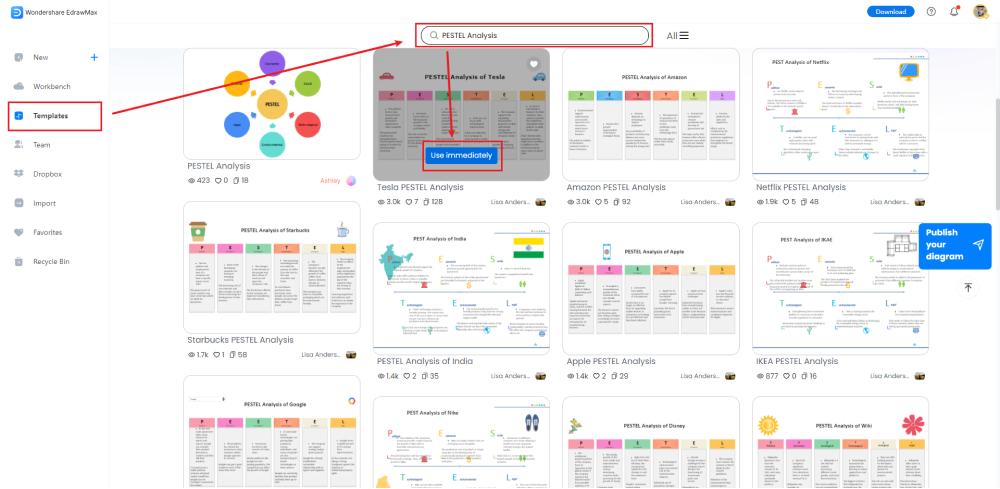 Step - 3: Add Textual Information
PESTEL Analysis diagram requires you to add Political, Economic, Sociological, Technological, Legal, and Environmental content so that the reader will understand what influences an organization. Use the PEST symbols from the left side and add the content to your PESTEL analysis diagram.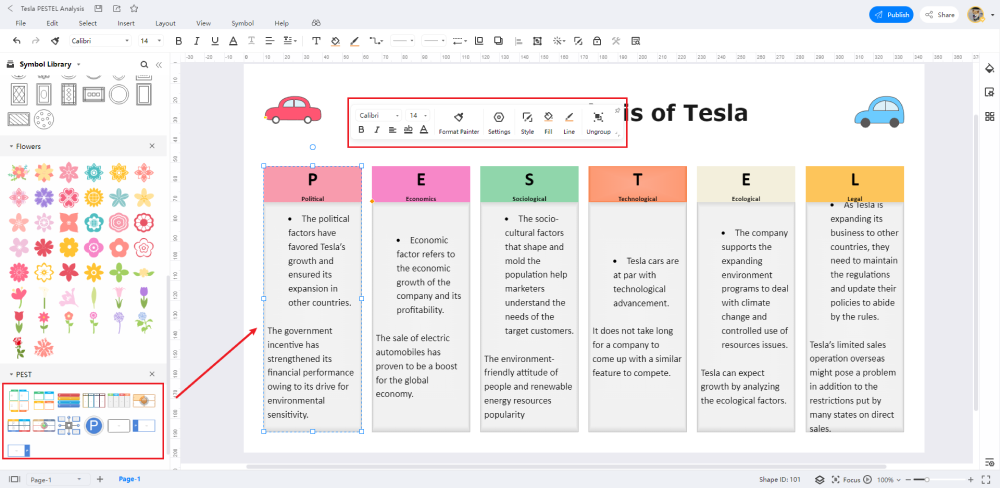 EdrawMax gives you ample options to customize your PESTEL Analysis diagram. From changing the background to adding content, you can customize the diagram in any way you desire. In addition to this, you can go ahead and change the background color, modify the text, add hyperlinks, add multiple pages, add images, and even add vector-enabled texts to your PESTEL analysis diagram.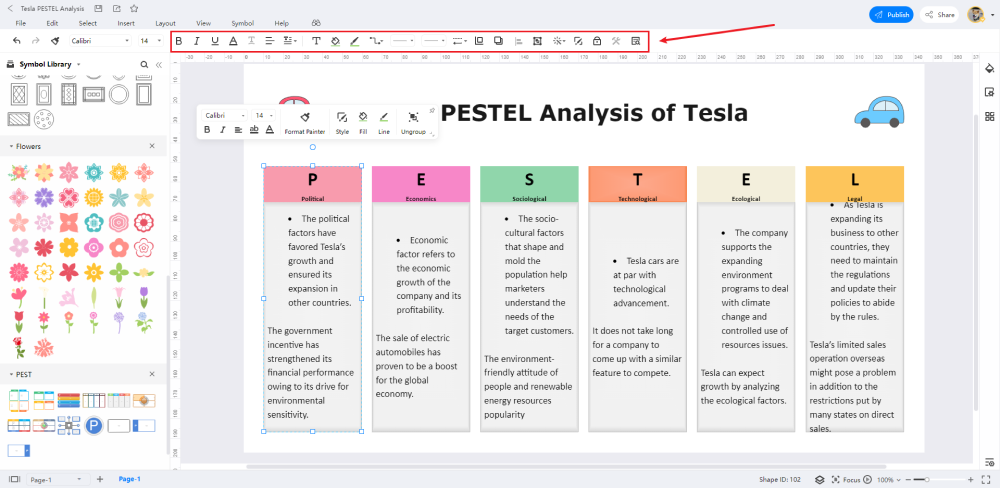 Once satisfied with your PESTEL Analysis diagram, you can export it into multiple formats, including Microsoft, JPEG, PNG, Visio, HTML, and more. EdrawMax lets you share your PESTEL Analysis diagram on social media platforms, like Facebook, Twitter, Line, etc.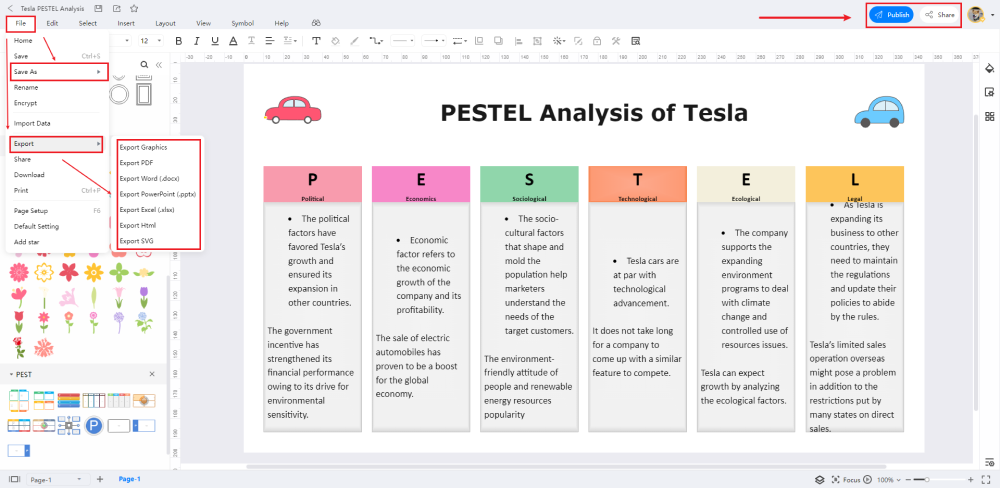 EdrawMax Online
Create 280+ types of diagrams online
Access diagrams anywhere, anytime
Everything in desktop + Templates Community
Team management and collaboration
Personal Cloud and Dropbox Integration
5. Key Takeaways
McDonald's is one of the top fast food chain businesses dominating the global market. They have a heavy-franchised business model with a massive portion of their profit from their franchised restaurants. Therefore, we need to have control over the franchised restaurants to serve quality food. Some new players are entering the competitive market, which may impact the company's business. They can add healthy dishes to their menu, which will interest many health-conscious individuals.
When it comes to creating PESTEL Analysis diagrams, EdrawMax is your go-to tool. This PESTEL Analysis diagram creator comes with so many customization options that no two PESTEL Analysis diagrams would look the same. Download EdrawMax today and start working on different PESTEL Analysis diagrams of your choice or head to EdrawMax Online if looking to work remotely.
Reference
Companiesmarketcap.com. 2022. McDonald (MCD) - Revenue. , [online] Available at: https://companiesmarketcap.com/mcdonald/revenue/ (Accessed 29 August 2022).

Team, M., 2022. McDonald PESTLE Analysis | MBA Skool., [online] MBA Skool. Available at: https://www.mbaskool.com/pestle-analysis/companies/17958-mcdonalds.html (Accessed 29 August 2022).
Related Articles