Flowcharts made
easy, AI-Powered and
Hassle-Free.
Let EdrawMax AI-powered tool guide you to flowchart perfection.
Available for:






All download >>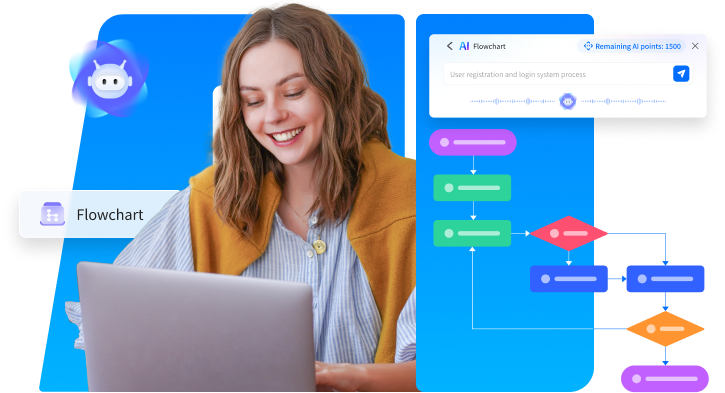 Efficient flowcharting with AI.
EdrawMax AI Flowchart feature turns your ideas into stunning
flowcharts with just one command.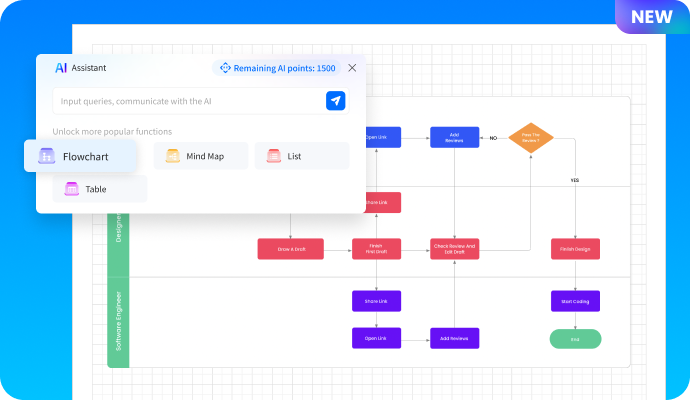 Why EdrawMax to Draw Your Flowchat?
More Features

Notes
Write down all your thoughts.

Visio File
EdrawMax enables you to open all the Visio
files and operate by our tool; then, you can
export the Visio file as well.

Search Accuracy
Find the symbols and icons you need in no
time.

Presentation
Use the presentation mode and always be
presentation-ready.

Smart layout
The shapes and connectors change
accordingly with simple clicks.

Security
Your privacy is 100% protected with the
highest level of SSL encryption.
How to Create a Flowchart in EdrawMax?
More Than A Flowchat Generator
FAQs About Our EdrawMax Flowchart Maker
Communication & Co-ordination Effortlessly

You don't have to pay. You are free to create custom flowcharts. Create your first flowchart in EdrawMax, and we are confident that you will love it!

Can I create the flowchart online?

EdrawMax support Visio® files in VSDX and VSD format. You can edit Visio® files in EdrawMax using its robust features.

Are the flowchart completely customizable in EdrawMax?

EdrawMax allows you to view and edit Visio® files online for free. The free version enables you to import up to 5 Visio files and edit the 3 most recent ones, while the paid version allows you to enjoy all editing capabilities with no limitations.
All-in-one Diagramming Tool
EdrawMax is committed to optimizing features to satisfy your needs continually, and further builds powerful all-in-one diagramming tool over the world. Just try it, you will love it!