Nestle SWOT Analysis
Check out the SWOT Analysis of Nestle by EdrawMax that includes its strengths, shortcomings, opportunities, and dangers in depth.
1. Lead-in
SWOT analysis is a tool widely used by brands to identify their strengths and weaknesses and strategize their future steps after identifying the threats and opportunities. Nestle is one of the largest brands and operates in 186 countries. They have a loyal customer base and experienced employees, which have helped them achieve the leading position in the packaged food market. However, the firm needs proper strategies to survive in this highly competitive field.
SWOT analysis of Nestle can show its strengths and weaknesses that have contributed to its present market position. You can also get an overview of their future opportunities and threats using the SWOT analysis of Nestle. In this article, we will help you understand how easy it is to retain the information of any company by creating its SWOT analysis using the amazing elements offered by EdrawMax Online.
2. About Nestle
2.1 Introduction of Nestle
Nestle is one of the world's top nutrition and healthcare brands. The Switzerland-based company has more than 2000 small brands under its name. The brand started its journey as a merged form of Nestlé and Anglo-Swiss Milk Company. Today, they produce multiple products like milk, beverages, pet care, chocolate, confectionery, etcetera. The company generates more than $11 billion in revenue on a day. Well, this shows its massive presence in the packaged food market.
SWOT analysis of Nestle can analyze the internal factors like strengths and weaknesses to improve their business. The company can plan to avail of opportunities and cushion its threats based on the SWOT analysis for Nestle. It is significant to have a look at the basic details of the brand to do a detailed SWOT analysis of Nestle:
2.2 Overview of Nestle
| | |
| --- | --- |
| Name | Nestlé S.A. |
| Founded | 1866 |
| Logo | |
| Industries Served | Packaged Food and Beverages |
| Geographic area served | Worldwide |
| Headquarters | Vevey, Vaud, Switzerland |
| Current CEO | Ulf Mark Schneider |
| Revenue (Swiss Franc) | 87.088 billion (in 2021) |
| Profit (Swiss Franc) | 16.9 billion (in 2021) |
| Employees | 276,000 |
| Main competitors | ConAgra Foods, Kraft Foods Group, The Kellogg Company, Monster Beverage Corporation |
2.3 History of Nestle
| | |
| --- | --- |
| 1866 | Anglo-Swiss Condensed Milk Company was established. |
| 1867 | Henri Nestlé starts selling 'farine lactée.' |
| 1905 | Nestlé and Anglo-Swiss Condensed Milk company merger. |
| 1938 | Nescafé was launched. |
| 1948 | Nestea and Nesquik were launched. |
| 1971 | They merged with Ursina-Franck. |
| 1993 | Nestlé Sources Internationales was created. |
| 2014: | Cailler, the super-premium chocolate brand, was launched globally |
| 2020 | Acquisition of Zenpep, Vital Proteins, and they launched Zero Roadmap |
3. SWOT Analysis of Nestle
Strengths
Diverse Portfolio: Nestle is the core brand, with more than $10 billion in brand value. They have a diverse portfolio and own more than 2000 brands selling over 8000 categories of products. Their product list includes pet care, instant beverages, healthcare, milk products, cooking aid, confectionery, water, and many more. Thus, they have successfully served the demand of a massive number of customers across the globe.
Worldwide presence: Nestle is a leading name in the packaged food market. They have customers in more than 186 countries. The brand has the largest market in America, and they have successfully penetrated large markets like Asia, Europe, the Middle East, and Sub-Saharan Africa. In Forbes Global 2000 list 2022, they were ranked at the 46th position, which identifies them as one of the largest companies in the world.
Relationship with customers and other brands: Nestle has a positive brand image which leads them to garner a loyal customer base. Their customer relationship has helped them survive the highly competitive packaged food market. They also have good relationships with retailers and powerful brands like Coca-Cola, Colgate Palmolive, General Mills, etcetera.
Efficient employees: Over the years, Nestle has got a group of efficient employees to work for the company's success. They have a smooth supply chain that allows them to continue their business internationally. Their research and development department has more than 5000 experienced employees working in 21 R&D centers to provide customers with high-quality products.
Weaknesses
Organizational Structure: Nestle's organizational structure is product base, making it difficult for the management to have absolute control over the quality of products and services. There is no geographical area-based separation, which may cause delays in decision-making. In the long run, this can create backlogs, creating hurdles for Nestle to grow.
Limited advertising efforts:Nestle makes fewer efforts in marketing and instructions regarding its products. The brand depends heavily on traditional modes of advertising like print ads and TV ads. For this, they allot a high budget while risks are associated with the return.
Over-dependence on some products: Nestle depends on a few products to generate a massive portion of its revenue. Thus, making them vulnerable to the change in people's tastes. For example, their Carnation milk does not match the modern lifestyle. They are not considering the market demand and tailoring their portfolio based on customer preferences.
Social controversies: Though Nestle is a company that has experience operating for more than 150 years, some scandals have impacted their business. Their brand image got tainted regarding the issues like privatization of water, problematic labeling, and lawsuit regarding chocolate production. After Maggi failed a lab test in India, their business received a severe blow. Although Nestle claimed zero MSG, the lab tests found lead in the products. A massive section of Indian customers stopped consuming Maggi following this.
Opportunities
Online Retail Business: Since Nestle is an enormous organization with a wide geographic area to serve, they must categorize their business in terms of locality for quality control. However, they can concentrate on online business, which will help them increase their revenue. Nestle has online stores in some countries and can tie with online retail stores to sell their products in other countries. It will allow them to reach more customers and will increase their sales.
Use of Social Media: Nestle is a global brand. Therefore, they can use social media to promote their products worldwide. Since a massive group of people spends a significant portion of their time on the internet, social media marketing can be a handy tool to reach more people without investing much money.
Diversify the Health-based products: Many customers prefer instant beverages like coffee and tea. Nestle can do thorough market research and bring on new flavors that are high in demand. As many people are interested in consuming healthy products, they can add diversities to increase sales. They can also be transparent about their source of raw materials to win customer trust.
Lifestyle changes: Though the social controversies have sometimes impacted the business of Nestle, their brand recognition still favors their business. As lifestyle change is occurring worldwide, there are chances of their growth as well. People have a fast-paced life, thus, increasing their dependency on packaged products. The lack of time and adequate money in some economies is causing the popularity of Nestle.
Threats
Product quality: In the past, Nestle's product quality was questioned and sometimes failed in quality tests. It caused Nestle to lose many customers. Many potential customers are still hesitant to buy Nestle products.
Rising Competition: Since the demand for packaged food and beverages is increasing, many brands are entering the market. The number of local and international companies in the market is rising daily. It enhances the risk of losing customers.
Economic condition: The economic condition of the world is still improving after it got impacted by the pandemic situation. Conditions like unemployment can affect people's buying habits. They may switch to necessary yet less expensive products. It can decrease the sales of a few Nestle products, showing an overall decline in sales.
Government policies and taxation: In some countries, tax amounts are high. It can decrease the brand's profit margin. Due to government policies, trade laws, and labor laws, the production cost can also increase, leaving a low-profit margin for the company.
Nestle SWOT Analysis Diagram
As you have seen here, the organization's SWOT analysis helps us understand its multiple opportunities and threats and how it can utilize its strengths and overcome its weaknesses. In order to understand the SWOT analysis better, we will create a Nestle SWOT analysis diagram using the free templates and components offered by EdrawMax.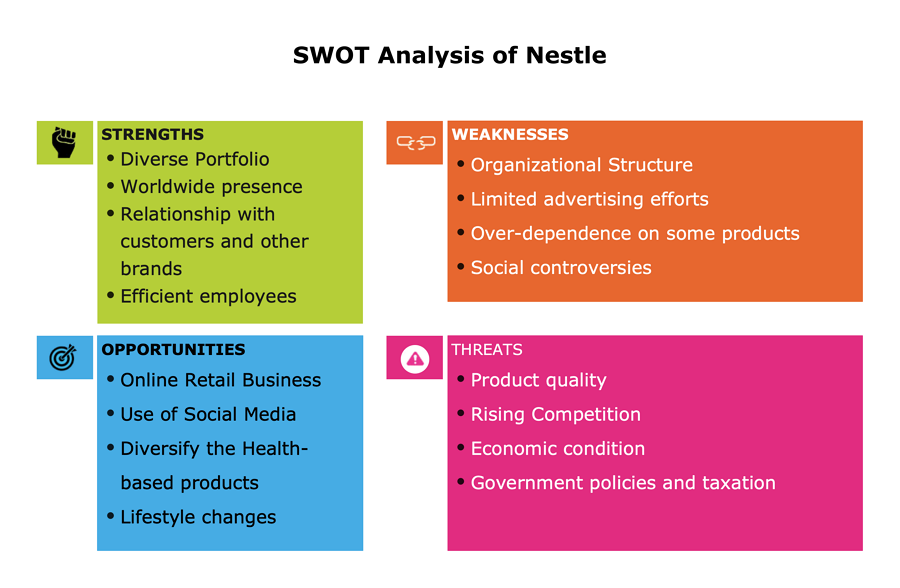 4. Free SWOT Analysis Diagram Creator
With SWOT analysis creators, you can create similar SWOT analysis diagrams without worrying about technicalities. EdrawMax offers a wide range of customization options that helps in creating complex diagrams. Check out some of the most amazing features of this SWOT analysis creator:
With EdrawMax's template community, you can easily create a SWOT analysis, PESTEL analysis, Venn Diagram, and more in one canvas.
This free SWOT analysis diagram creator is designed by professional experts. So when you work on the design and customization parts, you do not have to worry about accuracy.
EdrawMax has an online version allowing you to access your files from anywhere.
Unlike other tools that take up much space on your system, this free SWOT analysis diagram creator is very user-friendly for your system.
The amazing feature or element of using EdrawMax is that it is free to use.
With this free SWOT analysis diagram creator, you can export the file in multiple formats depending upon your requirement.
EdrawMax Online
Create 280+ types of diagrams online
Access diagrams anywhere, anytime
Everything in desktop + Templates Community
Team management and collaboration
Personal Cloud and Dropbox Integration
5. Key Takeaways
Nestle is a brand that has customers scattered all over the world. They have successfully penetrated multiple large markets with their market presence and resources. Their diverse portfolio has made them popular with fans. The SWOT analysis of Nestle hints that they need to work on its organizational structure to control the food quality. It will allow them to improve their brand image, which got dusted due to a few controversies. They can strategize their future investment after doing market research to know customers' preferred changes.
As you saw in this detailed guide to understanding the SWOT analysis diagrams, EdrawMax Online is an all-in-one diagramming tool that offers a wide range of online resources, templates, symbols, and other important elements that helps in creating wonderful SWOT analysis diagrams. Download EdrawMax today and create Nestle SWOT Analysis and share it with your friends and colleagues.
Reference
Jurevicius, O., 2022. Nestle SWOT Analysis 2022 - SM Insight., [online]. Available at: https://strategicmanagementinsight.com/swot-analyses/nestle-swot-analysis/ (Accessed 7 September 2022).

Parker, B., 2022. Nestle SWOT Analysis 2022 | SWOT Analysis of Nestle., [online]. Available at: https://bstrategyhub.com/nestle-swot-analysis-2019-swot-analysis-of-nestle/ (Accessed 7 September 2022).
Related Articles