Free Editable Family Tree Clipart
Most of the time, for professional and learning purposes, we prioritize a family tree diagram rather than making family tree clip art. There can be hundreds of reasons why we prefer family tree hierarchical diagrams. But, in this article, we will talk all about family tree clipart; what is it? Why we make it, its importance, and how to create one. We will also tell you the trending and most-desired tool for diagram-making, which you can use to make a beautiful family tree clipart for your children and loved ones.
1. What is Family Tree Clipart?
A family tree shows us a family's lineage extended from a particular ancestor. The diagram tells us the relationship between each family member in the diagram and how far they are from an ancestor. A family tree clipart is also a diagram made with the help of the family tree hierarchy with some art.
To make the diagram more attractive, we add graphics, colors, trees, and appealing fonts to the hierarchical chart, so it can easily be understood by the people who find themselves in difficulty understanding hierarchies.
Especially in the case of children, parents or teachers find it a most challenging task to make children understand the family lineage. For these reasons, it is highly recommended that parents and teachers use a family tree clipart to complete the work easier for the children.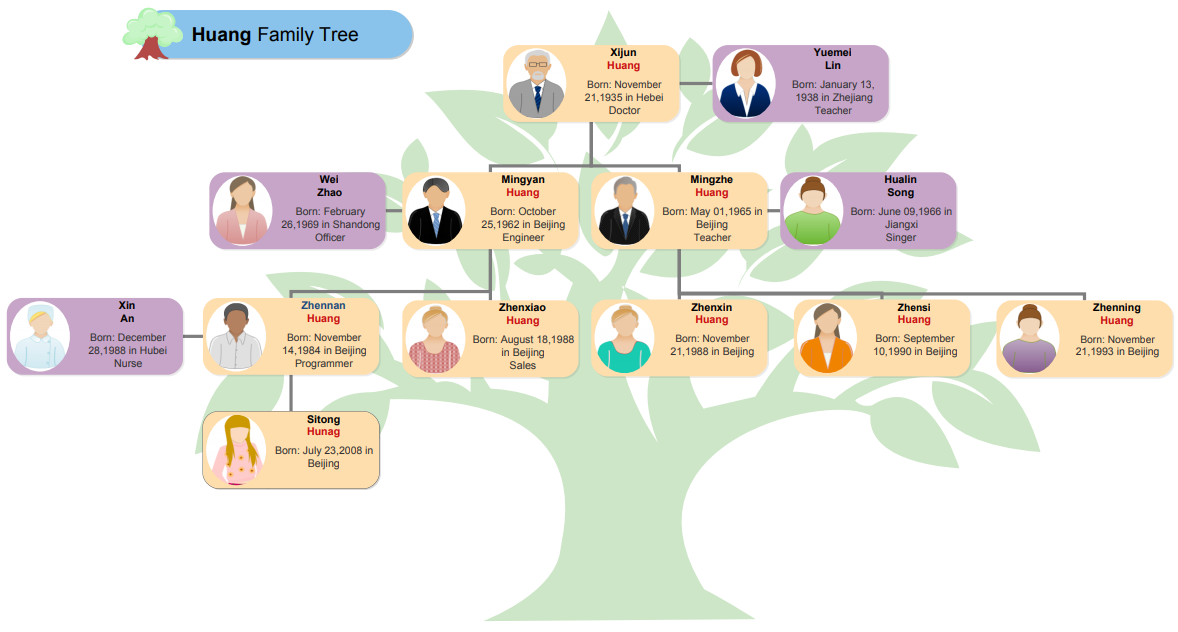 Click on the image to edit. Source: EdrawMax Online
Benefits of Using Family Tree Clipart
There are many benefits of family tree clipart, but some are listed below.
You can make a family tree clipart for yourselves that includes a complete lineage of your loved ones and for memories.
You can also make a family tree clipart for record purposes.
A family tree clipart can be made for kindergarten children to make them know about their family.
To make your old family members happy, you can give them a beautiful family tree clipart.
2. Collection of Family Tree Cliparts
We have gathered some examples to make your concept clearer about the family tree clipart. You can analyze them and take ideas from them.
Example 1: Family Tree 5 Members Clipart
You can take ideas from here and can make them for any purpose. For example, in this diagram, a family tree clipart is made in which a critical concept is given about how the family financial traits are passed to the coming generation. Indeed, if the grandparents never understood the importance of financial freedom and investing, then their children and grandchildren can face a colossal figure drawback. It is a perfect example of a five-member family tree clipart.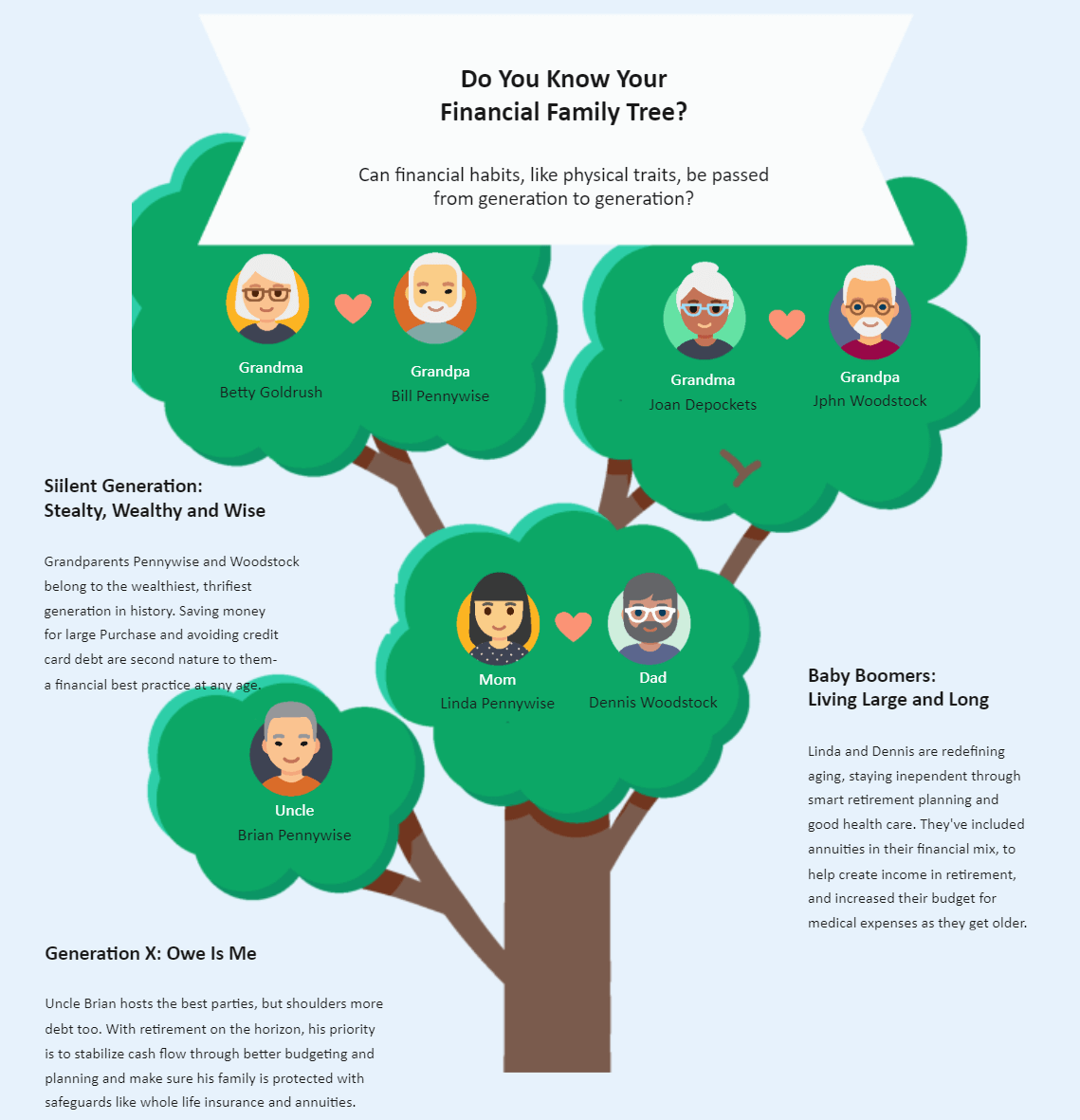 Example 2: Blank Family Tree Clipart
You can use this blank family clipart for different purposes. If you are a teacher, you can use it as a template for the next activity in which you plan to make children understand their family lineage. As a parent, you can make this type of template for your children. You can paste pictures of your family members on the blank boxes. On the root box, you will insert the image of your grandparent, and in leaves, you can insert the pictures of children.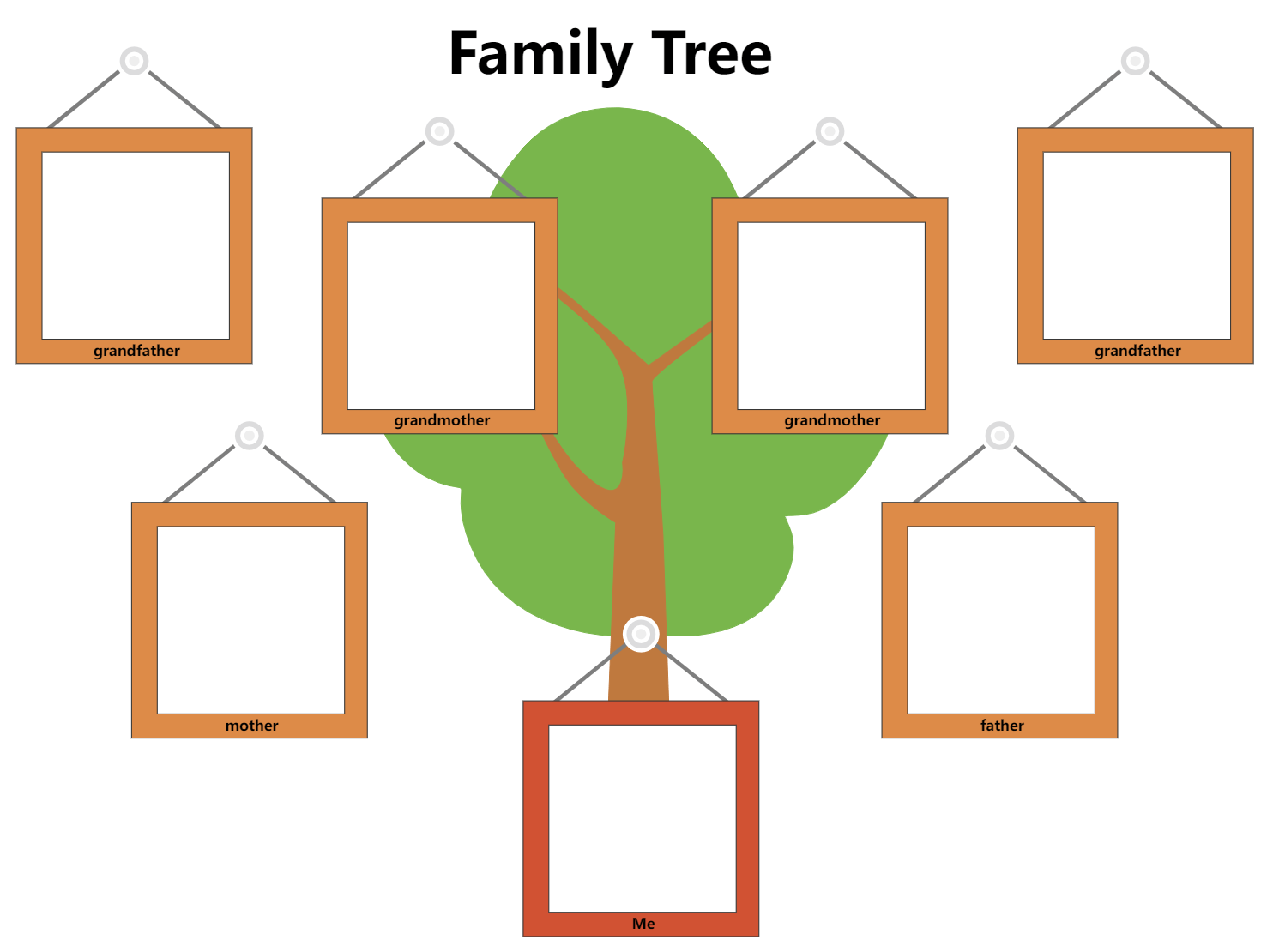 Example 3: Family Tree Clipart Black and White
It is the best practical example of black and white family tree clipart. The diagram can be used for any purpose and filled in multiple ways. It will give a unique look and make your chart more appealing than others. The best part of this clipart is that it also includes a rectangular box below, in which you can insert the surname of the family. You can insert the pictures of each family member in the black circles, and after inserting, you can use it as an activity for your children, a gift for your loved one, and yourself.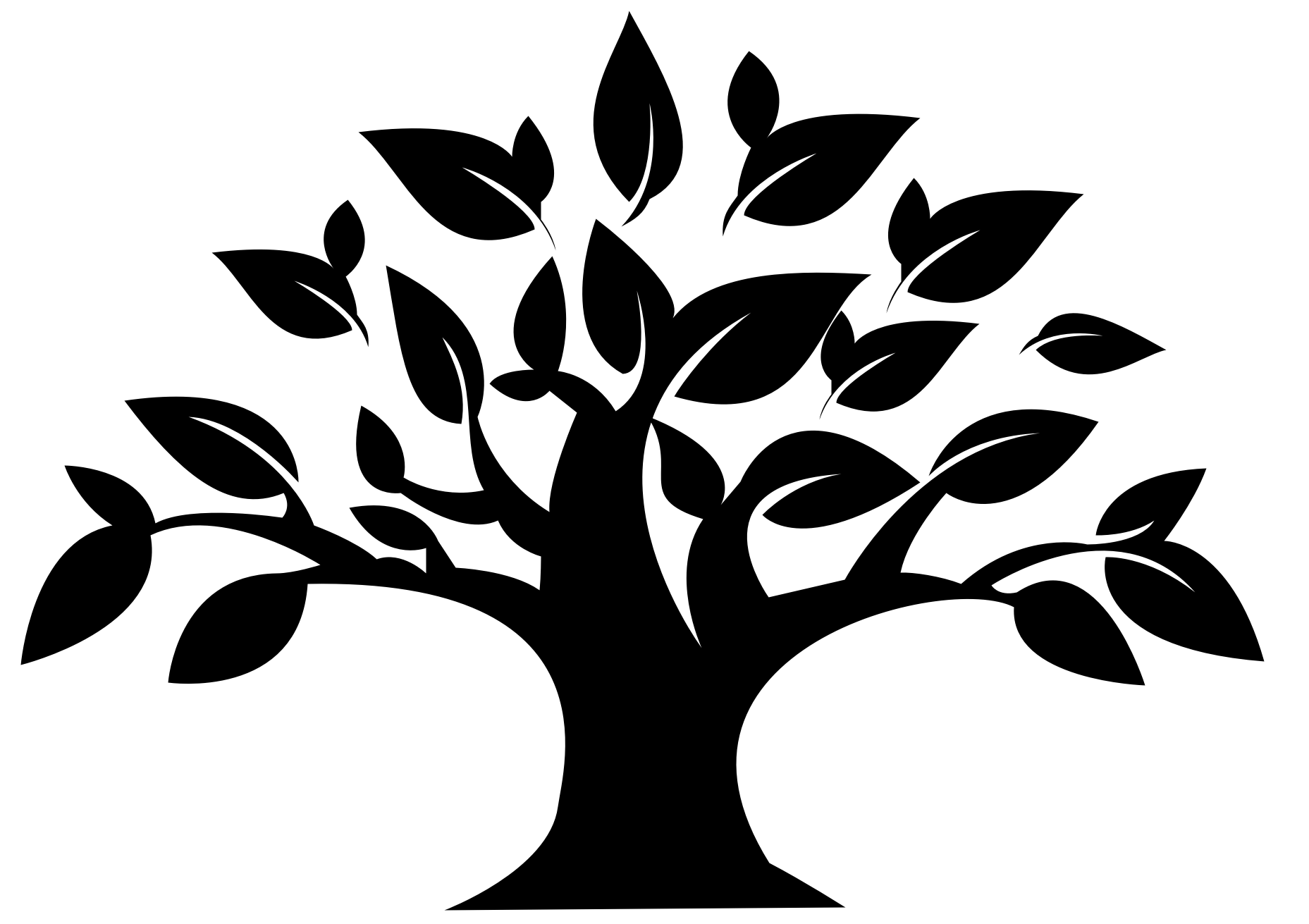 Example 4: My Family Tree Clipart
If your family is enormous, and every member does not fit in the tree, you can still make the family tree clipart like this way. You can take an idea from this my family tree clipart that how the boxes are arranged and connected with arrows with the correct lineage. With pictures, you can also insert information like eye color, age, gender, relation with other entities, achievements, etc. A hierarchy is not included in this clipart, so it is not the rule that you will consist of hierarchy when it comes to family tree clipart.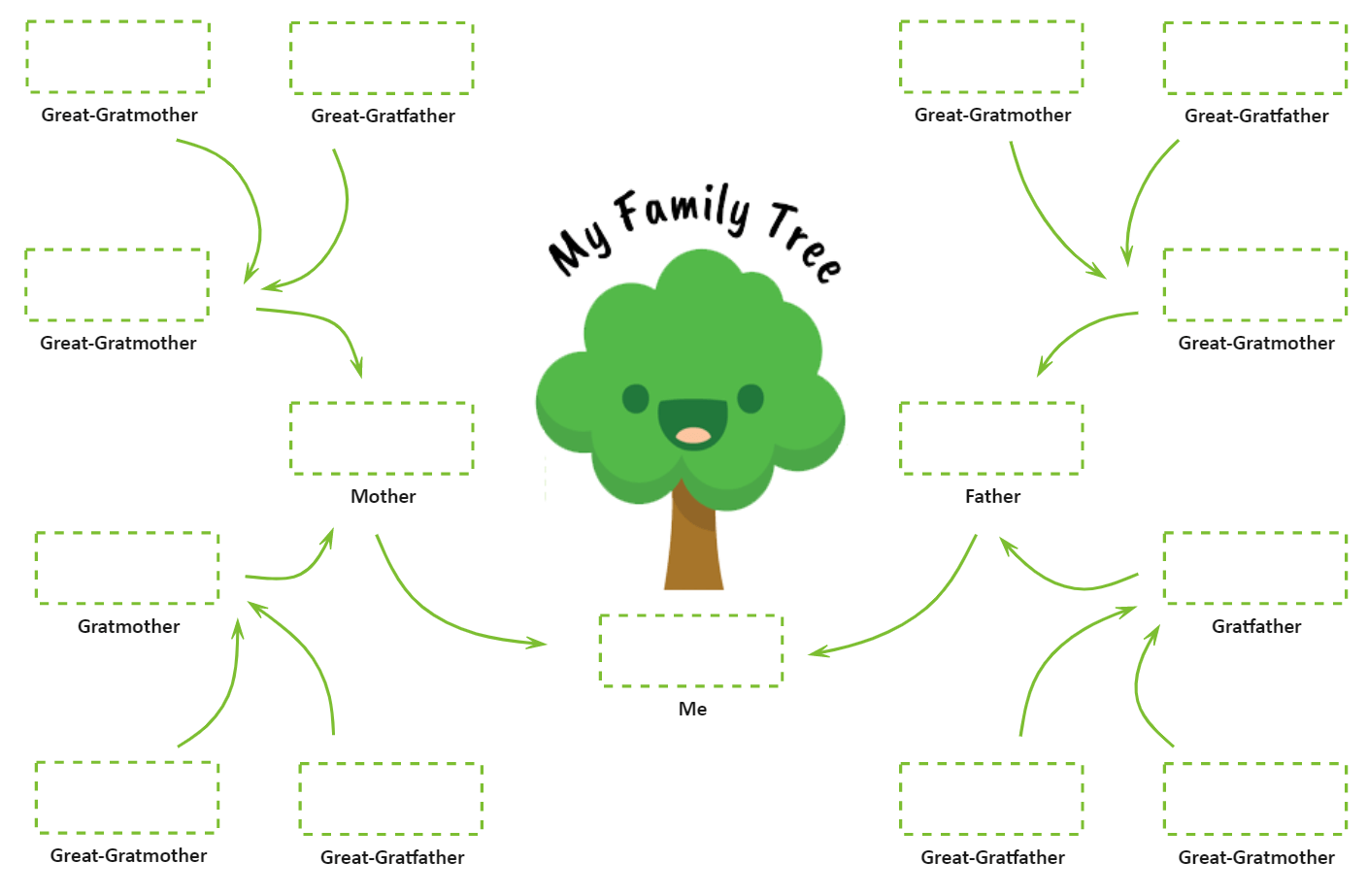 Example 5:Family Tree Drawing Clipart
You can learn from the family tree clipart diagram. You don't need to include pictures in the tree. You can make a diagram of a family tree clipart if you are trying to teach kindergarten children. You can use this template to give someone a general example of a family tree clipart.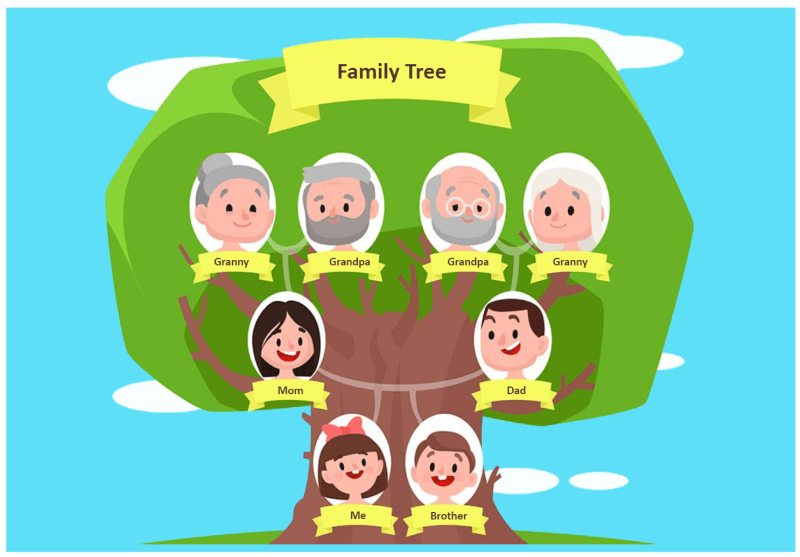 Example 6: Heart Family Tree Clipart
If you want to gift something very special to your family member or a cousin, you can use this heart family tree clipart. The clipart is unique and beautiful when comparing it with the examples pinned above. The clipart is more mature than the family tree clipart usually available. The tree art is not included in the clipart; instead, a hierarchy is presented.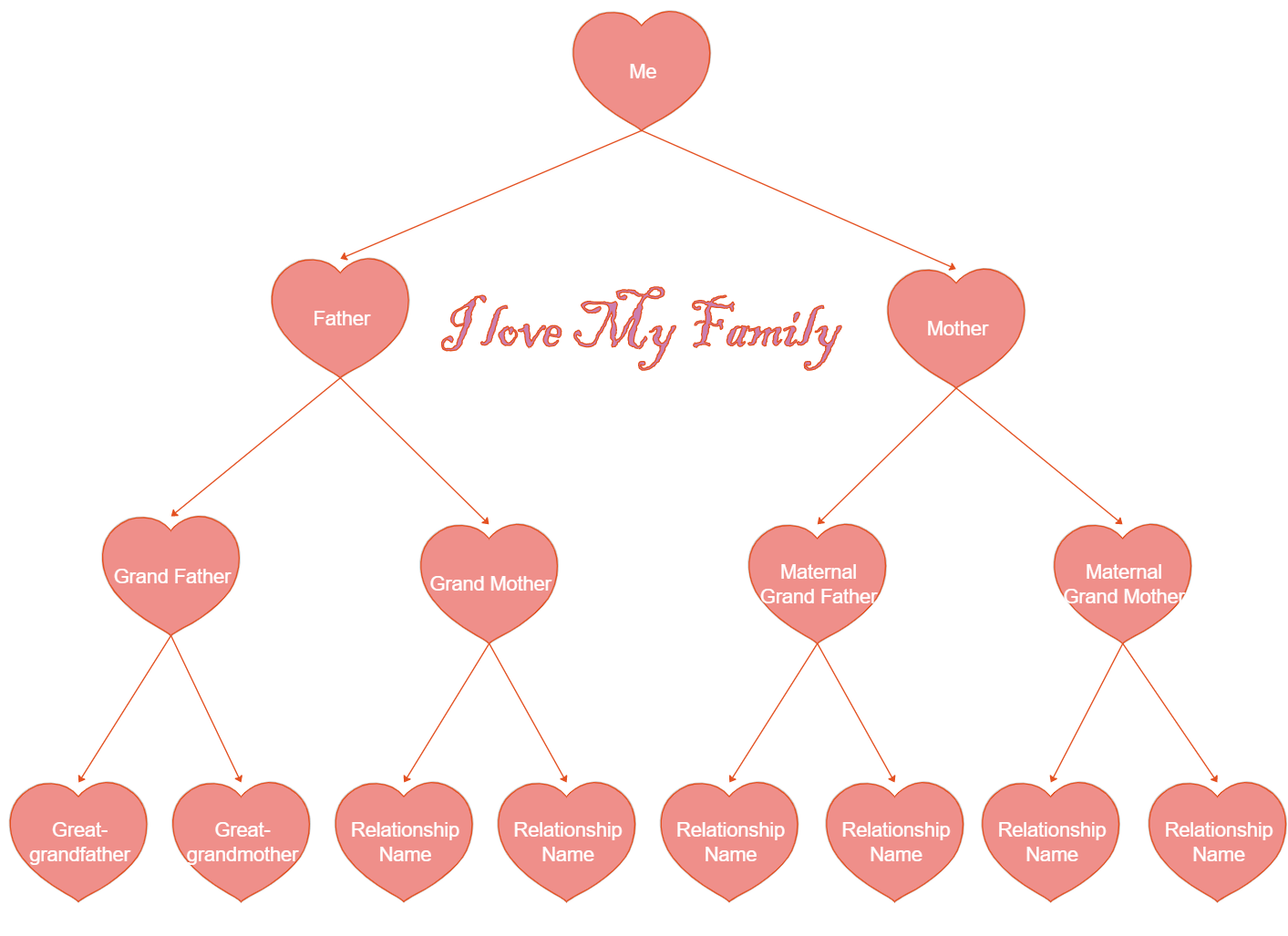 3. How to Make a Family Tree Clipart Online?
This section will give you a practical example of making a perfect family tree clipart with EdrawMax Online, a well-known diagram-making tool. If you prefer to use the browser-based version or if you want to use the desktop-based application, then just download it.
The first step is to launch the application and navigate to the Symbol Library of the EdrawMax. Select the tree and drag-and-drop it to the project. In the Symbol Library, you will get multiple diagram symbols and drawings.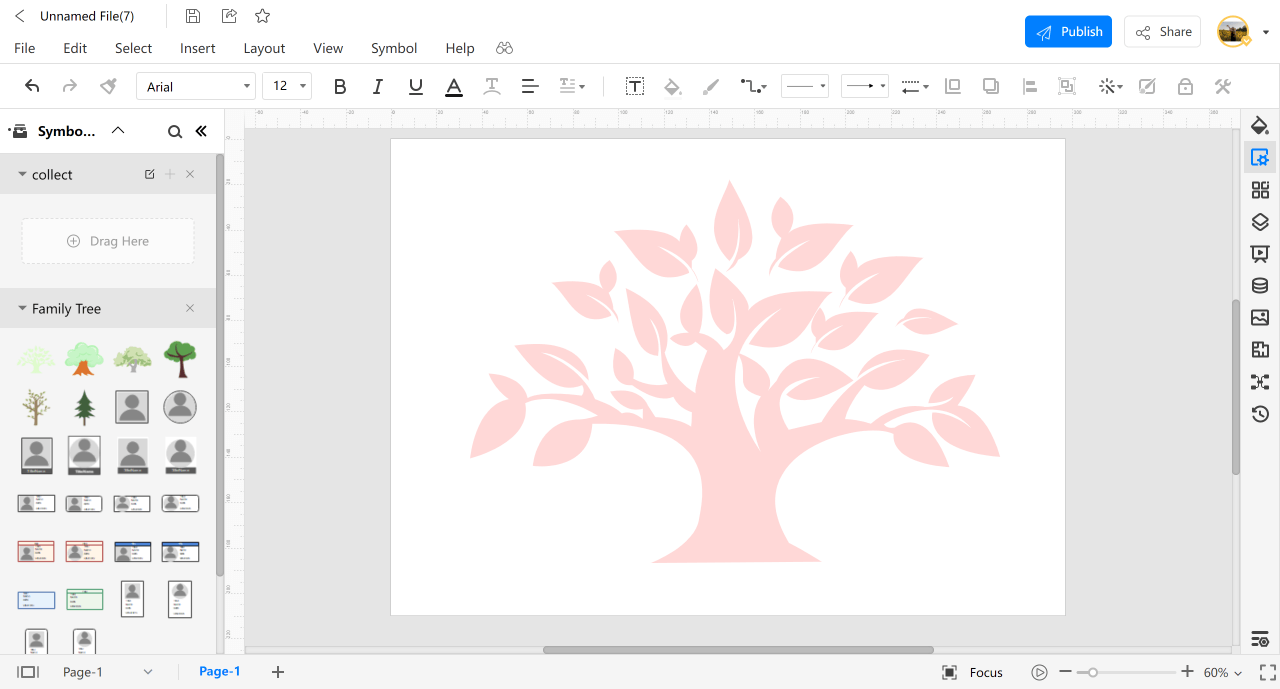 After you have included the tree in your project, get the square shape from the left of the window and include it per your family lineage. Now, select the connector and connect the hierarchy.
When you complete the clipart, go to the File tab, and search for the Export option to export your project in PNG or SVG format.
4. Key Takeaways
Now, you have all the knowledge related to the family tree clipart; you can use it for any purpose, depending on your need. The best practice is to use an efficient tool like EdrawMax, which contains all tools and functionalities you will require while making diagrams.
EdrawMax Online
Create 280+ types of diagrams online
Access diagrams anywhere, anytime
Everything in desktop + Templates Community
Team management and collaboration
Personal Cloud and Dropbox Integration
Related Articles