Free Editable Funnel Chart Examples
The funnel diagram examples are kind of charts that represent various stages in a sales process. It also helps to show the potential revenue. People can use them to identify potential problems in an organization's sales processes. The funnel diagrams help provide values in progressively decreasing proportions. Ideally, the process starts at 100% and ends with a percentage lower than this. The chart includes researched data. A marketing funnel visualizes a client's journey.
1. What is The Funnel Chart
Over the last few years, funnel charts have increased the use in the digital marketing fields. They help to comprehend web traffic exchange, the rate of which may vary from visitors to purchase. A funnel has four sections:
Funnel diagram examples are there to analyze data loss during the movement of phases. Unlike the pie chart, a funnel chart never uses axes for diagram forming. People construct funnels by using independent PowerPoint shape objects.
The funnel diagram examples are so named given their shape of a funnel. The initial or intake stage is broader and more significant, and it becomes narrower as it moves upward. They help analyze the transfer of sales data.
2. The Funnel Chart Examples
People use the funnel diagram examples are primarily used in the analysis of stages processes and stages processes. The marketing concept can be represented through funnel charts by four different levels.
Below are some of the funnel diagram examples with an attractive and unique presentation that helps people create their own. The templates have a variety of designs created by professionals to help you understand the purchasing strategies. One can make out the places of most dropouts from the chart.
Example 1: Sales Funnel
The given funnel diagram example is of a marketing funnel that helps visualize the client's journey. The marketer can use the service and product to track the entire process. One can use an online funnel diagram maker like EdrawMax to describe a sales process.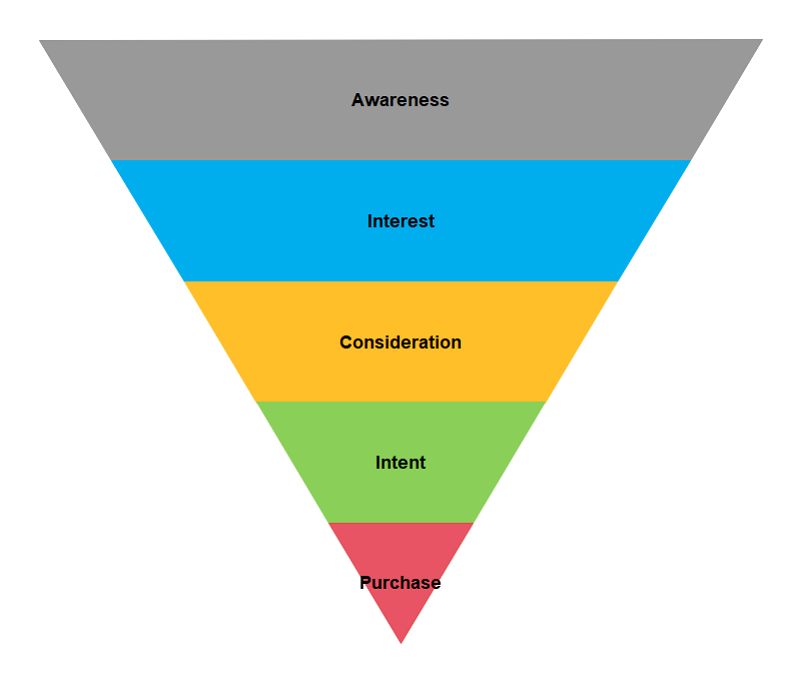 Source:EdrawMax Online
Example 2: Marketing Funnel
The funnel diagram example is the customer reduction funnel that depicts the data performance, customer interaction with the company, and customer reduction. In sales, funnel charts segment customers into different categories.
EdrawMax has funnel templates like this. People can edit them as necessary.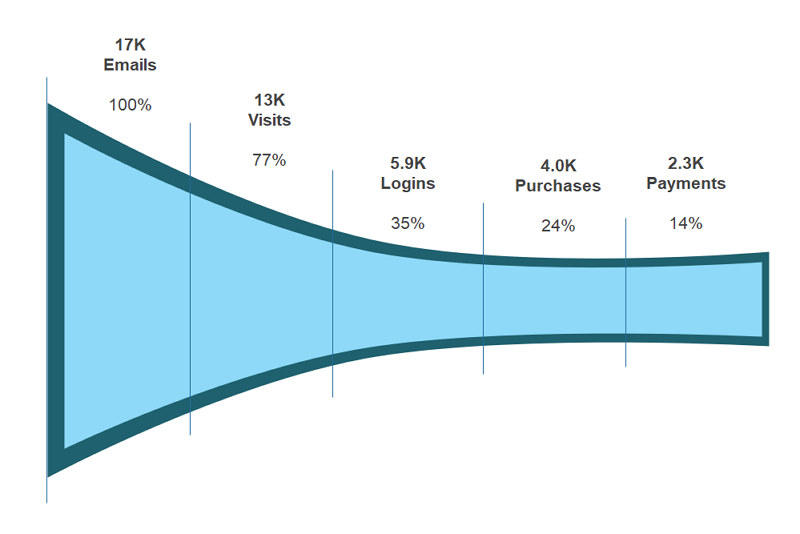 Source:EdrawMax Online
Example 3: Conversion Funnel
The third inverted triangle-shaped funnel diagram example shows website conversion data performance and rate. The initial stage starts at 100%, and the rest are lower than that.
Using an online funnel chart maker like Edraw Max, one can recreate such a sales funnel to make their own to better their respective domains.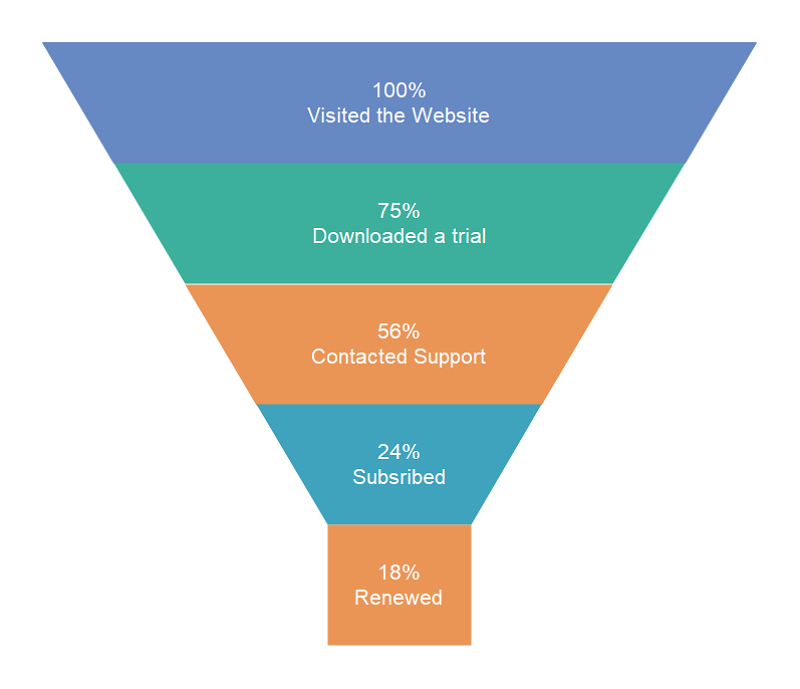 Source:EdrawMax Online
Example 4: Digital Marketing Funnel
The fourth illustrative funnel diagram example is here with a lead magnet PowerPoint template. It contains unique marketing presentations. The lead magnet used here helps solve problem-solving, quick win, clearing specifications, and demonstrating expertise.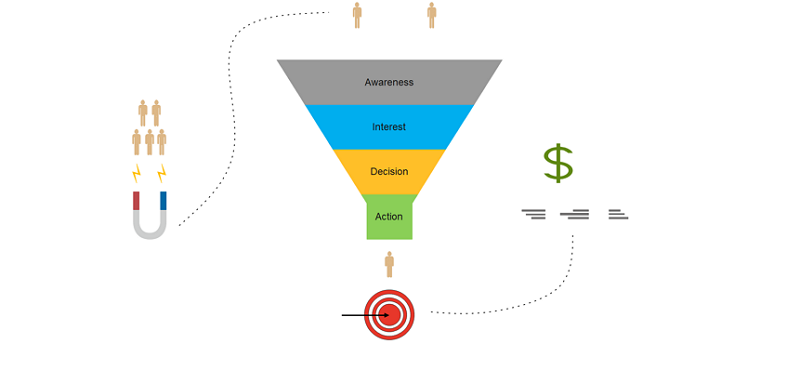 Source:EdrawMax Online
Example 5: Funnel Chart Example
The given funnel diagram example is a creative TAM (Total Addressable Market) SAM (Serviceable Addressable Market) SOM (Serviceable Obtainable Market) slides template. They use a top-down and bottom-up approach to target and identify the market. The customizable funnel chart templates in EdrawMax help edit them as per the marketer's requirement.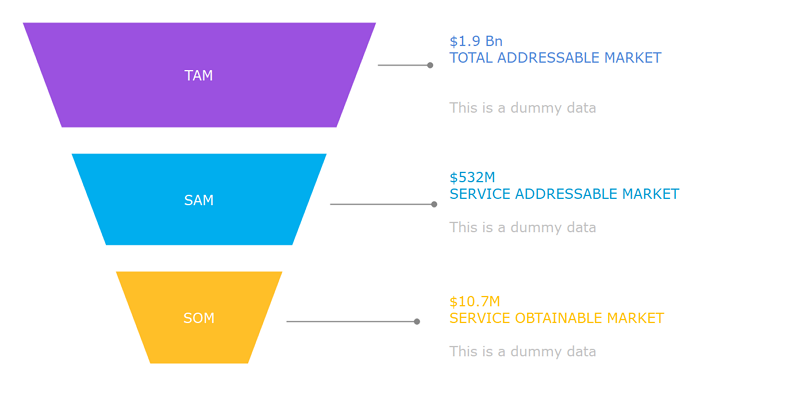 Source:EdrawMax Online
Example 6: Marketing Funnel Stages
The given funnel diagram example is a five steps funnel with section details PowerPoint diagram. The title banners highlight the five-factor breakdown of a marketing plan. The diagram shows the progressive decrease in data quantity and increases in value.
EdrawMax has various funnel chart templates like this. The marketers can edit this example for lead generation-related presentations and sales.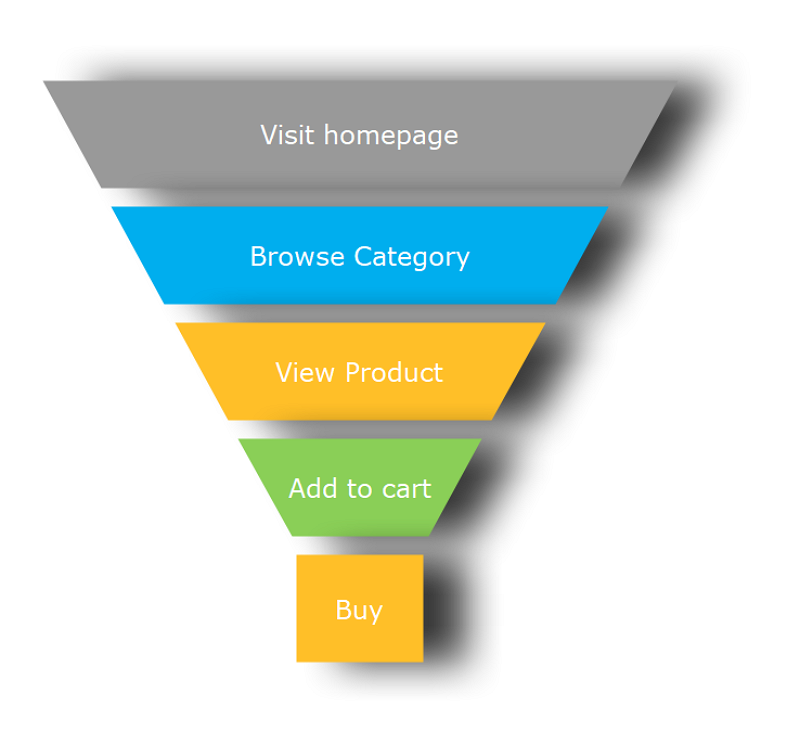 Source:EdrawMax Online
Example 7: Funnel Analysis
The given funnel diagram example is a six-step horizontal funnel diagram for PowerPoint. This process flow diagram helps make professional sales design. People primarily use these types of funnel charts in data processing activities. The size decreases as the funnel filters out irrelevant data in each stage.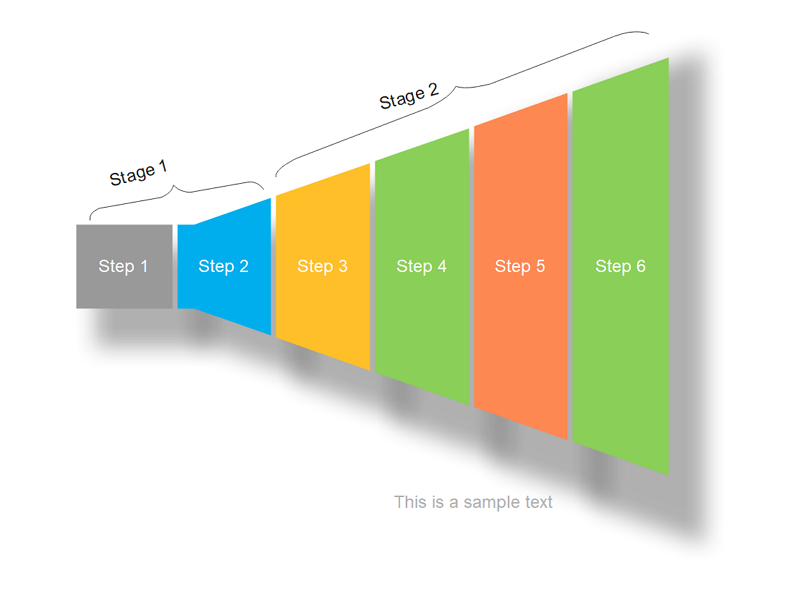 Source:EdrawMax Online
Example 8: Transmission Funnel
This funnel diagram example has five different sales funnel types. They are:
Vertical B2B sales funnel
hree-level funnel with scribble icon
Hand-drawn Scribbled funnel
E-commerce conversion optimization sales funnel
Falling balls lead to the evolution sales funnel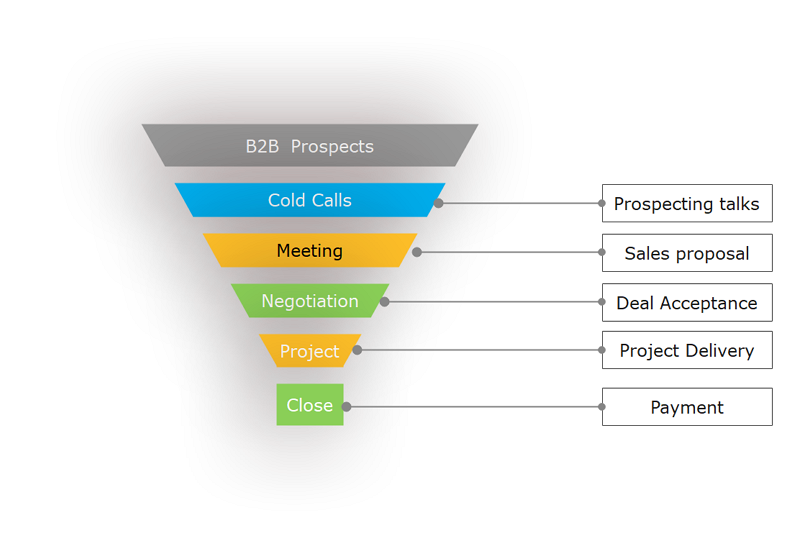 Source:EdrawMax Online
Example 9: Sales Funnel Example
The given sales funnel diagram example illustrates the website visitor's path of purchasing an item. Marketers can find out the holes in the funnel where visitors drop out and do not revert.
Such funnel charts are available on online funnel chart makers like EdrawMax.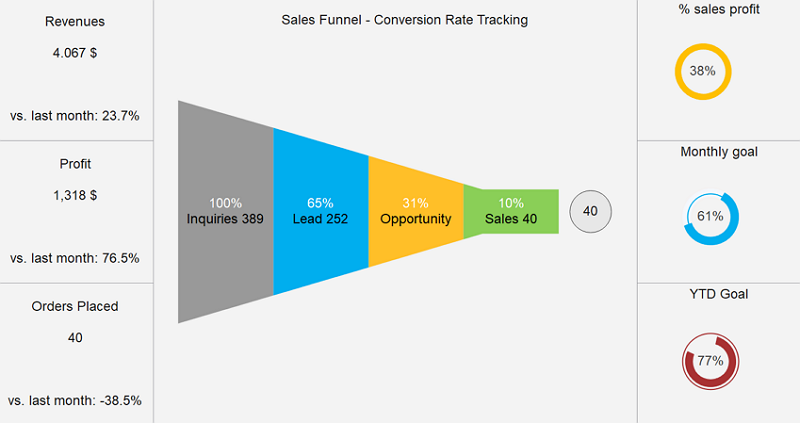 Source:EdrawMax Online
3. Online Funnel Chart Maker
One can use a funnel diagram maker like EdrawMax to create an example. They have a massive library of various funnel diagrams. One can easily edit, move, or delete the funnel chart templates as per her requirement. Users can use them in marketing, sales, education, business development, engineering, consulting, IT, supply chain, HR, marketer, and design purposes.
EdrawMax Online not just an online funnel chart maker. Use EdrawMax online to create your funnel charts without efforts, just grab a template or choose one funnel chart template from EdrawMax Template Community and keep customization as your preference. If you are still confused about how to make funnel charts in EdrawMax Online, here is the funnel chart guide to help your creation step by step.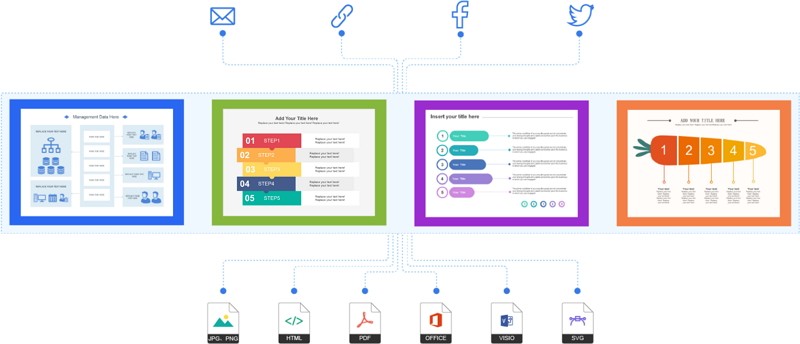 Why Choose EdrawMax Online
Create over 280 diagram types
Supports team collaboration
Personal cloud & data protection
Print, share and download
Powerful template community
4. Key Takeaways
The funnel diagram examples help to visualize a linear process with sequential connecting stages. Sales funnel its clients through lead, qualified lead, prospect, contract, and immediate steps. Every stage of the funnel determines the part of the whole. One loses chances at each step, and clients are left with closed deals at the final step.
In conclusion, EdrawMax Online is a quick-start diagramming tool, which is easier to make Funnel Charts and any other visuals. Also, it contains substantial built-in templates that you can use for free, or share your design with others in our Template Community.