Free Editable Business Process Modeling Techniques Examples
When a company tries to sum up their whole business process, they need to break down the entire thing into a few segments. A company can use business process modeling techniques to determine if the jobs they are using are meaningful in the process. They can also prevent wastage and save time and energy. Business process modeling techniques are of different types. Many businesses are already using some new methods. The company can check out these business process modeling examples to know the one suitable for them.
1. What is Business Process Modeling
The business process modeling is a visual representation of the business model. A company can use this business process modeling technique to divide their work into a few small tasks and determine if their projects are going smoothly or not. They can also find out if there is any wastage in the system. These business process modeling examples allow them to improve their efficiency.
2. The Business Process Modeling Techniques Examples
The business process modeling techniques are of multiple types. Hence the companies can have the liberty to choose any one as per their requirements. They can go through the business process modeling examples to select the suitable one.
Example 1: BPMN
In conclusion, BPMN or Business process Modeling Notation is one of the most popular business models. The user can express it with simple syntax, making things comfortable in the case of collaborations. It is a technical way of representing a business model in a simple graphical format that shows the connection between different objects. The model is also easier to edit and create. Hence it is effective as a medium of communication. The users can follow some bpmn examples to understand the concept well..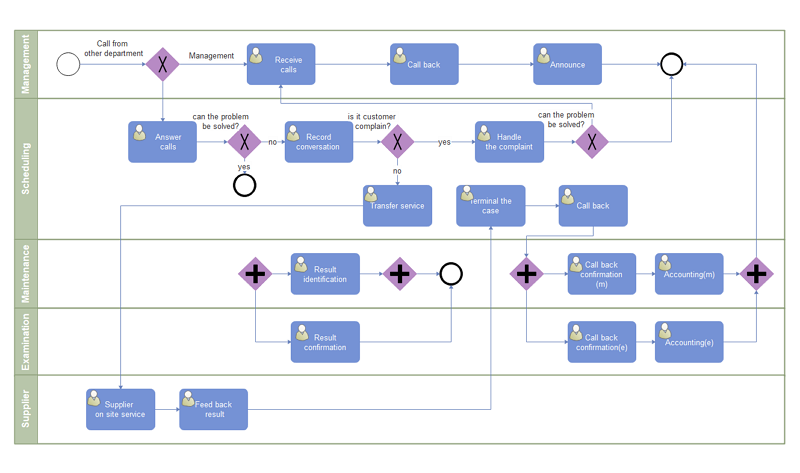 Source:EdrawMax Online
Example 2: UML
Though the UML process was initially a part of the software development industry, it has now become a way of representing the business process model. The features of this UML process include specification, modification, and visualization. Thus, making it a powerful business modeling technique. There are 14 different types of UML processes that can represent almost all sorts of business setups. However, it is difficult for inexperienced users to understand, making it a less popular business modeling technique. Use this online UML diagram maker to create the visuals without efforts.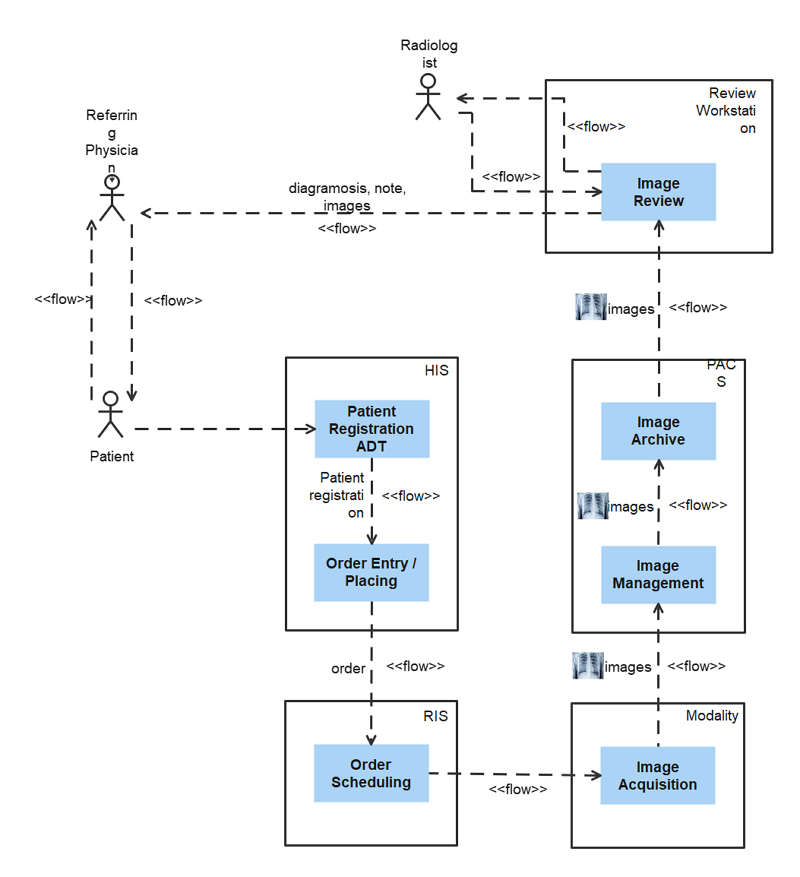 Source:EdrawMax Online
Example 3: Flowchart
Business organizations widely use flowcharts because of their easy-to-understand nature. They are easy to create and work as an effective tool of communication. Simplicity is the main feature of this type of Business process modeling technique. This modeling diagram expresses the activity sequences, for example, a flow of events with simple syntactic forms. Thus, making it easier for collaboration and communication. An easy flowchart maker may boost your productivity, and enhace the workflow. BPMN is a modified version of flowcharts in the case of business process modeling techniques.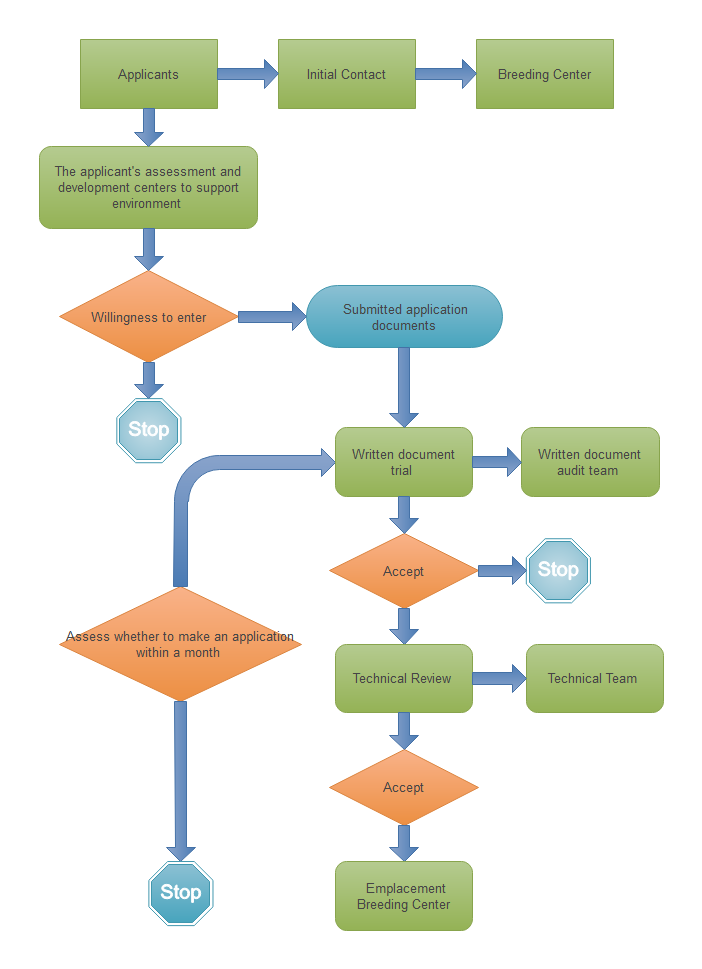 Source:EdrawMax Online
Example 4: Data Flow Diagram
It is a sort of structured analysis and hence allows the reader to manage the raw data. It shows how data flows from one part of the system to another. In this diagram, data flow occurs from the business company to another element of the system or the consumer. It also gives the user an idea about how the information flow connects different parts of a process.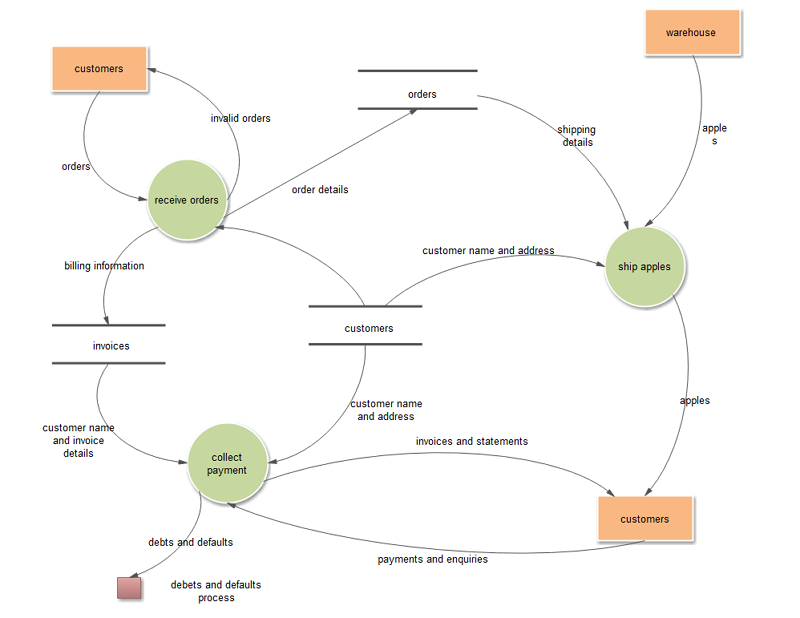 Source:EdrawMax Online
Example 5: Gantt Charts
In the late nineteenth century, people started using Gantt charts. The charts were for the gold standard. However, the users now widely use them for business process modeling. The company can divide a complete work into multiple subtasks and then sort the things out based on the time. The timeline division makes it easier to handle varied tasks. As this chart is mainly time-based, the company can use these charts while working on various projects. They can also apply this technique when they have a big task that they can easily divide into some subtasks.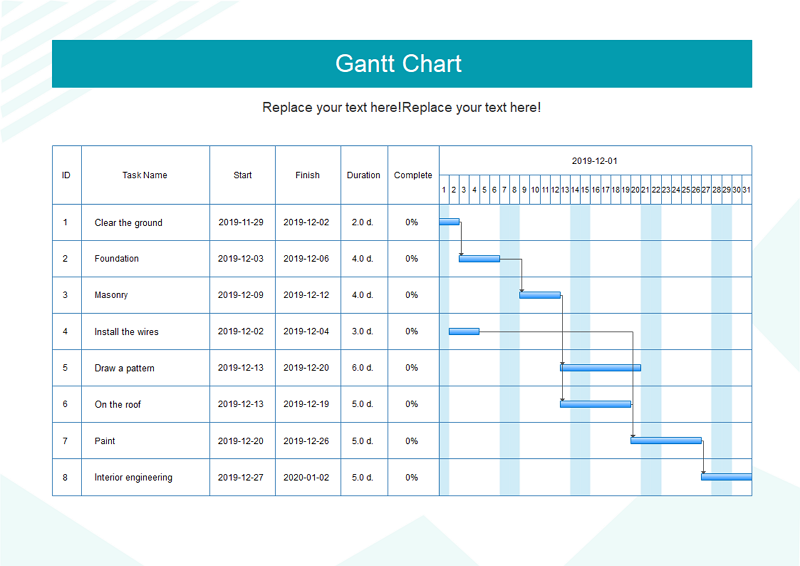 Source:EdrawMax Online
Example 6: PERT Charts
The use of PERT chart or Program Evolution and Review Technique started in the twentieth century. A company can use these charts to define the critical path of a business process. These charts are pretty effective as they give a user some ideas about how much time the task needs to complete, as the project manager can have an idea about how to work on a particular assignment. They can also figure out how to successfully finish the task without much wastage. So, you can choose this online PERT chart maker to boost your teamwork.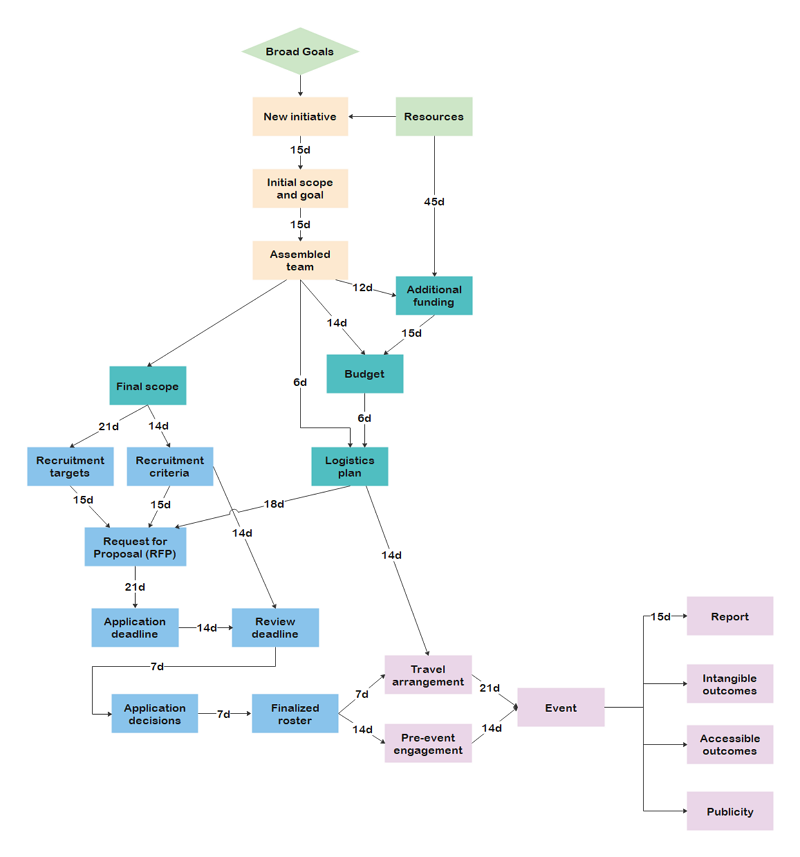 Source:EdrawMax Online
Example 7: Functional Flow Block Diagrams
Functional flow diagrams are comparatively newer concepts but are highly helpful when it is a matter of sorting out vast and critical tasks. The project manager can divide a whole job into a few blocks. They can also subdivide those blocks into a few more blocks while all together signifies the complete procedure. These block diagrams are effortless to make. Hence companies widely use them.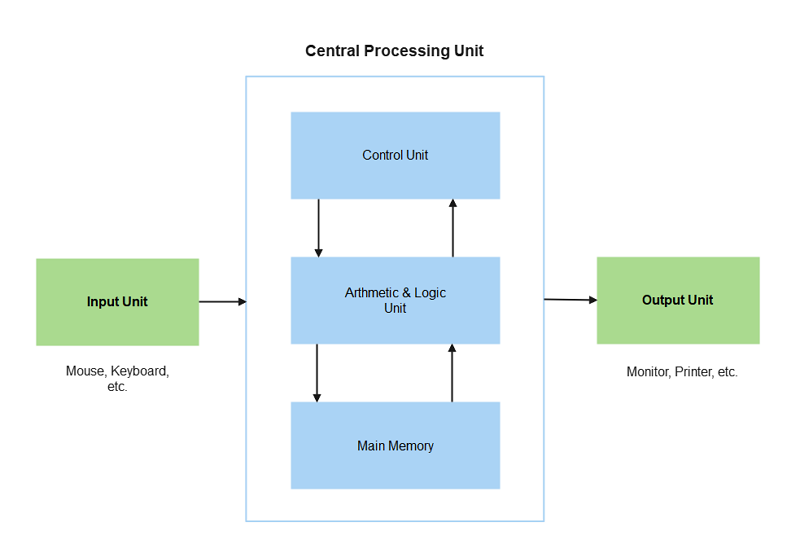 Source:EdrawMax Online
Example 8: IDEF Diagrams
The IDEF model or Integrated Definition for Function Modeling is a complex idea. Though it is comparatively sophisticated in nature, they are difficult to understand. Hence they are not much popular. Based on the information, processing, and system functioning, fifteen types of IDEF diagrams are there. They are not very effective when it comes to communicating with a large group.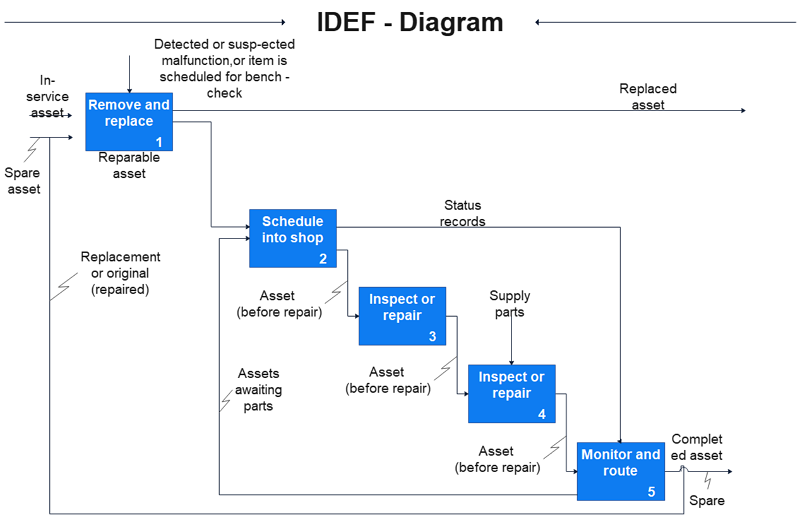 Source:EdrawMax Online
Example 9: Colored Petri Nets (CPN)
This Business process model technique is also very complicated to use. A person with a complete idea about the nature of these charts can make or understand them. These charts allow space so that a person can synchronize some simultaneous tasks present on the chart. Though this chart makes way for parallel tasks, they are very complex with mathematical calculation and syntax. Thus, making it unfit for ordinary employees to understand.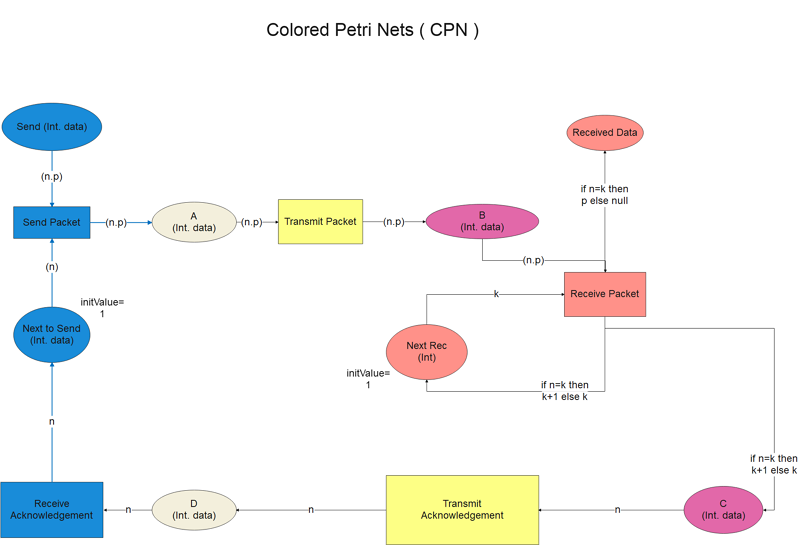 Source:EdrawMax Online
3. Online Business Process Modeling Maker
Varied types of online business processing models are available. It may not seem that easy for a user to make a business process model with an online tool. For best results, the users can use EdrawMax. This tool is user-friendly. Hence any inexperienced user can work on this tool without much hassle. The application has a resource Centre that can help the user to seek help whenever required.
EdrawMax Online not just an online business process modeling maker. Use EdrawMax online to create your apartment blueprints without efforts, just grab a template or choose one from Template Gallery and keep customization as your preference.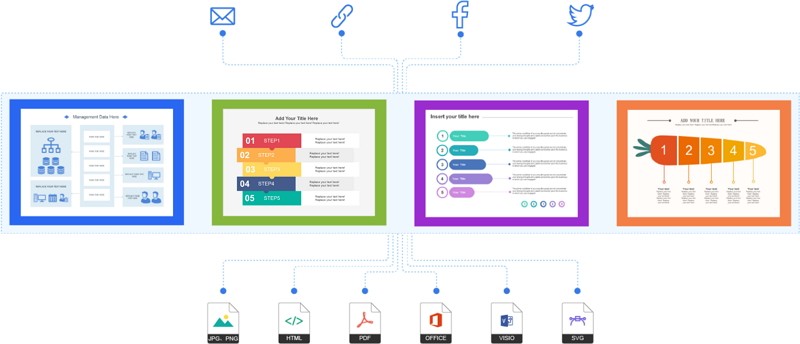 Why Choose EdrawMax Online
Create over 280 diagram types
Supports team collaboration
Personal cloud & data protection
Print, share and download
Powerful template community
4. Key Takeaways
A business can make business processing modeling examples to ensure that they are conducting the whole task efficiently. They can use this process to prevent wastage and increase production. Business processing model techniques can be of different types and hence can be complicated for the users. They use user-friendly online tools like EdrawMax, which can help them create their models without much difficulty.
In conclusion, EdrawMax Online is a quick-start diagramming tool, which is easier to make Business Process Modelings and any other visuals. Also, it contains substantial built-in templates that you can use for free, or share your design with others in our Template Community.