How to Create A Business Card in Photoshop
A business card creates the first connection between two parties in a professional network and is extremely essential for creating the first impact. So, people often wonder about how to create a business card in Photoshop. In reality, EdrawMax Online is a better solution.
1. How to Create A Business Card in Photoshop
Creating an informative and eye-catchy business card is very crucial for any and every profession. Photoshop is undoubtedly the perfect platform to start with the primary levels of business card making. The business card template of Photoshop comes in a package of 4-in-1 Business Card Bundle from the Graphic River portfolio.
However, there are other available options to hunt for templates as well, for instance, Envato Elements. So, depending upon the kind of requirement, accordingly, one can make the template selection. Now comes the detailed guide about how to create a business card in Photoshop.
Step 1: Open Photoshop
The user, after opening Photoshop, needs to go to Preset Manager, then click on Edit and then Presets.
Step 2: Clik Preset Type Option
There is an option called Preset Type, which comes as a drop-down menu. The user here has to select Custom Shapes and then click on Load.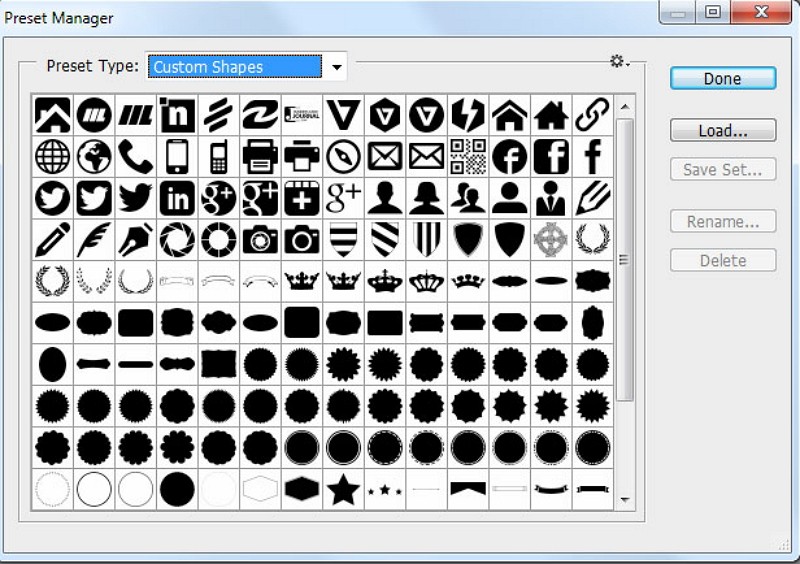 Step 3: Select Tutorial-Shapes
The user then has to go to the saved unzipped file location, select Tutorial-Shapes.csh, and then press Load.
Step 4: Enter Details of the Business
Now, for creating the document of a business card, whose pixels vary generally around 3.25 by 1.75 inches, the user has to go to "File" and click on New. After that, they can enter details of the business, width (3.25 inches), height (1.75 inches), resolution (300Pixels/Inch), color mode (CMYK Color 8bit), and background content details (White). On clicking on OK after this, the document gets created.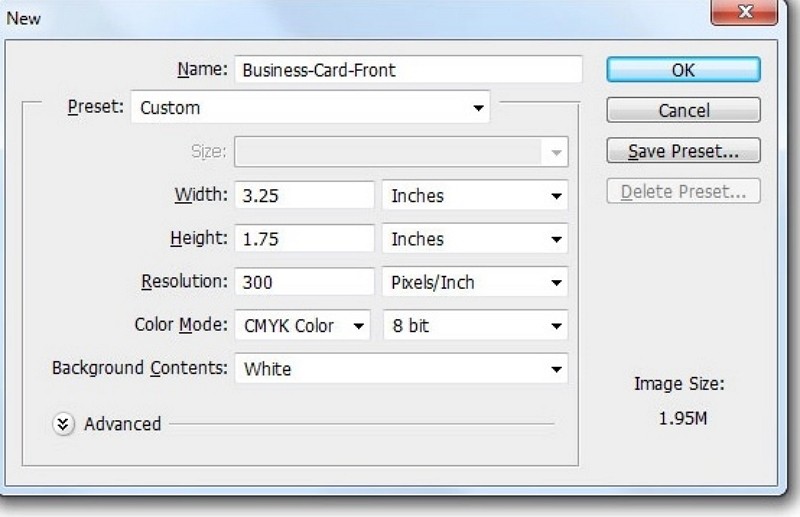 Step 5: Create Boundary Lines
For creating the proper boundary lines, the user needs to ensure required settings are in place, and by clicking on Control-R, View->Rulers, and then going to View -> Snap -> Snap To, the user will be getting the desired Guides, Layers and Document Bounds. After this, the user's job is to open the Safe Area and then trim and adjust the document's boundaries, fonts and texts accordingly.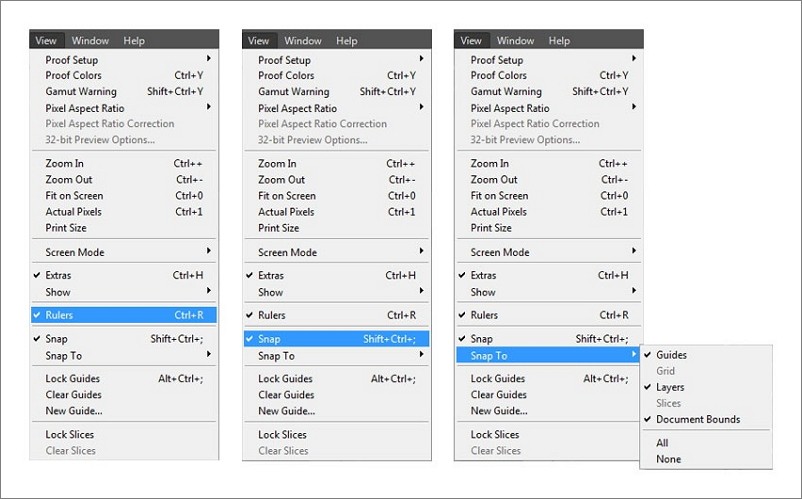 Step 6: Insert the Information
There is an option called Address BG in the Layers panel. The user has to use this option for inserting the separate taglines, contact information, and other details apart from the main text of the business card. The separators of the card can be created from the same Layer option, then New -> Group -> Separator. It is always wise to keep some additional extra space all along with the business cards. It is known as 'bleed', which is significant to ensure that it remains intact even after the business cards are cut individually from the whole piece before distributing the same.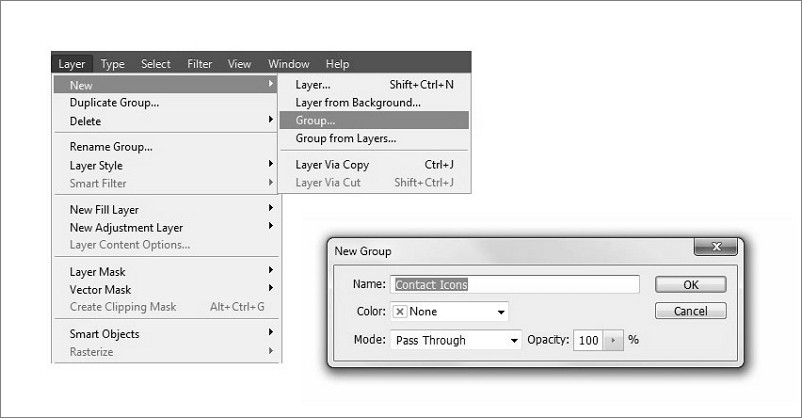 Step 7: Save and Print
Once done, the user has to save the business card in the .psd extension under Photoshop format. The business card is now ready to be printed, preferably in flat PDF files. However, EPS, TIFF, and JPG files are acceptable as well. The user can have any adjustments, if necessary, while printing from the option Layer -> Flatten Image option.
So, that was all about how to create a business card in Photoshop. However, there are better platforms today, and EdrawMax Online is one such platform.
2. How to Make A Business Card Easier
A business card today can get even more impressive by using the EdrawMax Online software. It is an all-in-one diagrammatic tool with various advanced features that can help in creating a business card. So, it will be wise to have a look at the steps of creating a business card through EdrawMax Online:
Step 1: Select Business Card Template
The user needs to find the [Card] option in the EdrawMax online application. then select [Business Card] under this classification, as image shows;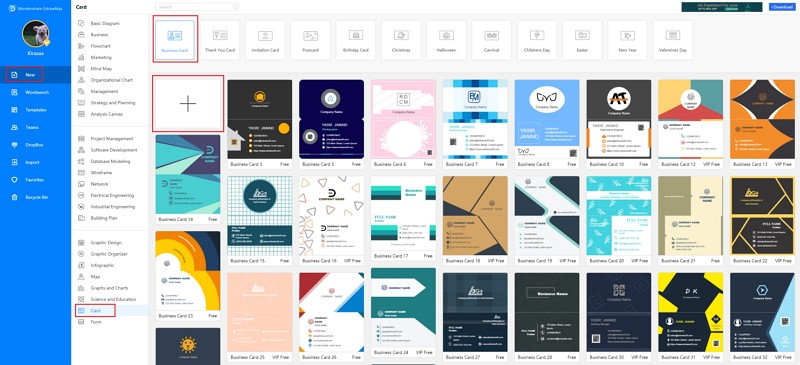 Source:EdrawMax Online
Step 2: Customize Your Business Card
A page opens with a Plus sign to start with a fresh template. They can easily modify those templates by adding the logo of their company. The card needs to add their required details like their name, contact number, social media link, etcetera.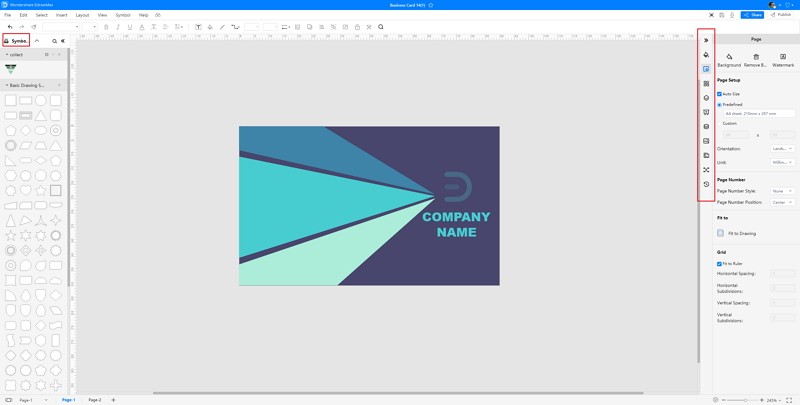 Source:EdrawMax Online
Step 3: Export and Insert
When the user is done with their business cards, they need to save the content in Word format. They can share it with their contacts or print them for future use.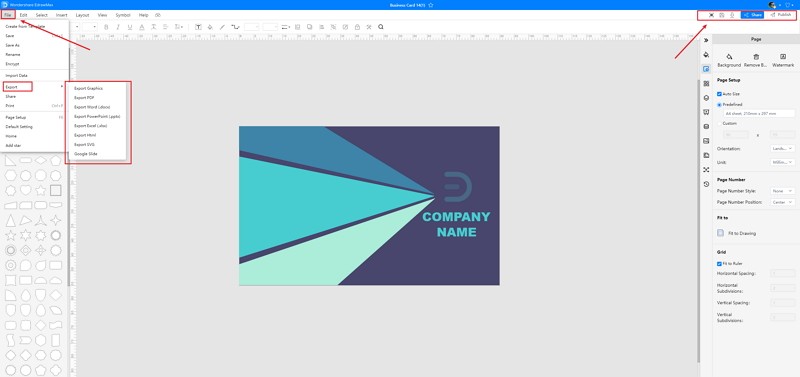 Source:EdrawMax Online
3. Business Card Photoshop Templates
Sometimes, it is really hard to follow the steps on how to make a business card in Photoshop or on EdrawMax Online and create the perfect diagram. At this time, there are business card examples you can edit immediately, or for more references. The business card exampels not only help people to understand a business card and its classification deeper, but also assist to draw business cards without efforts.
Business Card Template Photoshop
As shown in the diagram, the black and blue interchange business cards are usually blank, but in some cases, the business card typically includes the giver's name, company or business logo, and contact information such as street addresses, telephone numbers, fax number, e-mail addresses, and website.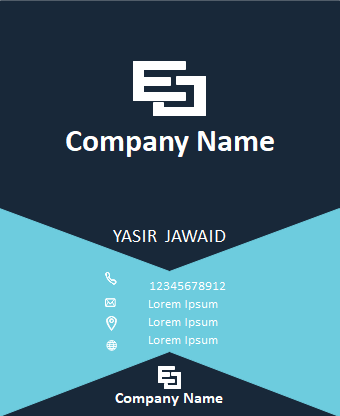 Source:EdrawMax Online
Business Card Print Template
Business Card is one of the most important things that help in promoting the business. A caddy blue background white arrow business card can be created using online or offline tools like EdrawMax and can have the company's name and the logo on the front side.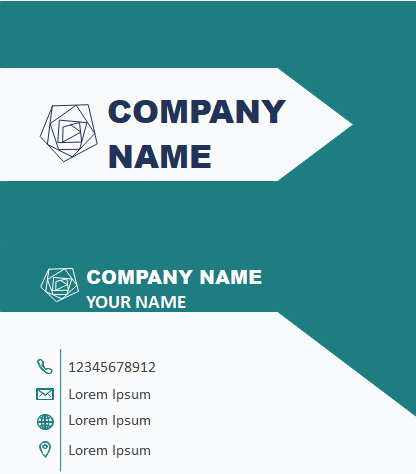 Source:EdrawMax Online
Online Business Card Template
Here is a company business card, from which you can see the details of this company. A business card is a small card with a person's name, company name, and logo, contact details, and business address printed on it. They are used by professionals to hand out to clients or other fellow professionals, to share contact information.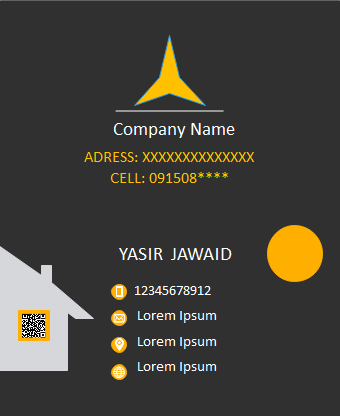 Source:EdrawMax Online
4. Online Business Card Maker
EdrawMax Online is a versatile tool used for various purposes, and it is always advisable to use this option for creating a business card. It is more compatible across every other platform, highly secured with adequate privacy settings, and last but not least, the customizable template options are countless. The user can make the best of business cards online through EdrawMax Online.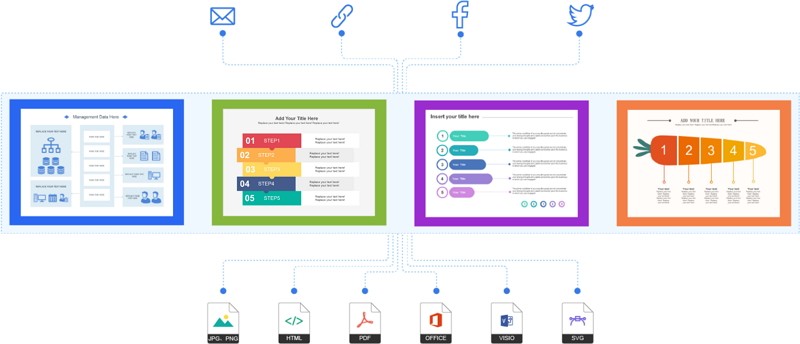 Why Choose EdrawMax Online
Create over 280 diagram types
Supports team collaboration
Personal cloud & data protection
Print, share and download
Powerful template community
5. Key Takeaways
One might always want to enquire about how to create a business card in Photoshop. However, after trying out EdrawMax Online, the selection will be the latter. The user can make the card look professional, informal, or somewhat exciting by experimenting with exciting template patterns from EdrawMax Template Gallery to make the most of a business card. The storage and sharing options available in EdrawMax Online stand apart from the rest of the contemporaries.
So, EdrawMax Online can be the best business card maker partner. When it comes to any profession or business, one must be well aware of its titbits, and one vital point to keep note of is how to create a business card in Photoshop. However, with the advent of EdrawMax Online card maker, business card making can happen in a jiffy, yielding some stunning outputs for the end-user. Therefore, the user has to choose EdrawMax Online and then, the rest happens at one go!