A Quick-Start E-Card Maker
An incredible versatile mapping tool helps you personalize your card for all uses!
The Magic of E-Cards
Online and Printable Cards Available in EdrawMax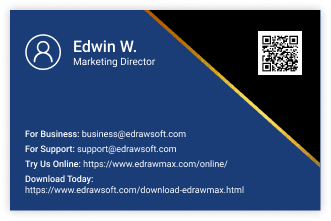 Show Your Professionalism
Recommended Scenario: Business Cards

Having your legitimacy and contact information on a nice business card can help you build your brand, expand your business network, identify business opportunities, and ultimately increase your sales, making your business recognized and trusted!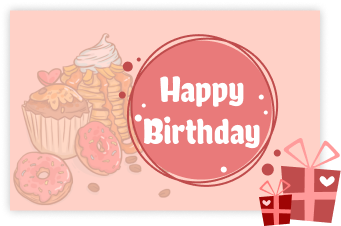 Show Your Love
Recommended Scenario: Birthday Cards, Greeting Cards

Sending personalized cards allows us to express our concern for families, friends, and those we love. For example, a card received on important days is sure to bring a smile to their face, and their day immediately becomes brighter. Make your loved ones feel special!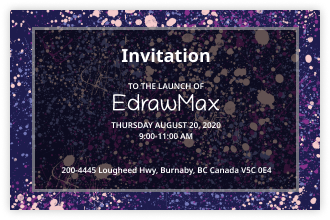 Show Your Style
Recommended Scenario: Invitation Cards

A meaningful celebration begins with a meaningful invitation. Your creativity in customizing your invitation cards will let your audience know how important this celebration is to you. There is no doubt that your custom invitations will be a hit!
How to Turn Your Info into a Card?
Step 1
Open EdrawMax to explore the world of cards, and select one template which perfectly matched your style.

Step 2
Keep customizing until it meets your satisfaction. The background, color, font, icons, and symbols are changeable. Just choose whatever you like or even insert your image and QR codes.
Step 3
Type your useful and heartful message, and there are hundreds of fonts designed for you, especially the hand-written style.

Step 4
Export and share your personalized card once you're happy with your design, you can export it for printing or share it on social media.
Why EdrawMax to Create Your E-Cards?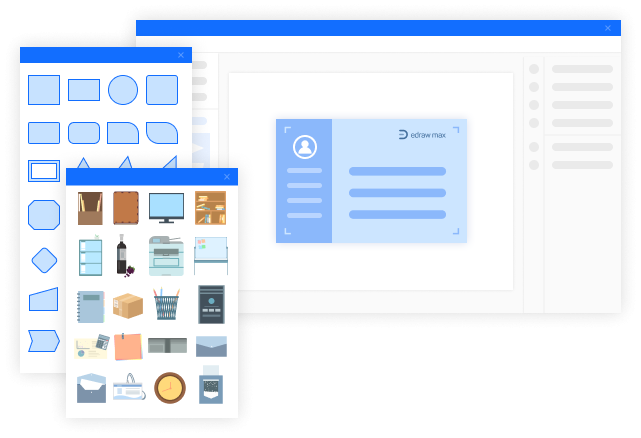 Quick Start with EdrawMax E-Card Templates
EdrawMax provides various types of CARDs, and each of the cards has a rich template gallery for you to choose from and use directly with minimum effort. Moreover, the professionally-design elements will diversify your card and make it more impressive.
Customize Everything in Your E-Card
EdrawMax makes all the elements highly customizable to show your personality or your level of professionalism. It allows you to insert your memorable images and even add QR codes on your custom cards. When the other party receives the card, they can scan the code for more information.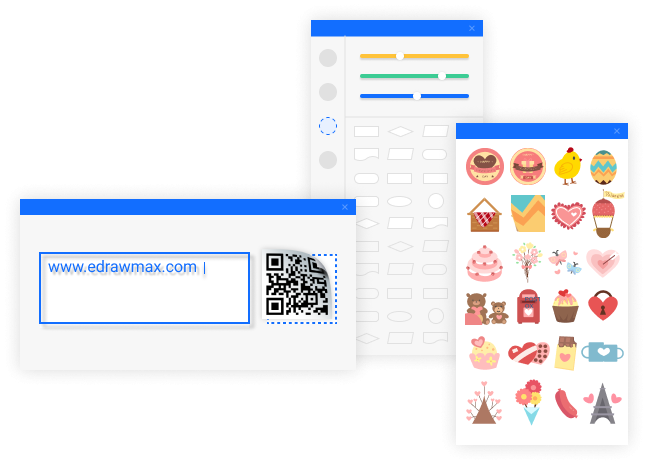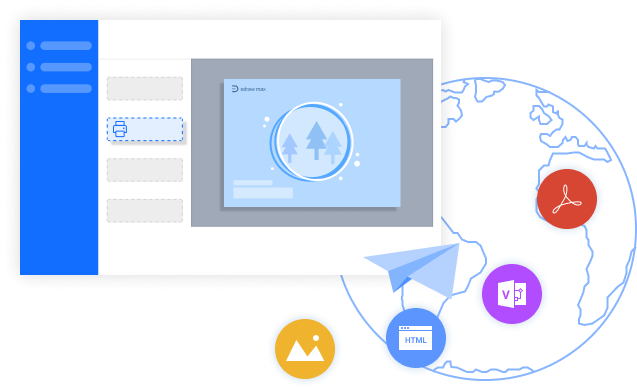 Easily Shared Online or In Print
EdrawMax enables you directly share it through email and other social media accounts such as Facebook, Twitter, and Pinterest. However, if you need a printable card, print them or export your custom cards in a variety of formats, including Graphics, PDF, Office, PS, SVG, and Visio.
Frequently Asked Questions in EdrawMax
1. How much does it cost to create an E-card in EdrawMax?

You don't have to pay. You are free to create custom E-cards. Just make your first E-card in EdrawMax now, and we are confident that you will love it!

2. Can I create an E-card online?

Absolutely yes! Use EdrawMax to create your E-cards in every scenario you can think of, online, or offline. EdrawMax will be here for you!

3. Which format should I choose to export my E-Cards?

EdrawMax allows you to export E-cards in multiple formats as your preference, including Graphics, PDF, PS, EPS, Office, HTML, SVG, Visio. Moreover, if you intend to print it, we suggest exporting it in PDF format to ensure the highest quality.

100% security guarantee! All information and file transfers are safeguarded with the highest level of SSL encryption.

5. What if I want to know more about E-cards?
Reviews from Our Users

I used to make business diagrams in EdrawMax, and it was so smooth and easy to make diagrams online. However, one day when our company held a meeting, I surprisingly found that EdrawMax also makes invitation cards. Only with a few clicks, and my card was done. I'm happy with EdrawMax!

Last Christmas, I made a card for my friends in EdrawMax. I found many Christmas card templates for us to choose, and I just picked one and typed my wish on it and changed the background into our photo, my friend loved that card eventually.

There is a special reason why I like to make cards in EdrawMax, that I can use the hand-written font to type my message to my dad. I merely had a chance to talk with him after I went to college, so I made this eCard for him and sent it to him instantly via email.
More Than An
E-Card

Maker

EdrawMax is more than an E-Card maker. There are more than 280+ types of diagrams for you to create with ease!
All-in-One Diagramming Tool
EdrawMax is committed to optimizing features to satisfy your needs continually, and further builds powerful all-in-one diagramming tool over the world. Just try it, you will love it!