How to Create A Business Card in Word
A Genogram is a chart that represents a family tree. This genogram tool uses simple symbols that can denote the whole family system. The individual can also include some additional details of the family members. Use EdrawMax Online to make your genogram will be easier and more time-saving than making on Word.
1. How to Create A Business Card in Word
In the business world, professionalism is a key to communication and impression-building. Thus, many business owners prefer to have their business cards. They are easy to distribute and very professional in approach. Many business owners may hold themselves back from having their business cards, considering the cost of creating one. Hiring a designer to plan out a professional business card may be costly, and hence small business organizations may prefer to avoid it.
A business owner can create their Business card using online tools. They can use tools like Microsoft Word, which allows them to make their business card with their logo. However, the process of using Word to create a Business Card is lengthy and complicated. Though Word comes with some templates that the users can modify, the outcome may not be satisfactory. The business owner's main objective is to create a catchy look for their business card, which can be somewhat complicated. The user must know how to create business cards in Word if they want to use Word to make their business card.
Step 1: Plan and Choose Fonts, Colors
It is always better to have the Business card planned out before working it. The user needs to consider the placement of the logo and design of the card while planning out their business card. The face of the business card is essential, and hence the user needs to choose the correct font and color scheme. A professional and well-made business card adds to the brand value of the company. They also need to consider the field their company works on while sorting out colors. The user can also decide the size of their business card as per their choice. They can also stick to the standard size of the business card, which is 3.5 inches by 2 inches.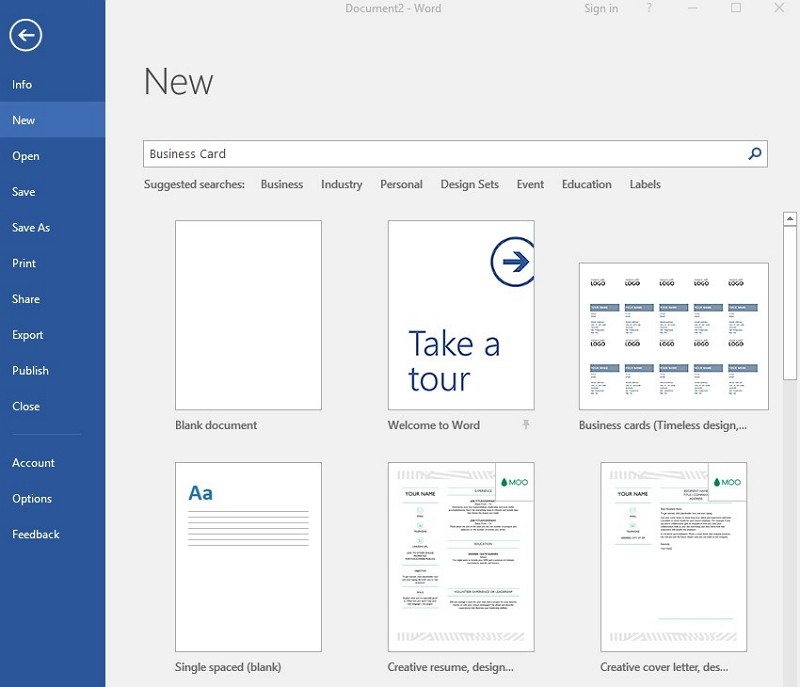 Step 2: Adding Logo and Information
Since a business card offers a small space for the user to add their details, the owner needs to figure out the most relevant information. They should also think about ways to avoid cluttering information in a single place. They need to add information regarding the name of the company, the name and surname of the owner, contact information, and the company's website. They can also add extra details like the designation of the person or social media link. They must put the company's logo properly on the card as it is significant to increase their brand identity.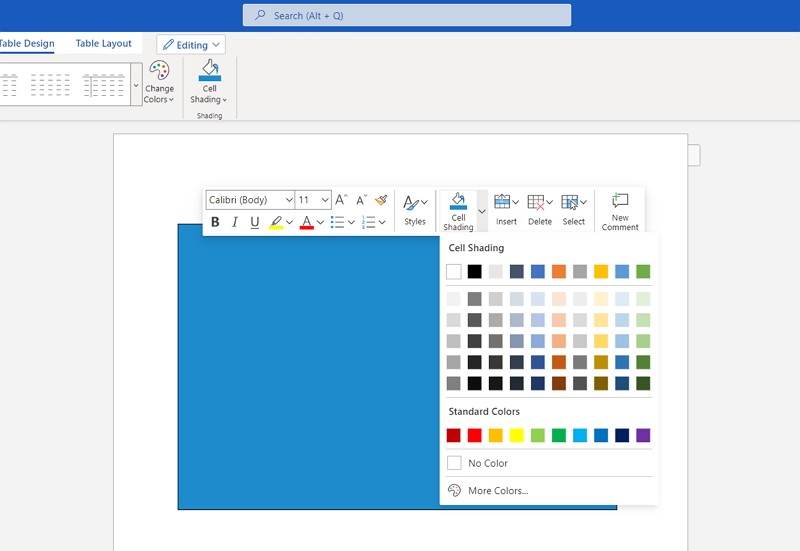 Step 3: Use Templates for Creating Business Cards
Once the user has finalized the main content of their business card, they can use Microsoft templates. For that, they need to open a new document in Word. They have to go to the New option, from where they can find Business Card templates. They can select one of the templates and use it by clicking on Create. The user can now put details and logos on the template. They can also change color, font style, and size while adding the information.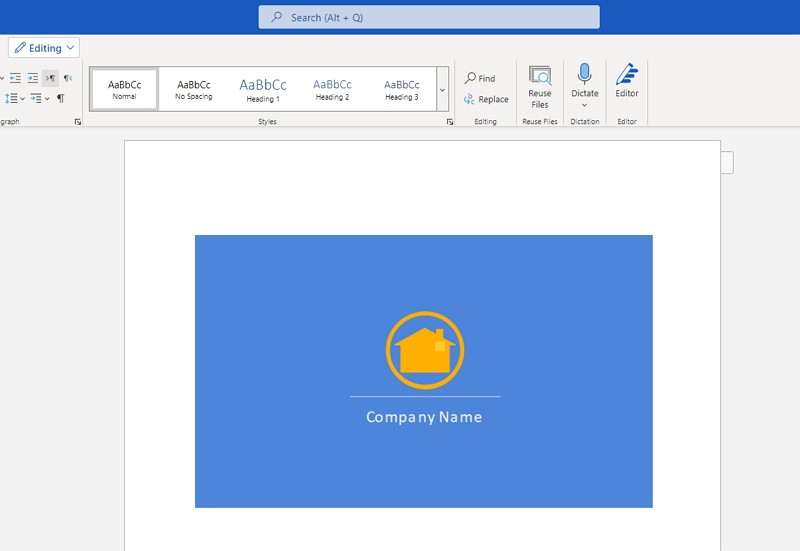 Step 4: Save and Print
When the user is satisfied with their business card, they can save the business card and share it with others via mail and other messaging applications. They can also print them for further use.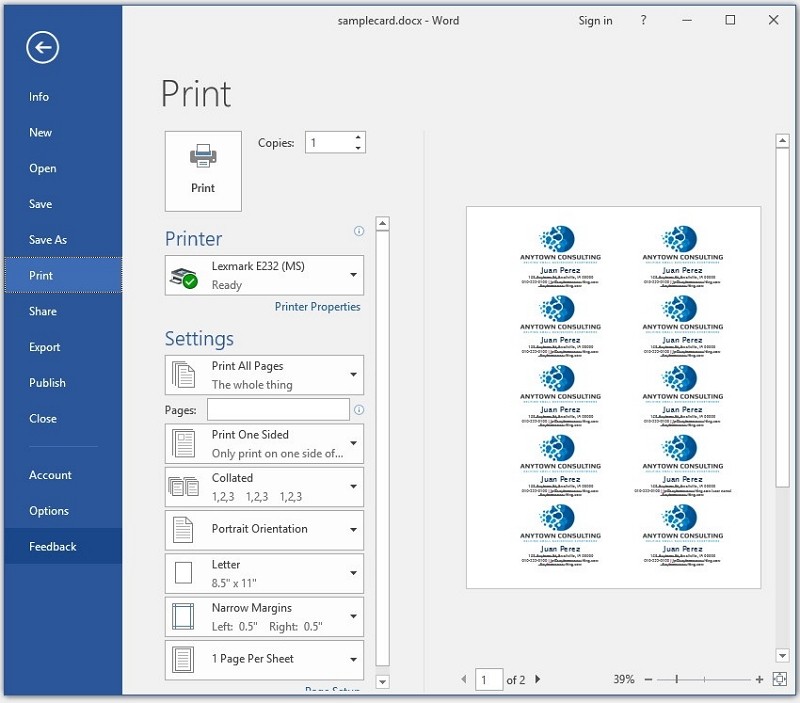 2. How to Make A Business Card Easier
Though a user can take the help of Words to create their business card, the process is lengthy and sometimes may fail to deliver a satisfactory result. Thus, the user must use the tool EdrawMax Online. The application comes with several high-quality templates, which they can edit to create their professional business card. To use EdrawMax Online for making a business card, they need to follow a few simple steps –
Step 1: Select Business Card Template
The user needs to find the [Card] option in the EdrawMax online application. then select [Business Card] under this classification, as image shows;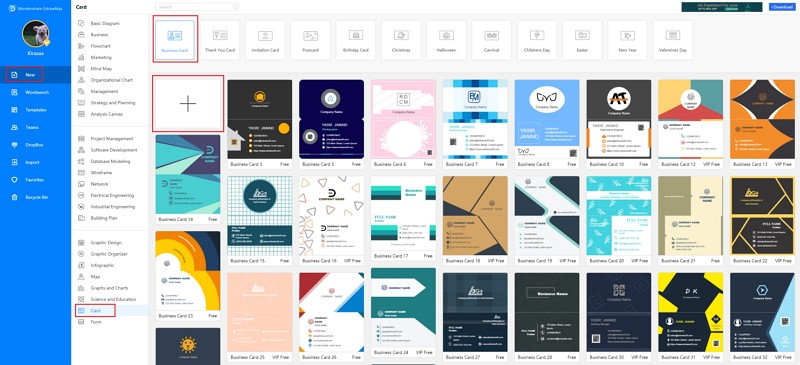 Source:EdrawMax Online
Step 2: Customize Your Business Card
A page opens with a Plus sign to start with a fresh template. They can easily modify those templates by adding the logo of their company. The card needs to add their required details like their name, contact number, social media link, etcetera.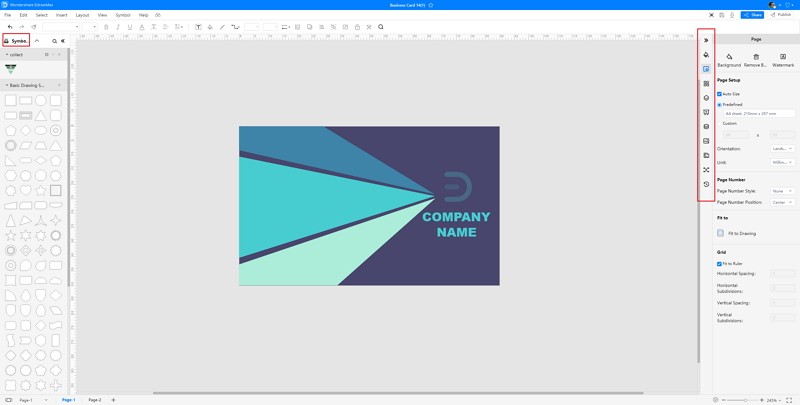 Source:EdrawMax Online
Step 3: Export and Insert
When the user is done with their business cards, they need to save the content in Word format. They can share it with their contacts or print them for future use.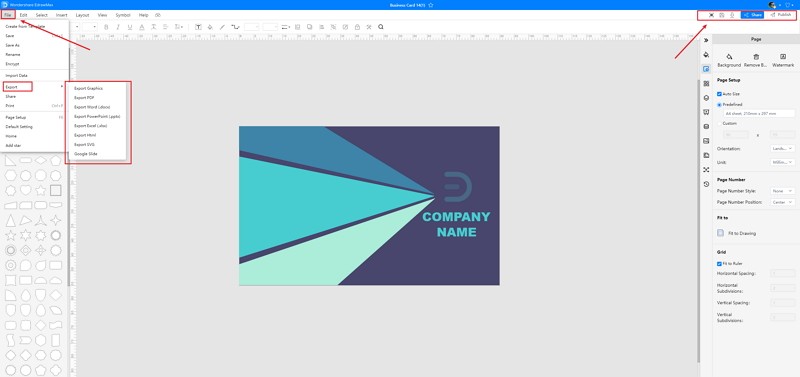 Source:EdrawMax Online
3. Business Card Word Templates
Sometimes, it is really hard to follow the steps on how to make a business card in Word or on EdrawMax Online and create the perfect diagram. At this time, there are business card examples you can edit immediately, or for more references. The business card exampels not only help people to understand a business card and its classification deeper, but also assist to draw business cards without efforts.
Business Card Word Template
A person or organization's business card is a small card which they give to other people, and which has their name and details of their job and company printed on it. The following abstract cloth pattern business card back is designed by using EdrawMax and is highly customizable.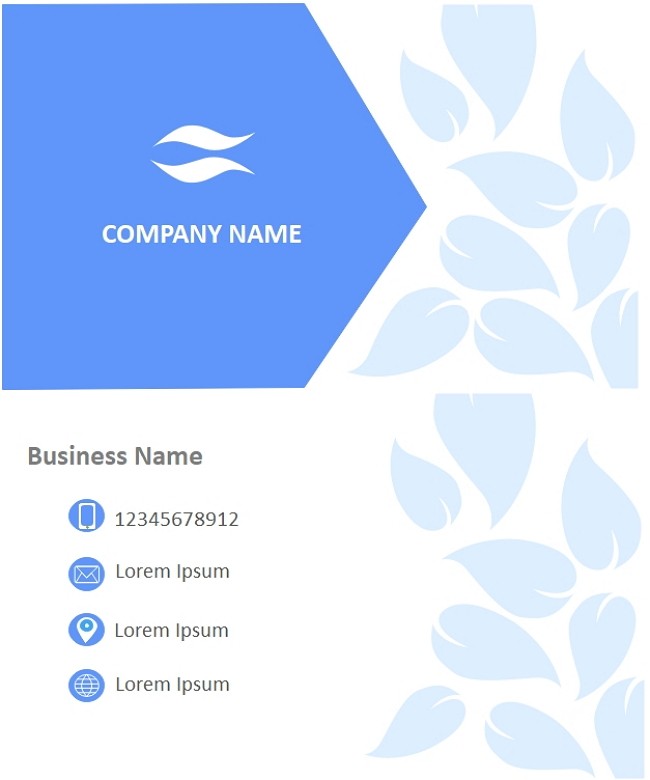 Source:EdrawMax Online
Business Card Print Template
Here is a professional business card which can be designed by using offline or online tools like EdrawMax or EdrawMax Online. The software lets you create business cards from its predefined templates and symbols. The business cards can be exported to different formats as per the need.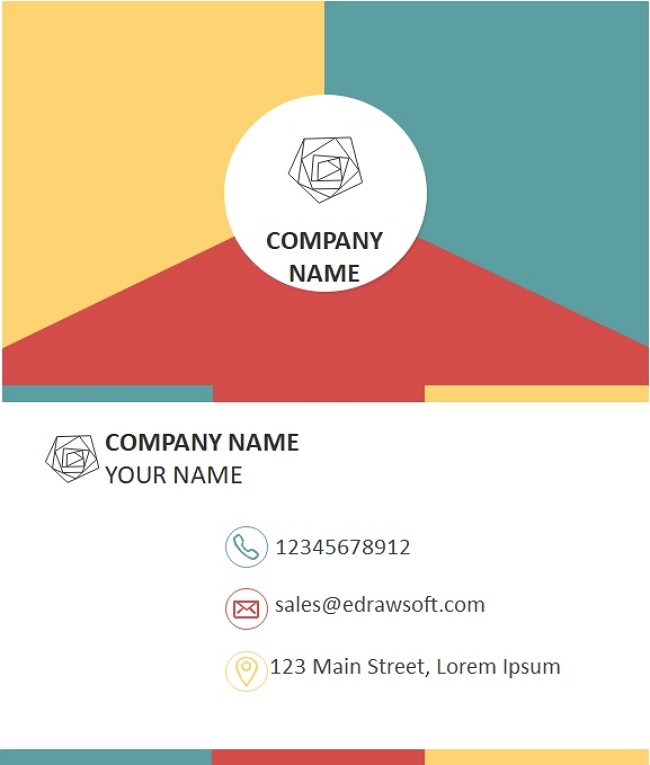 Source:EdrawMax Online
Blank Business Card Template
Here is a company business card, from which you can see the details of this company. A business card is a small card with a person's name, company name, and logo, contact details, and business address printed on it. They are used by professionals to hand out to clients or other fellow professionals, to share contact information.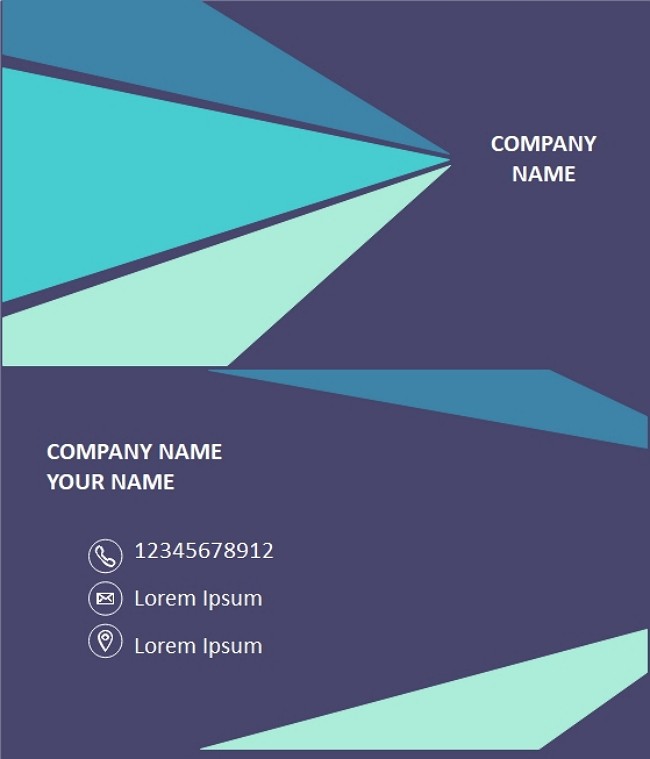 Source:EdrawMax Online
4. Online Business Card Maker
EdrawMax Online is a user-friendly tool, and hence many people consider it a trusted companion for their graphical use. EdrawMax Online is easy to handle, even for inexperienced users. The tool is compatible with operating systems like Windows, Mac, and Linux. EdrawMax online is 100% secure, and the user does not have to worry. The tool is SSL encrypted, and there is no chance of data piracy for file transfer. The card makeroffers a wide variety of professional templates which users can modify to create an excellent business card.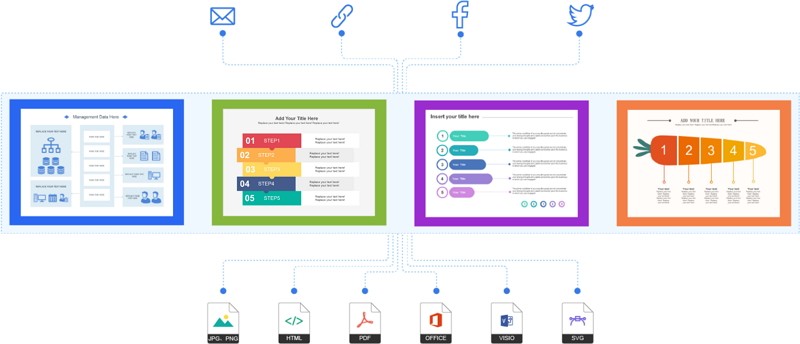 Why Choose EdrawMax Online
Create over 280 diagram types
Supports team collaboration
Personal cloud & data protection
Print, share and download
Powerful template community
5. Key Takeaways
A company owner may choose to create their business card as a tool of formal communication. Thus Learning how to create a business card in Word is very important for the company. But the method may be a bit confusing for the new users. Instead, they can use the card maker, which comes with professional templates. The users can easily modify them to create high-quality business cards from EdrawMax Template Gallery.