How to Make A Gengoram in PowerPoint
Nowadays, it is essential to have proper know-how of a particular family structure to understand the dominant behavioral patterns. Both physical and psychological, along with other allied features. However, creating a genogram on PowerPoint, at times, can be pretty stressful. EdrawMax Online helps in making things quite effortless.
1. How to Make a Genogram in PowerPoint
The genogram is highly useful to doctors while recording the family history of a patient for medical need. The tactic lies in going through the steps very carefully once and then trying it out hands-on because nothing gives a better edge than a proper practical experience. So, here are the steps of creating a genogram in PowerPoint.
Step 1: Insert Option
Firstly, the user has to open PowerPoint and select a new slide. After that, download the "Family Tree" template in PowerPoint, which is usually in the "Horizontal Labelled Hierarchy" format, and open it from the Insert option for proceeding further.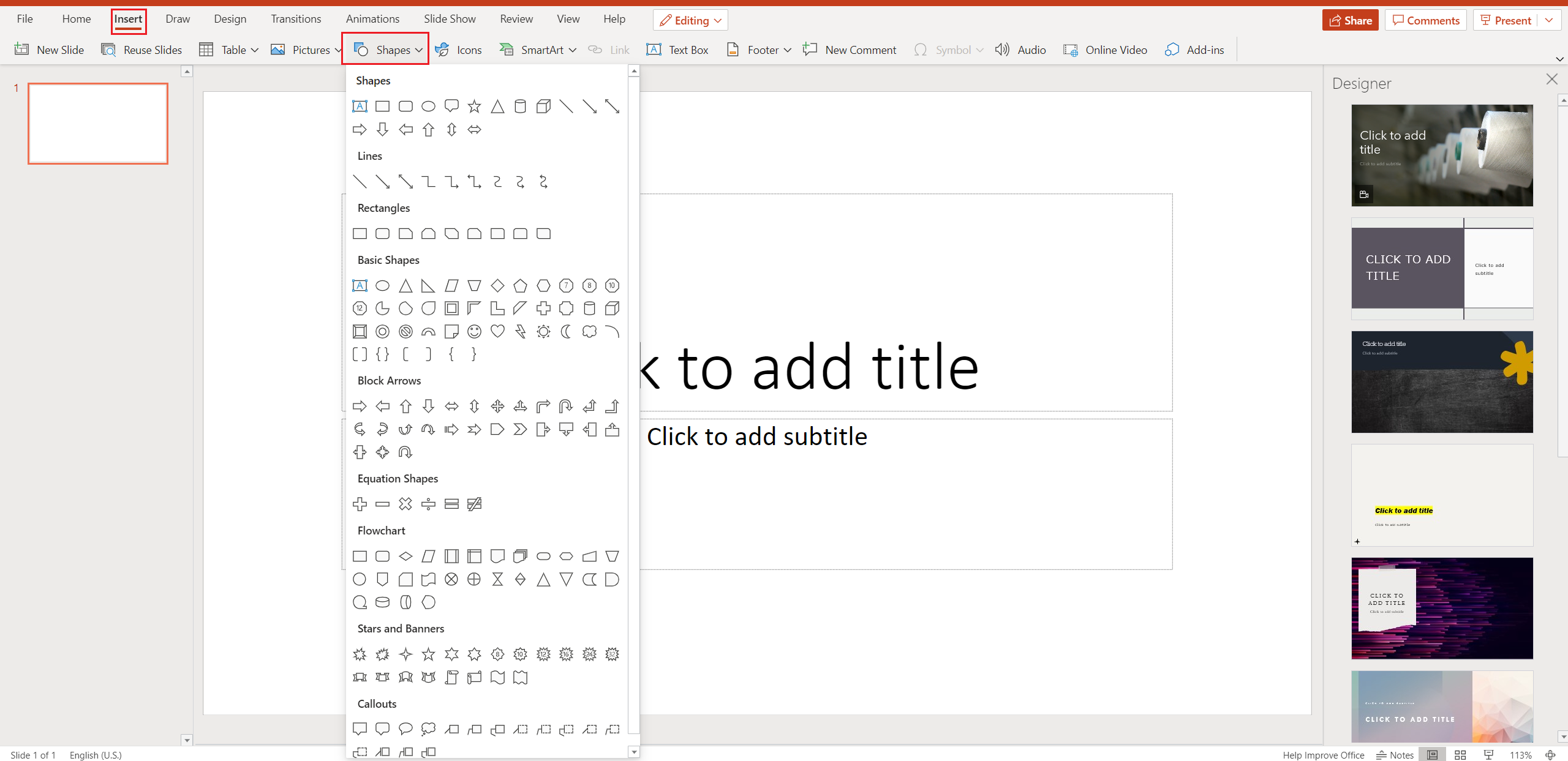 Step 2: Edit the Text
Next, the user needs to click on the "Father's Paternal Grandfather" link present in the "Type your text here" column on the left. Then the user has to delete this text and continue typing out all the real names till they substitute every single label.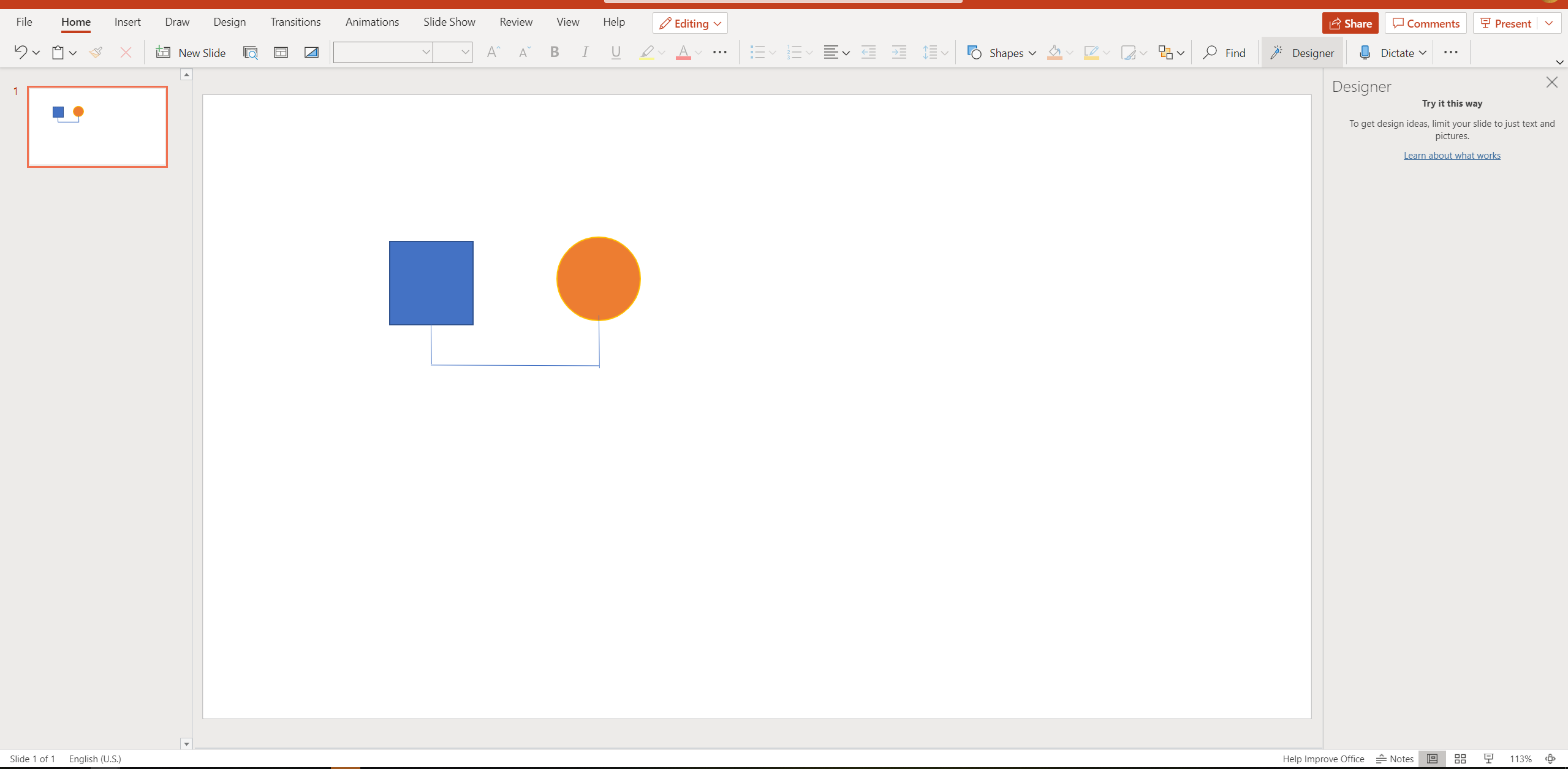 Step 3: Set Male Shapes
For adding a person in the genogram, the user can click on the label in the "Type your text here" column and then press the "Return" key. It will add the person to the desired level in the genogram. Now, suppose, the user wants to add a person in a similar level as the parent, for instance, uncle or aunt. In that case, the user has to click on the "Return" key again. It will simply add another label beneath for the addition of another name.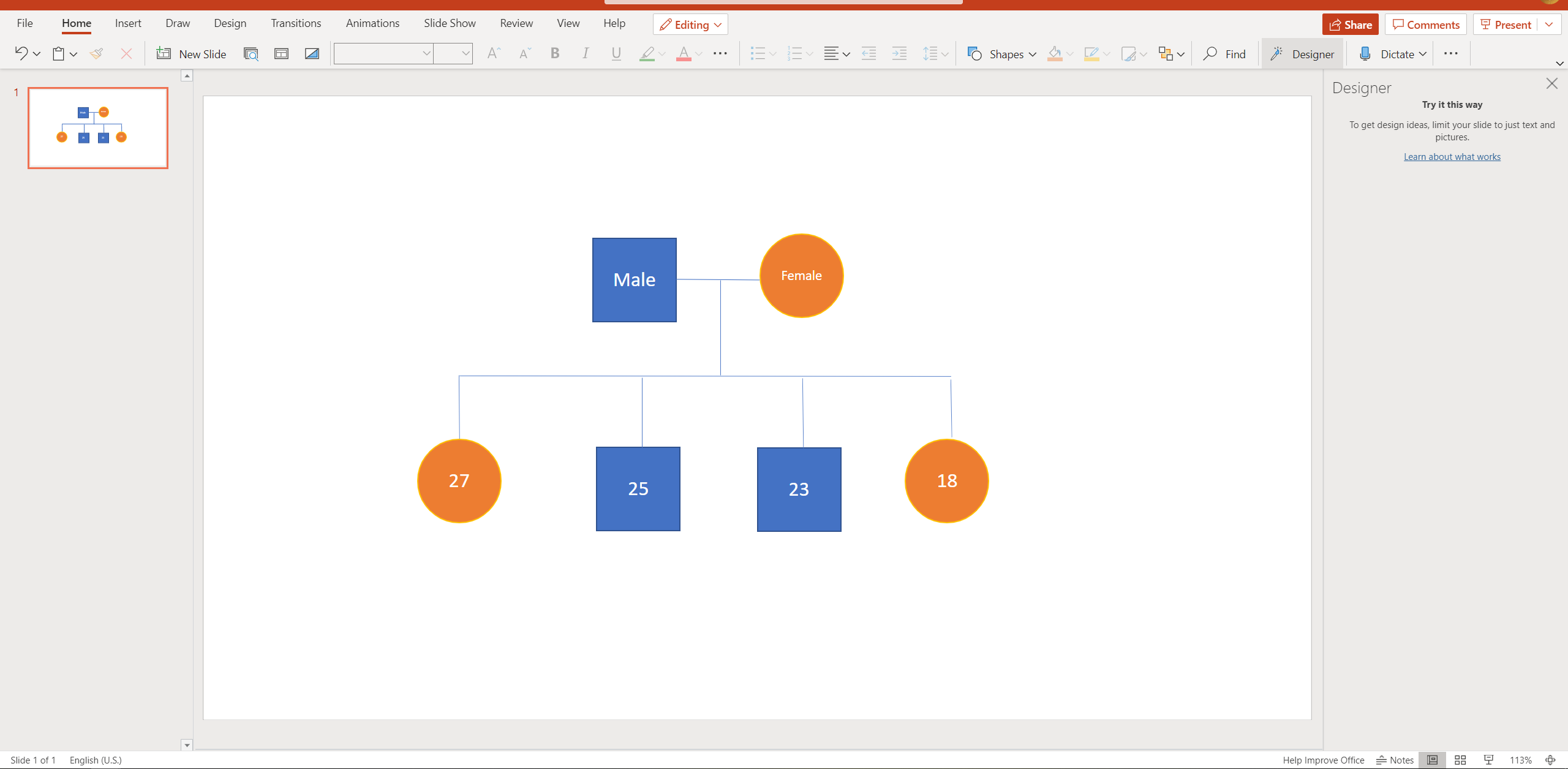 Step 4: Save and Export
Next, the user needs to click on the top left corner 'Microsoft' icon and select the 'Save As' from the drop drown menu. Finally, the user can finish by adding a file name and then save the file by clicking on 'OK' in the bottom right corner of the window. It completes the genogram in PowerPoint.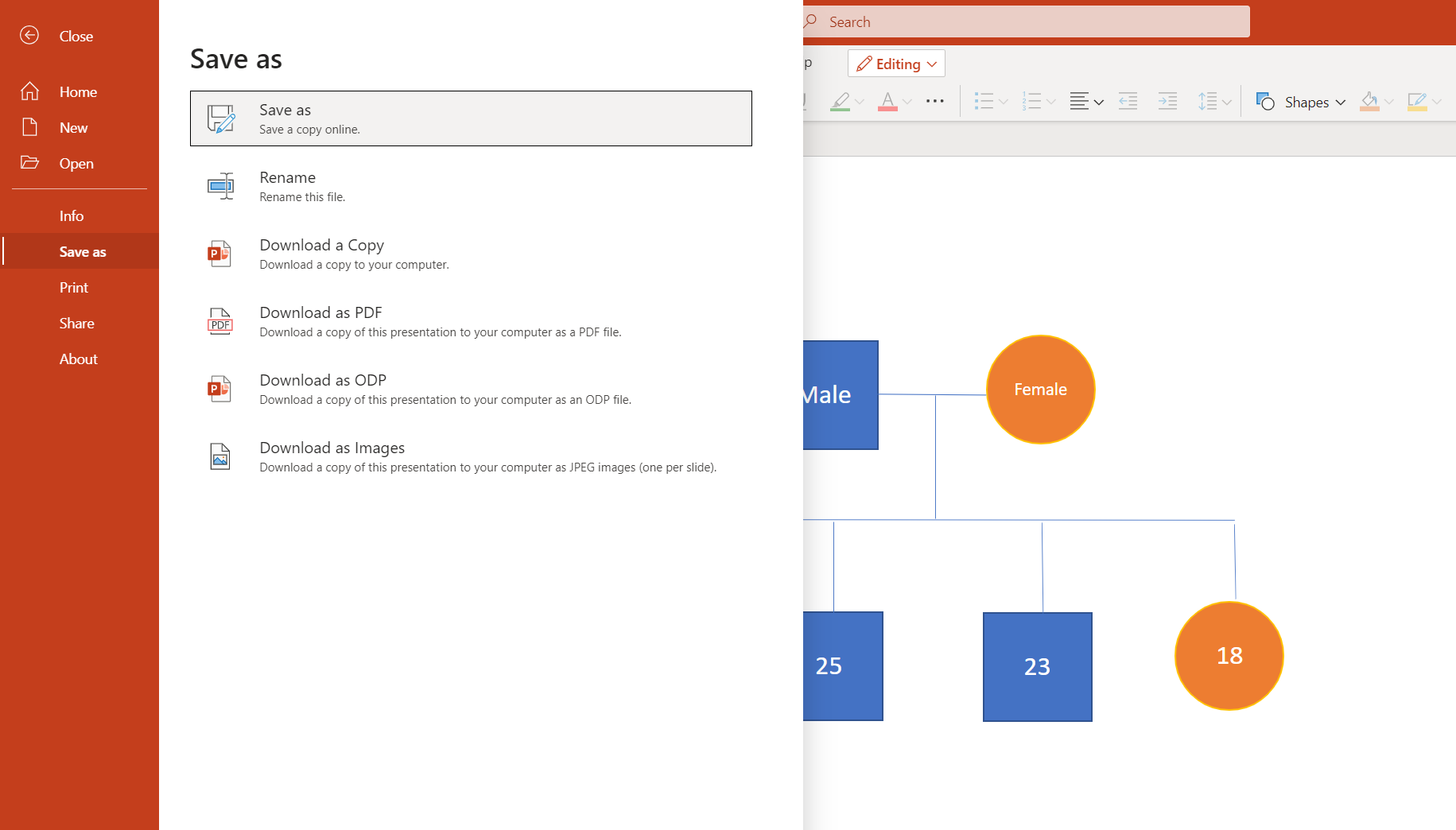 Step 5: More Tips
That was a brief overview of how to make a genogram in PowerPoint. However, it is first and foremost important to also know about all the commonly used symbols and what all they represent while drawing a genogram. The connection and relationship between the symbols can be done by dragging the mouse between the symbols. That way, the making of a genogram can become better and easily comprehensible as well.
2. How to Make A Genogram Easier
When a user makes their genogram, using PPT, it can be tricky on some occasions. For inexperienced users, it may seem more confusing. EdrawMax Online is a tool that can come in handy in this case. It is time-saving and at the same time easy-to-use. A user needs only a few steps to create their genogram on EdrawMax Online.
Step 1: Select Genogram Template
The user needs to find the [Science and Education] option in the EdrawMax online application. then select [Genogram] under this classification, as image shows;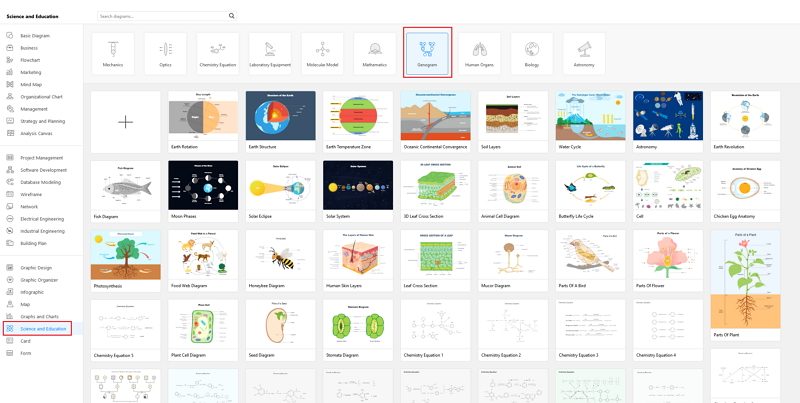 Source:EdrawMax Online
Step 2: Customize Your Genogram
Then from the templates present in the genogram option, the user can select one as per their choice. They can edit these templates to add as many family members as they need, and put the required details. Also, you can make a genogram from the start. Click [+], select the shapes and lines from [Symbol Libraries] in the left toolbar, and keep customizing as your preference.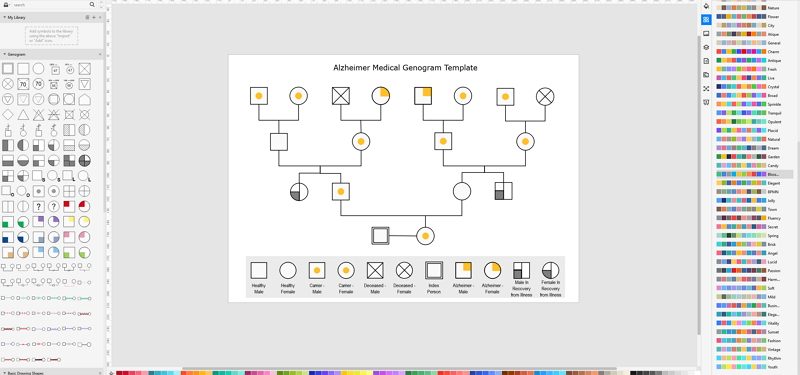 Source:EdrawMax Online
Step 3: Export and Insert
Once you finish your creation, you can save your genogram file in multiple formats, including Graphic, Microsoft Office, PDF, and more. Just export as [Graphic] or [PPT] format, and insert to your PPT file. Or even you can share your file through social media and Email.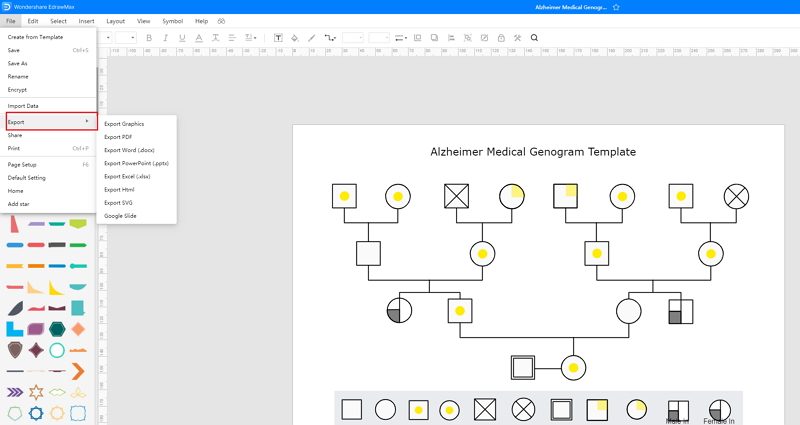 Source:EdrawMax Online
3. The Genogram PowerPoint Templates
Sometimes, it is really hard to follow the steps on how to make genogram on word or on EdrawMax Online and create the perfect diagram. At this time, there are genogram examples you can edit immediately, or for more references. The genogram exampels not only help people to understand genogram and its classification deeper, but also assist to draw gengorams without efforts.
Example 1: The Genogram Template
Here is an example of genogram. A genogram is a pictorial depiction of a family ancestry that exhibits comprehensive statistics on association amid solitary individuals. If you are confused about who your ancestors are and where they came from, knowing what is a Genogram will help you out.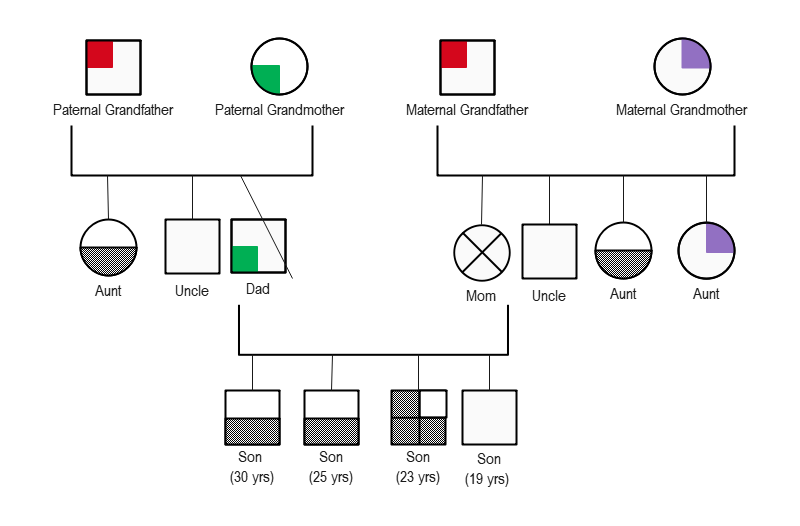 Source:EdrawMax Online
Example 2: Family Genogram Template
Here is a genogram assessment, from which you can see my family relationships clearly. A genogram is a pictorial depiction of a family ancestry that exhibits comprehensive statistics on association amid solitary individuals. It is used in a diversity of departments, like medication, mental processes, communal work, genealogy, patrimonial analysis, and education.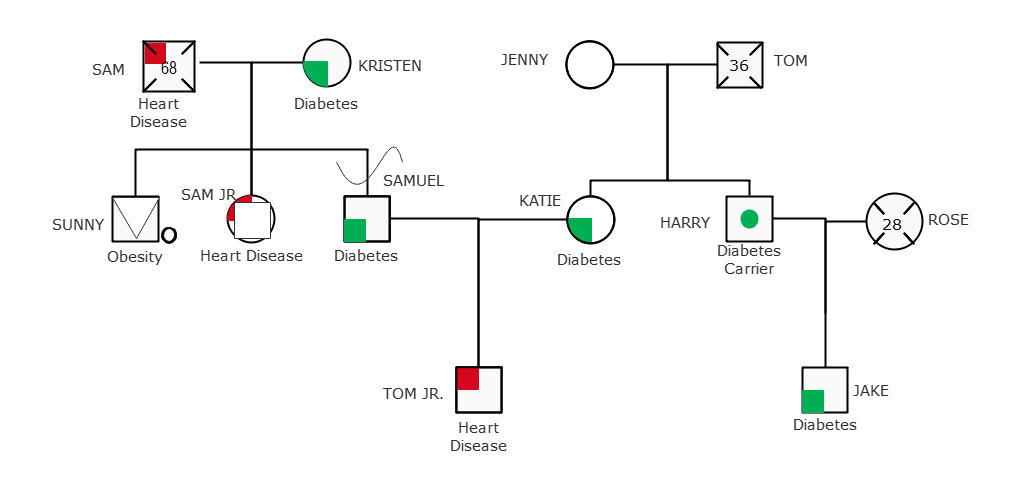 Source:EdrawMax Online
Example 3: Sam Family Genogram
This is a genogram for showing the family relationship of Sam family. A genogram is an essential pictorial display that comes with several beneficial features. For example, one can analyze family psychological factors as well as hereditary patterns that intersperse relationships between family members.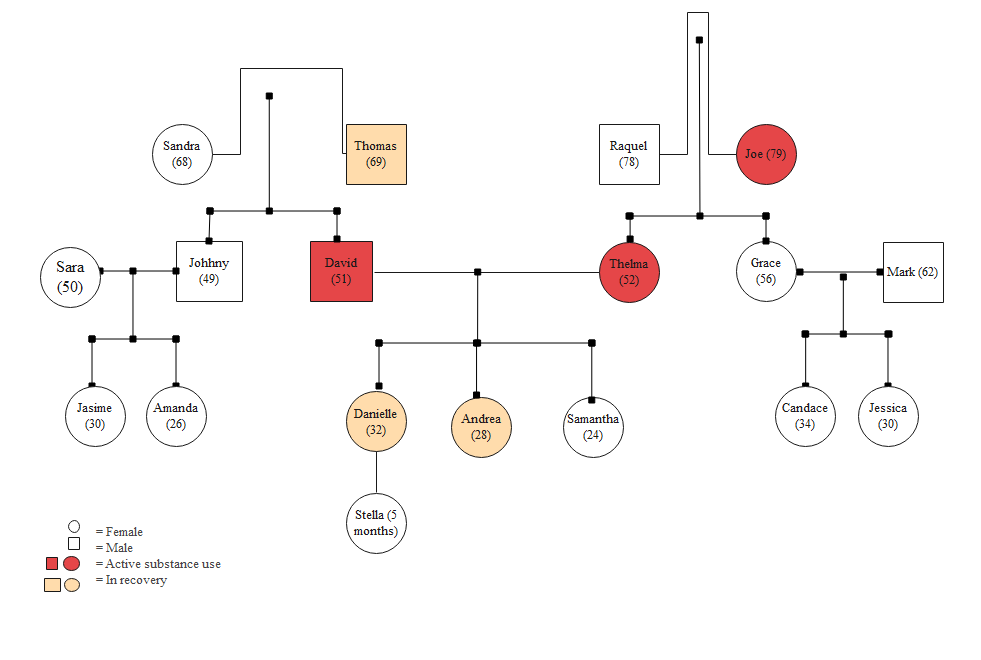 Source:EdrawMax Online
4. Online Genogram Maker
Though there are various ways to create gengorams, it is easy to make diverse gengorams in EdrawMax Online with ease. EdrawMax Online is a tool that is quite different from any traditional genogram maker. The genogram is somewhat different from a family tree. It involves factors like deriving the psychological connection influencing the relationship, blood relation, and hereditary patterns. Owing to its user-friendly nature, an inexperienced user can comfortably work on this tool. Its data security and variety of professional templates make it a favorite of many users. They can save and share the genogram on EdrawMax Online without any hassle.
EdrawMax Online is not just an online genogram maker. Use EdrawMax online to create your gneograms without efforts, just grab a template or choose one genogram template from EdrawMax Template Gallery and keep customization as your preference.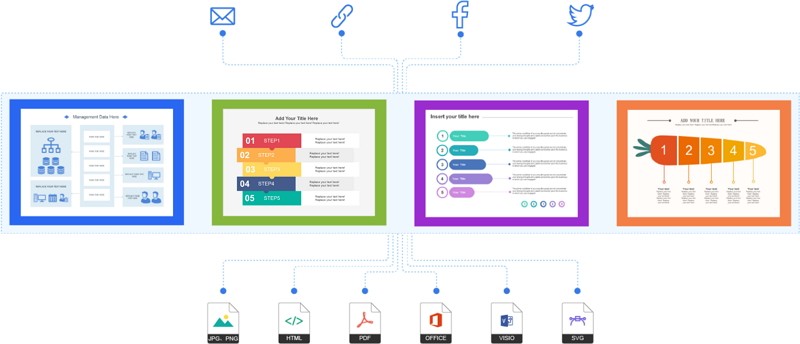 Why Choose EdrawMax Online
Create over 280 diagram types
Supports team collaboration
Personal cloud & data protection
Print, share and download
Powerful template community
5. Key Takeaways
The illnesses these days have become too complicated, and sometimes, it becomes a heavy task for the medical practitioners to understand the pattern of disease in their patients. In such scenarios, they take a genogram to know about the overall genetic blueprint of the patient's family because it helps to understand the connection between the genes, establish the underlying disorder, and, accordingly, diagnose the patient.
Quite evidently, it is crucial to know genograms to make sure the end-user receives accurate information for taking the subsequent remedial measure. And most importantly, one needs to know how to make a genogram in PowerPoint. So, to make the most informative genogram, EdrawMax Online can always be the best partner for collaborating owing to its articulate and professional aspects. If you still confused about how to make a genogram in EdrawMax Online, here is an genogram guide to help you create in minutes.