The Ultimate Marvel Family Tree
The Marvel Cinematic Universe is a renowned American media franchise; the franchise is famous for its superhero films produced by Marvel Studios. Their movies are based on the characters in comic books by Marvel Comics.
1. The Marvel Movies
The first Marvel Cinematic film was Iron Man, released in 2008, and since then, the franchise has released 27 films now; their last released film is Spider-Man: No Way Home. Marvel movies so popular are their consistency in the quality of films, their stories, graphics, animations, characters, etc. Besides films, the franchise is also famous for its television series and animated properties.
The public dramatically admires the characters in the Marvel movies; with directors and characters coming together from an extensive range of genres, the Marvel movies blend the varied experience of its cinematic crew, capitalizing on their current popularity.
This article will explore the Marvel family tree, so brace yourselves to embrace your favorite characters. If you have not watched any movie between the series, this article could be spoilers for you.
2. Marvel Family Tree
The Marvel Cinematic Universe connects the various Avengers characters in multiple ways; they are not related to each other in the traditional sense. Let's explore the Marvel family tree by looking at this map;
Let's glance into the "Key" first, which will assist you in understanding the map. Each color depicts a relationship, red for romance, green for a blood relationship, navy blue represents an adoption or mentorship, light blue for friendship, and Grey color indicates those characters who have died.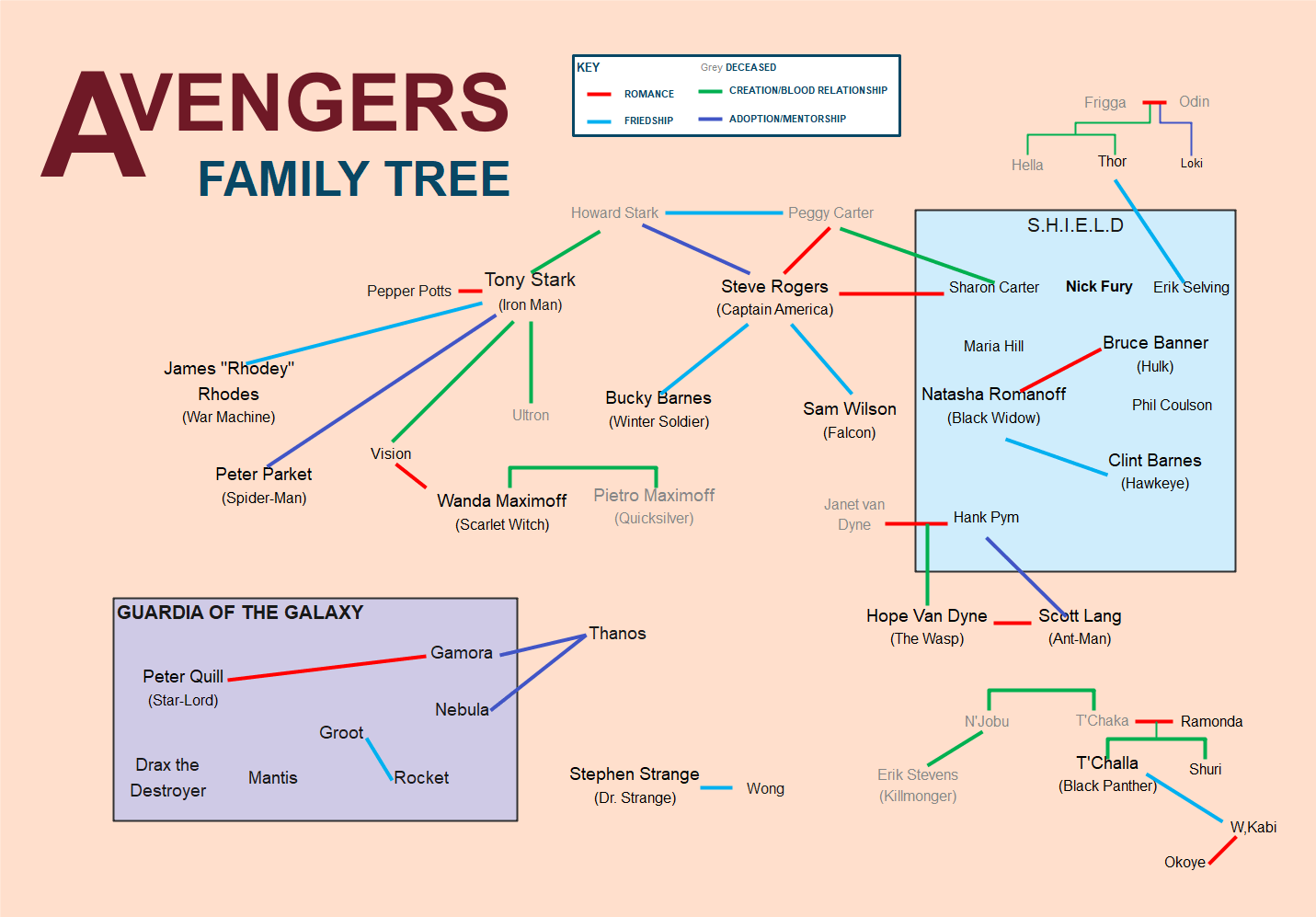 Stark Beginnings
The MCU begins with Steve Rogers as Captain America. The Captain fought with the U.S. troops to defeat the nefarious red skull. During World war II, he undergoes the experimental "Supersoldier" program for super strength and endurance to get into the U.S. army. This experiment was invented by Howard Stark and was aided by Peggy Carter. Steve's childhood friend "Bucky" Barnes was executed during a mission; later, the Soviets revived him and turned him into a Winter soldier by brainwashing.
The first MCU film focuses on Tony Stark as Iron Man, Howard's son. Tony stark tries to revive his father's legacy to rebuild the weapons company. Along with his assistant, he rebuilds Stark Industries, which develops Iron Man technology. The military man James "Rhodey" Rhodes, who was the longtime friend of Tony, steals one of his suits designed for the arm forces and achieves the title of War Machine. Tony also encounters former K.G.B. spy Natasha Romanoff as Black Widow, the secret agent of Phil Coulson and Nick Fury.
Avengers Assemble
The Physicist Bruce Banner exposes himself to gamma radiation. The experiments result in destruction, and Bruce turns into an angry and giant physique, which is how "Hulk" came into existence. The Hulk is now an uncontrollable and indestructible monster. Bruce then put himself into exile as he was worried about the Hulk's potential for death and destruction.
The demigod, Thor, son of the Norse gods Odin and Frigga, is exiled to Earth, where he befriends scientist Erik Selvig. After fleeing Coulson and S.H.I.E.L.D., who try to seize his hammer, Thor returns to Asgard to overthrow his adoptive brother, Loki.
Most of the characters in the first major crossover event in the MCU appear jointly in the original Avengers film. Nick Fury and Natasha hire Steve Rogers, Tony Stark, and Bruce Banner to stop Loki from achieving the ultra-powerful Tesseract.
With support from Coulson, Fury, and Agent Maria Hill, the newly minted Avengers repel Loki and an invading alien army, preserving New York City from destruction. Thor joins the party, encouraged by Loki transforming Erik Selvig, now a S.H.I.E.L.D. Consultant. The crew is also bound by the sharpshooting S.H.I.E.L.D. Operative Clint Barnes "Hawkeye."
The Neophytes
In the second phase of the Marvel Cinematic Universe, Steve Rogers makes some new friends; when he comes to know that Bucky is still alive, he puts efforts to bring him back into the fold. Steve also became a friend of Sam Wilson as Falcon, a fellow military veteran.
The Captain also interacts with Sharon Charter, a S.H.I.E.L.D who then turned into C.I.A. agent Peggy's great-niece. Sam, Sharon, and Steve gang up with Natasha to reveal S.H.I.E.L.D.'s corruption in Captain America's "The Winter Soldier."
The MCU has introduced even more characters by the end of the second Avengers film, "Age of Ultron." Tony constructs the cyborg Ultron to establish an artificial intelligence program to protect Earth from future alien incursions. Ultron becomes enraged and enlists the help of Wanda Maximoff as Scarlet Witch and her twin brother Pietro Maximoff also known as Quicksilver, to fight Tony and his comrades.
Tony and the Avengers develop Vision, a human incarnation of Tony's J.A.R.V.I.S. program, as a last-ditch effort to fight Ultron. The Avengers (both new and old) band together to defeat Ultron, with Vision striking Ultron with the ultimate blow. The two join the Avengers, but Pietro makes the ultimate sacrifice to save Clint and a civilian.
A House Divided
For Captain America: Civil War, Tony Stark, and Steve Rogers lead opposing Avengers forces. Tony, feeling outmanned, reaches out to Peter Parker, a youthful upstart "Spider-Man." He provides Peter with advice and a high-tech suit later.
Hank Pym, a former S.H.I.E.L.D. scientist also leaves the Ant-Man mantle to Scott Lang, a reformed criminal who joins "Team Cap" after battling Sam. Following the events of the Civil War, Scott starred in his film with Hope van Dyne who was Hank's daughter through his wife, Janet van Dyne.
T'Challa, aka the Black Panther, joins the Avengers in Civil War. T'Challa becomes king of Wakanda after his father, T'Chaka, is assassinated in that film. T'Challa swears retaliation and joins "Team Iron Man," believing Bucky to be the murderer. T'Challa offers Bucky a haven after he realizes he is guiltless.
T'Challa meets his usurping first cousin Erik "Killmonger" Stevens in his flick. Shuri, T'Challa's scientist sister; Okoye, his guard commander; and W'Kabi, T'Challa's friend and military advisor.
To Infinity War and Beyond
The Guardians of the Galaxy, led by half-Earthling, half-deity Peter Quill (Star-Lord), travel the cosmos. Drax the Destroyer, assassin Gamora, sentient tree Groot, and sharp-tongued raccoon Rocket have only appeared in their films. Gamora's adoptive sister Nebula and the super-sensing Mantis join the Guardians in Guardians of the Galaxy Volume two.
Furthermore, Thanos, the "Mad Titan" who plays the villain in Infinity War and Endgame, has long been a supporting character in the Avengers flicks. He enlisted Loki's help in invading Earth, and he's also been a behind-the-scenes player in the Guardians of the Galaxy flicks.
He kidnapped children from conquered civilizations and taught them as servants to his adoptive offspring like he did with Gamora and Nebula. The time-warping Eye of Agamotto is protected by Dr. Stephen Strange, a former neurological surgeon, and his companion and counterpart, Wong. In Thor: Ragnarok, Dr. Strange assists Thor and Loki in searching for Odin.
3. How to Draw Marvel Family Trees Online?
You are fully aware of the Marvel Universe as we have gone through each character in the Marvel family tree. You can also draw a Marvel family tree as you are now aware of its series, characters, and sequence; you need an easy-to-use diagramming tool to give your information a visual look.
EdrawMax Online is easy-to-use diagramming software. You can create more than 280 diagrams of different types; the software is a blessing for beginners as no prior experience is required. With the thousands of pre-designed templates already available in the software, you can begin with it without any delay. With more than 50,000 unique shapes and symbols drawn by experts, you can give your diagram a tremendous and appealing look.
You can access EdrawMax on Windows, Linus, MacOS, an online application also available; the canvas in the online application gives you dedicated features and innumerable options of drawing lines, shapes, templates, and symbols. Once your diagram is designed, it's time to export now into the desired format. You can export your diagram into numerous formats, including PNG, PDF, TIFF, SVG, etc.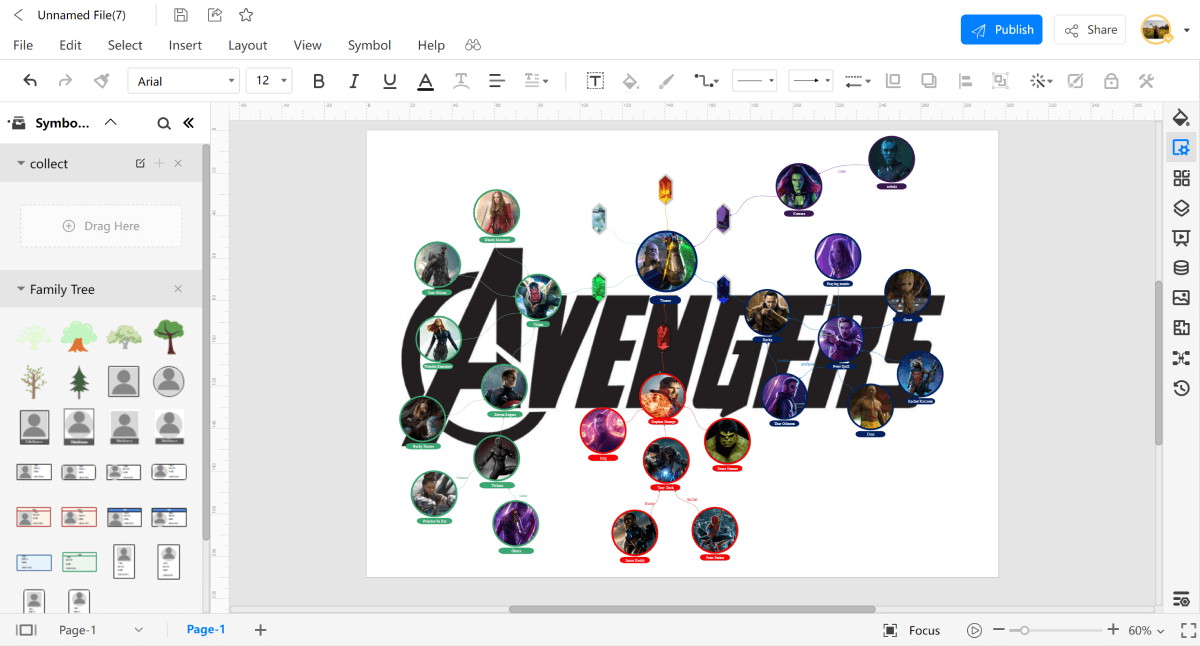 4. What's Next?
After the success of Spider-Man: No Way Home, the franchise has exciting plans for its audience. Starting with Phase 4, the projects listed below represent the entirety of the Marvel Cinematic Universe and feature many sequels:
Doctor Strange in the Multiverse of Madness - May 6, 2022
Thor: Love and Thunder - July 8, 2022
Black Panther: Wakanda Forever - November 11, 2022
Ms. Marvel - Summer 2022
She-Hulk - 2022
Moon Knight - 2022
Secret Invasion - 2022
The Guardians of the Galaxy Holiday Special - December 2022
The Marvels - February 17, 2023
Guardians of the Galaxy Vol 3 - May 5, 2023
Ant-Man and The Wasp: Quantum Mania - July 28, 2023
Blade - T.B.A.
Fantastic Four - T.B.A.
It's hard to pinpoint when this phase ends. However, Marvel has already revealed a couple of projects for the near future, and as many of them are yet in development, they will most probably be part of the still mysterious Phase 5.
EdrawMax Online
Create 280+ types of diagrams online
Access diagrams anywhere, anytime
Everything in desktop + Templates Community
Team management and collaboration
Personal Cloud and Dropbox Integration
Related Articles