Pfizer SWOT Analysis
Pfizer has a strong market position and a high market share. In this SWOT analysis of Pfizer by EdrawMax, we analyze the brand by its strengths, weaknesses, opportunities & threats.
1. Lead-in
SWOT Analysis is an idea of analysis, applying which companies and industries can study a company and how well or miserably they are doing in the market against their competitors. By judging these key factors, the company heads construct well-thought decisions for its future. Pfizer is a significant medicine company with the motto to change lives for the better through its relentless pursuit of scientific breakthroughs and medicines that will bring notable revolution to the world and help people with healthier lifestyles.
The main topic of discussion here includes the Pfizer SWOT Analysis and how the analysis will help the company have a better future because of the proper decisions already taken. The SWOT Analysis for Pfizer mainly revolves around the four topics, i.e., the company strengths, the weaknesses that can be bad for the company, the opportunities that can give the company a better future, and the threats that can cause problems in the future for the company. In this article, we will help you understand how easy it is to retain the information of any company by creating its SWOT analysis using the amazing elements offered by EdrawMax Online.
2. About Pfizer
2.1 Introduction of Pfizer
Pfizer is an American company that deals in the medicine and biotechnology field. The company has a great demand in the market, and though its reputation has faced some questionable allegations, it still stands as one of the top Pharma companies in the world. Charles Pfizer and Charles F. Erhart founded the company.
2.2 Overview of Pfizer
| | |
| --- | --- |
| Name | Pfizer Inc. |
| Founded | 1849 |
| Industries Served | Pharmaceutical, Biotechnology |
| Geographic area served | Worldwide |
| Headquarters | 235 East 42nd Street, New York City, U.S. |
| Current CEO | Albert Bourla |
| Revenue (US$) | 81.29 billion approximately as of 2021 |
| Net income (US$) | 21.98 billion approximately as of 2021 |
| Employees | 79000 approximately as of 2021 |
| Main competitors | AstraZeneca, Johnson and Johnson, Merck, and more |
2.3 History of Pfizer
| | |
| --- | --- |
| 1849 | Founded |
| 1880 | Production of citric acid |
| 1898 | Expansion of lab and factory |
| 1906 | Pfizer died |
| 1881 | Moved the administrative headquarters |
| 1906 | Sales exceeded $3 million |
| 1950 | Discovery of ox tetracycline |
| 1981 | Received approval for Diflucan |
| 1986 | Acquired worldwide rights of azithromycin |
| 1989 | Viagra was created |
| 1991 | Started marketing Zoloft |
| 1996 | Approval to treat Alzheimer's |
| 2000 - 2010 | Further expansion of the company happened |
| 2010 - 2020 | More discoveries were made, and many mergers were arranged |
3. SWOT Analysis of Pfizer
Strengths
Leading the market: When it comes to the position of Pfizer in the market amongst its competitors, it has gained a remarkable place there. Pfizer is in the top 50 public companies globally and one of the top three pharmaceutical companies to date.
Work during the pandemic: The way Pfizer manufactured a vaccine during the rise of the COVID cases was remarkable. It is said to be a record speed with which the vaccine got FDA approval and how it was mass manufactured and administered. Their work was simply unparalleled, especially in the recent pandemic years.
Source of existence: Pfizer started as a one-stop shop around 170 years ago. Now it has turned into this big multinational company with a century of knowledge and experience, which is the massive strength that helped Pfizer establish itself in the business world.
Brand value: The company manufactures several well-known medicines and vaccines for the worldwide market. These medicines are used by everyone regularly on a day-to-day basis. It includes Viagra, EpiPen, Xanax, Advil, and more.
Work done through research and the development caused: The company created a record by investing about 10 billion dollars annually to research and develop medicines and vaccines for different fields. Their investment is one of the leading ones done in this
Weaknesses
Marketing mismanagement of drugs: The brand value of Pfizer might be facing a massive loss because of the allegations that have been brought against it concerning the illegal marketing of drugs.
Dependence on the US market:To increase a Pharma company's success rate, they should be appropriately accessible to many countries worldwide, but Pfizer is heavily dependent on the US market, which is not the best strategy for the company.
Law issues: Pfizer has been dealing with several legal problems. It can highly hamper the business of the company. Having problems with the law can never be a good thing.
Failure in mergers and acquisitions: Even though there were some successes in merging the company with some good names, it still wasn't enough. There are failures on the company's part to collaborate with other companies to consider the previous mergers a complete success.
Opportunities
New acquisitions and mergers: With upcoming mergers and acquisitions, Pfizer is getting the opportunity to reach more people and do business on a global level.
Pfizer has not reached the global market yet: As Pfizer is heavily dependent on the US market, it gives it more opportunities to do more business in other countries, especially developing ones.
Increasing demand for healthcare: People are getting more health conscious with time, and the number of epidemics, pandemics, and other diseases has increased by a lot as well. So, Pfizer, one of the leading Pharma companies in the world, has a massive customer base worldwide.
Vaccine manufacturing for COVID: The pandemic gave Pfizer a fair opportunity to manufacture a new vaccine, which had a good run and increased its brand name in the global market.
Threats
Recent bouts of Recession: Due to the pandemic, the world is suffering a recession state. Every business, big or small, and almost every industry faces financial threats because of pandemic-caused recession. Thus, it can be a significant threat to the company's growth.
Resignation of higher authorities: Customers may consider it a red flag when the leading management heads leave their posts at a highly successful company like Pfizer. It can put a dent in their reputation and name.
Failure of new products: Pfizer has been facing some issues when it comes to the manufacturing of new products. It might not be a big failure or something frequent, but a highly reputed company like Pfizer cannot afford to make such mistakes as it can threaten its business's future.
Competition is Challenging: Even if Pfizer is one of the top companies in the world, it still cannot be denied that the competition Pfizer faces is anything less than any other Pharma company.
Pfizer SWOT Analysis Diagram
As you saw here, SWOT analysis is an integral part of any organization's progress as it not only depicts the strengths and weaknesses in detail but also introduces the opportunities and threats it faces. In order to retain the information for a long time, students and professionals are advised to work on a Pfizer SWOT analysis diagram using the astounding customization options offered by EdrawMax.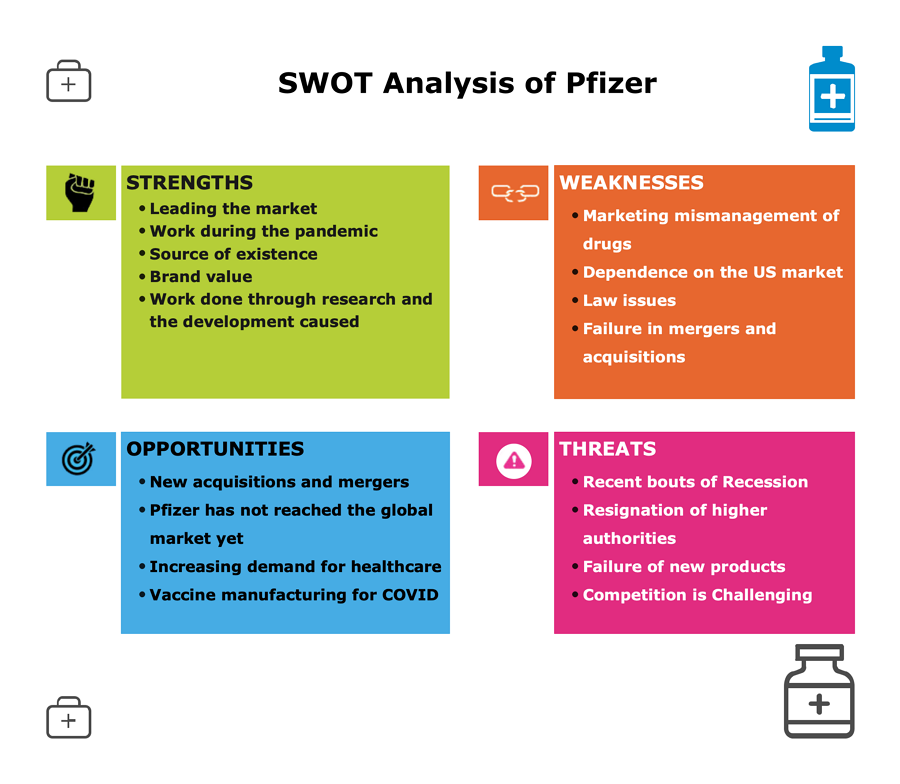 4. Free SWOT Analysis Diagram Creator
With SWOT analysis creators, you can create similar SWOT analysis diagrams without worrying about technicalities. EdrawMax offers a wide range of customization options that helps in creating complex diagrams. Check out some of the most amazing features of this SWOT analysis creator:
With EdrawMax's template community, you can easily create a SWOT analysis, PESTEL analysis, Venn Diagram, and more in one canvas.
This free SWOT analysis diagram creator is designed by professional experts. So when you work on the design and customization parts, you do not have to worry about accuracy.
EdrawMax has an online version allowing you to access your files from anywhere.
Unlike other tools that take up much space on your system, this free SWOT analysis diagram creator is very user-friendly for your system.
The amazing feature or element of using EdrawMax is that it is free to use.
With this free SWOT analysis diagram creator, you can export the file in multiple formats depending upon your requirement.
EdrawMax Online
Create 280+ types of diagrams online
Access diagrams anywhere, anytime
Everything in desktop + Templates Community
Team management and collaboration
Personal Cloud and Dropbox Integration
5. Key Takeaways
Pfizer's SWOT Analysis is nothing but a detailed study of the four most significant factors that play a major role in deciding and identifying the company's position in the industry and where it lies concerning its competitors. This SWOT analysis of Pfizer mainly talks about the strengths with the help it has, and it will see success, the weaknesses that can be a problem for the company, the opportunities that can arise for the company, and the threats that can prove to be the reason behind the company's ultimate downfall.
As you saw in this detailed guide to understanding the SWOT analysis diagrams, EdrawMax Online is an all-in-one diagramming tool that offers a wide range of online resources, templates, symbols, and other important elements that helps in creating wonderful SWOT analysis diagrams. Download EdrawMax today and create Pfizer SWOT Analysis and share it with your friends and colleagues.
Reference
Muhammadi, M., 2022. SWOT Analysis of Pfizer., [online]The Strategy Watch. Available at: https://www.thestrategywatch.com/swot-analysis-pfizer/ (Accessed 3 September 2022).

Pfizer.com. 2022. Pfizer: One of the world's premier biopharmaceutical companies., [online]. Available at: https://www.pfizer.com/ (Accessed 3 September 2022).
Related Articles