The Ultimate Sopranos Family Tree
As complicated as the collections of the Sopranos family trees may seem, Edrawmax can help you obsess over your favorite television series characters.
1. The Sopranos Family
The Sopranos is a crime drama television show that was first released in January 1999. The American television series is still quite popular even decades later. The plot of the story circles around Tony Soprano (the protagonist, James Gandolfini), a mobster at a criminal organization who struggles to balance his family life with his professional life, which is revealed to the viewers through his therapy sessions with his psychiatrist. Other characters in the story include Tony's family, his wife Carmela, mafia colleagues, and his cousin Christopher. The story developed over time and left the viewers hooked to their screen throughout the show's seasons.
The Soprano's aired for a total of six seasons, having 86 episodes from 1999 to 2006-7. Being a production of HBO, The Sopranos is still categorized as one of the best television series of all time, winning multiple awards over the years. Not only did the show get massive appreciation, but many show actors came into the limelight for their applaudable acting within the storyline itself. With a perfect blend of relatability and action drama, The Sopranos is an all-time favorite for its audience despite a decade since its last release.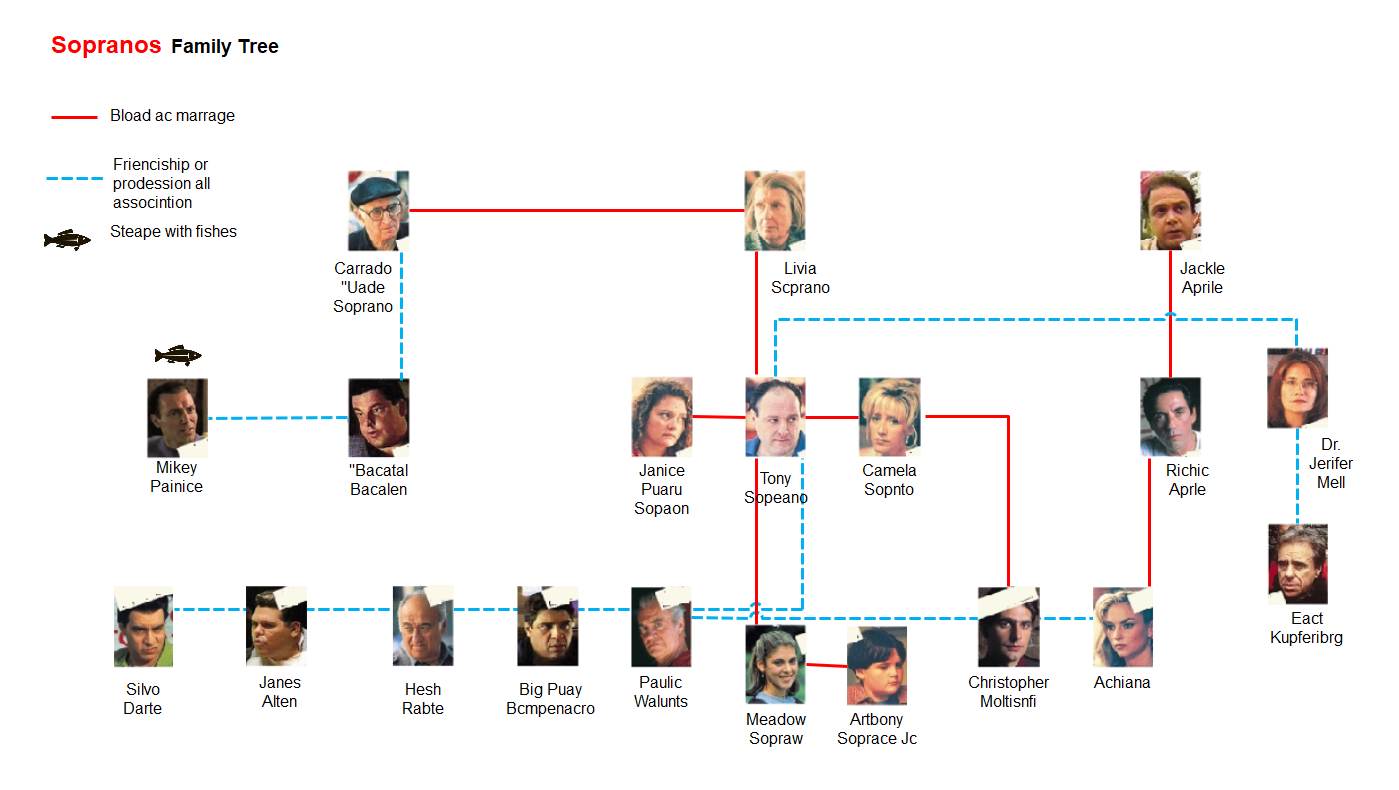 What Makes the Sopranos Popular?
The Sopranos has left the television industry with a difficult bar to beat. Decades later, the show is still prevalent in its ways. The television series brought a new era of ambition, narrative scope, violent visuals, and production quality. Moreover, the kind of performances delivered in the show was remarkable such as the protagonist, James Gandolfini. The show's legacy and storytelling are excellent, making it one of the most loved shows.
Brought a new era of remarkable production, ambition, and visuals.
Outstanding performances by actors
Phenomenal legacy and storytelling
Spoiler Warning: Spoilers are also included in multiple places in this article.
2. The Sopranoss Family Tree
The Aprile Family Tree
The Aprile Family consists of two brothers (Jackie and Richard) and two sisters (Liz and Unnamed). Each individual has children from their respective partners. Jackie and Rosalie are parents to Jackie Jr and Kelli, Richard and his wife are parents to Richard Jr, Liz La and her partner are parents to Adrianna, and the other sister has two children, Vito and Bryan. Vito and his partner Marie are parents to Vito Jr and Francesca.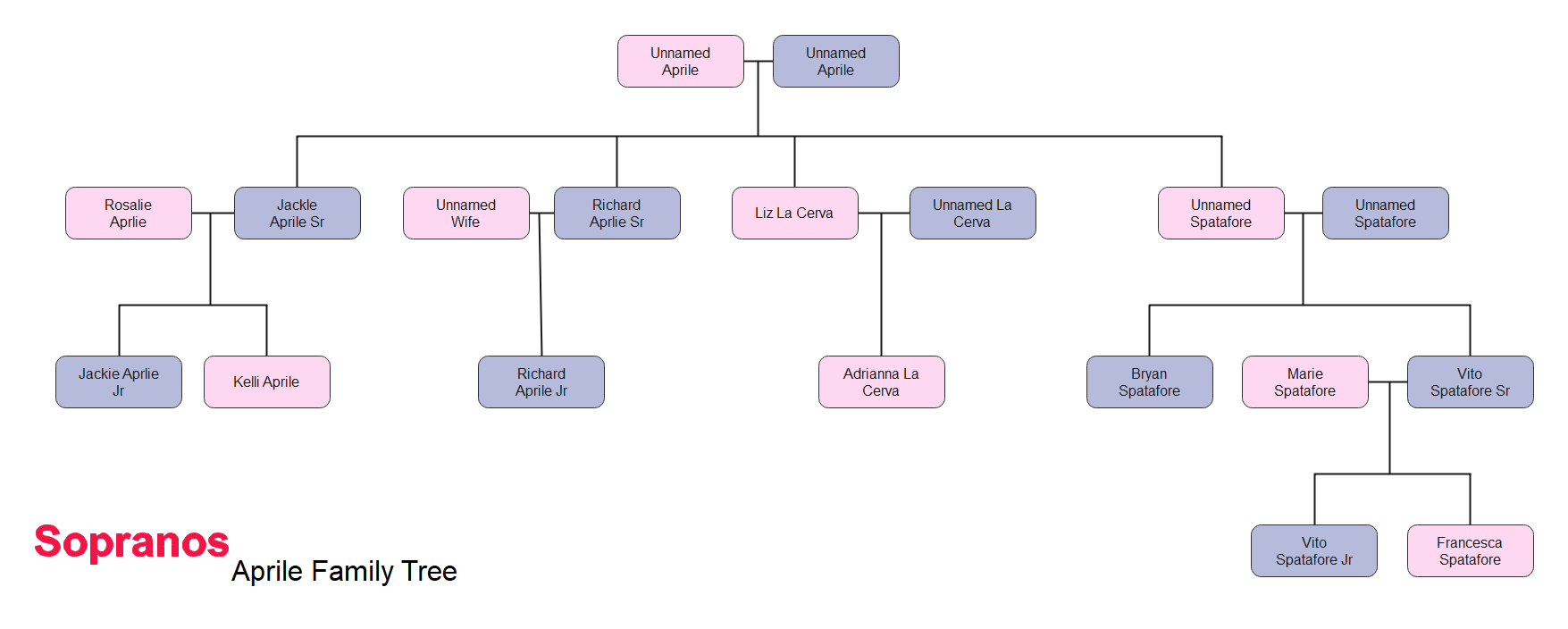 The Soprano Family Tree
The Soprano family tree begins with a couple of Mariangela and Corrado Soprano. The couple has three children Corrado, Johnny, and Enroll. Soprano's family extends further with Johnny and Livia's children, Barbara, Tony, and Janice. Barbara and her partner Tom have two kids, Tommy and Alyssa, Tony and Carmella also have two kids, Meadow and AJ, and Janice and her partner Bobby have a daughter Domenica. Bobby has another partner Karen from whom he has a son Bobby Jr and a daughter Sophia. Janice also has a son Harpo from her other partner Eugene.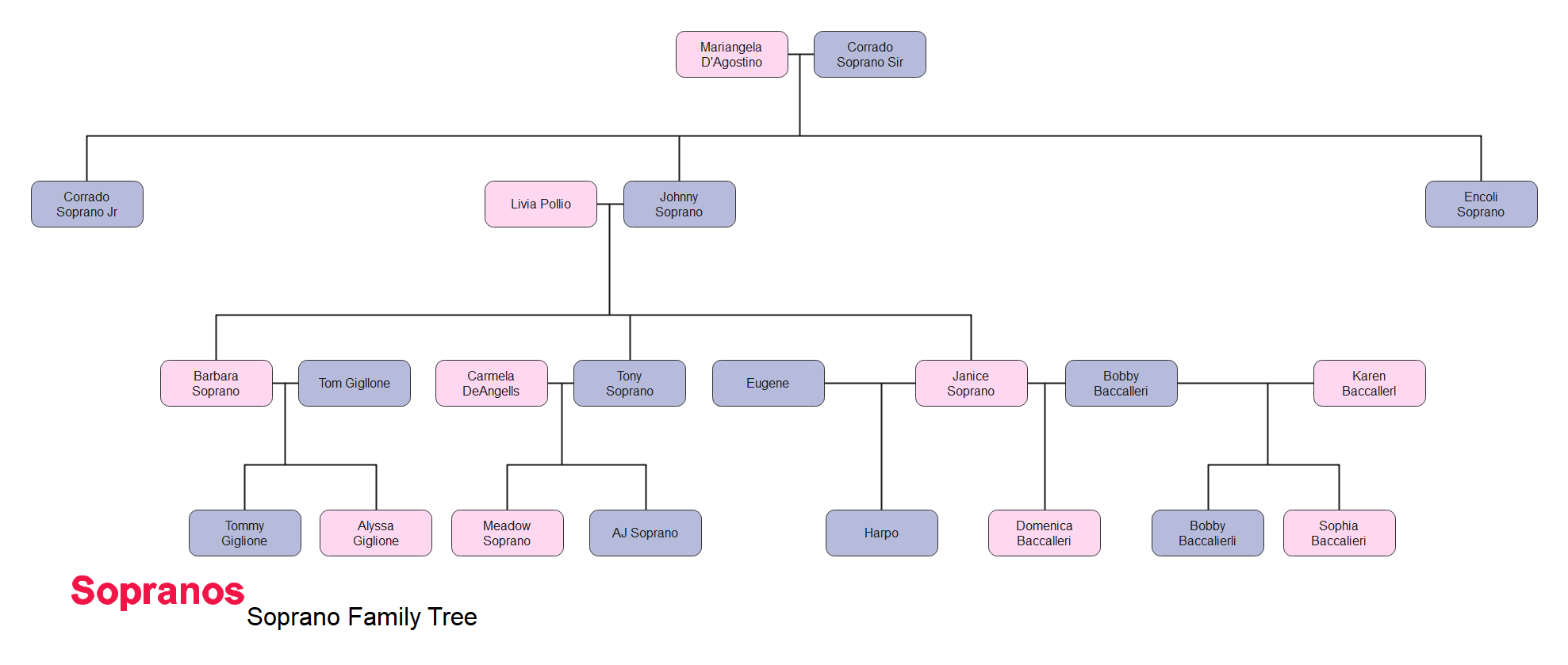 The DeAngelis Family Tree
The DeAngelis family tree begins with Concetta and Orazio, who have two kids, Lena and Hugh. Lena and her partner Joseph have a son Dickie whose partner is Joanne. Together Joanne and Dickie have a son Christopher. Christopher settles with Kelli, who has a daughter named Caitlyn. On the other hand, Hugh's family extends with Mary with their two daughters. One of their daughters, Carmela, is settled with Tony (from the Soprano family), from whom she has two kids, AJ and Meadow.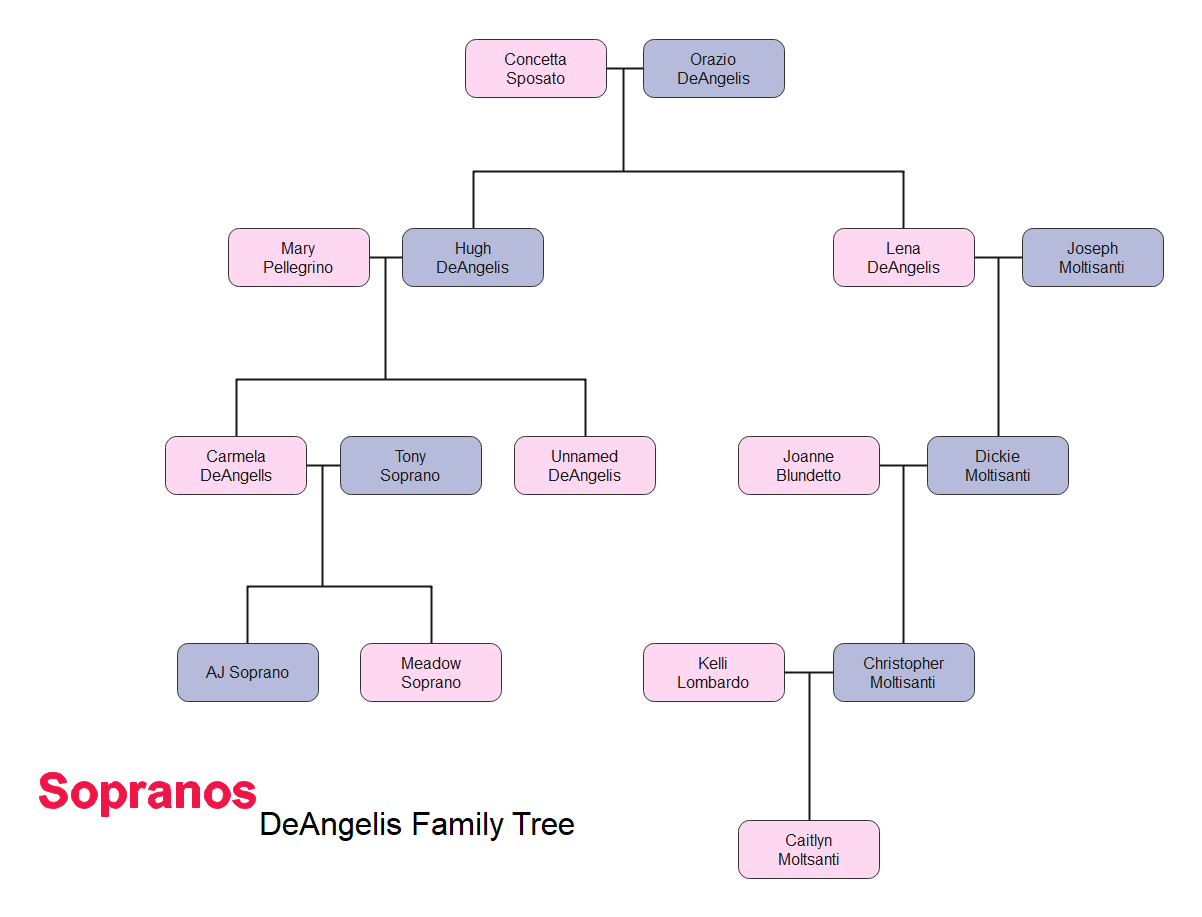 The Blundetto Family Tree
The Blundetto family tree originates from the three siblings, Joanne, Patrizio, and Albert. Beginning with Joanne, the lady settles with Dickie, and they have a son named Christopher. Christopher settles with Kelli (from the DeAngelis family), who has a daughter named Caitlyn. Moreover, Patrizio and his partner have a lovely daughter named Louise, and that's where their family ends. Moving to Albert, he is settled with Quinta and has a son named Tony. Tony and Nancy are parents to three lovely children, Kelli, Jason, and Justin.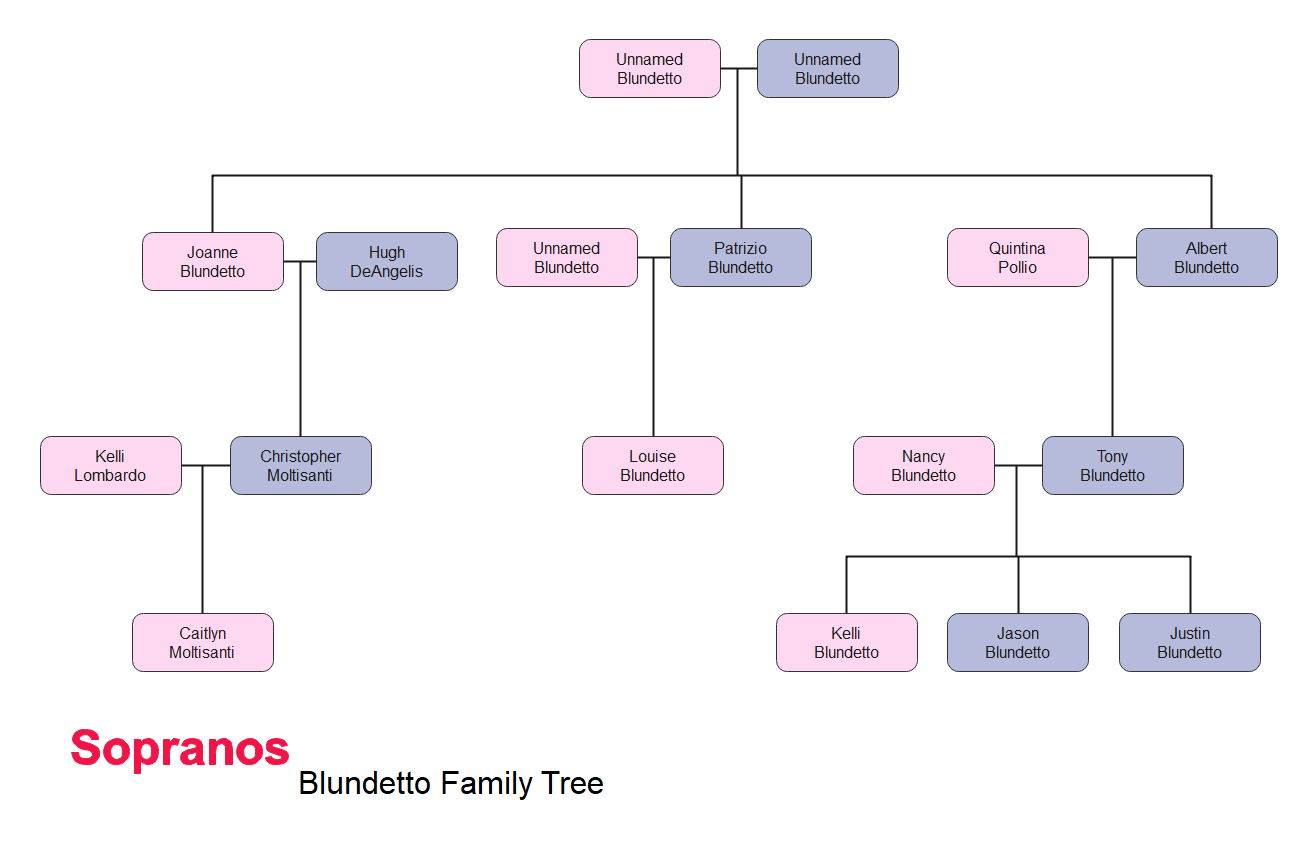 3. How to Draw Sopranos Family Trees Online?
If you want to make your own Sopranos family tree from scratch, we recommend you use EdrawMax Online, developed by a well-known software industry called Wondershare. The application is so powerful and lets its users make a perfect diagram in minutes with drag-and-drop functionality. The application allows users to make over two hundred and eighty diagram types. The application has more than five thousand diagram symbols.
The application's best feature is its templating feature, which allows users to choose any template from the EdrawMax template community and start editing it. With this feature of EdrawMax, you can boost your diagram-making speed and avoid potential errors. EdrawMax allows users to import their projects, edit them, and export them in multiple file formats. You can take the Sopranos Family tree templates from this article or EdrawMax template gallery and start editing them and exporting them in SVG, PNG, PDF, HTML, and other formats.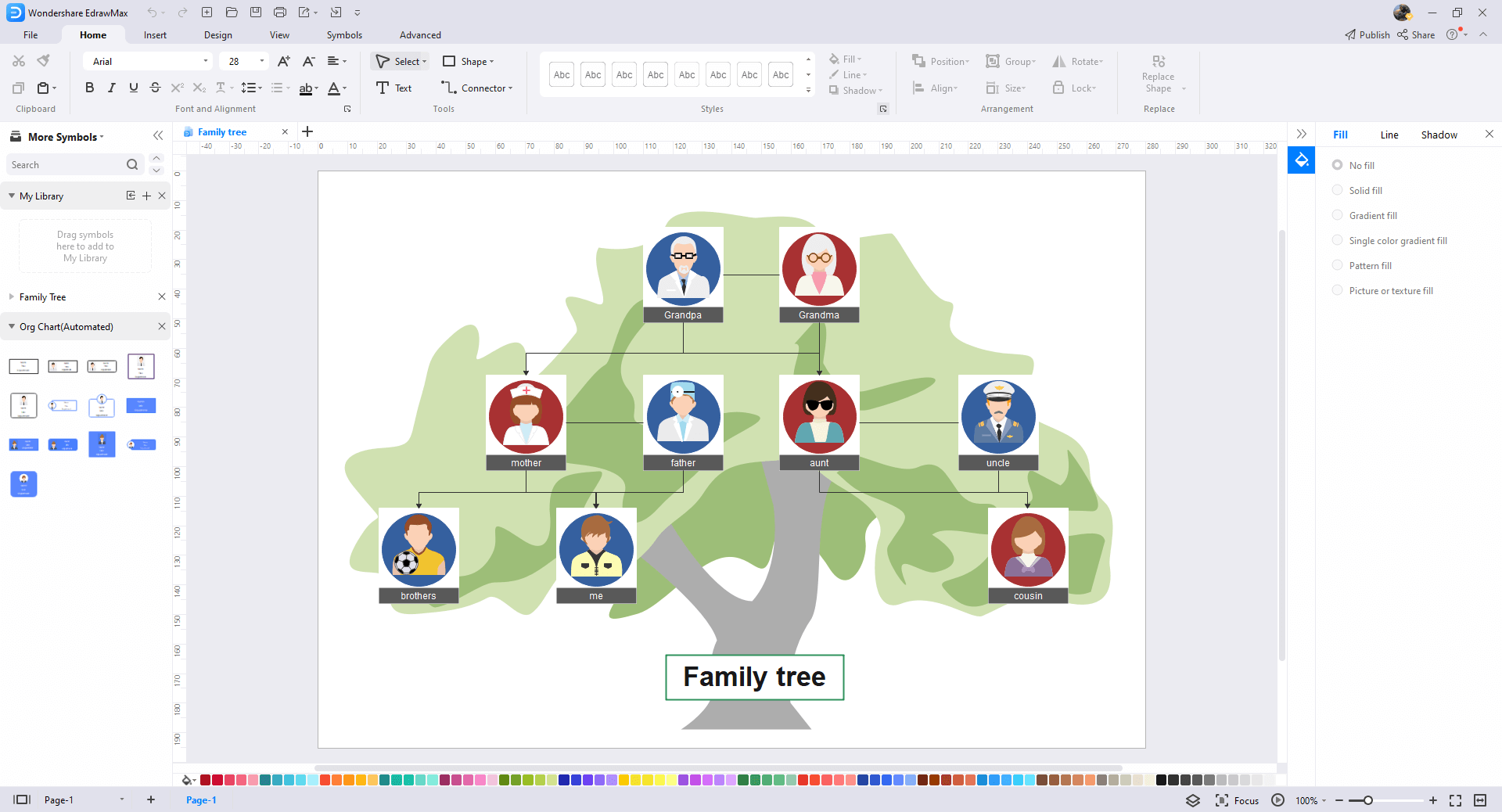 EdrawMax Online
Create 280+ types of diagrams online
Access diagrams anywhere, anytime
Everything in desktop + Templates Community
Team management and collaboration
Personal Cloud and Dropbox Integration
Related Articles