What is a Swimlane Diagram?
A Swimlane Diagram, sometimes also referred to as Swim Lane Diagram, uses flowchart symbols and icons to represent complex, multi-departmental processes that work together to achieve a goal. A simple example would be that of a garment manufacturer where several departments are involved in doing things like purchasing, laundry, stitching, packaging, etc. to prepare clothes that could be sold to the consumers.
Since each department is represented by its own lane in the diagram, and multiple divisions form several roads, the entire chart is called a Swimlane Diagram. A swim lane diagram can be drawn either horizontally where the tracks (lanes) are placed one below the other, or vertically where they appear adjacently.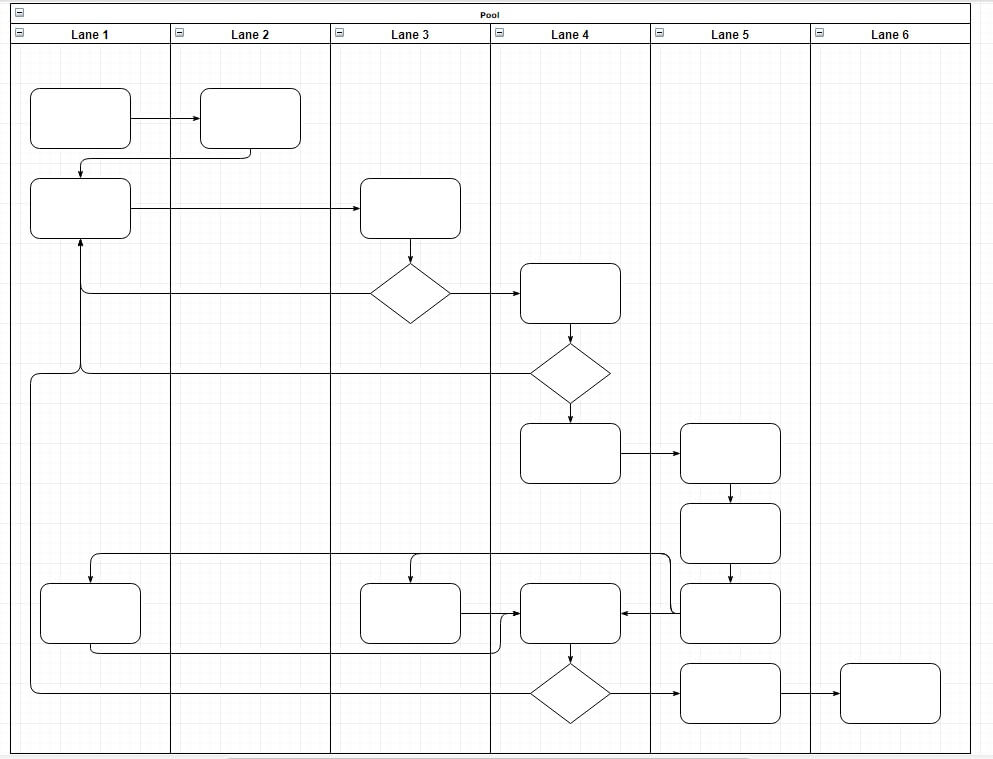 Image Source: https://tallyfy.com/swim-lane-diagram/
Benefits of Using Swimlane Diagrams
Some of the most common advantages of using Swimlane Diagrams include:
Transparency
Since all the steps of all the departments involved in the process appear in one illustration, a Swimlane Diagram offers absolute transparency, thus eliminating any chance of errors or confusion in the course of achieving the goal.
Clear Picture
A swim lane diagram can reflect a clear picture of the whole procedure that is practiced to complete a particular task. Usually, such a diagram is quite helpful during startups, where thorough planning is required.
Redundancy Elimination
Because all the sub-processes are visible in a Swimlane Diagram, the chances of a particular task being erroneously repeated by different people or departments are eliminated.
Process Integration
Using a Swimlane Diagram, the management, authorities, and the administration can easily integrate the tasks of one department with another, or combine multiple processes to save time. Once such planning is done on papers, the implementation becomes relatively simple.
Swimlane Diagram Examples
Below are some Swimlane Diagram examples that are generally used in production environments:
Labor Contract Management Flowchart
This template can help the employers understand and flawlessly practice the process of hiring labors for their business.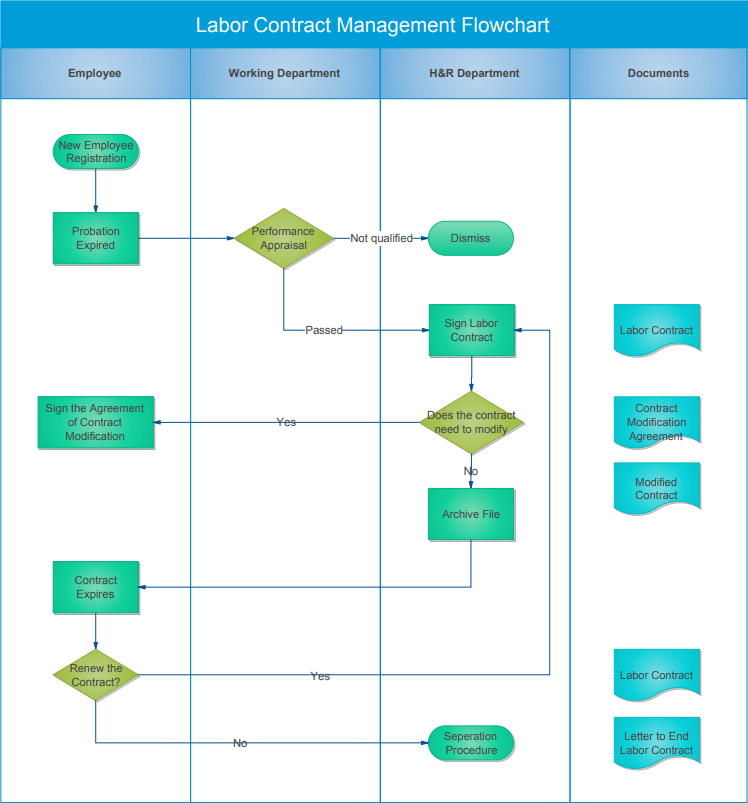 Click here to download.
Inventory Management Process Flowchart
Right from selling a product till adding the information to Accounts Payable, this Swimlane Diagram can clearly illustrate how your inventories are managed.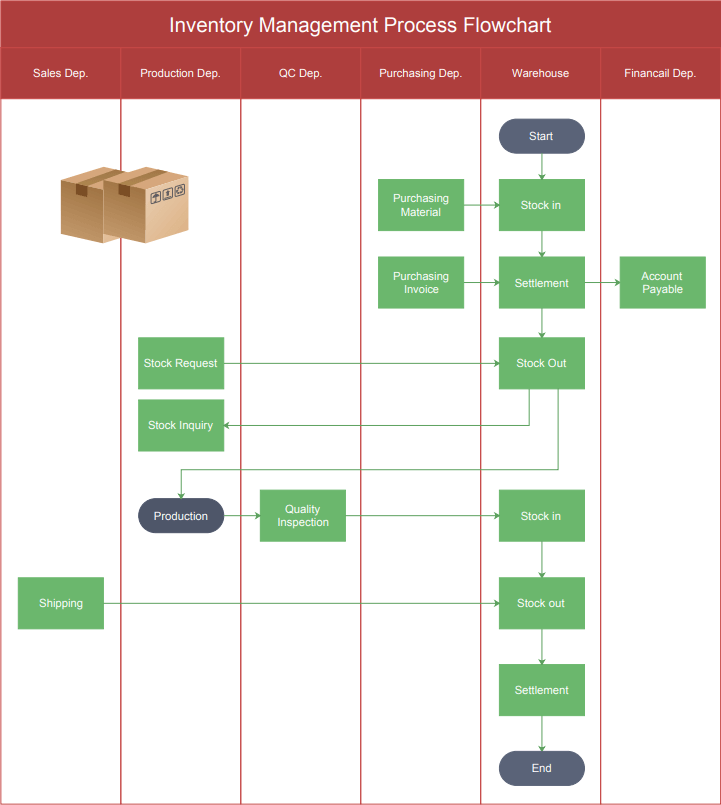 Click here to download.
Production Process Flowchart
This template illustrates the process of production, i.e. from purchasing RAW material till the time the produced goods are sent to the Sales department for distribution.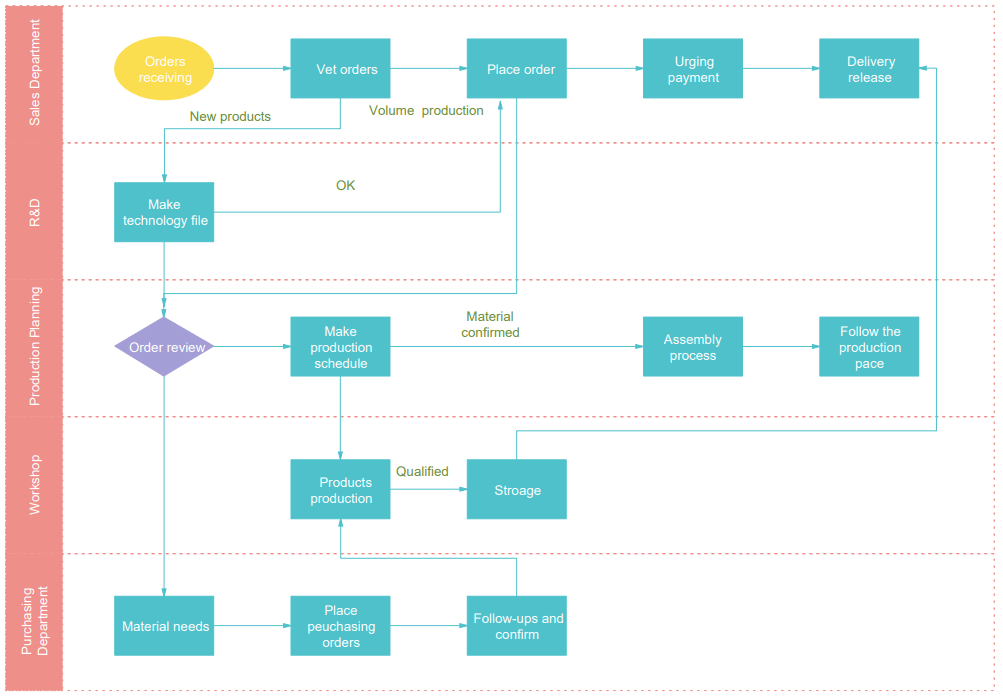 Click here to download.
Software Service Flowchart
After you have sold a software to a customer, should they experience any issue while using the app, this template demonstrates the process of receiving customers' requests, rectifying them, and sending the error-free product back to the buyers.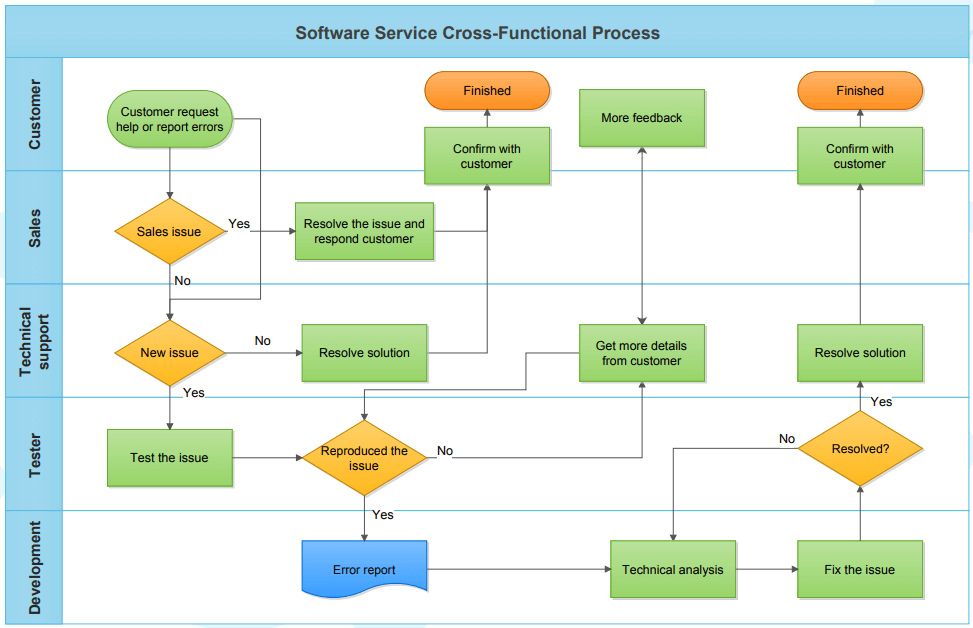 Click here to download.
How to Create a Swimlane Diagram
Creating a swim lane diagram requires a decent amount of plans where several points are to be jotted down before grabbing the chart paper for the real drawing. Some key points to keep in mind before and while preparing a Swimlane Diagram include:
• Assess Your Expectations
The first thing that you must do before starting with a Swimlane Diagram is to understand and assess what is that you would like to achieve. This step is important because your entire workflow will depend on the goal of the whole practice.
• Fragmentation
Once you know what you want, you can then work on breaking the procedure into sub-processes (referred to as 'fragments' here for convenience), where you must define which fragment will be responsible for what task.
• Setting Up Swim Lanes
Here you must decide which process and its corresponding sub-process will fall under which department and whether that department will be a different sector altogether in your production house, or will work as a subdivision of a parent section. In the former case, the division can be represented as a separate swim lane in your diagram.
• Reviewing
Once the blueprint of your production is complete, you must invest some more time in it for reviewing and assessing if there is any room for further improvements to make the process more efficient and prolific.
Once all the planning is done, you can go ahead move on to the next stage where you must draw a Swimlane Diagram for your business. The instructions are given below explain how to use an efficient application like EdrawMax Online, a web tool, to prepare a practical and clear swim lane chart with least efforts:
Step 1: Pick a Swimlane Diagram Template
Launch your favorite Internet browser, go to https://www.edrawmax.com/online/, sign in to your account if not already done yet, select Flowchart from the center pane, click the Cross Functional Vertical or Cross Functional Horizontal (used here for demonstration) tile from the upper area of the right pane, and choose your preferred swim lane diagram template from the lower section.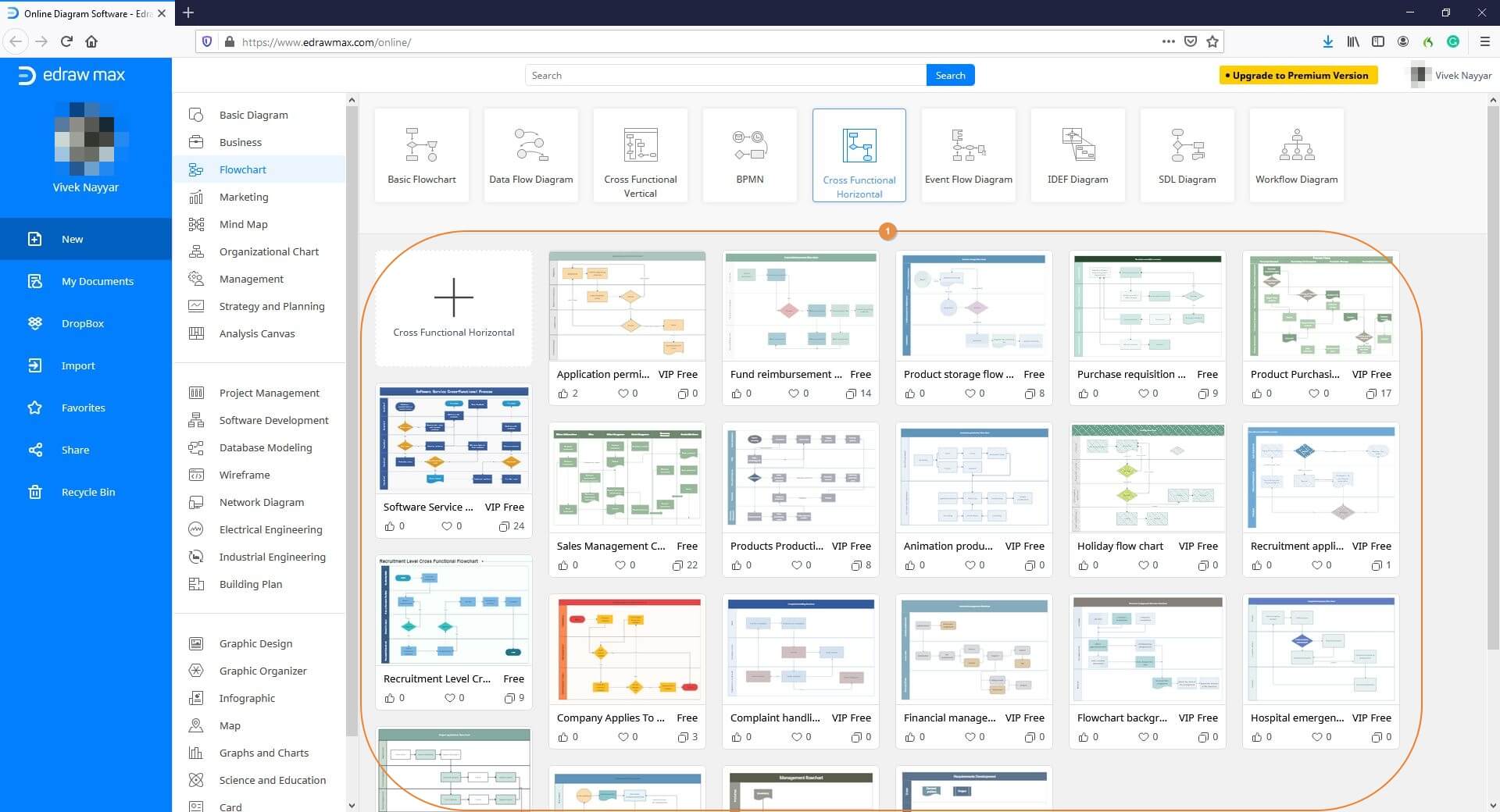 Step 2: Make Required Adjustments
On the next page, double-click any of the existing shapes or labels in the work area to rename or change it. Optionally, drag the new icons from the left pane, and customize their attributes using the tools present in the right section of the page.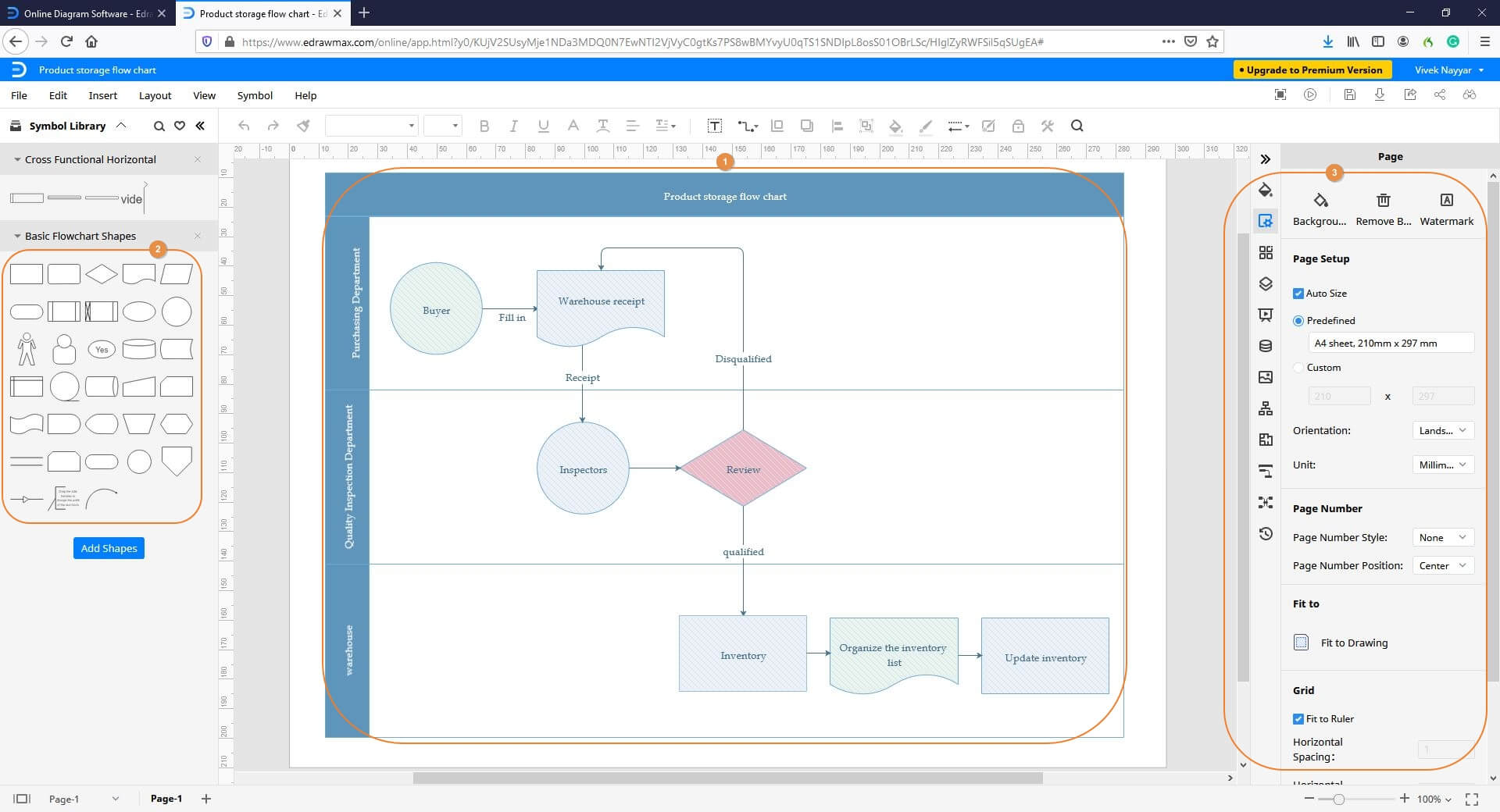 Step 3: Export the Diagram
Click File from the upper-left section of the page, go to Export from the menu that appears, and choose your preferred option from the submenu that comes up next to export the Swimlane Diagram in your preferred format.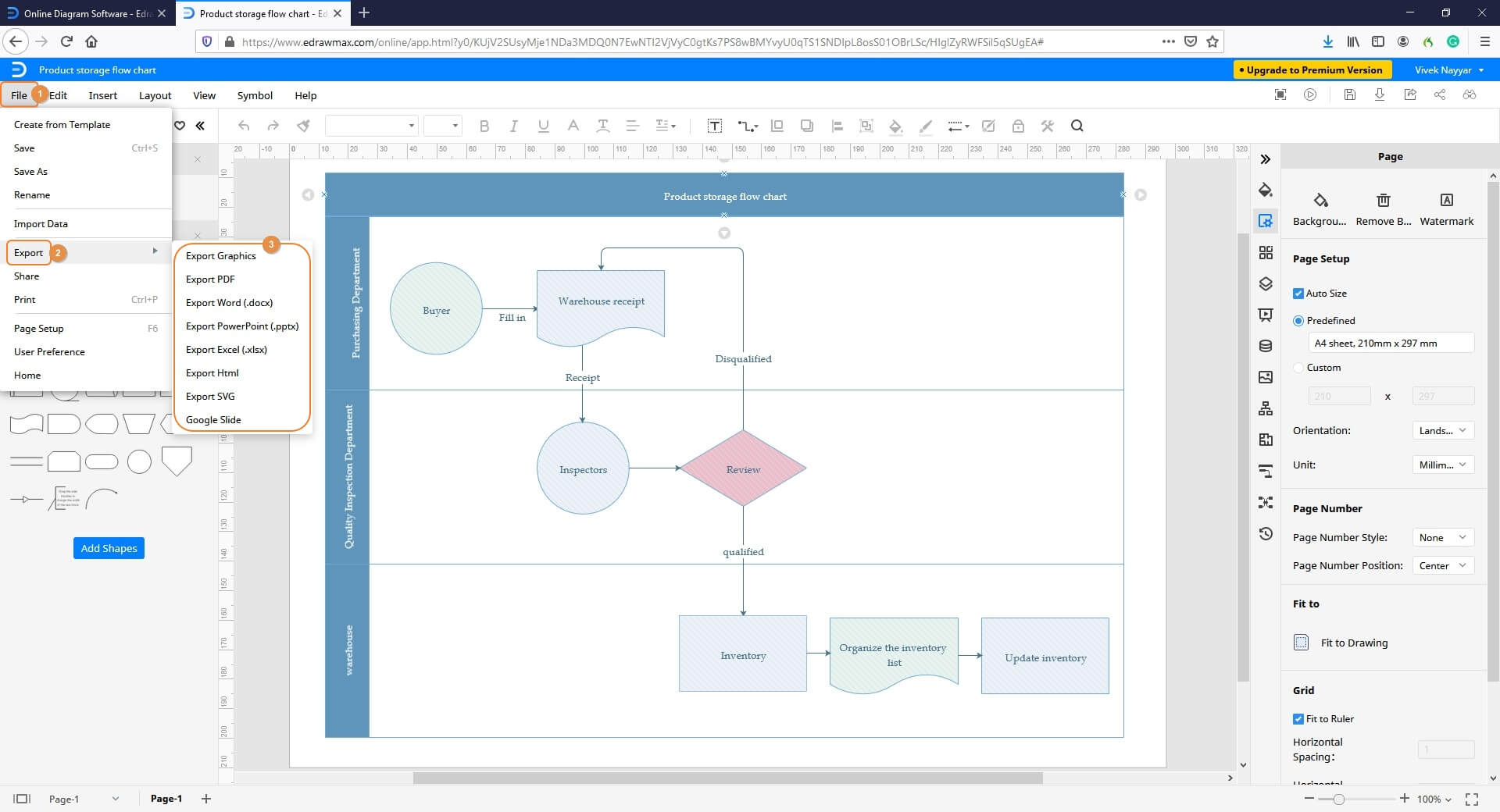 Important: You should be careful while renaming the swim lane that the diagram has. Incorrectly labelled lanes or shapes may jeopardize the entire workflow, and you may experience inconsistencies and post-implementation. Therefore, it is imperative to follow the points explained at the beginning of this section before you actually dive in and start preparing a Swimlane Diagram for your business.
A Swimlane Diagram plays a vital role while planning a new business or to increase the efficiency of an existing one. Furthermore, things can become even more straightforward with an efficient diagramming tool like Edraw Max Online that not only saves your decent amount of time. It also offers free templates to produce basic-to-complex swim lane diagrams.