Background of Ford
Ford Motor Company, is an American automotive company founded by Henry Ford and 11 associate investors in 1903. The company manufactures passenger vehicles, trucks, and tractors, as well as parts and accessories for automobiles with its headquarters based out of Dearborn, Michigan. Ford's SWOT analysis will help us understand the current workings of this company.
Henry Ford designed his first experimental car in 1896 in a workshop in Detroit, behind his house. The first Ford car was manufactured at the Mack Avenue plant in July 1903, after the establishment of the Ford Motor Company.
| | |
| --- | --- |
| Company | Ford |
| Industry | Automobile |
| CEO | Jim Hackett |
| Founded | 1903 |
| Location | Michigan, United States |
| Revenue | US$155.9 billion (2019) |
Development Timeline of Ford
The 1903: Henry Ford and 11 partners sign articles of incorporation for Michigan-based Ford Motor Company.
The 1908: Ford launches Model T which has become one of the world's most famous vehicles.
The 1941: Ford begins making general-purpose "jeeps" for the U.S. military and fully switches to military manufacturing from February 1942 onward. Civil production did not resume until July 1945.
1988: Ford's worldwide earnings amounted to $5.3 billion, the largest of any automotive corporation to that date.
1990: Ford launches the sport utility vehicle Explorer. While the Explorer is the best-selling model of the nation's SUV, sales reached a 15-year low in November 2005 and fell 29 percent in 2005.
2001: Ford Motor voluntarily recalls a further 13 million tires and Bridgestone/Firestone dumps Ford as a client, claiming that Ford used the tire manufacturer as a scapegoat to divert attention from Ford Explorer problems.
2005: Mercury Mariner, Ford's first gas-electric hybrid Crossover, goes on sale. It costs $4,000 more than the gas-only edition.
2005: Ford loses market share for the 10th year in a row, and also loses its status as America's best-selling Chevrolet brand to GM.
Why Use SWOT Analysis for Ford?
SWOT stands for Strengths, Weakness, Opportunities, and Threats. A SWOT analysis describes the strengths a company should utilize to resolve its vulnerabilities, identify opportunities and counter risks.
Strengths: Strengths are the qualities that determine an organization's success. They allow a firm to fulfill its mission.
Weakness: You must be aware that weaknesses are the qualities that hinder the competitiveness of an organization and prevent it from fulfilling its mission and reaching its full potential.
Opportunities: In the world within which the company works there are endless opportunities present. Companies should still take advantage of those incentives.
Threats: Threats are vulnerability elements that could jeopardize the stability and profitability of any company. Threats are unavoidable and uncontrollable but need to be resolved if a sustainable solution is to be found.
SWOT analysis of Ford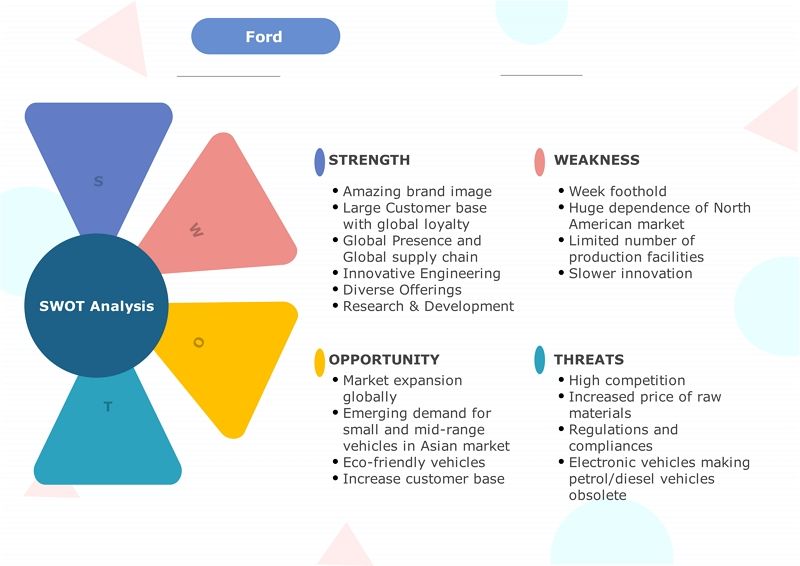 Strengths
International Recognition: Ford is a well-known car company and is still respected in foreign markets for its marketing and advertising achievements.
Research and Development: One of its main assets is Ford's research and development, as the company is dedicated to manufacturing and creating new goods. They 're constantly trying to boost their vehicle performance.
Varied Offerings: Ford lends its varied brands and vehicle styles to all sorts of ethnic groups. By supplying them with more choice of cars and commercial vehicles they take care of the needs and wants of their customers.
Adaptability: Ford has a wide portfolio of goods and services that gives them more flexibility and less reliance on only one product line. They are also given a boost in the competitive automotive industry by their dedication to introducing new technologies.
Weakness
Product recalls: Ford experienced a major loss and their brand reputation suffered in May 2016 because of the product recalls. About 830,000 Ford and Lincoln vehicles were recalled to repair defective side-door latches.
Low Foothold: Since Ford 's activities in many regional areas are diversified, they lose the emphasis on efficiency and profitability.
Bad Reputation: Ford has low credibility relative to its competitors in Europe and Japan. In particular, Lincoln is considered an inferior brand compared to the luxury car brands in Germany.
Dependence on U.S. Markets: Ford relies heavily on the U.S. and European markets. Their earnings and revenues are minimal in other markets.
Opportunities
Eco-friendly vehicles: Because Ford is still seeking to be technologically innovative, they have a wonderful opportunity to manufacture cars and commercial vehicles which are fuel-efficient.
Increase Customer Base: Ford is already working on entering the Indian and Chinese automotive sector, they have a great opportunity to tap into other small countries around the world.
Digital Advertising: Digital marketing is prevalent all over the world these days, and Ford has an opportunity to focus on its digital marketing capabilities to broaden its consumer and supplier commitments.
Self-driving vehicle: Ford invested $1 trillion in Artificial Intelligence company Argo AI in 2017 to develop its self-driving technology.
Threats
High Competition: Ford's competing firms including Toyota, Tesla and Tata are now facing cut-throat rivalry. Ford continues to struggle to retain its creative role in the market.
High Raw Materials Prices: The rising price of steel and steel coil raw materials will have a direct impact on the cost and profit margin of the product.
Regulations and enforcement: Regulatory and regulatory risks to automotive manufacturers have risen in recent years due to the worldwide environmental changes.
Alternate Fuels: Widespread adoption of electric vehicles could require expensive plant improvements and expensive dealership changes.
Recommendations
Ford's SWOT analysis gives us the conclusion that the automobile company has sustained itself over a century, making it one of the pioneers in the industry. To continue market expansion and increase profits Ford needs to -
To counter intense competition and the entrance of high-tech companies into the industry, Ford needs to boost its research and development investments and increase its innovation speed.
Ford is operating in many countries, thus they will need to develop their department of operations by recruiting the right staff and workers.
To make Ford cars more appealing, Ford has to expand its manufacturing network and improve economies of scale, which can lower costs and prices.