Background of Adidas
Adidas, the German sports shoes and footwear and sporting goods maker was founded by Adolf "Adi" Dassler. It was the largest sportswear maker in Europe in the early 21st century and the second largest in the world.
Traditionally, Adidas products are labeled with a three-stripe logo that remains a feature of the current "trefoil" and "mountain" logos of the brand. The name Adidas is an abbreviation of the name of founder Adolf Dassler ("Adi").
| | |
| --- | --- |
| Company | Adidas Group |
| Industry | Sports Apparel, Footwear |
| CEO | Kasper Bo Rorsted |
| Founded | 1924 |
| Location | Bavaria, Germany |
| Revenue | US$ 62.12B (February 2020) |
Development Timeline of Adidas
The 1950s: When the 3-Stripes became official in 1949, the '50s became a development boom, with advances to fit athletes of world renown. Adidas created the Samba, which soccer players still use today for agility and pace on the street indoor soccer field and style.
The 1980s: Adidas made improvements, by adding new technology to all manner of shoes for athletes. The Micropacer introduced digital fitness monitoring to run with a screen on the shoe's tongue calculating distance, average velocity, and calorie intake.
The 1990s: Adidas created an iconic teal and white EQT Volunteer Jacket for the Boston Marathon. This track jacket marked a new age for Adidas, featuring the new EQT 3-Stripes logo which later developed into the recognizable Sport badge today.
2010: Adidas has joined forces with Parley, an ocean conservation organization to create recycled ocean plastic shoes and clothes. This started a push to end the wasteful fashion loop by reusing plastic and litter that already contaminates the earth.
Why Use SWOT Analysis for Adidas?
The Adidas SWOT analysis shows the key problems that the company wants to tackle to improve its performance. The goal of the organization is to become the world leader in its field. To achieve this goal, Adidas' strategic planning process must include the issues in its SWOT analysis.
Strengths: Strengths are the characteristics that define the performance of any organization.
Weakness: You have to be aware that weaknesses are the qualities that hamper an organization's competitiveness and prevent it from fulfilling its mission and reaching its full potential.
Opportunities: There are countless possibilities present in the world inside which the organization works. Organizations will continue to benefit from such opportunities.
Threats: Threats are components of risk that could jeopardize any firm's stability and profitability.
Adidas SWOT Analysis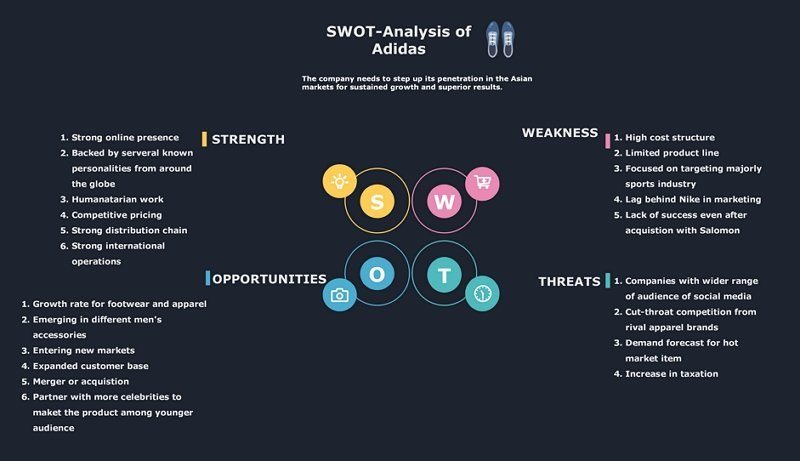 Strengths
Brand Value: Adidas is one of the sports brands of greatest value. It ranks in the third position with a brand value of $6.8 trillion, according to Forbes.
An Iconic Brand with a Prestigious Legacy: Over its long, illustrious history, Adidas has nurtured a strong and prestigious legacy and heritage through influencing and shaping numerous aspects of society around the world.
Innovation for New Products: Adidas has prioritized the quality of its products over everything else since its inception. Innovative, high-quality goods are one of the driving factors behind its ever-growing consumer base.
Diversified Portfolio: While the Adidas brand is restricted to the sportswear market, the products of the business are diversified. It provides various items designed to cater to a wide variety of sports from clothing, apparel, and accessories to hardware.
Weakness
Supply Chain Shortage: Adidas outsources most of its goods to third-party or independent production manufacturers, mainly in China, Cambodia, and Vietnam. This has put Adidas at risk of being overdependent on global suppliers.
Expensive Products: Adidas sells its goods at a premium or high price, which has marginalized low-income customers.
Small Product Line: Adidas Group has under its portfolio only the Adidas brand and the Reebok brand, which has limited the group in terms of sports clothing, sports apparel, and accessories.
Growing operating expenses: Adidas's operating expenses have also kept growing with rising raw material and labor costs. Adidas' income has been growing but along with it, the operating expenses have also increased.
Opportunities
E-commerce: The number of customers shopping online or using e-commerce sites has significantly increased in recent years. Adidas has integrated the checkout feature of Instagram into its distribution network, resulting in a 40 percent spike in online revenue in the first quarter of 2019.
Growing Sportswear Industry: Sports and fitness have increased in popularity, with no sign of slowing down soon, ensuring that demand for sportswear items and assortments will increase steadily.
Investing in Smart Materials: Technological developments have allowed new synthetic materials to be created that are better and more effective than conventional materials.
Growing Demand for Premium Sports Goods: Improved economic situation has raised buying power and demand for luxury products in developing countries.
Threats
Competition: The biggest challenge Adidas faces is intensified competition due to globalization and technological developments, which has enabled small and medium-sized businesses to enter and penetrate.
Supplier Dominance: The fact that Adidas outsources much of its product production means that the manufacturers have more negotiating power than the business.
Loss of Trademark: In 2019 Adidas lost the tri-strip logo trademark case in the European Union's General Court, exposing the company to the possibility of imitation.
Fake Products: Over the recent past, the number and quality of fake goods for luxury shoe brands have risen dramatically, posing a challenge to the shoe manufacturing companies.
Recommendations
To achieve its aim of dominating the market and becoming the #1 brand for sportswear apparel, the Adidas SWOT analysis tells us that the brand needs to improve its research and development and localize production to sustain its current positioning.
In addition to higher customer engagement, the company also needs to concentrate on cost-control.
The company needs to step up its penetration in the Asian markets for sustained growth and superior results.
Adidas should, therefore, restrict the outsourcing of its output and produce the goods themselves, thereby saving them negotiating difficulties and reducing the possibility of high manufacturing expenses.