What Is Dichotomous Key
The dichotomous key is an excellent scientific tool in the field of biology commonly used to identify organisms based on their observable traits. Here, you will learn what is the dichotomous key and how to make it. Learn about various types and uses. Also, check out our dichotomous key examples with free templates to make your diagram.
1. What Is Dichotomous Key?
A dichotomous key is an identification tool mainly used by scientists to classify and identify organisms into particular categories based on their traits. It helps classify animals, plants, bacteria, and any organism by matching their characteristics with known organisms. From the dichotomous key definition, we concur that it simplifies the identification of organisms by giving a series of statements with two answers that always lead to correct results. We can use a branching flowchart to illustrate the dichotomous key in biology.
Scientists continue to discover new species and organisms, and classifying them in the correct category is essential in biology. Scientists use specific methods to identify the relationship between newly discovered species with the known species. It also answers the question about what is the purpose of the dichotomous key. It is a classification tool that helps scientists identify unknown organisms with multiple statements that best describe them. It is commonly used for plants or animals, but you implement it on any object. Here is an example of a dichotomous key.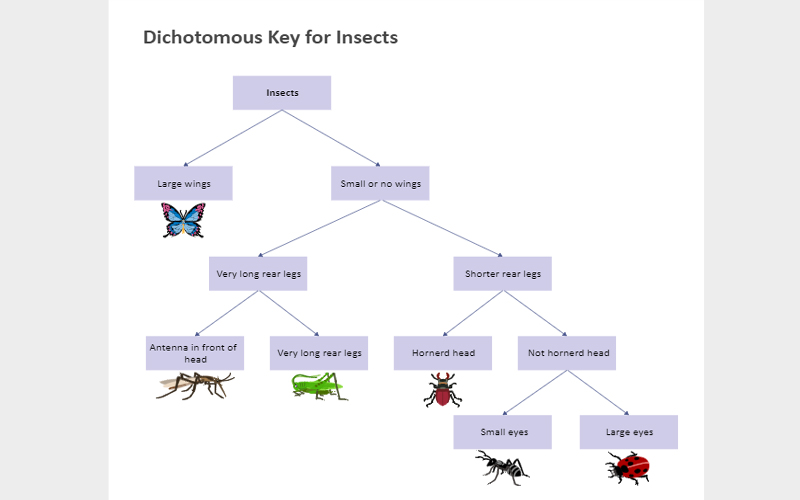 Click on the image to edit. Source: EdrawMax Online
2. Types of Dichotomous Key
There are four commonly used types of dichotomous keys.
1: Branched
The branched dichotomous key uses a tree diagram to graphically represent statements with two choices, each leading to different answers. You can only use it to identify organisms one at a time because the tree can't move downwards from both sides.
2: Nested
It is the simplest and easy-to-understand form of a dichotomous key. You can use it to classify two organisms at the same time. In the nested dichotomous key, the answers to each statement nest before the answers that lead to it.
3: Computer Program
A dichotomous key computer program is one of its most commonly used types because it makes everything easier for the user. It is quite similar to a quiz game. The user answers the question one at a time and proceed towards the correct identification.
4: Linked
The linked dichotomous key represents the questions and their answers in a listed form. You can refer to it as a dichotomous key worksheet where each answer you get leads to a different question before you categorize the object.
3. What is a Dichotomous Key Used For?
Identifying Patterns: A dichotomous key is an identification tool used by people from a multitude of professions to identify patterns based on their opposing statements. After you test a sample using contrast multiple times, you will identify its boundaries and categorize it.
Identifying Organism: You can use a dichotomous key to identify organisms based on their characteristics. The dichotomous key definition biology states that it can easily identify plant or animal species by comparing their behavior and other features with the know species.
Classification of Objects: The method of identification using a dichotomous key can easily be applied to objects other than life forms such as chemicals and stones. With this type of key, you can classify a single object or a group of objects at the same time. You can classify different objects using it.
4. How to Use a Dichotomous Key?
Using the linked, branched, and nested types of a dichotomous key is simple because you make your diagram step-by-step and follow the learned procedure. With a computer program, you got to know how to use a dichotomous key because it gets complex sometimes to identify organisms or objects with limited information. Remeber these guidelines before you use the dichotomous key program.
After you start the program, you will get a statement on the screen with two choices, and you will have to pick one.
As you move on, the next statement will appear with two choices, while your previously selected choice will move to one side till you identify the object.
After selecting the correct choice, the program will lead you to a single genus tree with a description and name of its species and some pictures to identify.
You have to keep selecting the choice with the right characteristics for a mystery tree until you reach a tree genus with the correct classification. In case you get the wrong genus, start the process again.
5. How to Make a Dichotomous Key?
We make dichotomous keys to identify and classify organisms and objects by comparing their traits and behavior with known organisms. Making a diagram to illustrate your dichotomous key is simple if you follow the proper procedure and keep a few things in mind. Make sure that each statement asked only leads to two choices. Here are steps to make a dichotomous key.
STEP 1: Start by making a list of all the characteristics and traits you know about the organism or object.
STEP 2: List the characteristics logically by starting the list from its major features and moving towards its more minor features.
STEP 3: Add statements or questions in your diagram to separate the specimens with their characteristics. Always divide them into two groups to follow the correct layout of the dichotomous key.
STEP 4: Add two choices for each statement of your dichotomous key. Lead both choices to the new statement and repeat the same step until you reach the last statement of identifying the organism.
STEP 5: Make the dichotomous key diagram using a tree diagram or other illustrations that you think are suitable for your project. Please focus on the organism you are trying to classify and add all the statements and choices in the diagram before reviewing it and testing it out.
After you understand the logic to create a dichotomous key, get started right away with a dichotomous key maker such as EdrawMax Online. It is the best diagramming software with free professional templates and a symbol library to create your diagram. You can make your diagram in a few minutes with EdrawMax and download it in any format you want. Here are the steps to create a dichotomous key on EdrawMax.
STEP 1: Log in to EdrawMax Online or create a new account.
STEP 2: You can make your diagram using a template or open a blank canvas to draw it from scratch. Go to new, and click on the organizational chart category. Select the family tree and click on the "+" button to get a new canvas, or select a template to edit it right away.
STEP 3: The next step is to customize your dichotomous key diagram. Go to the symbols library and insert icons and symbols with a simple drag and drop. Add connecters to visualize the relationship between components.
STEP 4: After your diagram is complete, the next step is to download it. EdrawMax Online supports various document formats, so you can export in any format you want. You can also share and print it.
6. Dichotomous Key Examples
Here are some dichotomous key examples that will help you understand the correct format of a dichotomous key diagram used to classify plants, animals, and objects. You can also get the templates in these examples for free and use them to create your diagram on EdrawMax Online. You can only make a perfect diagram by following the proper layout; that is why check out all of our examples before you make your diagram.
Example 1: Dichotomous Key Worksheet
The dichotomous key worksheet in this example illustrates the vertebrate classes of animals, insects, and fishes to help you identify the species using its statements. This diagram has four statements, each leading to two choices that move you to the next statement. These diagrams are mostly used in school books and daily lectures because students find them attractive and fun to read.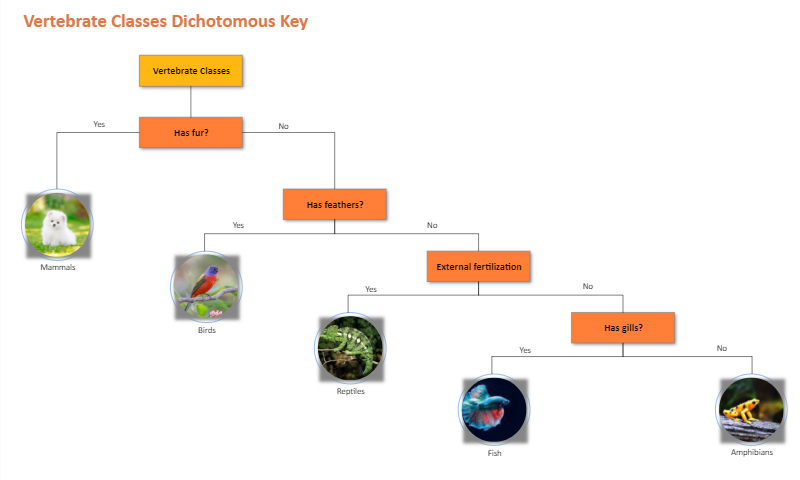 Example 2: Team Collaboration Pamphlet
The purpose of the plant dichotomous key is to help you identify various species and types of plants based on their physical traits and characteristics that belong to other types of plants. The first statement in this example separates the specimen based on having vascular tissues. The next statements lead to two choices that move you to the next statement till you identify the plant species.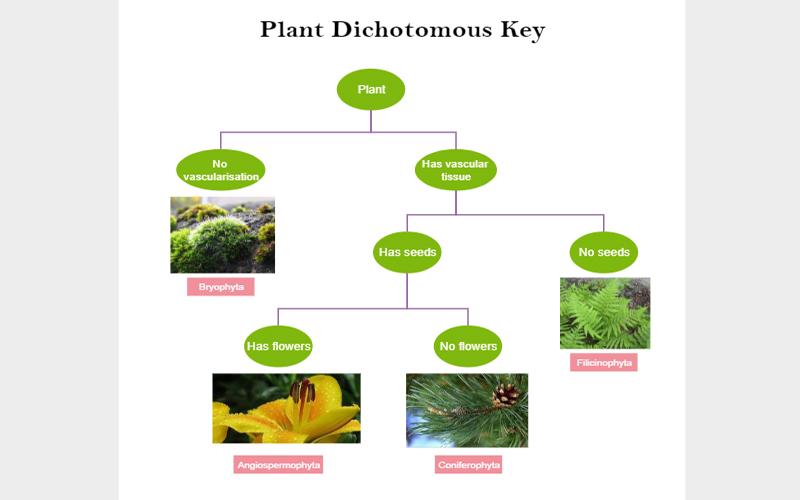 Example 3: Dichotomous Key for Animals
The diagram in this example graphically represents the dichotomous key for animals to help classify them based on their observed characteristics and put them in a category. The key starts with mammals, moves to birds and reptiles, and ends at the fish category. It is a learning diagram for smaller grades students as it introduces the dichotomous key to them while having fun reading it.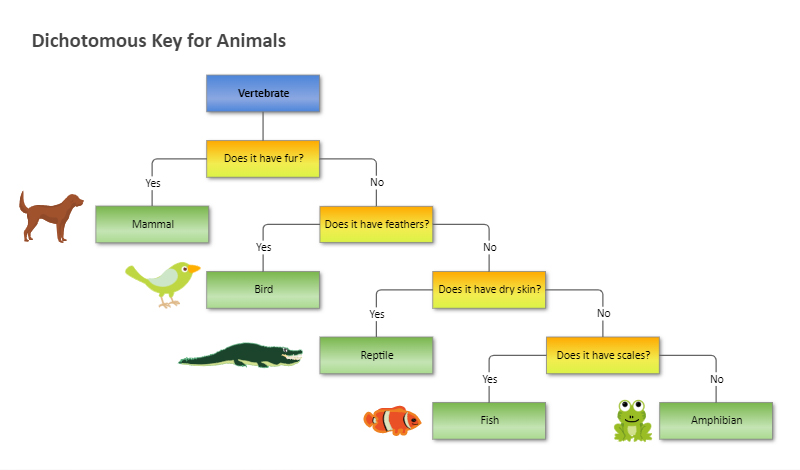 7. FAQ About Dichotomous Key
1. What is a dichotomous key example?
A dichotomous key example illustrates how to use its method to identify organisms based on their characteristics. One of its most commonly used examples is the dichotomous key for the tree. The statements in the key will ask you questions like whether the tree has leaves or does it have needles, Is it wide, and other relevant questions.
2. What is a dichotomous key in simple terms?
In simple terms, a dichotomous key is a set of statements that gives you choices as you get in a quiz; you answer the statement by picking one of the choices and repeat the same step for the next statements till you reach a correct identification of any object. Scientists use it to classify organisms.
3. What are the three types of dichotomous keys?
The three common types of dichotomous keys are the nested, linked, and branched dichotomous keys. In the nested type, we get the answer of each statement nested right next to it. In the linked types, we use lists of text to identify objects. We use a tree diagram to make the dichotomous key in the branched type.
8. Key Takeaways
A dichotomous key is an identification tool used by scientists to classify organisms into categories by comparing their traits and behavior with known organisms. Students and chemists also use this tool to identify objects such as rocks and chemicals. EdrawMax Online is the best dichotomous key maker that gives you free templates and supports various document formats. It also comes with a comprehensive symbol library. Go to EdrawMax Online and get started right away. You can easily create a spider map on EdrawMax Online. It gives you free professional templates and a symbol library to make your diagram. It also comes with unique customization tools and supports various document formats. Find more Dichotomous Key examples.
Related Articles