Pamphlet vs. Brochure
A pamphlet is an unbound booklet to advertise something or provide information about it, and a brochure gives details about services or products to the customers. Here, we will tell you everything you want to know about pamphlet vs brochure. Learn about their differences, how to create them, and check out our free templates.
1. What is Pamphlet?
To better understand pamphlet vs brochure, start by learning what both are and their purposes. A pamphlet is a sheet of paper printed at the front and backside as an unbound book. We use pamphlets for many things, such as marketing or political campaigning. It is an advertising tool that provides information on a single topic. The purpose of a pamphlet is to introduce products or services instead of directly selling them.
A pamphlet is an in-expensive visual aid for advertisement. Pamphlets contain less but to-the-point information. If you want people to know about a single subject, handing out non-commercial pamphlets is best instead of wasting money on expensive advertisements.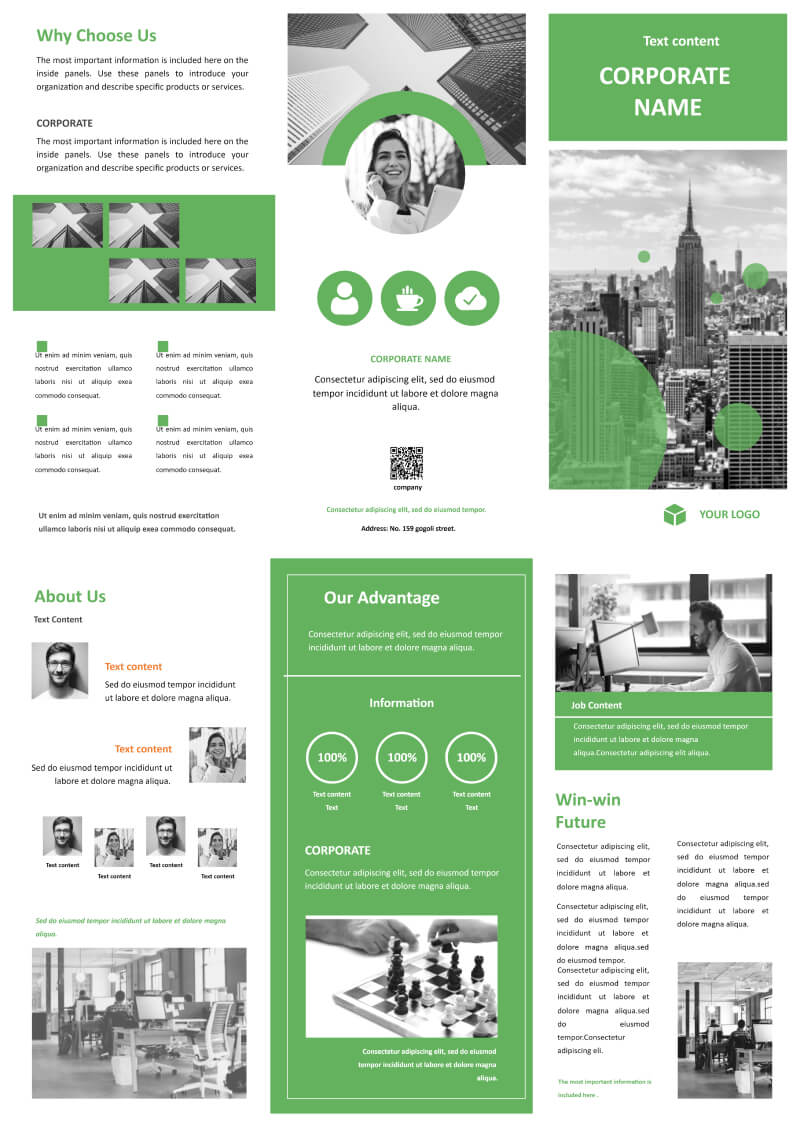 Click on the image to edit. Source: EdrawMax Online
2. What is Brochure?
A brochure is a marketing tool used by marketers to advertise their company or brand's main products and services. It comes in many shapes like a small magazine, a bound booklet, or a paper with multiple folds. The brochure's purpose is to advertise and give key details about the products or services it covers. It does not focus on a single subject. You can find details about multiple subjects in a single brochure.
Brochures are more advertisement-oriented because they contain pictures, supporting text, and more pages than pamphlets. For pamphlet vs brochure, marketers prefer the latter to advertise detailed service offerings and explain the overall features of new product lines.
3. Difference Between Pamphlet and Brochure
When we talk about brochure or pamphlet, we consider both of these as the same marketing and advertisement tool with two different names. It is common to make that mistake because their definitions and layouts are not much different. The key difference between pamphlet and brochure is their uses and subject matter. You can find the contrast between pamphlet vs brochure from these points.
Price:
Pamphlets cost a lot lesser than brochures because they mainly contain short and more focused information about services or any single subject. You don't need special paper to print a pamphlet, and you also don't add unique designs or images that make it cost-effective. Brochures are a lot more expensive than pamphlets because you need them to be attractive, so your patrons read them with interest. You make brochures on special paper, which cost a lot to print, and you also have to add designs and images on each page to market your product or services with pictures and supported text.
Purpose:
A pamphlet's main purpose is to provide information about a single subject or advertise something new by introducing it and its key details. It is a non-commercial advertisement tool that tells people about social events, campaigns, and businesses. We use it to inform rather than promote. A brochure covers multiple ranges of topics. Its main purpose is to advertise specific products or services by providing details and listing their key features. Companies use it to promote their main products and introduce discounts and promos to attract more customers. Between a brochure and pamphlet, we use the former to sell rather than inform.
Size:
Pamphlets are small compared to brochures because they contain less but more focused information about a single topic. We use a single piece of paper with multiple folds to create a pamphlet. Sometimes we use more than one page, but it is quite rare. The small size makes pamphlets easier to carry around. It also uses small text to provide information. The purpose of using a brochure vs pamphlet is to capture the reader's attention. Brochures come in large sizes with multiple and bounded pages to carry more information and details and list the key features of multiple subjects in a single booklet. The panels in a brochure range from four to eight. A standard brochure is 11x17 inches.
Layout:
There are not many pictures or attractive designs in a pamphlet. Most pamphlets use a single paper with multiple folds to create more pages. We can also bind multiple pages with staples to create a pamphlet if we want to provide more information. There are two commonly used types of brochures, the bi-fold and the tri-fold. The brochure's layout contains segments to separate subjects and clarify information. Brochures advertise multiple subjects, so it will get hard for the reader to understand anything without a proper layout.
Paper:
Pamphlets use normal paper, making for less printing cost and less attractive than brochures. Brochures use glossy and attractive paper, which is expensive to print, but it also serves its purpose. Brochures are more attractive than pamphlets because of the paper quality, attractive images, and creative layout.
4. What Isn't a Pamphlet or Brochure?
Other than pamphlet vs brochure, there are many printed marketing and advertisement mediums that people consider are same. Although these printed mediums have similar features and use compared to a brochure or pamphlet, they are different due to their subject matter and purpose. You can't use any of them to replace brochures or pamphlets.
Flyers: A flyer is similar to a poster printed on one side of a paper to promote an event. Flyers are handouts that are easy to read, and anyone can read them at a single glance. They use large text, and the background and images provide quick details. We use them to promote concerts, grand openings, fairs.
Rack cards: A rack card is a 4x9 inches document used to advertise and promote products and services. They are typically placed inside racks with other rack cards on places with high foot traffic so any passerby can pick and read them. You can find rack cards in hotel lobbies, convenience stores, and other landmarks.
Magazines: A magazine is a bounded booklet with glossy pages that covers a single subject in depth by listing its features, related products, services, and other types of advertisements and promotions about that subject. Magazines include a collection of text, articles, poems, stories, guides, and they also contain many images and supporting text to explain the subject better. These are bigger and much more detailed than a brochure.
5. How to Create a Pamphlet
Suppose you never did any graphic designing; you are at the right place because the steps down here will make it simpler for you to make a pamphlet. A pamphlet is a cost-effective visual aid to provide information about a single subject or introduce businesses and services. You can easily create a pamphlet without paying for anything other than the printing cost.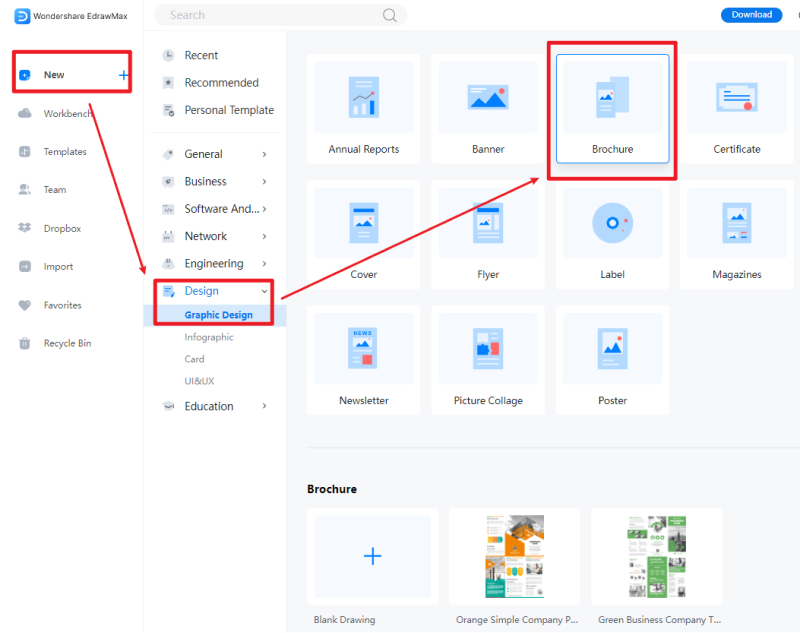 Source: EdrawMax Online
STEP 1: When you make a pamphlet, it is essential to define its purpose and make it attractive to catch readers' curiosity. There are various types of businesses and events that use pamphlets for non-commercial advertisement, and the layout you use depends on the purpose of your pamphlet.
STEP 2: Designing your pamphlet depends on many things, such as your target audience and the nature of your business or event. You can design your pamphlet from zero, or you can use an online diagramming software such as EdrawMax Online to get a professional template to save lots of your effort.
STEP 3: The next step is to write your content and insert it after designing your pamphlet. Consider the writing tone and careful word count so that it is easier to read and make sure the reader is getting the information you want to share at first glance.
STEP 4: After you insert content, your pamphlet is complete, but you still need something to do before your hand it out. Make sure to review it to look for any mistakes. Pamphlets are in-expensive, and if you want to keep it that way, print enough considering your target audience.
6. How to Create a Brochure
Creating a brochure is similar to creating a pamphlet, but there are stills many differences between their layouts and subject matter. When you create a brochure, make sure to consider your brand design standards, so people will understand what that brochure represents in a single glance. When you design it, keep the readers in mind to make it more attractive for them. Follow these steps to create a brochure.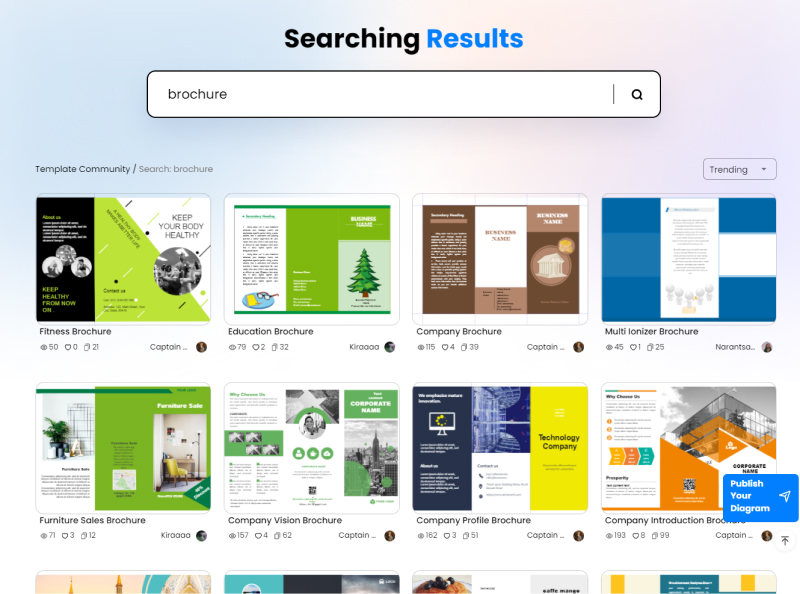 Source: Templates Community
STEP 1: Determine all subjects in your brochure and define their purpose. Consider what your brand represents and design your brochure based on that. Decide the layout after determining its subjects because you can't use the same format for every business or brand.
STEP 2: The next step is to consider your target audience and reader. If you are making a brochure for a toys shop, it has bright colours and attractive cartoons and toys pictures that any kids will like. But you can't use the same design if your target audience is adults interested in investments.
STEP 3: The next step is to design your brochure and choose its type. You can do it from scratch or use a template to create your brochure with a diagramming tool. You can save time and effort by making your brochure on EdrawMax Online using its free brochure templates.
STEP 4: Attractive pictures are necessary to pique the reader's curiosity. Make your brochure simpler and easy to understand by adding related pictures and supporting text. When you insert content, make sure to keep the plain text as short as possible and only use it to explain the key features and details of the products or services.
STEP 5: The next step is to customize your brochure to adjust the content hierarchy, balance and text flow. After adding images and content, if you think the balance is not right, you can move the content or adjust the images to make it perfect.
STEP 6: The final step is similar for all printed advertisement mediums given away as handouts for commercial or non-commercial marketing. Please review it to find and fix any mistakes and consider your target audience to determine the number of printed copies.
7. Free Pamphlet Templates
You can easily create a pamphlet with a free pamphlet template. These pamphlets aim to inform readers about various events and market various services. However, making a pamphlet takes time and effort, so professionals use editable templates to create these charts. Here are some free pamphlet templates.
Example 1: Church Profile Pamphlet
This church profile pamphlet template provides information about programs, sermons, services, and Baptists of any church. You can use the same template to create a pamphlet for the non-commercial advertisement of charity services and inform people about important social events. The pamphlet template uses a one-page layout with three folds.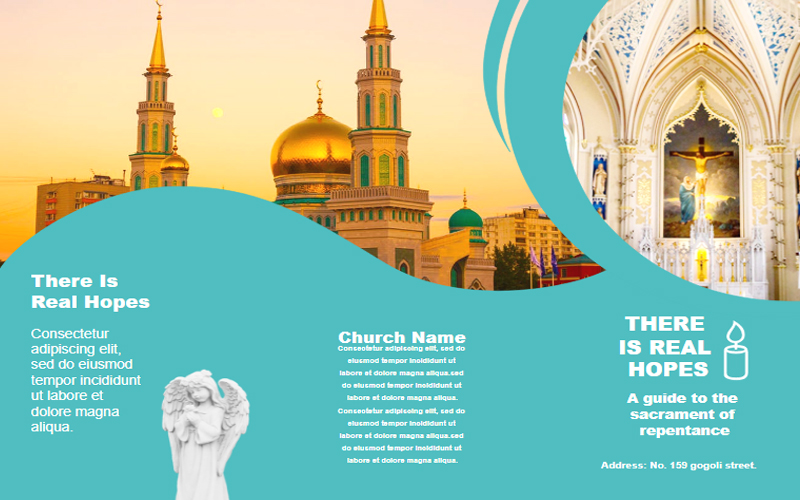 Example 2: Team Collaboration Pamphlet
The team collaboration pamphlet template is a printed marketing medium that holds more information about your business than a simple business card. Its layout is simple with the business name, logo, contact, and supporting text. The purpose of this pamphlet is only to inform the reader, not promote or sell anything. Use this pamphlet to introduce potential customers and patrons to your business and services.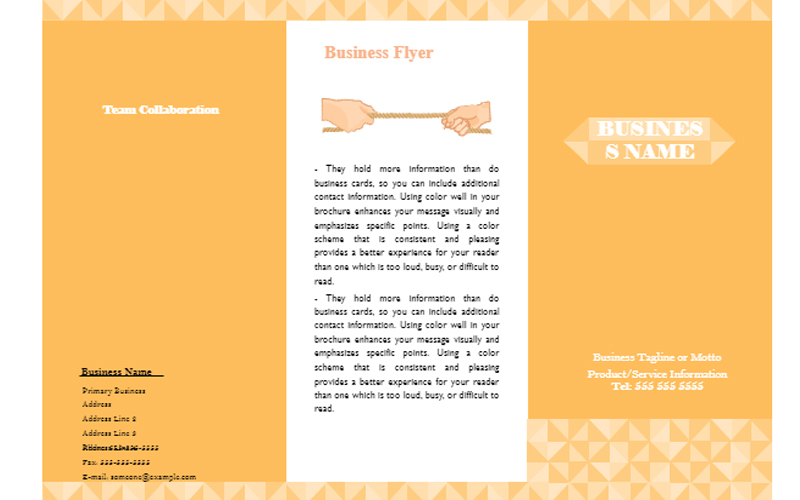 Example 3: Biography Pamphlet
You can use a pamphlet to create someone's biography or profile. Educators use these graphic organizers to teach their students about historical figures and major life events by creating their biography. This pamphlet has three folds with the picture and name of the important person on the front page. We got the bibliography of that person's life and blank space for the teacher's comments on the middle page.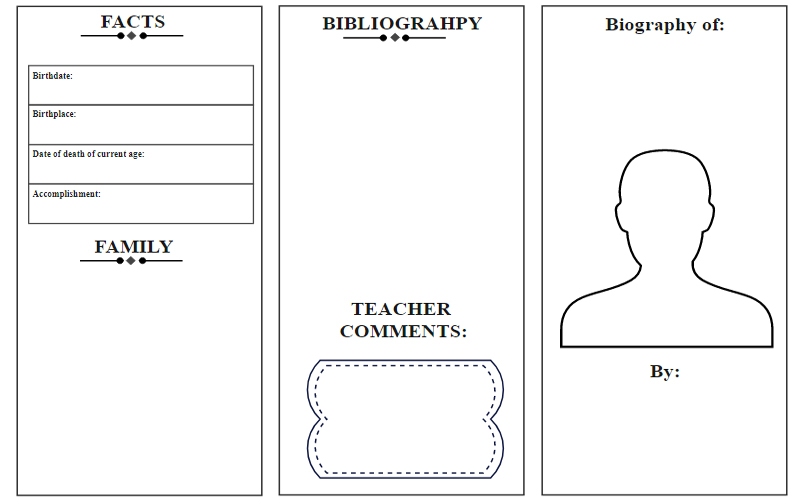 8. Free Brochure Templates
Example 1: Fitness Brochure
The brochure template in this example advertises health and fitness services from any healthcare centre or gym. The layout of this template is simple and easy to read. The read can digest all information on this template at a single glance. The text used in the brochure explains everything about the services it promotes. It also contains images on each fold.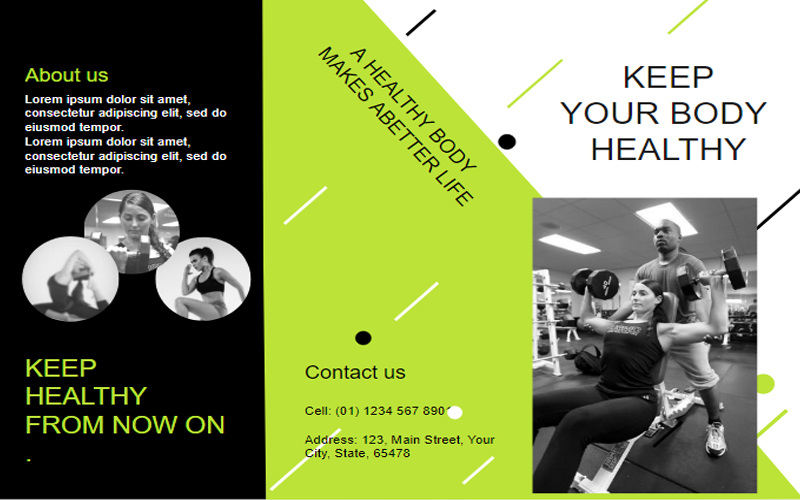 Example 2: Company Profile Brochure
This is a company profile brochure template that advertises various products and services provided by a technology company. It details the company by listing its key features and contacting them if you need any of their products. It is a tri-fold brochure with the company name and logo on the first page. Next, we got the contact info and profile of the company on the other pages.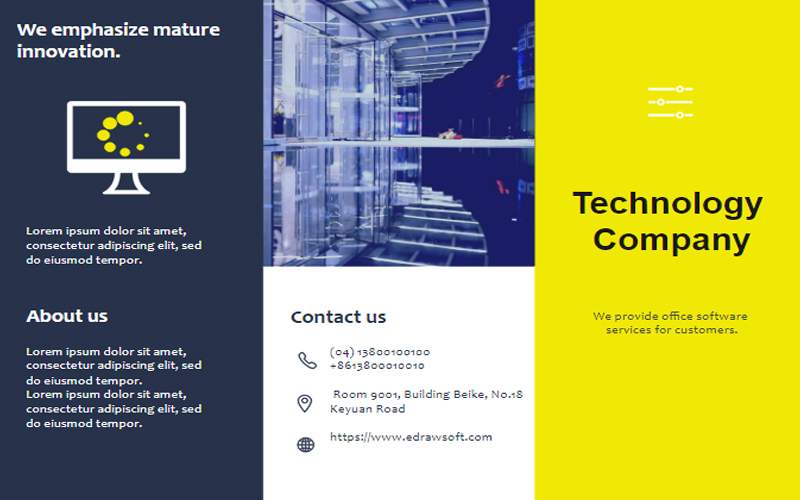 Example 3: Furniture Sale Brochure
The furniture sale brochure in this template advertises the discounted products by a furniture seller. The layout of this brochure is clean and easy to read. We got the name of the seller and the discount on the furniture on the first page to get the reader's curiosity. On the second page, we got the location of the seller and their contact information. The last page contains the profile of the furniture store.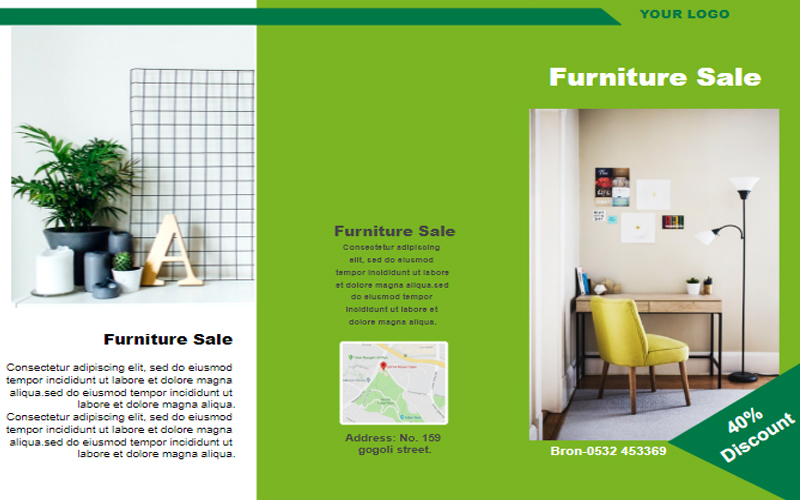 9. FAQ About Pamphlet and Brochure
1.What is the difference between pamphlet and leaflet?
A leaflet is a type of pamphlet with a similar layout and subject matter. These are commonly used for non-commercial marketing and to provide information about events or services. The word leaflet represents a pamphlet that uses a single piece of paper. A regular pamphlet may contain more use two, three or more papers in the form of a bounded booklet. Both of these also use normal quality paper. We use leaflets only to inform, not to sell.
2.Is poster and pamphlet same?
A poster and pamphlet are printed mediums used for marketing and advertisement. Posters are attractive with large text that people can read at a single glance. However, both the layout and subject matter are completely different. A poster is typically printed on one side of a single page, while a pamphlet can use multiple pages, similar to a booklet. Both pamphlets and posters focus on a single subject, but posters don't contain much information, and they are only used to inform people about events and promotions.
3.What are the 3 differences between brochure and flyer?
Size, price, and purpose are three main differences between a brochure and a flyer. A brochure uses glossy paper, which is expensive to print, and it also consists of multiple pages like a stapled booklet. Flyers use one piece of paper and are commonly used as handouts for the masses, cheap. Brochures are big and carry loads of information, while flyers only include a few words in large text to attract readers. Brochures advertise products and services by giving details and listing other features, and flyers inform people about promotions and events.
10. Key Takeaways
Pamphlet vs brochure is two printed-medium used to promote and advertise services and products. Pamphlets inform the reader about social events or businesses and are mainly used for non-commercial marketing. The brochure promotes and advertises products by listing discounts and features to get people to buy that product. You can easily create a brochure or pamphlet on EdrawMax Online. It gives you free professional templates unique customization tools and supports any document format. You can easily create a phamlet or brochure on EdrawMax Online. It gives you free professional templates and a symbol library to make your diagram. It also comes with unique customization tools and supports various document formats. Find more brochure templates.
Related Articles