Roof Framing Plan: A Complete Guide
This article will introduce everything you need to have before designing a roof framing plan and wrap up by learning to create a roof framing plan with an excellent diagramming tool.
1. What is A Roof Framing Plan?
A roof framing plan is a scaled layout or a diagram of a proposed roof development, including the dimensions of the entire structure, measurements, shape, design, and placement of all the materials, wires, drainage, ventilation, slopes, and more.
The main goal of the roof framing plan is to aid both contractor and manufacturer take valid measurements and determining construction feasibility and material needs for construction projects.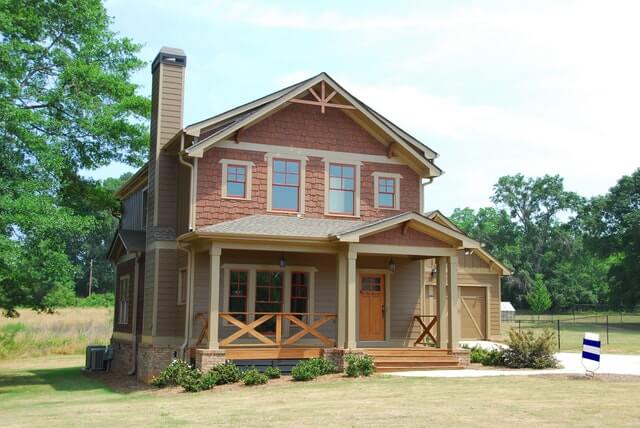 2. Parts of a Roof Frame
Rafter
A rafter is a structural element utilized in the construction of a roof. It usually goes from the roof's ridge or hip to the external wall plate. Rafters are typically laid in a succession, side by side, to provide a foundation for roof decks, roof coverings, and other items.
Ridge Board
A ridge board joins the rafters' upper ends, constituting the triangle's apex. Typically, a ceiling joist spanning from opposite exterior walls connects the lower ends of the rafters, forming the base and completing the triangle.
Collar Tie
A collar tie is a horizontal element that connects two rafters. Collar ties are frequently employed as structural components, but they can also frame a ceiling.
Ceiling Joist
The horizontal structural members that span your ceiling and are responsible for transferring roof loads to vertical members are ceiling joists. The structure would collapse if these parts were not there.
Tail
The tail is the portion of the rafter that extends beyond the wall of the building to form the eave.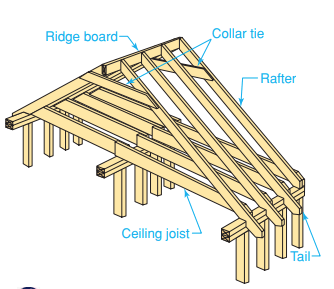 Source: weebly.com
3. Types of Roof Framing
There are two practices of framing a roof - stick framing, and truss framing. Stick processes are an older practice yet viral, and roof trusses are now being adapted to constructing new homes.
Stick Framing
In stick framing, the top beam or the ridge is the central and essential part of the structure connected to individual rafters. To completely cover the structure, some more boards are placed horizontally. Stick framing is used on those buildings with cathedral ceilings, attic rooms, or areas for storage because they form an open triangle shape between the ceiling joists and rafters. Stick framing can be easily changed and manipulated later if needed by either changing up the space, removing an attic floor to construct a more open room or other modeling plans.
Truss Framing
In truss framing, roofs are constructed using gable and hip roofs. They are constructed before installation by constructing triangle forms that are strengthened with many other wood planks. If you want an attic or a cathedral ceiling with a bottom base, truss framing won't work. Truss framing is heavily reinforced, making it more solid and long-lasting than stick framing. They are easier to install and do not require as much maintenance.
What to Choose?
Framing the roof with trusses is a winning choice full of advantages. Roof trusses are a significant update with no additional cost. Roof and floor trusses offer significant savings, enhanced durability, and shave a substantial amount of time off framing a new construction. However, it is not feasible to use Truss framing in every design; you need to consult a professional interior designer or an architect with good experience.
4. How to Create a Roof Framing Plan?
4.1 Choose the Right Frame for Your Roof
We have discussed the types of roof framing; you have to choose a winning choice. Your winning choice could be Truss framing or sometimes Stick framing. The choice would depend upon your needs. For instance, you need a storage area at the ceiling, or you might have plans to renovate the house in the coming future, then you might go for the stick frame, and if you want something solid as a rock and durable, then you would opt for the Truss framing.
4.2 Make Calculations
For perfect roof framing, you need to get the geometry of your roof accurately. The following calculations would impact your framing process.
Span
Rise
Run
Line length
Pitch
The span refers to the measurement from one wall to another wall of the top portion of your building. With the help of span, you can now calculate the Rise; it is the measurement from the heart of the span to the top of the roof. To calculate run, divide the span figure by two, and you will get your run which is almost one-half of the measurement of span. To calculate the pitch, you need to consider the angle or slope that the roof has; it tells you how high the roof rises for every run unit. The pitch can either be shallow or steep depending upon the roof's needs and sometimes the weather conditions.
4.3 Prepare a Roof Framing Plan
Now you have all the calculations in hand, it's time to make an effective and detailed roof plan using any diagramming tools available. The roof framing plan will assist the parties, the builders, and the buyers. The builders will be aware of the correct measurements, directions, and the material to use, and the buyer will be satisfied that what he needs will be built.
5. Roof Framing Plan Examples
Let's look into different roof framing examples that might inspire you to choose a perfect roof framing type for your house.
Example 1: Flat Roof Framing Plan
This kind of roof framing is known as flat roof framing. Flat roofing is a common choice for garages, homes, garage additions, and other structures. The supporting component for the roofs is a timber frame. This flat roof design sets beams horizontally at a specified gap. Once they are perfectly fastened in their locations, another layer of beams or purlins is installed vertically above the horizontal beams. The size of the purlin or the beam can be calculated by the width of the building plus the overhang beams on both sides.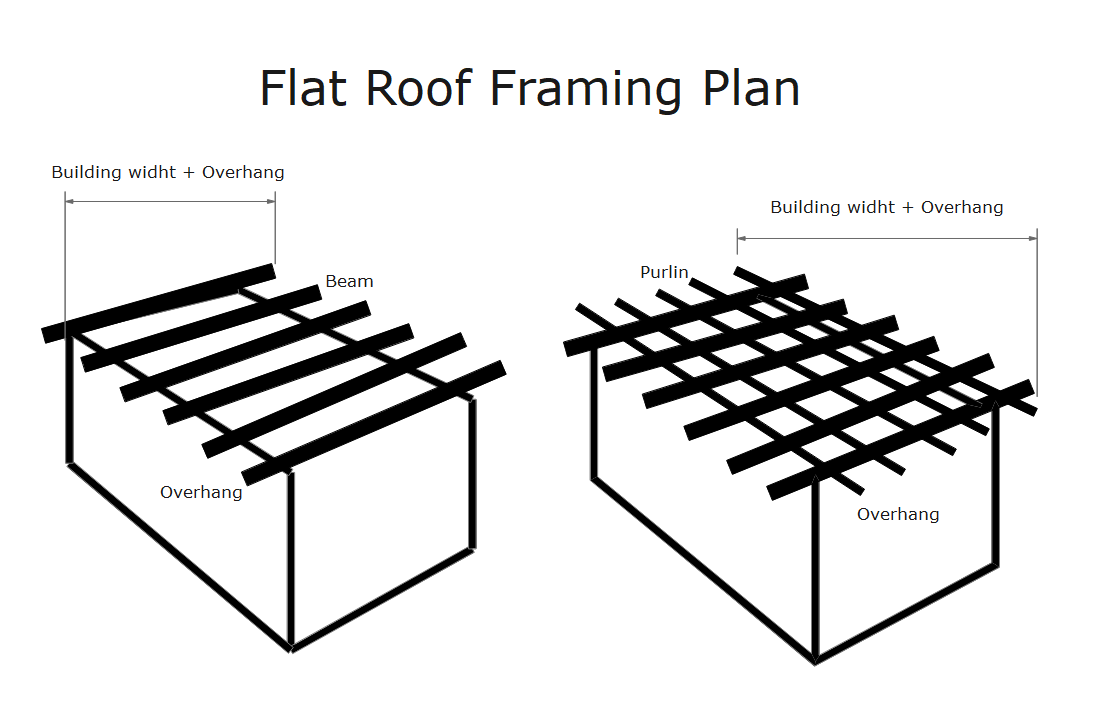 Example 2: Shed Roof Framing Plan
This kind of roof framing is known as shed roof framing. A shed roof, also known as a pent roof or a skillion roof, is a type of roof that is shaped like a shed. It's also known as a mono-pitch roof or a roof with only one slope. Shed roof structure is one of the most basic roof designs, making it ideal for compact homes, small cabins, garden sheds, patios, shelters, garages, and other residential additions. A shed roof structure combines the advantages of a flat roof and a gable roof. With beams crossing between two walls, one of which is taller than the other, a slant is created, usually ranging from 7° to 35°, depending on the exact small home design, its dimensions, and the weather conditions of the site.
Example 3: Hip Roof Framing Plan
This kind of roof framing is known as hip roof framing. Hip roofs, also known as hipped roofs, are a roof style with a gentle slope on the sides and a downward pattern toward the side walls. The area where one part of the roof meets another is known as the "hip," Hip roofs often have highly consistent angles with no abrupt end. Hip roofs are made up of four rafters that generally meet on a ridge board in the middle of the roof. Hip roofs are more typically pointed toward the top of the structure, resembling a pyramid. Hip roofs are also known as pyramid roofs and pavilion roofs.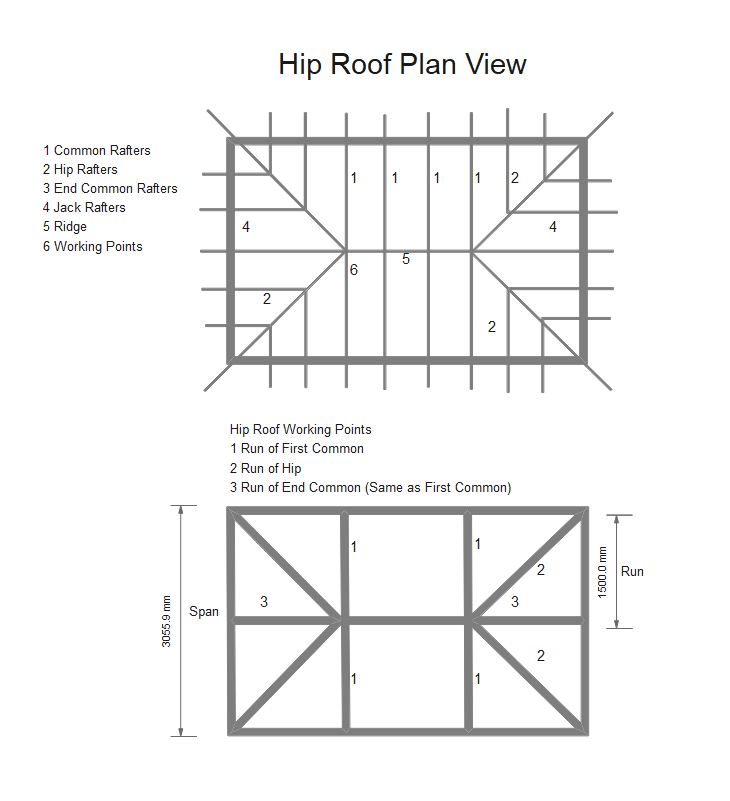 Example 4: Gable Roof Framing Plan
This kind of roof framing is known as Gable Roof Framing. Like two right triangles linked at the vertical line of the triangle, a gable roof slopes downhill in two directions. The ridge board goes parallel to the exterior walls along the roof's peak. The ridge board is fastened to the top of the common rafters, and they slope down to the ceiling joists and outside walls, where they are nailed to the ceiling joists and the outside walls. Budget-conscious homeowners will like gable roofs. Gable roof designs are simple, so they don't require as much material as other roof designs, and their styles vary while remaining economical. While gable roofs require additional wind support, they offer excellent rain and snow drainage and are more weather resistant than flat roofs. They also improve the airflow in your home.
6. Online Roof Framing Plan Maker
We have now seen multiple roof framing types and techniques. It's high time to learn to create a roof framing plan for your apartment. If you have selected the right roof framing type and have all the necessary calculations, you need an excellent diagramming tool to design a perfect and effective roof framing plan.
EdrawMax Online is a complete solution for your floor planning and other diagramming problems. You can create a floor plan in EdrawMax without hurdles or hold-ups as the application offers an easy-to-use interface. With EdrawMax's robust template community, you can pick a preset template to save your valuable time and effort or create one from scratch. With EdrawMax, one can create 280 different types of diagrams. If you have selected a pre-designed template, then using the application dedicated features, you can customize the templates as per your requirements, export them in multiple formats, and share them with others.
7. Key Takeaways
As you can see, the initial plan for framing your roof must consider several important factors, including the roof's shape and any applicable town building codes. Then you'll have to decide between stick framing and truss framing, which are two very different styles of roof structure. After that, you'll need to perform all of the precise calculations necessary to ensure that the pieces of wood fit together correctly. You can finally use an excellent diagramming program like EdrawMax Online to create an accurate Roof framing plan with all the information in hand. Designing a roof framing design in EdrawMax would be an excellent choice because you won't have to master the application and its tools first. EdrawMax allows anyone with no prior design expertise to create a Roof framing plan.
EdrawMax Online
Create 280+ types of diagrams online
Access diagrams anywhere, anytime
Everything in desktop + Templates Community
Team management and collaboration
Personal Cloud and Dropbox Integration
Related Articles