What Is Hub and Spoke Model
A hub and spoke diagram graphically represent the relationships between the smaller components and the central item to describe ideas and findings. Here, you will learn everything about the hub and spoke, including its uses and how to create it. Also, we will show you some hub and spoke diagram examples and free templates.
1. What is Hub and Spoke Diagram?
The hub and spoke diagram get its name from its layout that looks like a few spokes connected to a central hub. Companies mainly use these diagrams to improve the productivity of their employees. The hub and spoke model are best for making a brainstorm web and representing distribution routes in marketing. Before the hub and spoke method, companies used to have one headquarter in town, but with this method, they only need one head office while employees work in their satellite or branch offices in different places.
There is a central hub in every hub and spoke diagram with other items, ideas, and concepts around it in a circle. A single hub and spoke model explains the central component or topic based on ideas or items connected to it. We can use multiple hubs, each with its spokes to represent complex ideas. In the hub and spoke diagram for distribution of goods and services, everything either generates from the hub and goes to the spokes or is generated from the spokes and goes to the hub for further distribution. Here is an example of a hub and spoke model for your reference.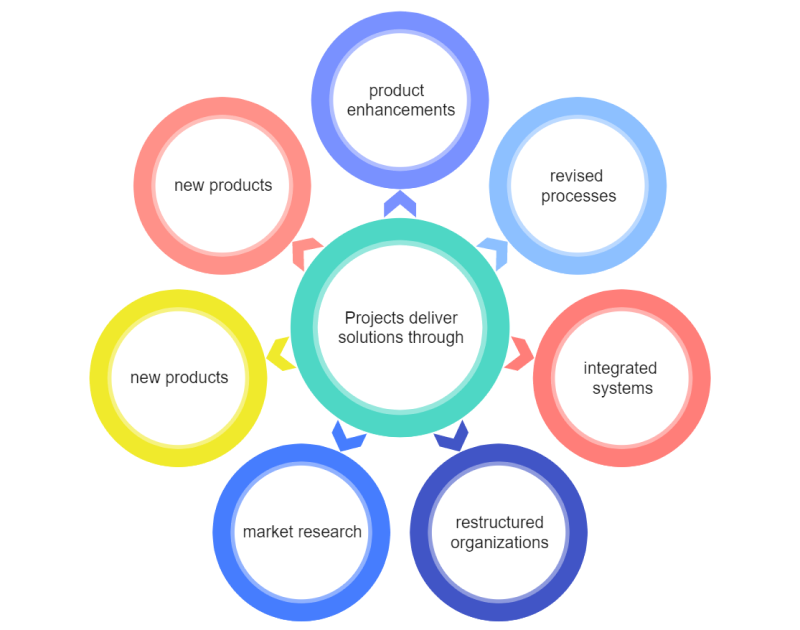 Click on the image to edit. Source: EdrawMax Online
2. Benefits of Hub and Spoke
A better alternative for bullets or lists in a presentation or a document. The hub and spoke diagram layout makes it the best tool for listing related concepts, ideas, and items of a central component or hub instead of using bullets and plain text that makes your content boring. These diagrams represent the main idea and elements in a circle to make it simple and easier to understand.
Attractively showcase a product's features with a hub and spoke diagram. Using a hub and spoke model, you can place the product in the central hub and list its features around it in circles so that anyone can understand what your product brings in a single glance. When it comes to representing new products with their features, your presentation method plays a big role in how much the audience likes your product.
Explain the whole concept in the easiest possible with the hub and spoke technique. The main advantage of using a spoke diagram is that you can explain the whole concept without using lots of text or narratives just by representing the concept as the hub and its related themes and ideas as the spokes connected to it in a circle. It helps you explain the whole concept while focusing on the larger hub and its small components.
Increase freight efficiency of your organization by implying the hub and spoke method for management. A hub and spoke diagram can create a framework for its freight structure to maximize efficiency by setting an ongoing movement for loads and reducing the cost with enhanced productivity.
3. Hub and Spoke Diagram Use Cases
Networking: A hub and spoke network diagram is most commonly used in software networking to organize the infrastructure of your cloud network and include lots of virtual networks in a single azure cloud. The virtual network represents the central hub to host services and manage multiple workloads and external connections. The multiple workloads are the spokes of the virtual network. .
Management: Multiple organizations used the hub and spoke model to develop their internal management structure. The leadership in a hub and spoke company belongs to one person with all the power in the organization represented as the central hub. The spokes are the employees and hired staff who only come to work in the company and do not have any power to change the organization's management.
Cause and Effect: A hub and spoke diagram is also an excellent brainstorming and problem-solving tool used by people of multiple professions to find out the cause and its effects and generate creative problem-solving ideas. The central hub represents the cause of the problem while its generated effects and solution ideas are usually represented as the spokes.
4. How to Create Hub and Spoke
You can easily create a hub and spoke diagram to explain the central component using related items or concepts. Make sure to follow the hierarchy of each component in the hub and spoke model to make a correct diagram. These diagrams are best for team brainstorming sessions, so try not to make it complex and use labels and supporting text to make it easier to understand for everyone. Here are the steps to create a hub and spoke diagram.
STEP 1: Define the purpose of your diagram and place the component you want to describe in the central hub. Add the topic name in the central hub for the brainstorming hub and spoke.
STEP 2: Determine the attributes, items, ideas, related themes, and other small components of your diagram and create a list.
STEP 3: Add circles around the central hub and place the ideas and items in each circle. Some networking hub and spoke diagrams require hierarchy, but you can randomly add those related items for most of these diagrams.
STEP 4: Add two choices for each statement of your dichotomous key. Lead both choices to the new statement and repeat the same step until you reach the last statement of identifying the organism.
STEP 5: Connect each spoke directly with the central hub to make the layout of your diagram similar to a wheel.
Watch this video to learn more. If the video doesn't play, please visit it at YouTube.
After you understand the logic behind the hub and spoke, get started quickly with a hub and spoke maker such as EdrawMax Online to create your diagram. It is the best diagramming software with free professional templates and a symbol library to create your diagram. You can make your diagram in a few minutes with EdrawMax and download it in any format you want. Here are the steps to create a hub and spoke diagram on EdrawMax.
STEP 1: Log in to EdrawMax Online or create a new account.
STEP 2: You can make your diagram using a template or open a blank canvas to draw it from scratch. Go to new, and click on the organizational chart category. Select the family tree and click on the "+" button to get a new canvas, or select a template to edit it right away.
STEP 3: The next step is to customize your dichotomous key diagram. Go to the symbols library and insert icons and symbols with a simple drag and drop. Add connecters to visualize the relationship between components.
STEP 4: After your diagram is complete, the next step is to download it. EdrawMax Online supports various document formats, so you can export in any format you want. You can also share and print it.
5. Hub and Spoke Examples
There are multiple types of the hub and spoke diagrams with specific uses and layouts. Before creating a hub and spoke model, it is better to identify which layout suits your project or what type of diagram you need. Here are some hub diagram examples with free templates that you can edit to create your diagram. Use these examples as a reference when designing a hub and spoke model.
Example 1: Hub and Spoke Graphic
The hub and spoke graphic diagram in this example illustrates an eight-stage hub and spoke process. You can use this layout to represent any process using its main component as the central hub and related activities in a particular hierarchy. The diagram represents each step in the process using symbols and icons. There is also a blank space for supporting text.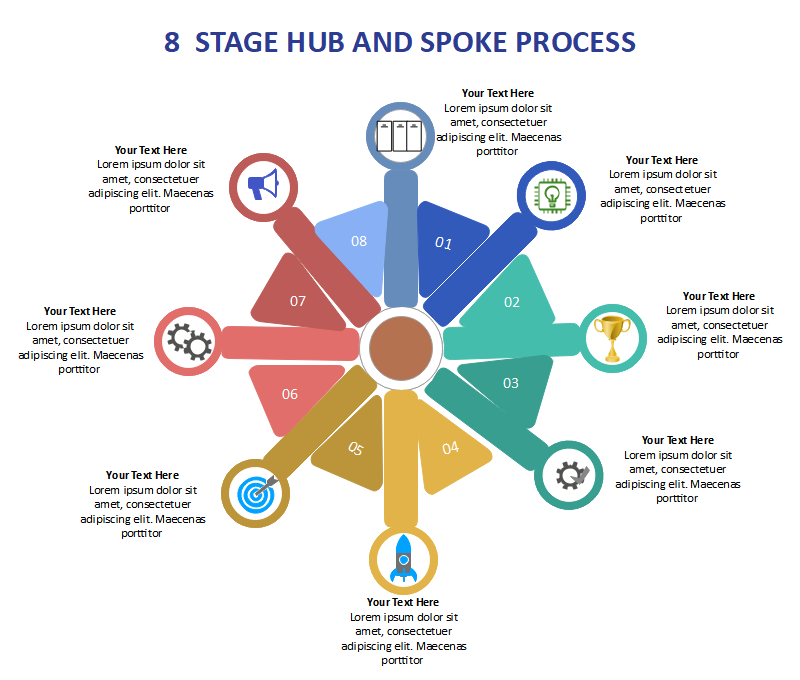 Example 2: 6 Item Spoke Diagram Template for PowerPoint
The 6-item spoke diagram template for PowerPoint in this example illustrates the infographic layout of a hub and spoke model with the main component as the central hub and six related components as the spokes. These diagrams are mainly used for marketing presentations to explain the features of products and for management purposes in organizations to create an infrastructure of its leadership.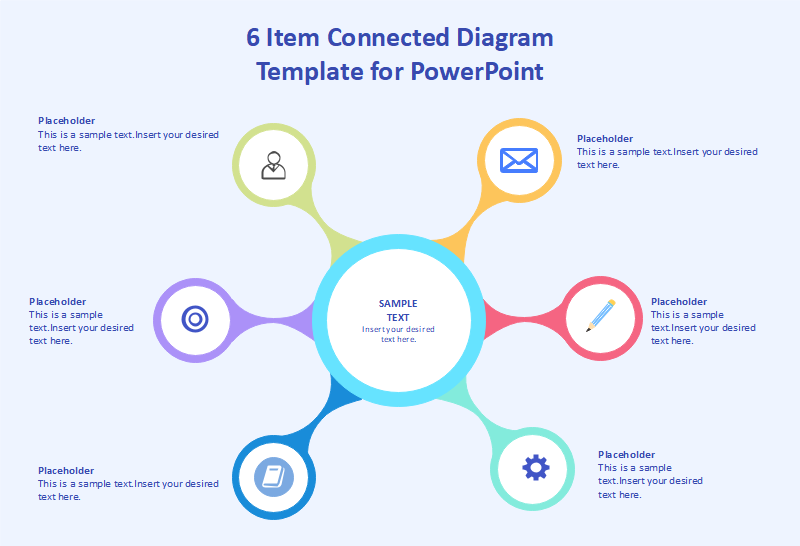 Example 3: Blank Circle Spoke Diagram
The blank circle spoke diagram in this example graphically represents the smaller components of the central hub to explain large ideas or concepts. Students also use these diagrams as narrative writing tools to better understand complex topics by breaking them down into smaller parts. The diagram has a simple layout with a central hub and eight spokes to represent eight related components.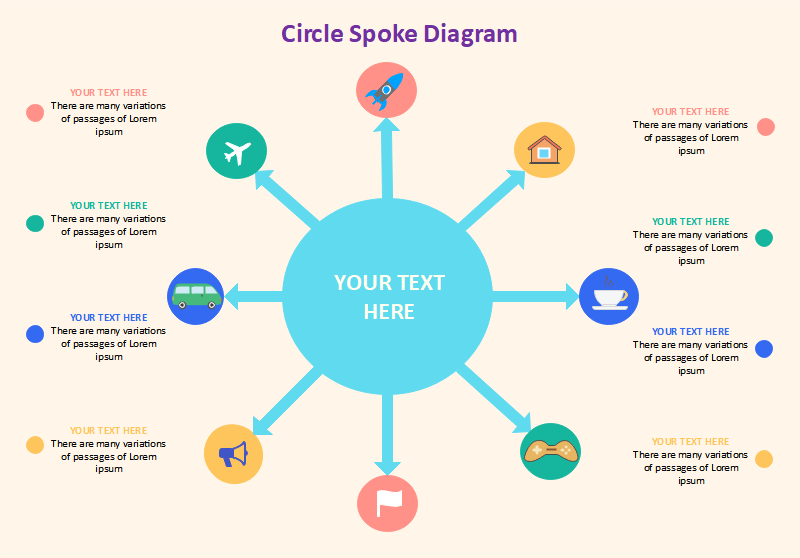 6. FAQ About Hub and Spoke?
1. What is wheel and spoke diagram?
The wheel and spoke diagram depict the relationship between the central hub and connected spokes in a simple layout similar to a wheel. The hub represents the center of the wheel, and the spokes represent the wheel's body. It is also known as a wheel chart commonly used for brainstorming.
2. What is a spoke diagram?
A spoke diagram describes the central idea or components using related items and concepts. It is similar to a bubble diagram with one circle in the middle to represent the central item of the diagram and multiple circles around the middle circles to represent the other items related to it. We use a spoke diagram to explain the concept as a whole.
3. How do you draw a circle spoke diagram?
You can easily create a circle-spoke diagram with free templates on EdrawMax Online. Go to the circle spoke diagram, pick a template, or get a blank canvas. Add a circle in the middle and some circles around it to represent spokes. Connect the other circles with the middle circles using lines. Add text and completely label your diagram.
7. Key Takeaways
The hub and spoke diagram graphically represent the features of a central hub by listing its related items and small components in circles around it. These diagrams are best for brainstorming, company management, maximizing efficiency, and finding the cause and effect. EdrawMax Online is the best hub and spoke maker that gives you free templates and a symbol library to make your diagram. It helps save time and effort by making your diagram in a few minutes and exporting it in any format you want. Go to EdrawMax Online and get started right now. Find more business diagram examples.
Related Articles