How to Make a Line Graph in Google Sheets
---
A line graph is a simple graph that represents data in the form of a series of points marked on a plot — connecting these results in a line. Line graphs are also called with other common names such as line charts, line plots, and curve charts. It is a useful visual tool for understanding and displaying different sets of data.
There are many different online apps to prepare a line graph. One typical online line graph maker is Google Sheets. Make a line graph in Google sheets by following our simple how-to guide.
How would you like to create your Line Graph?
How to Make a Line Graph in Google Sheets
Here is how you can make A line graph in Google Sheets.
Step 1 – Open Google Sheets
Launch Google Chrome and open Google Sheets. You will have to log in with your Google account to access the software. Now open a blank worksheet.
Step 2 – Add data
Add the data by manually typing it or copy & paste it from another file. You can also insert data by importing a file that is saved on Google Drive. Go to File and click on import to add data. For this tutorial, we will manually type sample data and select it.  
Step 3 – Insert Graph
Go to the Insert tab and click on Chart. Google Sheets will add a bar graph according to your data by default. A Chart editor will also open up on the right side of the screen.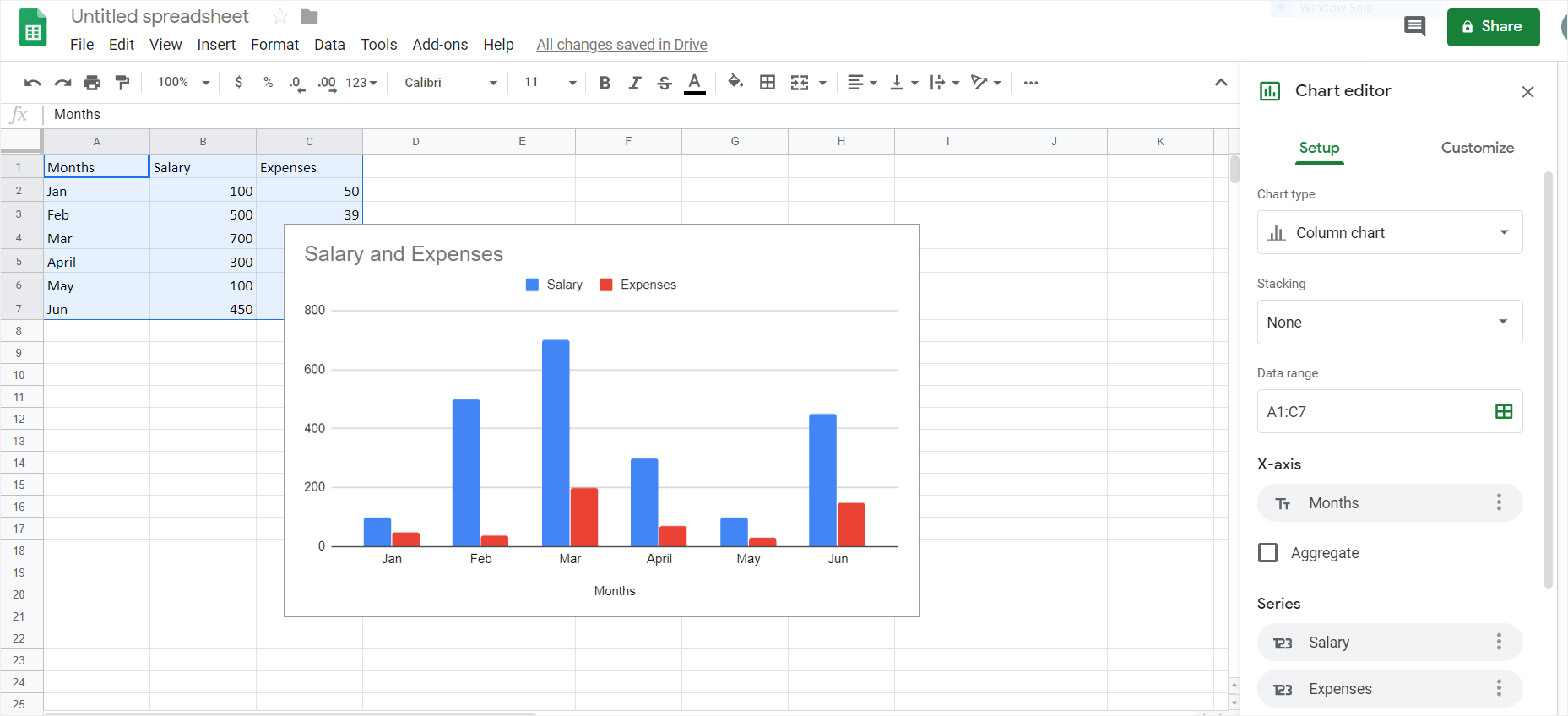 Step 4 – Insert Line Graph
To change the bar graph into a line graph, go to the Chart Editor and click on Set up. Click on the drop-down arrow under Chart Type and scroll down to Line. Now select the Google sheets line chart you want. Once you click on the line graph, it will appear on your worksheet.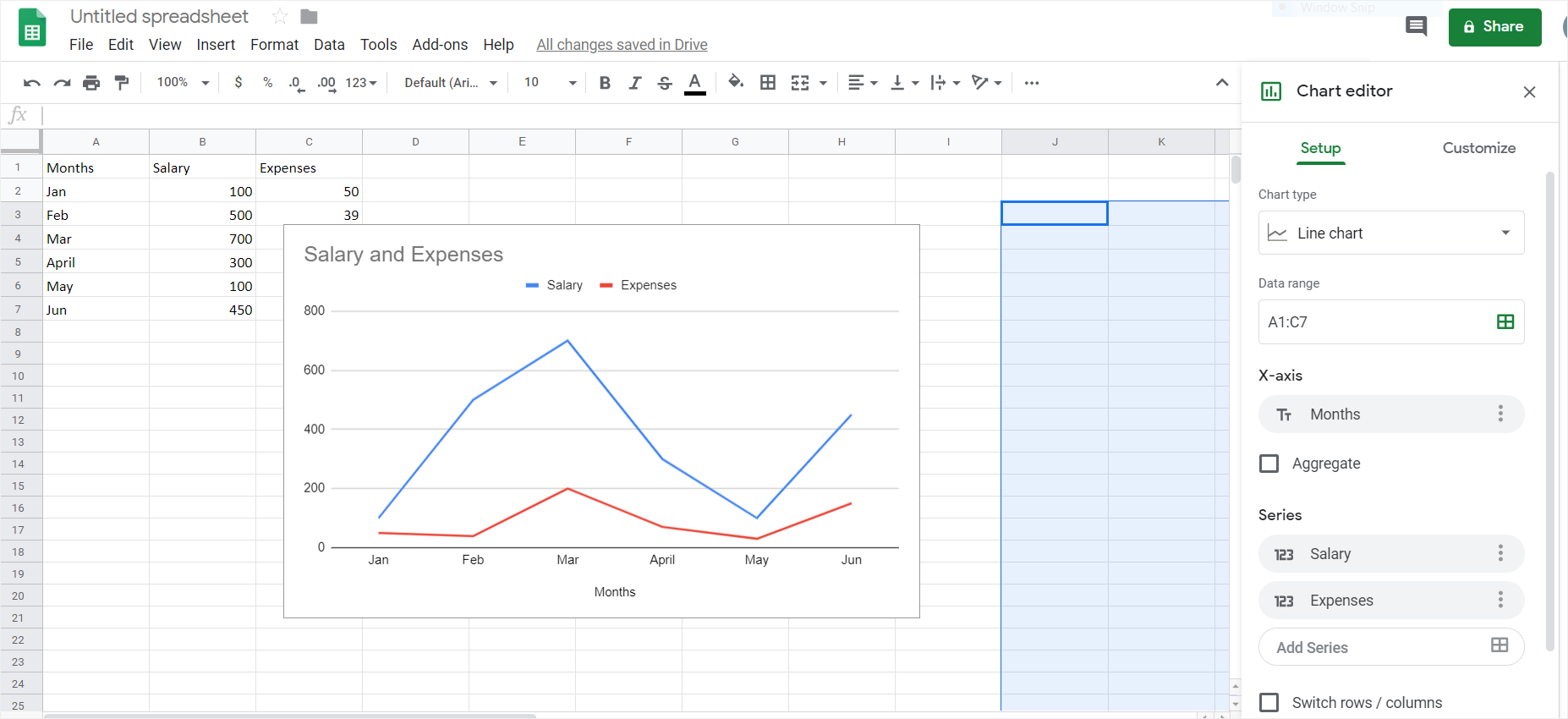 Step 5 – Customize your Line Graph
Now use the Chart Editor to customize and edit your Google sheets line chart. You can change the size of the chart by selecting it and then dragging the corners. Edit the font style, font size, color, and other features of your graph. Use the various tool to add custom effects like watermarks and logos. Once you are satisfied with the final line graph in Google Sheets, close the Chart Editor, and save your file.
In this way, you can make any line graph in Google Sheets in just five simple steps.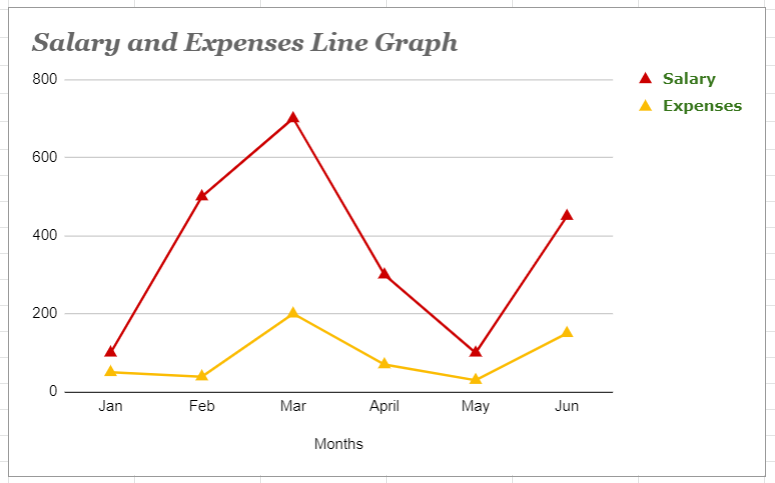 How to Make A Line Graph in EdrawMax
Another online Line graph maker is EdrawMax Online. It is a multi-purpose tool to create all types of visual content. You can make different graphs and charts using Edraw Online. You can also create a line graph with the help of EdrawMax Online. All you need to do is click on this link https://www.edrawmax.com/online/ to make a line graph right now!
Step 1 – Open EdrawMax Online
Open EdrawMax online on your browser.
Step 2
Scroll down to the Graphs and Charts option in the navigation pane. Google sheets do not have any free templates, but Edraw has a wide variety of graph templates for all types of visual content. Now, click on Line to select a line graph of your choice. You can also use a blank page to create from scratch. We will use a pre-made template. Once you click on your desired template, your browser will open a new Edraw Online Tab.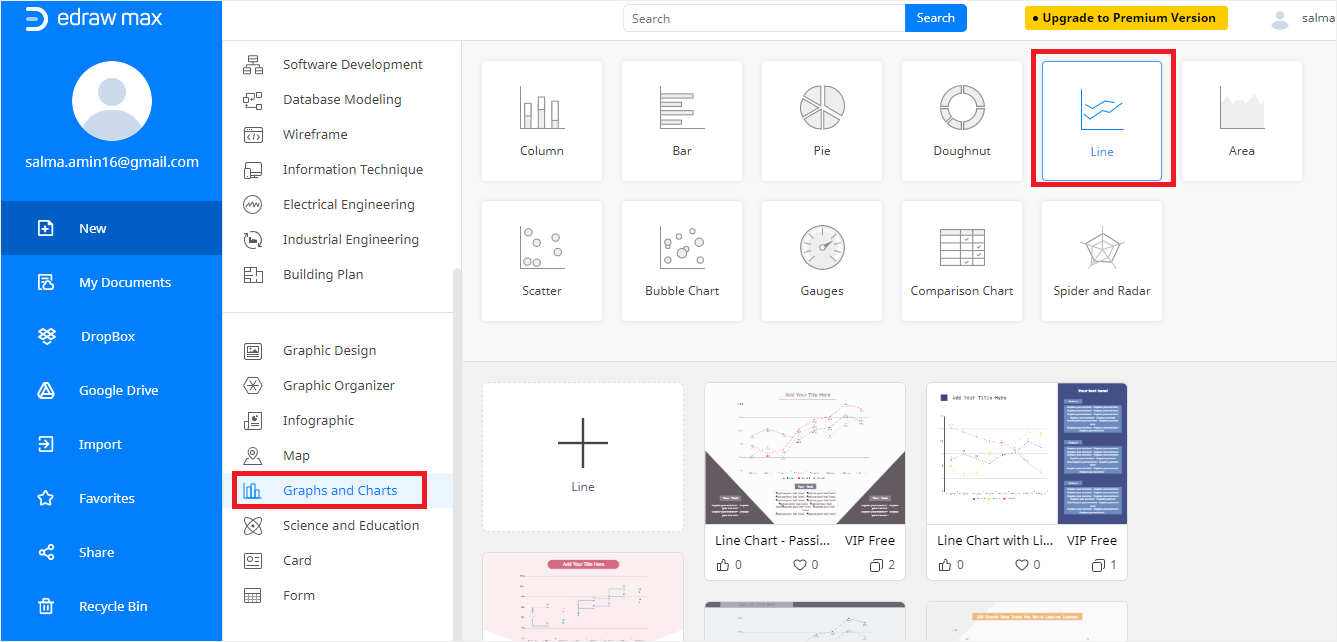 Step 3 – Add Data
Delete the sample data on the Data pane and enter your data. You can also fetch CVS data and import excel sheets. The line graph will automatically adjust according to the new figures once you add the data.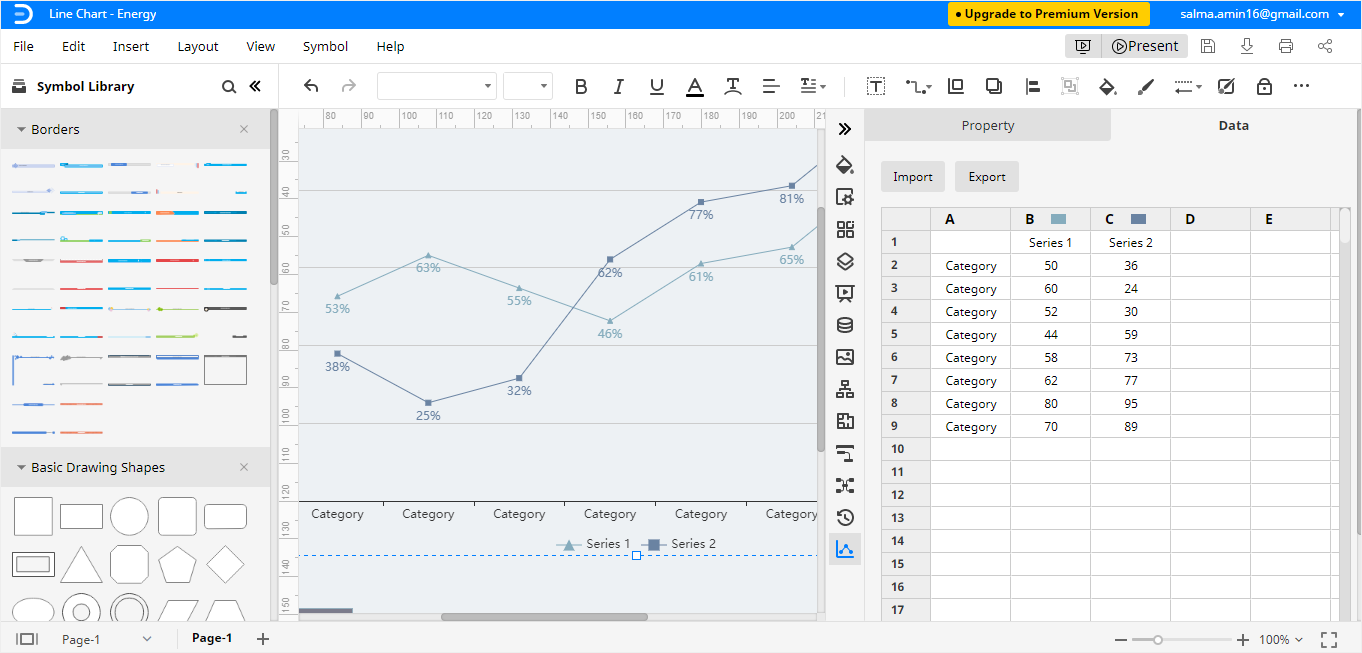 Step 4 – Customize
Now customize the line chart as per your preferences using all the editing options available. There are so many editing options available that you can make the chart precisely as you need it to be!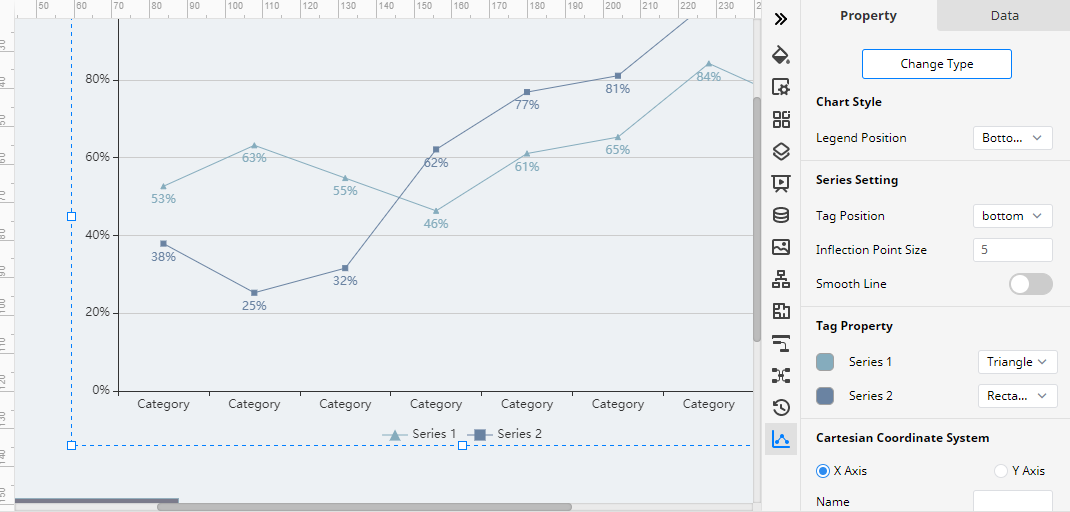 How to Export An Edraw Chart as A Common File
EdrawMax enables its users to export Edraw documents in the form of other common file types. Hence, you can save your document as an Excel, Word, or PDF file and even edit them in the corresponding software. Click on File > Export and then select the desired file type.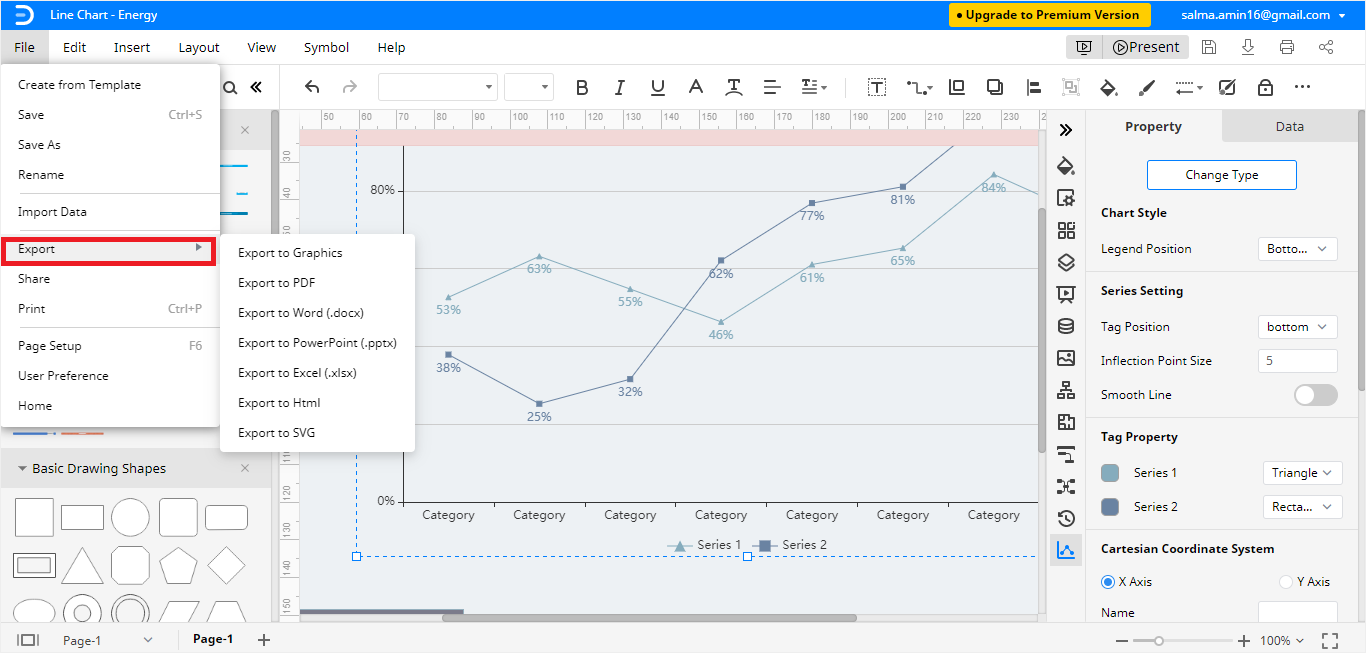 Edraw files can also be saved in Google Drive and Dropbox. Click on File > Save as and then click on the desired cloud location to save your Edraw documents online.
The essential features of EdrawMax Online can be used for free! Our tutorial on how to make a line graph in Google Sheets and EdrawMax ends here.