Adidas BCG Matrix
This article will discuss the Adidas BCG Matrix analysis to get an overview of Adida's high and low revenue-generating products. BCG Matrix is a practical and valuable tool for any company to get a clear view of the organizational structure and make more efficient decisions.
1. Introduction
BCG Matrix is a tool that gives companies a quick and easy way to understand and visualize their business, their customers, and their competitors. Businesses can use it to discover insights that help them find ways to create new value in the market and grow profitably. For example, a travel company might use BCG Matrix to identify and explain why one hotel is doing better than another. Or an auto manufacturer might use the tool to analyze the market and customer segments to determine which products should be built. Companies like Dell and McDonald's use BCG Matrix to develop new products. The critical thing about this matrix is that it focuses on the big picture and analyzes the market value of certain products of the company in the market. Here in this article, we will discuss what are the leading and less profitable products in the BCG matrix of Adidas.
Background of Adidas
Adidas brand is the world's second-largest sporting goods maker after Nike. The company makes sportswear for various sports, including football, basketball, running, tennis, volleyball, cricket, and baseball. Adidas was founded in Adi Dassler's garage as a leather goods business by a young German immigrant named Adi Dassler.
The Adidas Group was founded by Adolf Dassler in his mother's home in Herzogenaurach, Germany, in 1929, along with Rudolf Dassler. They named the new enterprise "Gebrüder Dassler Schuhfabrik" ("Dassler Brothers Shoe Factory") and started selling spiked running shoes, in the process developing the concept of spikes. In 1934, the brothers added this material to their products after learning that running shoes sold better when they were made out of canvas and rubber rather than heavy metal. They began mass-producing canvas and rubber running shoes. In 1938, the Dasslers changed their business from traditional shoe factories to sporting goods and sports equipment providers.
2. Adidas BCG Matrix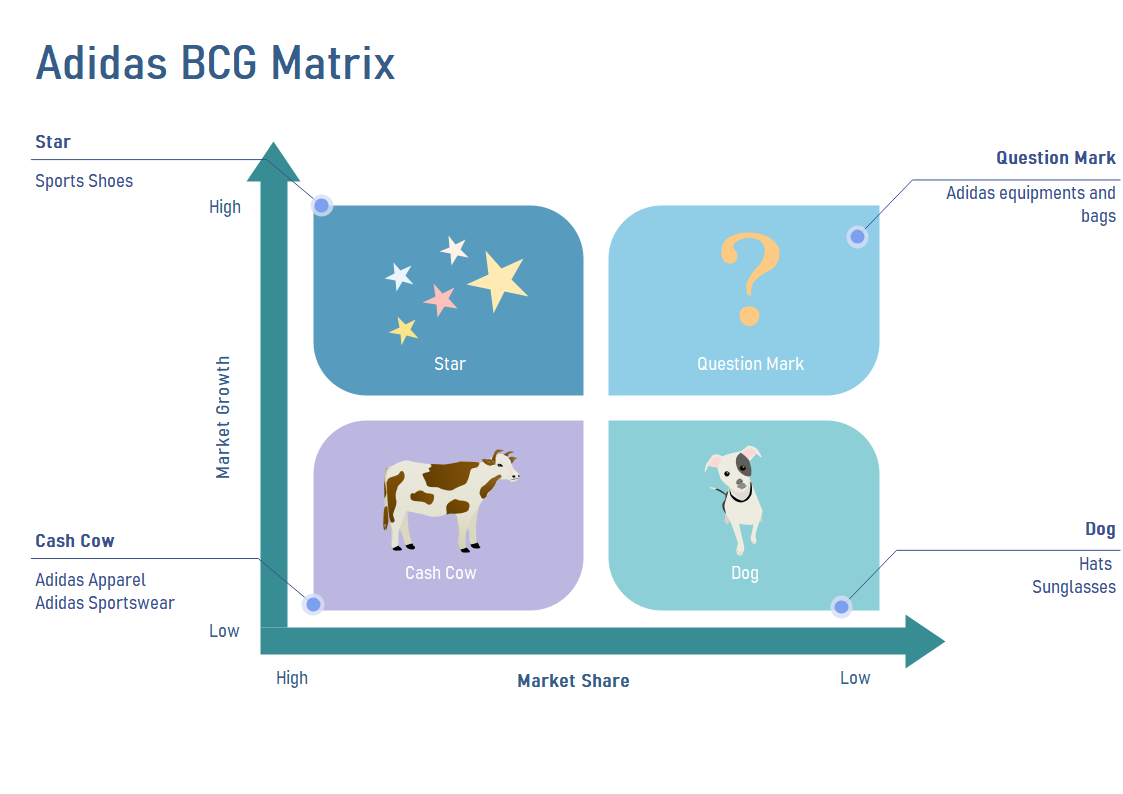 Market Growth Rate
According to the company's earnings report in July 2020, the revenue in dollar terms grew by 16% in the year ended March 31, 2021 as per Adidas BCG analysis. In terms of Euro (EUR), the company's revenue increased by 15%, reaching 21.23 billion euros, compared with 18.44 billion euros in the previous year. The company recognized that "the challenging market environment in Greater China, extensive COVID-19-related lockdowns in Asia-Pacific as well as industry-wide supply chain disruptions reduced revenue growth by more than 1.5 billion euros during the year".
Relative Market Share
Adidas Group had a total of 11.34B EUR sales last year. At the same time, the accessories and gears have shared almost 6% of the revenue. The apparel sales of Adidas reached 8.71b EUR.
Question Marks
This business area has high growth prospects but a low market share. The products consumed by these businesses have the potential to become Stars in a high-growth market. The Adidas products equipment and bags are in the question mark category that is rarely purchased and is the lowest selling product. Companies are advised to invest more in Question Marks if the products have the potential for growth. The hats and eyewear of Adidas fall under the dog category, which means they are extinct.
Stars are the best-performing business units or products that generate the most cash. Monopolies and first-to-market products are sometimes labeled Stars too. Although they may be high growth rates, Stars also consume large amounts of cash. The result is that the same amount of cash comes in that is going out. Stars can eventually become Cows if they are successful enough to withstand a decline in the market until a time when a growing market slows down. Investing in Stars is a critical aspect of a BCG strategy for growth. The star category includes sports shoes as they are the highest-selling product of the brand.
3. How to Draw Adidas BCG Matrix Online?
The Business Catalyst Group (BCG) Matrix is an essential tool for anyone who wants to present a clear and organized visual display of data. In this tutorial we will analyse how to make a BCG matrix in EdrawMax Online.
Step 1: Preparation (Gather information, open EdrawMax, and login)
In the first step of preparing a matrix, you must prepare all the information needed to construct the matrix. Before building the matrix, ensure you have all the necessary images, videos, or websites. You will be required to access this information on a computer to create a matrix.
Step 2: Select a Template or Create from Scratch
You can get a set of pre-made templates, or you can create a blank BCG from scratch. In the Edrawmax software, there are many pre-designed templates for brochure design. Each template can be opened to design a different type of print media.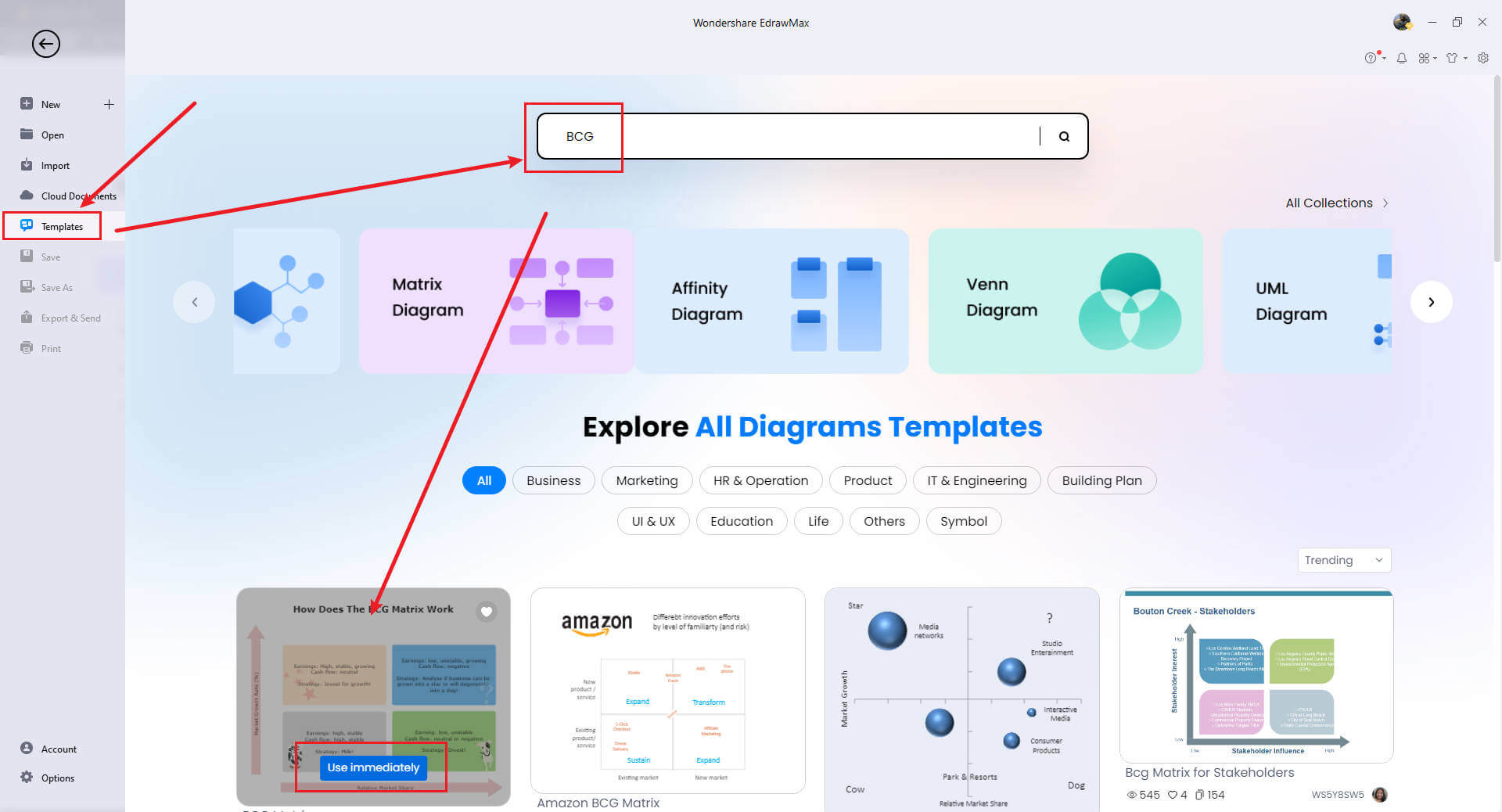 Step 3: Add Textual Information
To edit the text properties of a specific text element, go to the Font Options drop-down menu and select the desired font.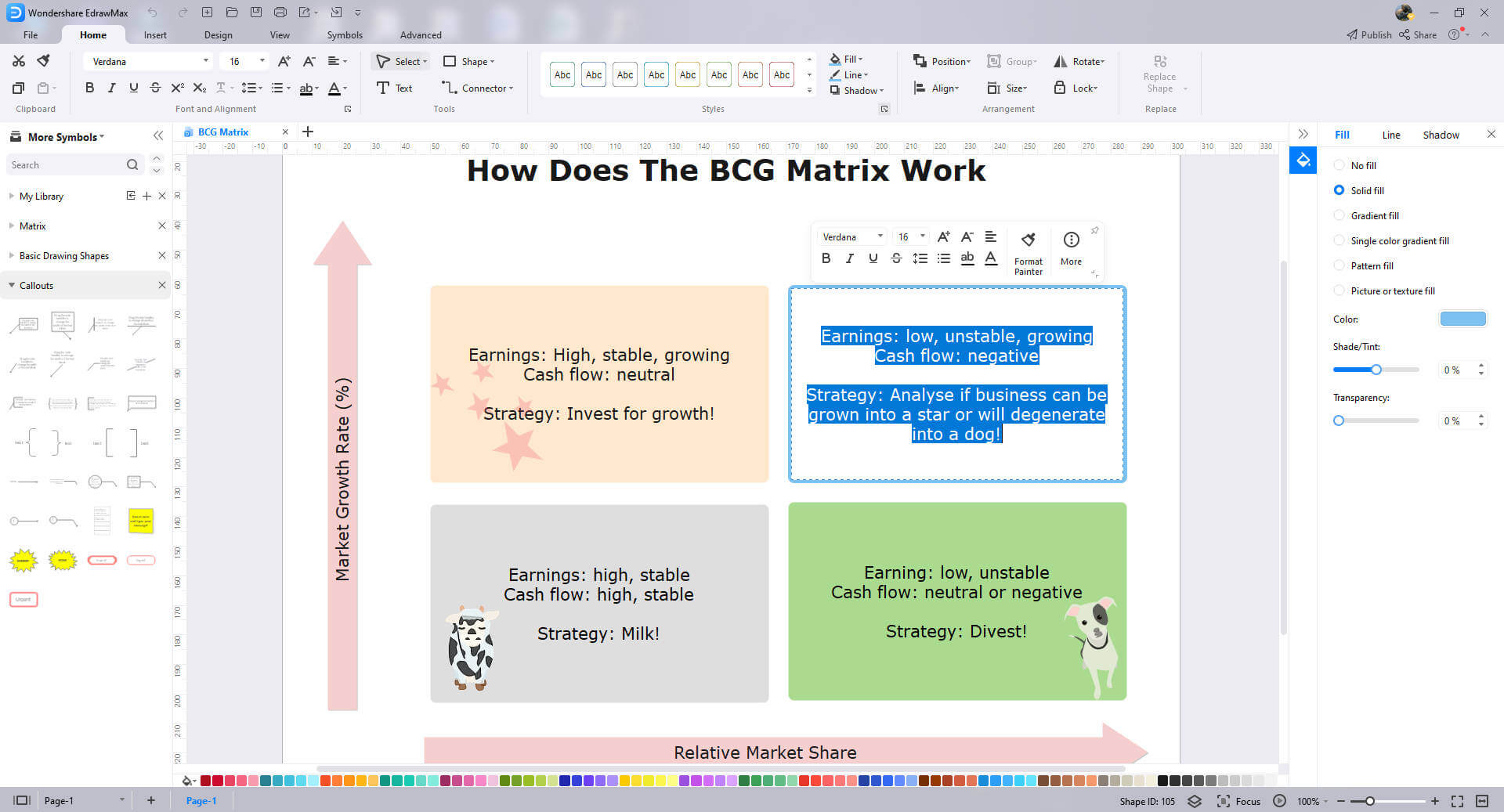 Step 4: Add other components/ Customize Your Work
In addition, you can create custom fields, customize your website, and add a brand logo and slogan or tagline. You can even add a favicon in the footer section.

Step 5: Save and Export
Edrawmax allows you to save the file (BCG Matrix ) you've made or share or export the required file in multiple formats.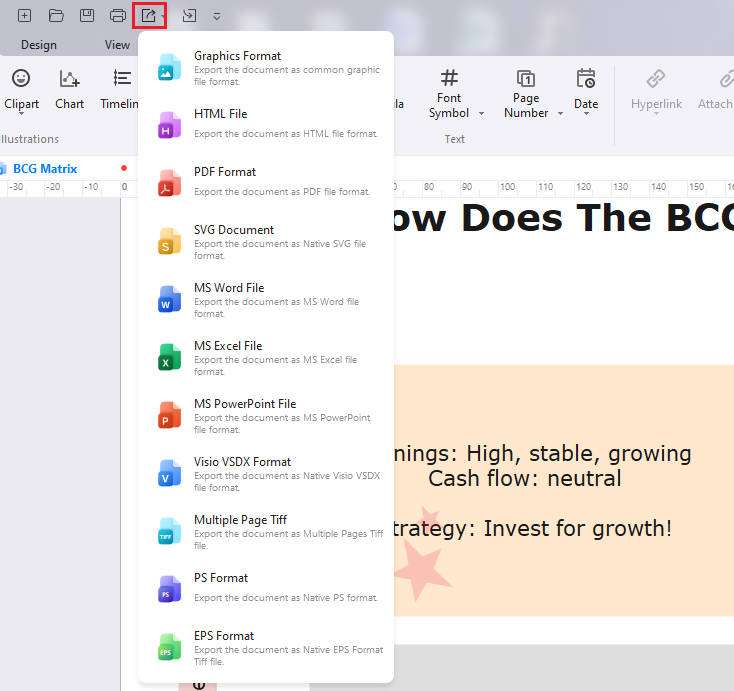 EdrawMax Online
Create 280+ types of diagrams online
Access diagrams anywhere, anytime
Everything in desktop + Templates Community
Team management and collaboration
Personal Cloud and Dropbox Integration
4. Key Takeaways
BCG Matrix is a standard template widely used to present the organizational structure as we used for Adidas BCG Matrix. It is the most common organization chart or diagram used in business and HR to describe an organization's structure and relationships between its components. It is essential for organizing and presenting any business's structure, particularly in large corporations. It shows which employees report to whom and in what way.
Not so many programs allow you to create professional BCG matrix templates. Edrawmax is one of the very few tools that have the potential to create the BCG matrix diagram with a simple interface and at a high level of quality. It is a complete software program that contains the necessary components to produce these diagrams in various fields. You can use this tool to get all the templates you need to create a BCG matrix diagram. You can also utilize these templates as the basis for the BCG matrix diagram.
5. References
Moser, Klaus, Melanie Muller, and Frank T. Piller. "Transforming mass customisation from a marketing instrument to a sustainable business model at Adidas." International Journal of Mass Customisation 1.4 (2006): 463-479.
Wilson, Jonathan AJ. "Understanding branding is demanding…." Journal of Marketing Management 36.13-14 (2020): 1178-1189.
Related Articles