Understanding the Benefits of Chain of Command in Organizational Structures
An effective chain of command within an organizational structure is critical to ensure successful operation and efficiency. Learn how to create one with this guide!
1. Introduction
Establishing a chain of command can be essential to creating and maintaining an effective organizational structure. A well-thought-out and enforced chain of command can ensure order, reduce chaos, and increase efficiency within the workplace.
With the right chain of command in place, it becomes effective for the organization to stay productive while ensuring everyone in the team follows the company's norms. More importantly, a clear chain of command allows for better communication, decision-making, and more efficient workflow.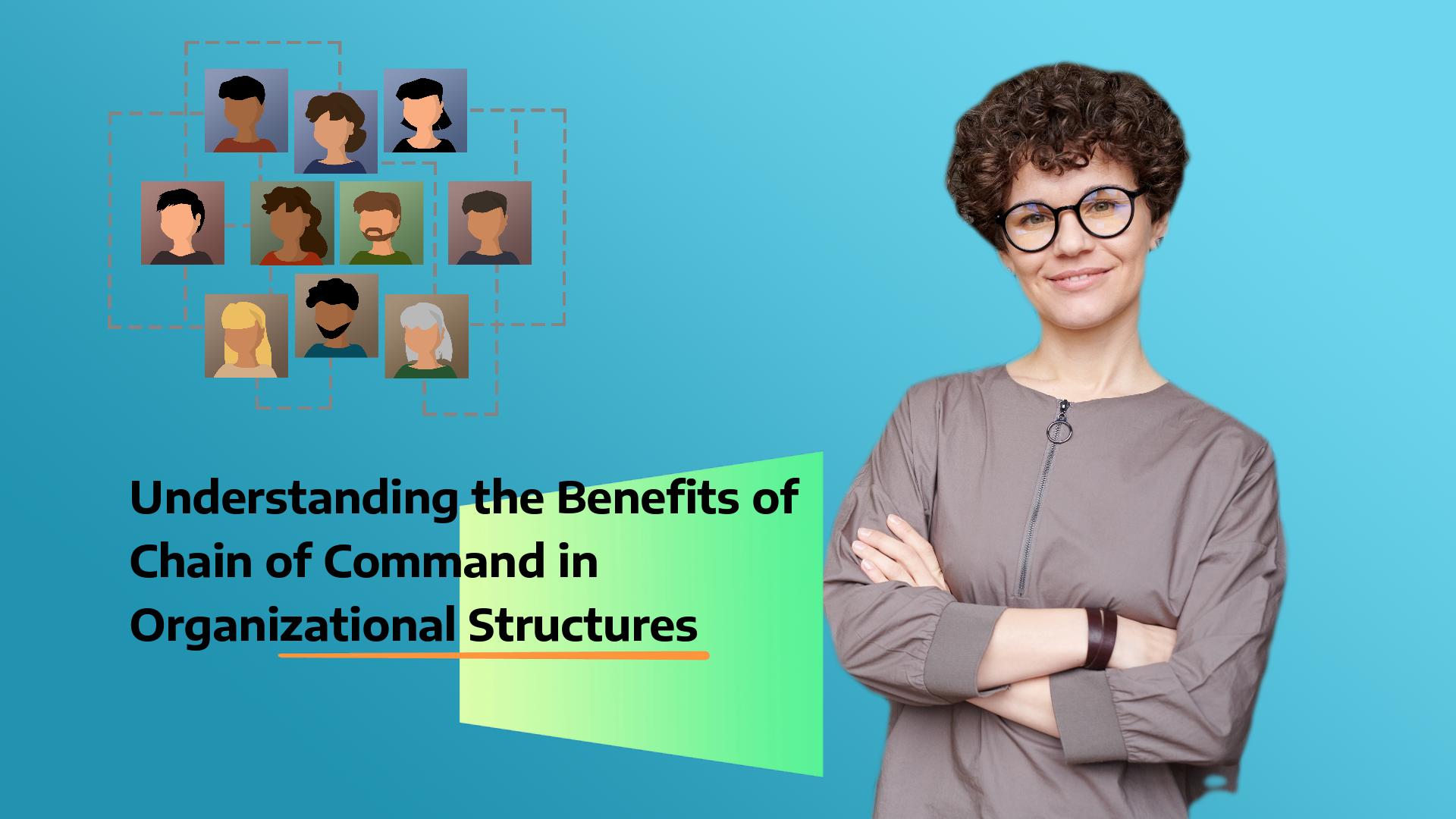 2. Overview of Chain of Command in Organizational Structure
A chain of command is an organizational structure delineating hierarchical relationships within a company, division, or department. This type of structure outlines a system of authority in which each employee must answer to someone with higher-level responsibilities and accountability.
Management and employees should clearly outline and understand an effective chain of command to ensure efficient communication and collaboration between workers at all levels.
In any given chain of command, you will find that the Chief Executive Officer or the Founder remains at the top of the hierarchy and is followed by a layer of the company's Management Team, which includes everyone from VPs to Directors.
This management level is typically responsible for developing strategies and policies, supervising processes, and approving goals. Following Directors or Vice Presidents, you will have Managers or Supervisors who serve as direct supervisors for their group or department and are responsible for managing workflows and addressing employees on behalf of their direct supervisor.
Finally, employees and teams are at the lowest layer of the hierarchy and complete daily tasks according to their manager's directives. Each employee has an assigned job that plays a vital role in helping the company achieve its objectives.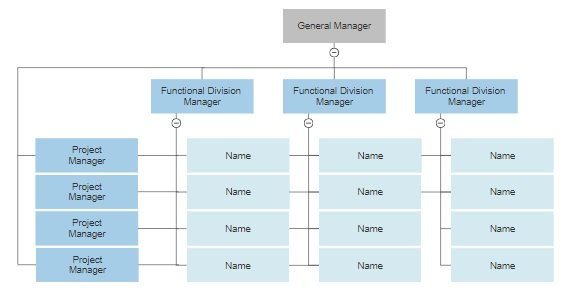 3. Example of Organizational Chain of Command
To fully comprehend the importance of an effective chain of command, let us walk you through some examples of organizational structures.
These organizational structure examples are created in EdrawMax, which offers a wide range of free templates and symbols that helps beginners to create highly-professional organizational structure diagrams.
#1 Chain of Command in Tech Companies
A chain of command diagram for tech companies visually represents how the different management roles in an organization are structured. The diagram can illustrate who is responsible for, answer to each role, and indicate communication pathways between different teams and departments.
By understanding the chain of command, tech companies can foster better collaboration and efficiency amongst their teams, enabling them to work towards smoother operations and increased productivity.
As you can see from this example, the organization chart of a tech company shows the chain of command through vertical connecting lines and different levels of authority. From Director, Vice President, and Human Resources, the chain of command outlines the relationships between employees and an organization.
#2 Military Chain of Command
A military chain of command is a formal hierarchy in which orders are passed down from the highest-ranking officers to lower-ranking ones. This hierarchical structure is illustrated through a diagram, which typically shows each level of leadership and the people they oversee - from top-level commanders at the top to junior personnel at the bottom.
The military chain of command ensures that orders are relayed quickly and accurately to facilitate cooperation within troops and ensure successful missions.
#3 Restaurant Chain of Command
A Restaurant Chain of Command diagram serves as a visual illustration of the hierarchical structure of a restaurant. From top to bottom, it outlines key roles such as General Manager, Assistant Manager, and back-of-house operations team in clear lines.
Some important back-of-house operations teams mentioned in this organizational structure are the finance director, front office manager, food and beverage director, and more. The following restaurant chain of command also shows how each role reports to the next higher-up in the chain of command.
This type of diagram is helpful for managers who wish to get a quick overview of their restaurant's organizational structure.
4. Why Enterprises Need an Organizational Chain of Command?
An organizational chain of command is an essential tool for any company, large or small. It clearly defines the roles and responsibilities of each person on the team, from the Manager down to the employees. Some of the benefits of creating a detailed organizational chart are:
It ensures that communication within an organization flows in the correct order.
It helps in improving the productivity of all employees who falls under the hierarchy.
A chain of command leaves fewer bottlenecks.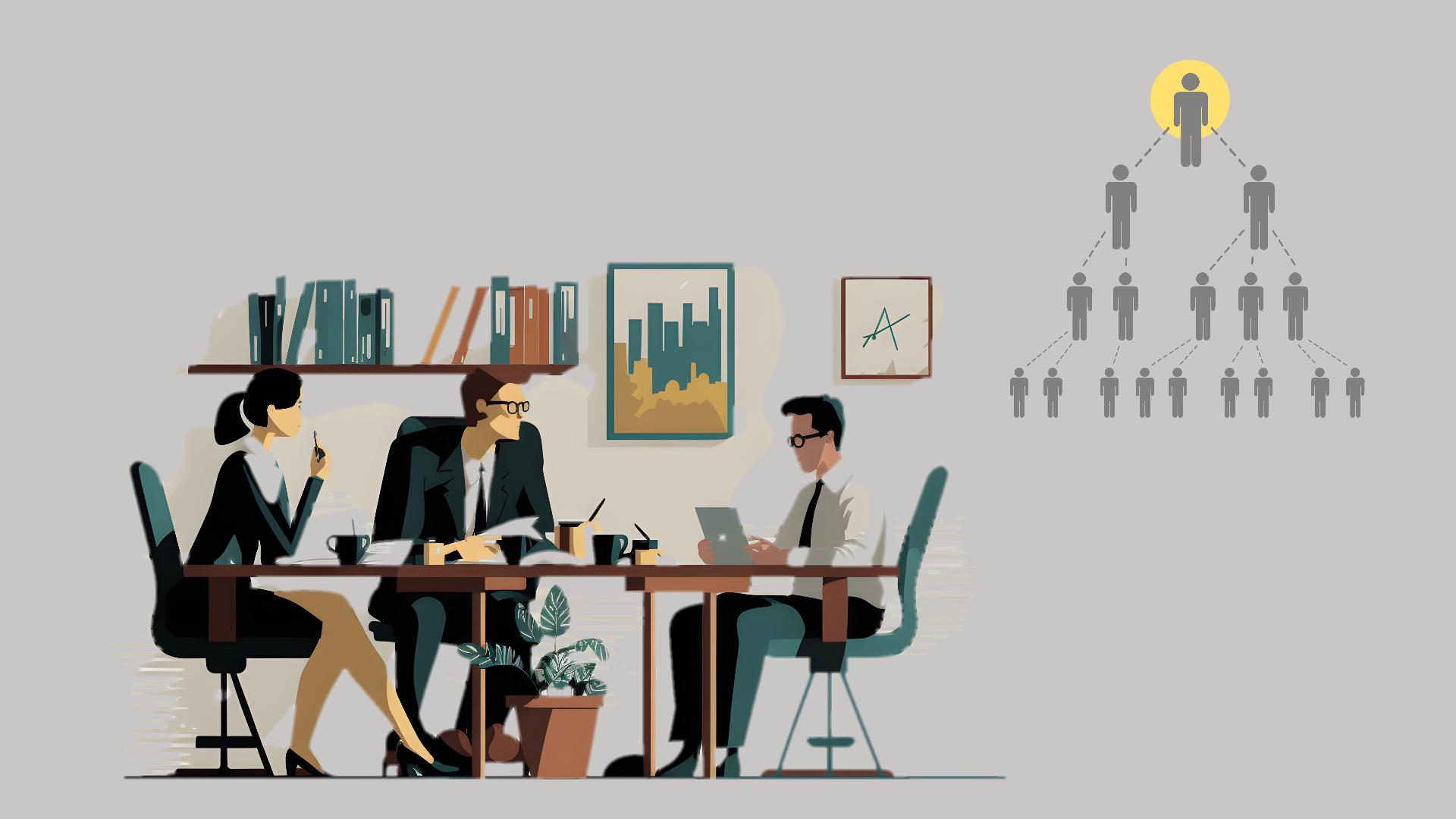 Like any organization, a chain of command is extremely beneficial for conducting business.
A detailed organizational chart sets guidelines for who will report to whom within a business structure. This results in a clear understanding of the command line, and everyone knows their roles.
For a large business enterprise, it becomes easier for the team to delegate responsibilities and identify different areas of authority.
A chain of command provides detailed instruction within a business circle, leading to more successful and smooth communication and decision-making processes.
5. Different Levels in a Chain of Command in Organizational Structure
A chain of command in an organizational structure typically consists of several different levels and roles. Here we have identified and laid out three important levels that you can find in every chain of command while creating any organizational structure.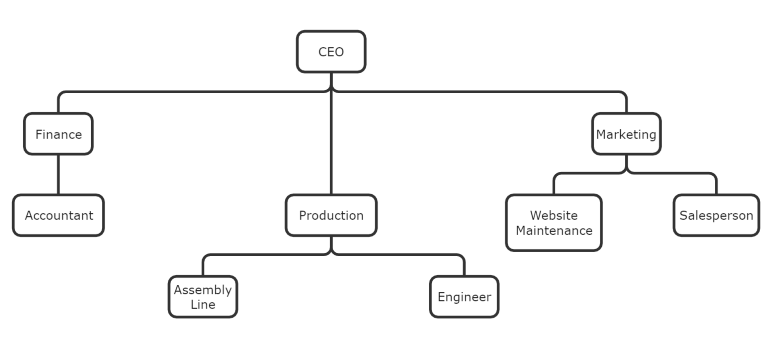 The Top Level: The top of the hierarchy is normally a senior manager or business owner and then line managers for each department underneath them, such as Human Resources and Operations.Some of the top-level members are:
Founders
Chief Executive Officers or Commanding Officers
Presidents
The Middle Level: The middle-level management of any company is considered to be one of the most important levels as it takes command from the top level and delegates the responsibilities to the bottom level. The middle levels typically include managers and supervisors. Some of the middle-level members are:
Vice Presidents
Directors
Supervisors
Managers
The Bottom Level: You will find the frontline employees at an organization's granular level. These are those team members who get orders from the supervisors or the middle-level members and ensure that the tasks are completed effectively and within the mentioned deadline. Some of the bottom-level members are:
Employees
Human Resource
Finance Team
6. Benefits and Challenges of a Chain of Command
A chain of command allows an organization to streamline operations and efficiently allocate resources. Everyone in the organizational structure knows their place, responsibilities, and whom to report to. It also fosters better communication and encourages collaboration among employees.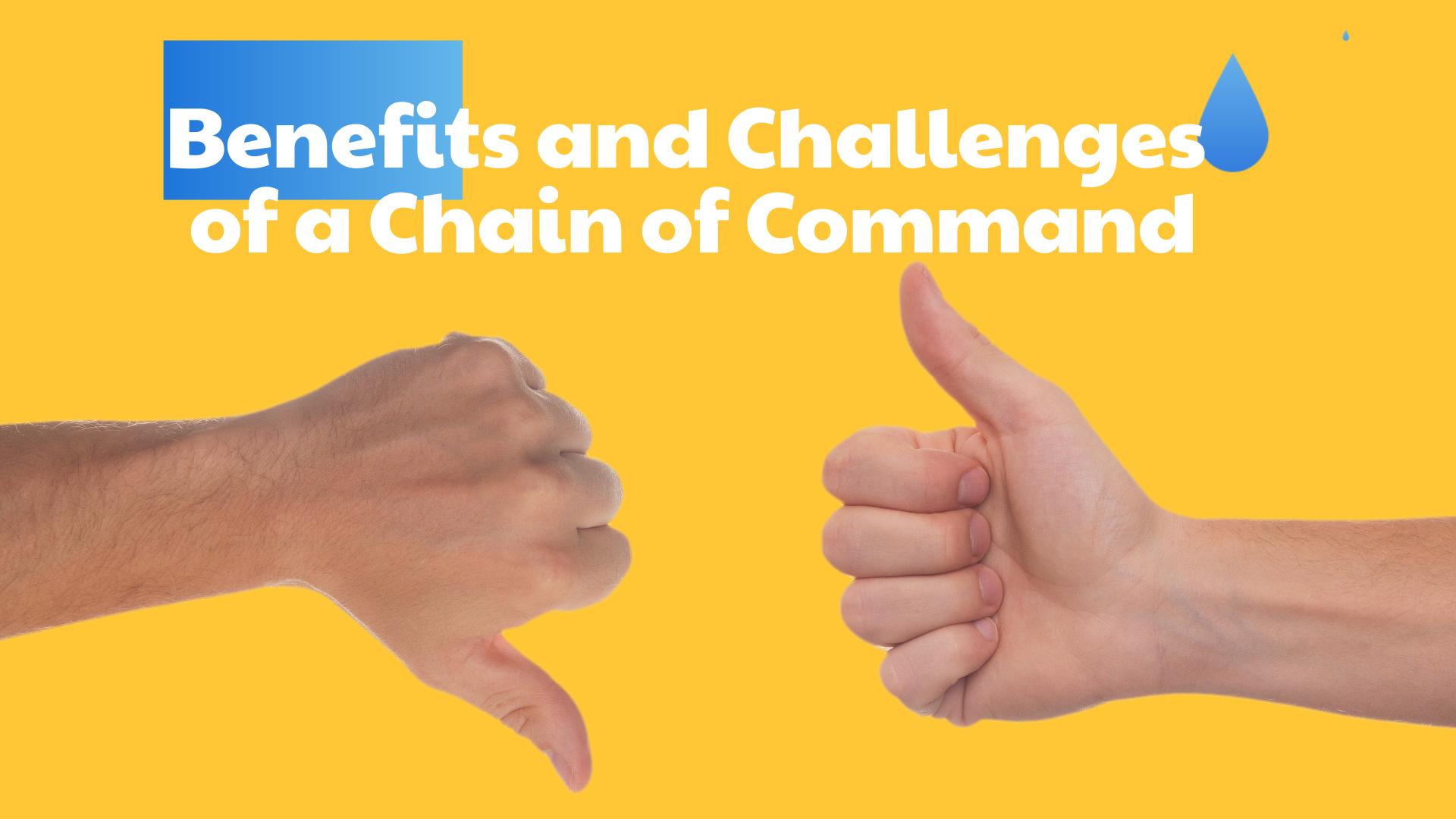 However, building an effective chain of command can be extremely difficult due to misunderstandings, unequal access to information, and decision-making process issues.
Some of the advantages of creating a chain of command are:
It helps to ensure that all employees have a clear understanding of their assigned roles and responsibilities.
It can help foster order and efficiency by ensuring that each employee is accountable to someone above them and creating a hierarchy between the top-level management and other staff.
It provides an effective way for supervisors to communicate directives from the top down, allowing for the efficient flow of information and streamlining workflows.
Additionally, some of the most common disadvantages of creating a chain of command within an organization structure are:
It can create an atmosphere of "us vs. them" among employees. This can lead to an unhealthy power struggle between the members of the management team and their lower-ranking employee counterparts.
The entire organization could suffer if any links in the chain are weak due to an ineffective supervisor or bad communication.
A chain of command also severely limits creativity; decisions must go through multiple layers before implementation, causing implementation delays or stagnation.
7. Build Your Own Organizational Chain of Command With Org Chart Software
As you have seen here, a chain of command for any business vertical is extremely helpful. It not only helps the bottom-level employees but also benefits the stakeholders or other potential investors.
Creating an organizational chain of command diagram can be a daunting process as the designer will have to keep on updating and modifying the content if and when there are any changes within the hierarchy of an organization. However, the same can be rectified if you will go ahead with an org chart software like EdrawMax.
EdrawMax is a powerful diagramming tool that provides free templates and symbols. With the help of these templates, anyone can easily create any organizational chain of command. Moreover, with remote online collaboration, virtual team members can easily customize their content as and when required.
Check out the following steps to build your organizational chain of command with this org chart software.
STEP - 1 Download and Launch
The first step that you need to do is to download this org chart software from the official Wondershare EdrawMax website. The tool is available for Windows, macOS, and Linux, which helps you choose the best compatible software for your system.
Once downloaded, you can use your email address to register. If you are going ahead as a company, we recommend using the company's email address while registering. Post-registration finds the tool in the Applications option in your macOS or under the Start menu in Windows to launch the tool.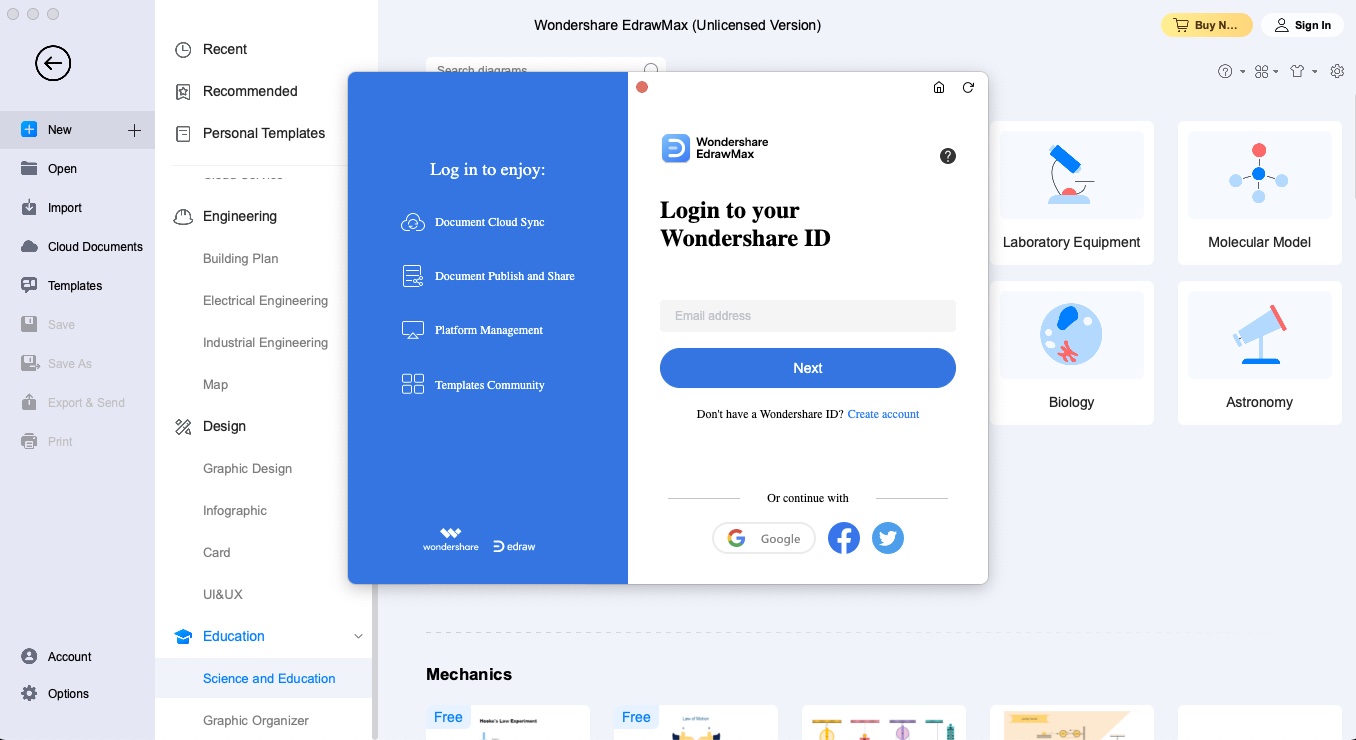 On the home screen, you will find 280+ diagram types. Head directly to the "Basic" diagram type and click "Organizational Chart." From this diagram category, you can either select "Org Chart (Automated)" or "Org Chart (Manual)" to get yourself started.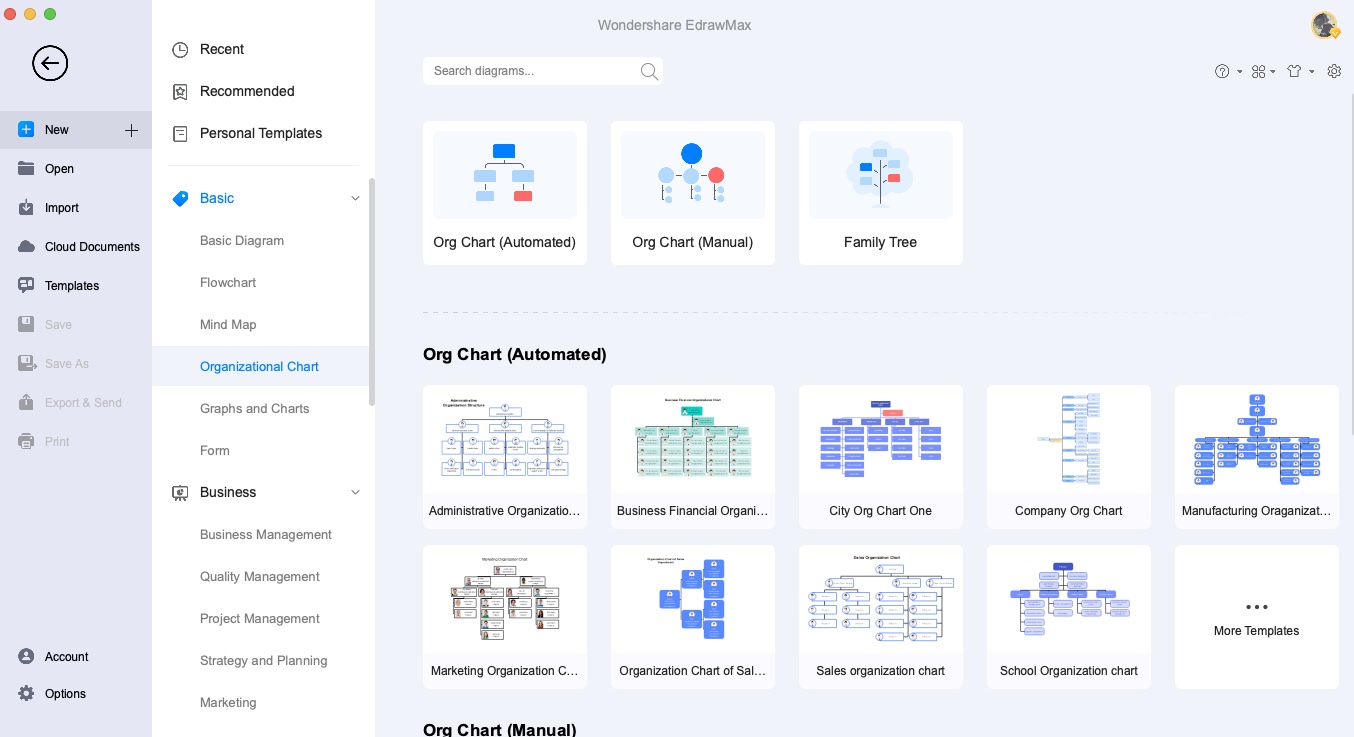 STEP - 2 Use Templates
If you are a beginner or need to share an organizational chart with your team quickly, we recommend checking the template community. Head to the "Templates" section on the left and look for "Organizational Chart." The system will generate user-generated organizational chart templates that you can fully customize.
Some of the most revered user-generated organizational chart templates are Restaurant Organizational Charts, Company Organizational Charts, Functional Organizational Charts, Fire Department Organizational Charts, and more. Click on any of these templates that come close to your requirement to evaluate the content and structure.
If you find the organizational template's content, outlines, and structure up to your requirements, click on "Use Immediately," and the template will be fully imported to your EdrawMax's canvas for you to use and customize.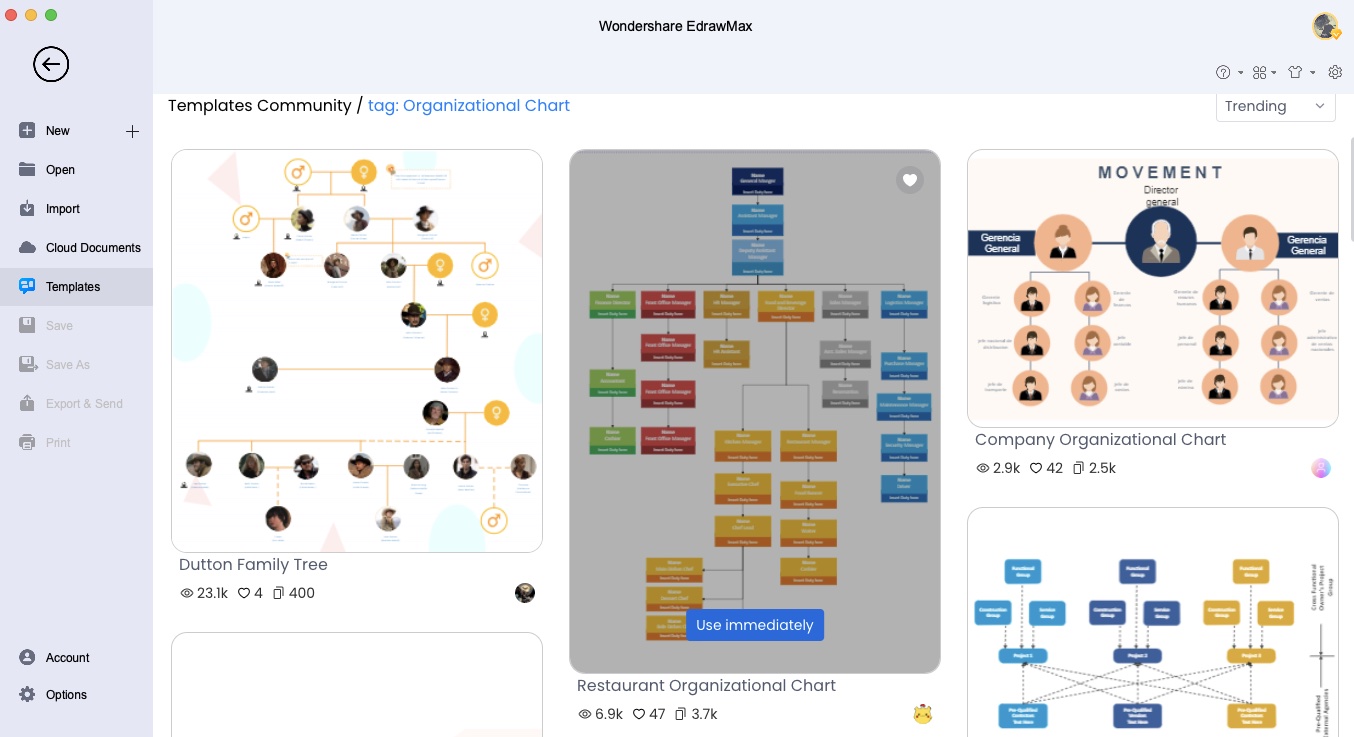 STEP - 3 Customize:
Once you have created the organizational template from scratch or have imported a user-generated template, it's time to customize the content and look at it as per your organization.
You can use the "Insert" option from the top bar to import your company's logo. From the bottom bar, you will find the color options to modify the colors per your company's theme. You can even check out the "Design" option to modify the "Background Picture" or "Background Color" of your organizational chart.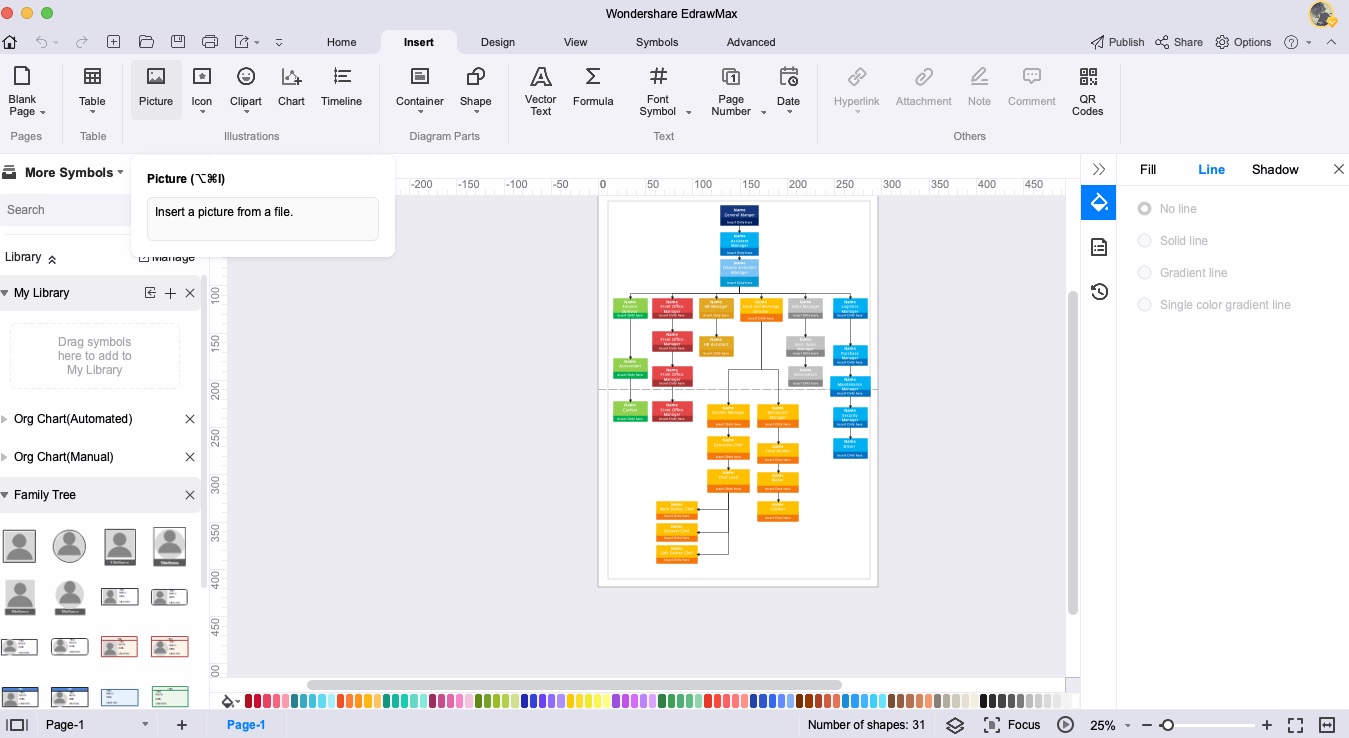 STEP -4 Remote Collaboration
Head to EdrawMax Online by checking this link https://www.edrawmax.com/online/; from this link, you can create your "Team" and invite your team members to customize the organizational charts remotely. The online version of this org chart software is secured with the highest grade of SSL certification, ensuring that your virtual data remains safe and secure.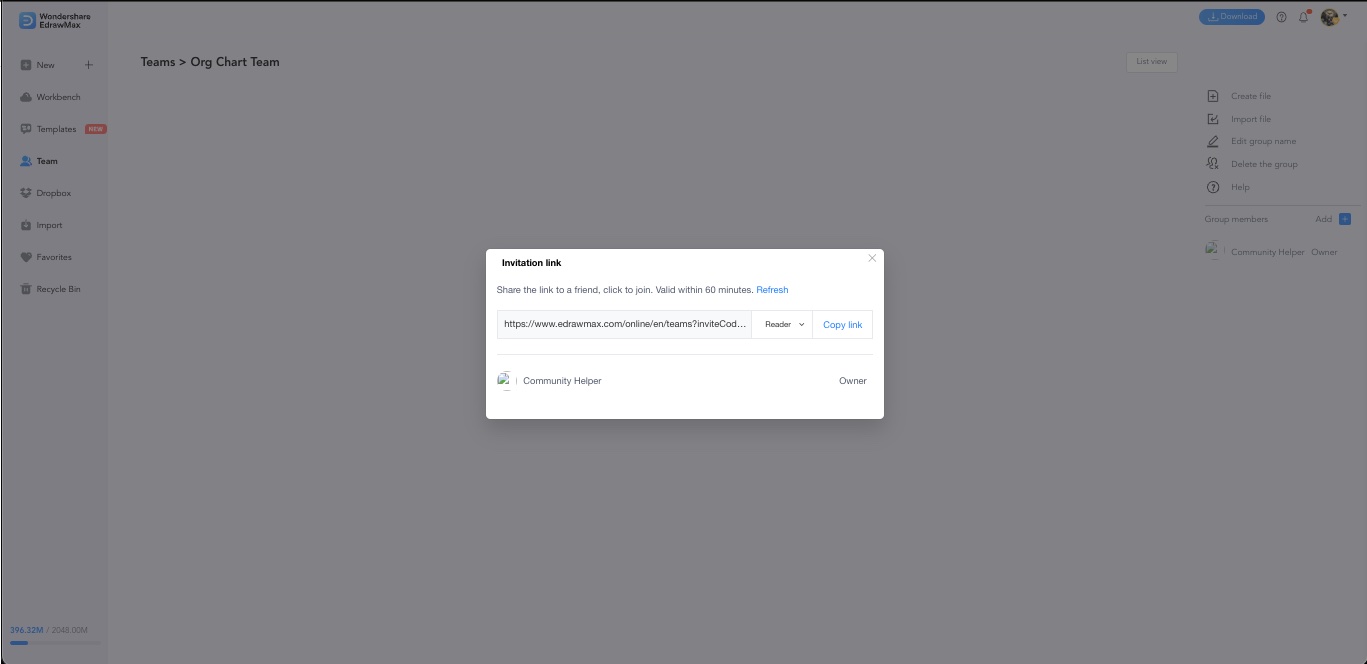 STEP - 5 Export & Share
After creating the organizational chart for your company, you can export it in multiple graphics or Office options. Additionally, you can share your org chart with your team via mail or embedded codes or even create a live presentation to showcase it to a larger audience.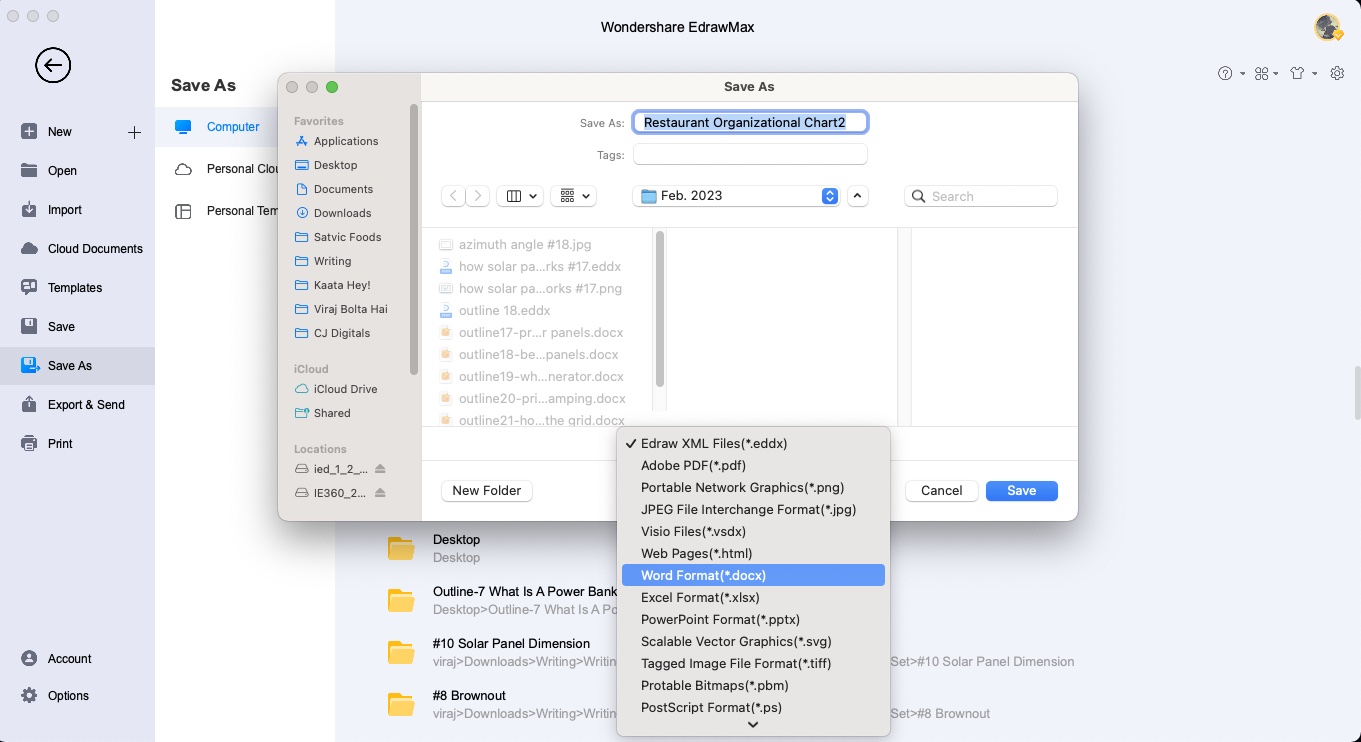 If you want more information on creating an organizational chain of command, please refer to the following video and follow its steps.
8. Conclusion
As you saw in this detailed guide, the chain of command diagram is an essential tool for helping individuals and organizations understand the levels of responsibility within their organization. It depicts a linear hierarchy that clearly illustrates who reports to whom and provides a detailed outline of authority within the business.
Such a visual map within an org chart software, like EdrawMax, can help smooth communication, delegating tasks, and making decisions in the organization, leading to clearer responsibilities, more efficient decision-making processes, improved operational performance, and better performance achievement of goals. Download EdrawMax today to explore the organizational chart templates.
Related Articles