---
What is a Timeline
How easy can it be for someone to define the aspects of time and chain of important events? Have you ever tried to spread out complex courses in a simple layout for everyone to better understand? Put stuff like workflows of long-running projects, the chronology of history, or perhaps, a record of software updates all together seems to be a hard job. However, the multiple requirements, all but ask for one thing - timeline. This is a beautiful diagram to graphically represent all the remarkable points of time and make it look gorgeous.
How to draw a visually striking timeline? Meet EdrawMax. An all-in-one diagramming tool that provides vector graphics-based customizable templates and specialized tools, ideal for designing impressive timelines. This is a cross-platform web application that supports Windows, Mac, and Linux systems with ample freedom of operation. The best part is its user-friendly interface.
What is a Timeline?
Timeline is the alignment of time, a chronological statement, to define a certain chain of events or activities that happened at a particular phase. In a visual context, it is a representation of the data, defined through lists, tables or graphics, where its all jotted down, sequenced in the same chronological order.
Like a flowchart, it helps users identify specific patterns in a scheme or course of procedure with a streamlined format, concisely depicting different temporal relations. It is simple to look at, handy to work with and easier to manage and remember.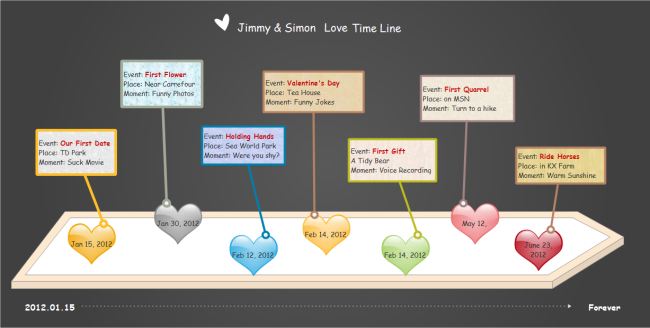 Purposes of Using a Timeline
Time is a pivotal record. But it is also hard to keep track of when multiple things are happening simultaneously and in the long run. So the purpose of a Timeline is to put it all in order with a figurative visualization of the process, highlighting key elements without much elaboration.
Scholars and teachers widely use this sort of content, for knowledge sharing, since these are much more interactive and attractive than textbook content. As for enterprises, they mainly use such data to track the progress of a project or plan based on it. Let us explore the variations of timelines.
Different Types of Timelines
There is no definite modem as such to denote the different "types" of timelines. Yet still, they are often categorized by their usability, layouts, and styles they project for specific causes. Here are some examples of the different kinds of charts and diagrams that are commonly used.
Chronology Timeline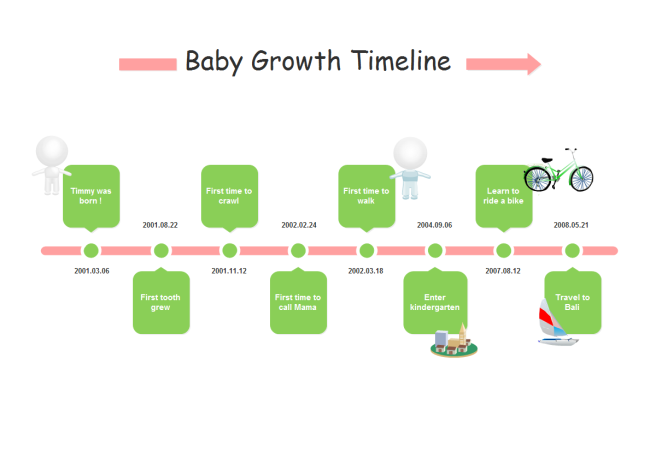 The chronology timeline is considered as the most common-seen timeline. It visualizes events in chronological order. Normally, the timeline starts with the earliest date and ends up with the latest date arranged on the X-axis from left to right. You can easily find chronology timelines in history books and it is very effective to use this type of diagram to tell a historical event.
Gantt Chart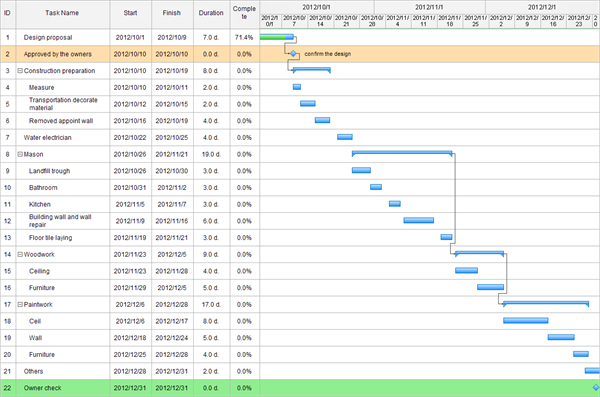 Gantt Charts are used for managing projects, putting all aligning factors like project schedule, progress report, workflow, and client into a singular spreadsheet-like template. This document is meant to be shared with all team members, making the plans and goals clear for everyone. These charts can be complex-looking, given the factors it covers and how big the project is. They are usually created on horizontal bar charts with some kind of progress indicator, together with the latest update at the bottom of the page.
Interactive Timeline

Source: www.bbvaopenmind.com
The two types of times that are introduced above belong to a static timeline. On the contrary, the interactive timeline is a dynamic timeline, which you can feel free to scroll, zoom in, zoom out or change the data in real-time. If you have large amounts of data or this event lasts for a long period, a scrollable, interactive timeline will be your best choice.
How do Timelines Visualize Data: Learn from Timeline Examples
Need some inspiration for your visualization project? Take a cue from some of our selected templates and examples!
Historical Timeline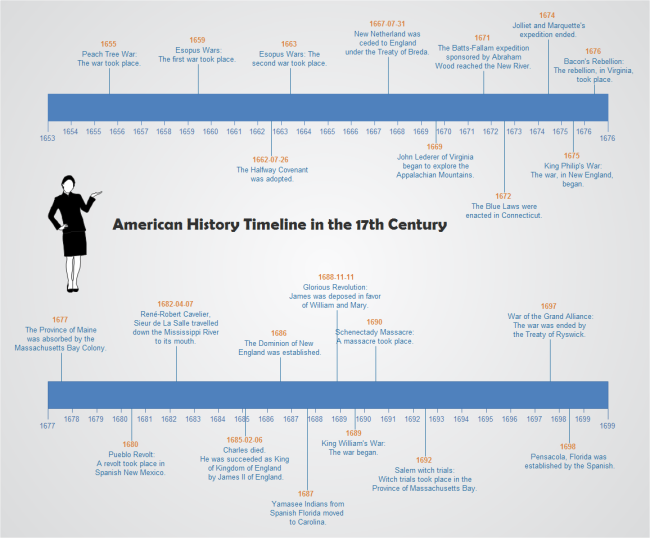 Historical timelines, like the one above, revolve around events and their dates. They can be about war records, ancient civilizations, royal families, biographies and so on. Sometimes, you can add citations, notes, and other associated information according to your needs. Usually, these charts look simplistic, like an orderly list. While students find it difficult to remember the dates of historical events on history books, they can turn to a timeline like this for help, because it creates a greater impact on dates and events. These are widely used by teachers as study material or be a project of actual historians. In many ways, this type of template is highly speculated at various stages of academia, whether junior school level or higher studies.
Software Version Timeline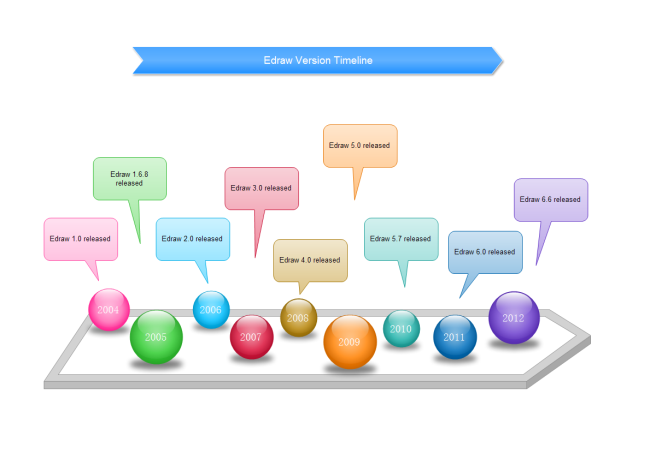 The software goes through the constant integration process, and the different versions are tracked in a versions timeline. This content generally uses a vertical, cascading layout, with colored bars used to indicate the status and other details about particular versions concisely. However, it can also be done on an interactive template. The latest update may be at the top of the page or bottom, as per the creator's choice.
Chinese Festival Timeline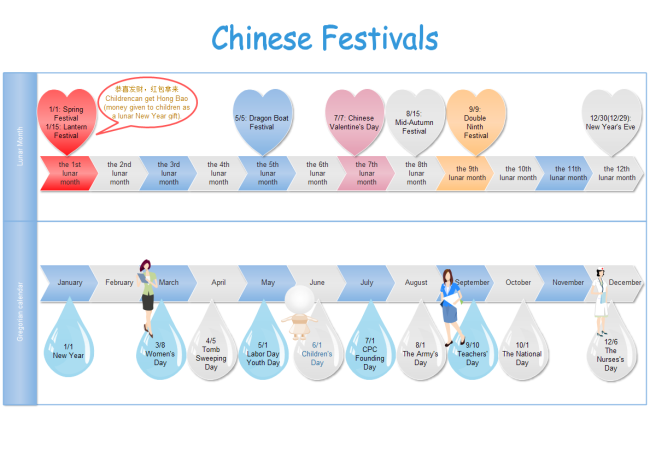 This is a custom template, which has been made into a timeline about Chinese Festivals, public holidays and occasions, including Women's Day. This can be ideal for putting up on Office Bulletin Board or shared in an open platform. Take a pointer, if you have a cluster of dates to showcase, either festival or showtimes, or time tables, a minimalistic and pastel color-coded visualization like this is a grand idea.
a Word of Growth, a Work in Progress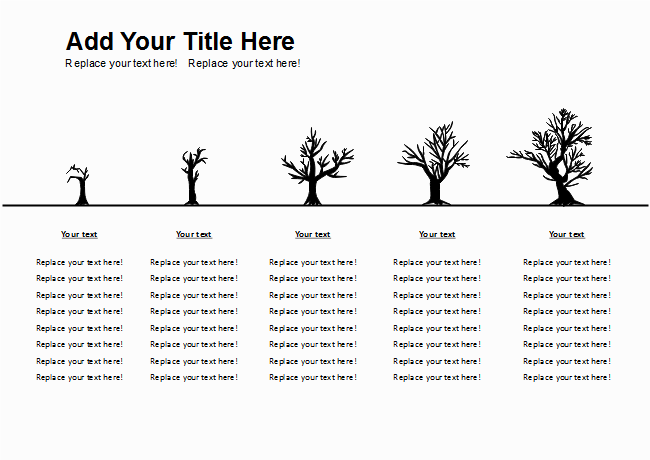 A new project. A non-profit venture. Or just a startup business. If you are aiming for growth, Make A Statement! You don't need too much content, don't need too many graphical elements. Keep it simple and powerful.
a Big Project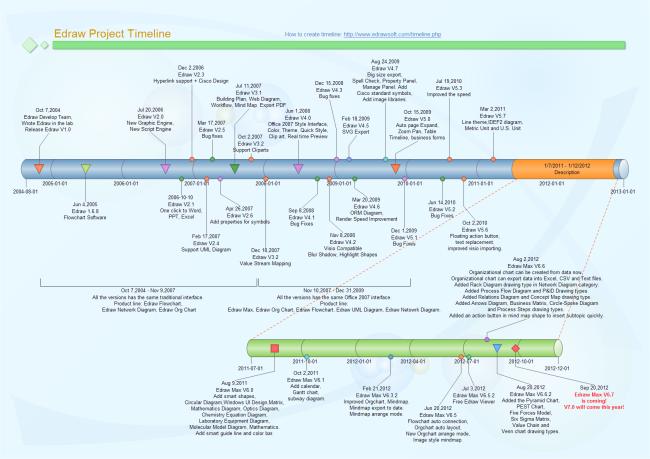 Track the multifaceted courses of your project. Take a cue from this old project version history of EdrawMax. Start from scratch and work your way to the top by consistently adding new data. Keep it as clean as possible.
How to Create an Eye-catching Timeline with EdrawMax?
Are you ready to start working on your project? Let us read about this simple step-by-step guide.
Select one template that is tailored to your topic.
Drag and drop the symbols and shapes that you need and add your own contents.
If you want to make custom timeline, feel free to customize every detail of your timeline.
Moreover, you can add images from your local disk if you need.
Once you are done, you can choose to export your work to many common files, share it on social media or print out a high-quality timeline.
Several Thoughts about the Timeline Maker
The diverse possibilities of EdrawMax give you the power to keep track of time and take reference from past events accounts instantly. This one suite is powerful enough to produce the entire bulk of your design, promotional and presentation content. Create and apply a timeline to infographics, brochures, newsletters, and even banners and posters for an upcoming event.
The fact that you can use this software on your own, helps you curdle a huge cost of hiring professional designers. The pre-drawn flowcharts are much like coloring books, you don't have to draw the entire thing, just put up with your favorite color, images, shapes, and styles with just a few clicks of the mouse. It's fun yet functional. The fact that these are vector-based graphics, means you will have excellent scalability so that you can enlarge or crop down without affecting much of the quality of your images or graphics.
So go ahead and create some cool stuff based on your design concepts. We are here to back you up at every step!
Related Articles