The Ultimate Coco Family Tree
Coco will have a special place forever. However, remembering all of the names in this large family is difficult. A special tool can help you with your Rivera family tree.
1. The Coco Family
Coco is a fantasy animated film. The plot revolves around Miguel, a 12-year-old boy who is accidentally transported to the Land of the Dead. Coco was inspired by the Mexican holiday of 'Day of the Dead.' Everyone makes food and decorates for their ancestors on this day. It entails family and friends gathering to pay their respects and remember deceased members. These commemorations can take on a humorous tone as celebrants recall amusing events and anecdotes about the deceased.
Miguel aspires to be a musician despite his family's strict prohibition. When Miguel strums Ernesto's guitar, he is transported to the Land of the Dead. Miguel seeks the assistance of his deceased musician, great-great-grandfather. He seeks his grandfather's blessing in the land of the dead to return to his family among the living and overturn his family's ban on music. Many mysteries about Miguel's family emerge as he struggles to return to the living world.
What Makes the Coco Popular?
It's a captivating Pixar film that's culturally rich and beautifully presented. However, what made this movie so popular was how it highlighted Mexican culture. In addition, everything in the film was well-balanced, from the animations to the music to the culture. The importance of family is a recurring theme throughout the film. If we are fortunate enough to have a family that loves and cares for us, we should return that love and never forget them, even after they have crossed over.
Pixar's Coco is essentially a love letter to Mexico.
It emphasizes the significance of family and learning about our forefathers.
It was praised for its music, visuals, emotions, and cultural display.
Coco's imaginative adventure story allows us to explore not only culture but also difficult-to-address topics.
It is incredible how the filmmakers were able to provide us with two very distinct and extremely detailed worlds.
Spoiler Warning: Spoilers are also included in multiple places in this article.
2. The Cocos Family Tree
You will enjoy it a lot as we will discuss the Coco family tree in this section. You can learn from here and discuss the cartoon show characters in front of your friends to flex.
The Riveras are a Santa Cecilia-born family of shoemakers and musicians. Imelda started this family with her husband Héctor, and she had Coco. Héctor is brother of Rosita. Coco is now the family's matriarch, who spans generations and connects everything. With her husband Julio, she had Victoria and Elena. Elena had three children with Franco; Berto, Enrique, and Gloria. Berto married Carmen and had four children, Abel, Rosa, Benny, and Manny. While Enrique married Luisa and had Socorro and our main character Miguel.
This family tree description might look very complicated, but you can make it easy with a visual display. If you are looking for a tool to help you create excellent family trees, we always recommend EdrawMax Online to our users.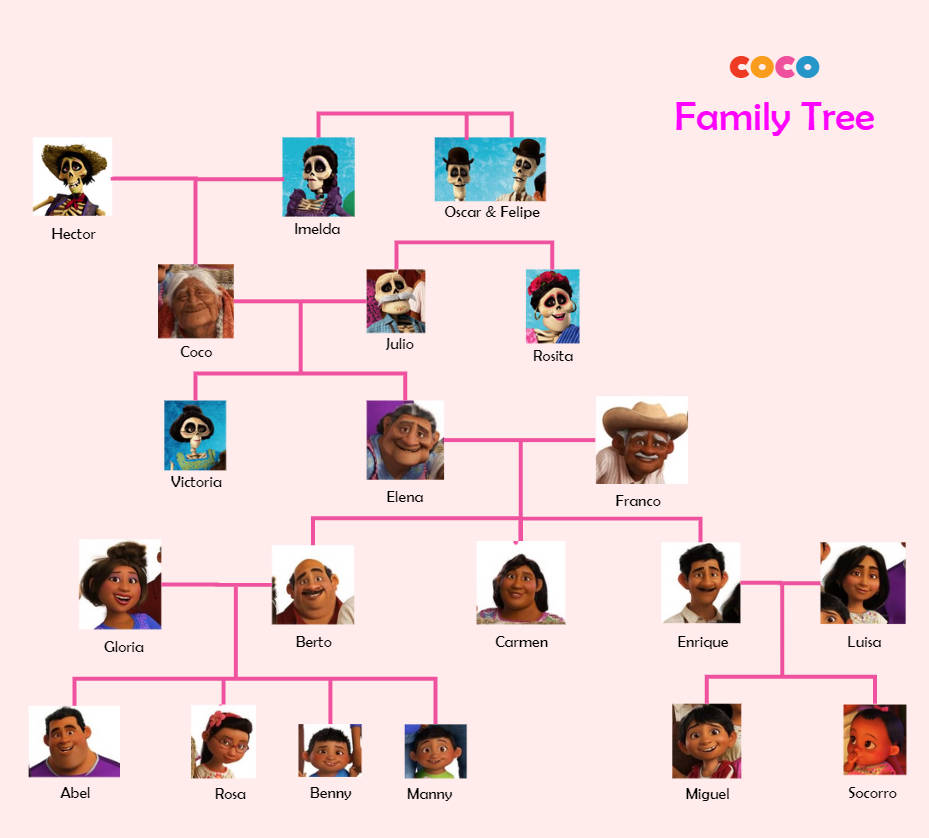 3. How to Draw Coco Family Trees Online?
If you want to make your own Coco family tree from scratch, we recommend you use EdrawMax Online, developed by a well-known software industry called Wondershare. The application is so powerful and lets its users make a perfect diagram in minutes with drag-and-drop functionality. The application allows users to make over two hundred and eighty diagram types. The application has more than five thousand diagram symbols.
The application's best feature is its templating feature, which allows users to choose any template from the EdrawMax template community and start editing it. With this feature of EdrawMax, you can boost your diagram-making speed and avoid potential errors. EdrawMax allows users to import their projects, edit them, and export them in multiple file formats. You can take the Coco Family tree templates from this article or EdrawMax template gallery and start editing them and exporting them in SVG, PNG, PDF, HTML, and other formats.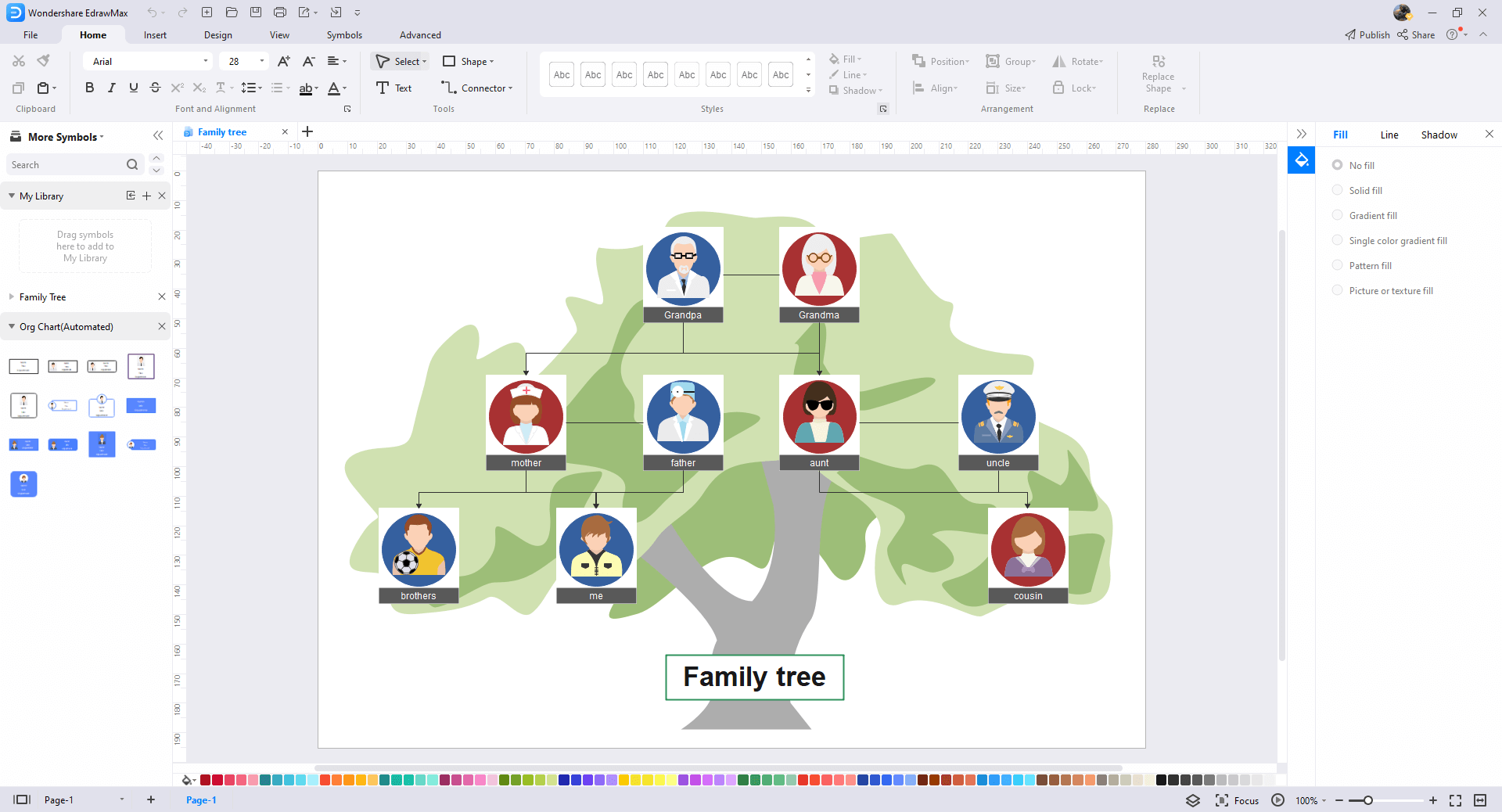 EdrawMax Online
Create 280+ types of diagrams online
Access diagrams anywhere, anytime
Everything in desktop + Templates Community
Team management and collaboration
Personal Cloud and Dropbox Integration
Related Articles