What is Happy Asian Panda FIRE Flowchart
Your best resource to design free editable FIRE flowcharts with EdrawMax. Making a FIRE flowchart has never been this easy. Just design, print, share, and download.
1. Lead-in Part
If you want to get the FIRE flowchart directly, just click here
Over the years, the concept behind FIRE (Financial Independence Retire Early) has been taking over the internet by storm. Happy Asian Panda is one of the most trending topics in this discipline, forcing people to know more about it. The Reddit member, the Happy Asian Panda, has come up with a flowchart that shows capital management for early retirement plans bringing savings and investments to maximum benefit in the long run. Although the notion of FIRE was first introduced in Joe Dominguez and Vicki Robin's famous book, 'Your Money or Your Life,' the Reddit user Happy Asian Panda built upon the concept. The user did so to give a reliable fire flowchart users can follow if they plan to retire significantly earlier.
In this article, we will help ease your curiosity about what Happy Asian Panda fire flowchart is and why it had taken the internet by storm when the concept of FIRE was introduced before Happy Asian Panda's flowchart.
2. What is the Happy Asian Panda Fire Flowchart?
Created by a Reddit user
Based on the concept of FIRE
A complete plan for early retirement
Begins with budgeting and moves to complex strategies
A Reddit user by the name of Happy Asian Panda introduced a flowchart based on the concept of FIRE (Financial Independence Retire Early). The fire flowchart is a complete plan for those who intend to retire significantly earlier in their 30s or 40s rather than the mainstream age of 60. From the beginning with simple steps such as creating a budget to moving forward with complex strategies inclusive of Health savings accounts or investment plans such as Roth IRAs, the fire flowchart helps you manage finances in a way that best supports early retirement. The fire flowchart is an extensive plan which explains the entire journey of investing and paying debts simultaneously by considering factors like interest rate and savings.
#1 Why is preparing for your early retirement so important?
Early retirement is not a piece of cake. You may think retiring early means sitting at home and enjoying life, but that's not how it works. It is essential to prepare for early retirement before you take the step. Building finances, rolling cash and taking full advantage of compound interest help you protect yourself from the volatility of investments post-retirement.
Planning for retirement allows you to grow your money as compared to doing so once you are closer to retirement or have already retired. Your objective would then revolve around safeguarding what you've saved. You can take risks with your wealth if you prepare for retirement beforehand. Preparing for early retirement allows you to practice discipline regarding financial decision-making and spending habits.
3. How to Prepare for Early Retirement? (with FIRE flowchart)
Looking forward to retirement before your 60s may get complicated when you do not have a proper plan for managing finances. Where to invest? How to save enough? Should you pay back debts from time to time? You can get the answers to your questions with proper planning and management. Although every individual may opt for a customized finance management plan when it comes to early retirement, a few essential tips and tricks can always be relied upon for efficient financial management for early retirement. With FIRE flowchart, you can manage and plan early retirement more logically and informative.
Six tips on how to prepare for early retirement
When preparing for early retirement, most individuals focus on the strategy of FIRE (Financial Independence Retire Early). Apart from considering brokerage or retirement accounts and how much you need to save or pay back for debts, the following tips can help you prepare for early retirement:
1. Creating a vision for early retirement
One of the primary steps in early retirement is to plan the process with a clear vision. Painting a picture of what early retirement should be like for you is a vital process of the entire journey. Whether it's about the hobbies you want to take up or the places you want to invest in or spend those 40 to 50 hours of your time within a week, creating a clear vision is extremely important to build goals and dictate your saving to spending ratios.
2. Plan Accommodation for early retirement
Of course, making good money is the crucial objective of retiring significantly sooner; however, ignoring other necessities of living is not sustainable. Preparing a home as quickly as possible may help support your early retirement decision.
You might want to consider the following to prepare your home as per your early retirement decision:
Downsize your home
Pay off your mortgage as early as possible
Prioritize any significant renovations or repairs
Protect home equity by paying off any HELOCs
3. Prioritize a health insurance plan
When you choose to retire earlier, you no longer have your medical expenses covered by an employer. As they say, health is wealth, and looking for a health insurance plan within your state's marketplace is the best initiative you could take for yourself. By looking into COBRA (Consolidated Omnibus Budget Reconciliation Act) or other marketplace plans, you could find the most suitable medical insurance option in place of what your ex-employer offered you. Health or medical insurance brokers can provide close estimates and information for most plans.
4. Assure to keep earning an income
Deciding to retire significantly sooner certainly does not mean stopping working completely. Although investors may want to get rid of their 9 to 5 grinds, it is advisable to take up or find part-time or gig-based work depending upon what best suits your new lifestyle. A few employers might even offer fringe benefits such as health insurance, making it a good choice.
When you decide to continue earning money, you are closer to achieving early retirement since you no longer need as much capital in the form of investments. Therefore, planning what kind of work will keep you motivated and rewarded once you quit your 9 to 5 job may help you stay free of the stress of using up all your savings to support day-to-day expenses, needs, and wants.
5. Have a strategy for social security
A vision regarding social security is essential when it comes to preparing for early retirement. From thinking about when you will have to tap social security to how you can attain maximum benefits, a pre-planned strategy may help you navigate the process.
Taking assistance from a financial advisor or making use of planning tools on the Social Security website can help you figure out when to begin drawing benefits and what potential delays can be sustainable.
6. Build a Financial Buffer for ten years
Investors should be able to plan or invest five years before retirement so that an income stream establishes for at least five years post-retirement. Such planning puts together a ten-year buffer that safeguards the accumulated wealth from differentiating it from retirement savings.
Such a buffer can be created by opening retirement accounts and rotating the capital for five years. You can then invest the money in capital-preserved portfolios.
4. Online FIRE Flowchart Maker
You're wasting most of your precious time if you've been scribbling on your diary or notebook back and forth to create your ideal retirement plan flowchart. You can now plan, visualize and create the perfect fire flowchart or any other plan without scribbling around with a pen and paper. EdrawMax Online allows you to make the ideal form of diagrams that you cannot create manually using a pen and paper. The best part about EdrawMax is that it is free software that offers you effortless innovative templates. Grab a template today or choose one from Templates Community and customization as per your taste.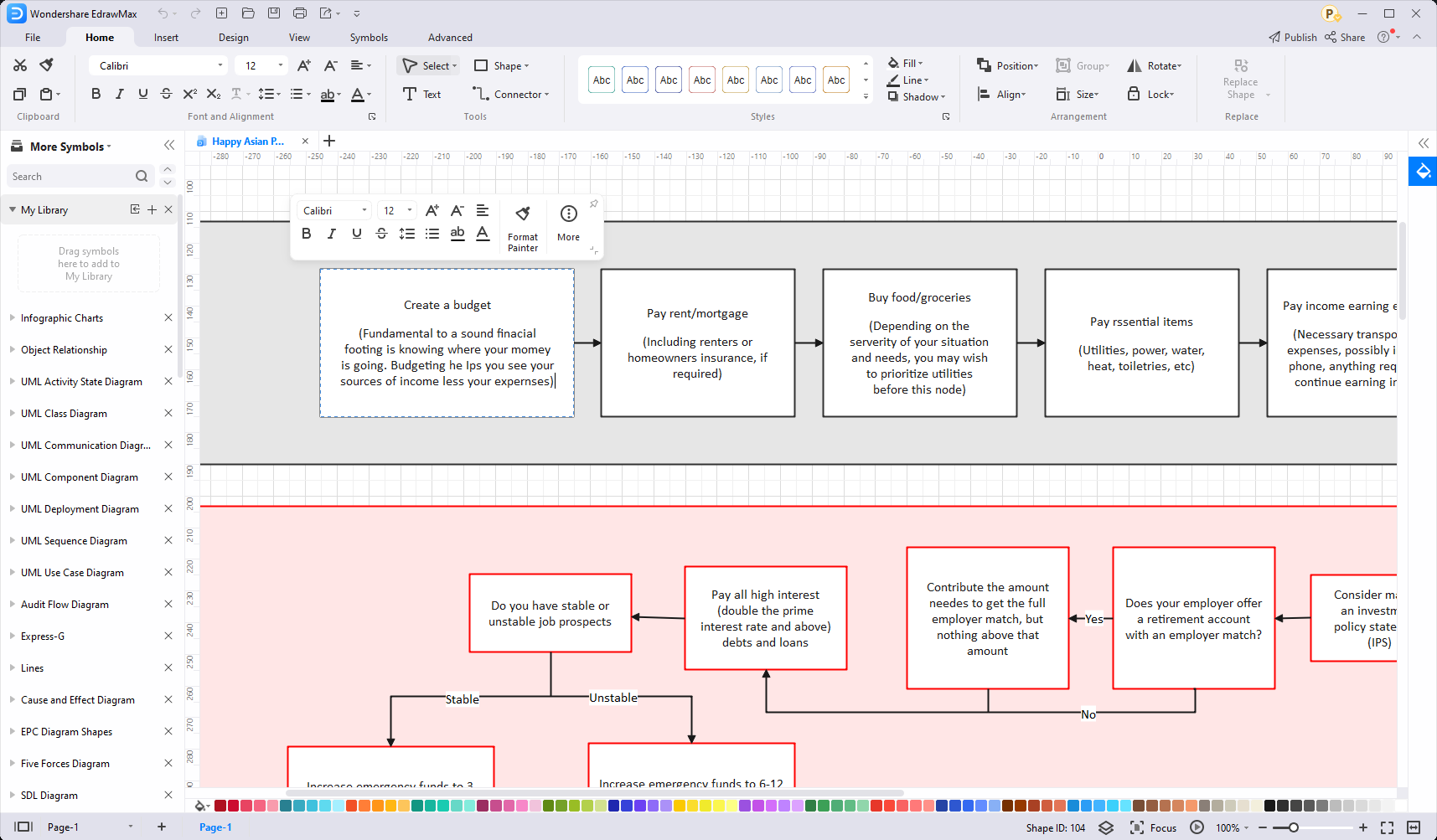 5. Key Takeaways
As complicated and complex as it seems, deciding to retire significantly earlier and preparing for such a bold step may cause unwanted stress. Choosing the right financial advisors and following suitable plans such as Happy Asian Panda's Fire flowchart may help you achieve your goal. Throughout all this, we're sure you wouldn't want to scribble around diagrams and flowcharts to develop a safe and visually understandable retirement plan. EdrawMax allows you to create professional flowcharts and graphs that stand out in all possible ways.
EdrawMax Online
Create 280+ types of diagrams online
Access diagrams anywhere, anytime
Everything in desktop + Templates Community
Team management and collaboration
Personal Cloud and Dropbox Integration
Related Articles