Ford Value Chain Analysis
Value Chain Analysis (VCA) helps businesses understand the linkages in their supply chain. In this article we will be discussing Ford value chain analysis and it's implications.
1. Introduction
Value chain analysis also known as the 5C analysis, is a strategic framework that aims to improve your understanding of the critical factors that drive value in your company and your product or service. And it helps companies understand points in their value chain, as well as the relationships between these different points. Conducting an internal value chain analysis helps a company identify factors that create or hinder cost efficiency in its business model.
In this article, we will be discussing the Ford BCG Matrix.
Background of Ford
The Ford Motor Company is an automobile American company, one of the five largest based on worldwide car sales. It is based in Dearborn, Michigan, a suburb of Detroit, it was founded by Henry Ford on June 16, 1903. It has been in continuous family ownership for over 110 years and has been one of the few to survive the Great Depression. Now it encompasses two brands: Ford and Lincoln. It once owned five other luxury brands: Volvo, Land Rover, Jaguar, Aston Martin, and Mercury. These brands were then sold to other companies, and Mercury was discontinued.
Jim Farley, the CEO of Ford, and his motive is to improve the quality of life; we must create a more just, equitable, and peaceful world.
In 2021, the company earned $17.9 billion, mainly due to a gain in its stock position in the automaker Rivian. While GM generated $36.4 billion in revenue, Ford did better, making $38.5 billion.
2. Ford Value Chain Analysis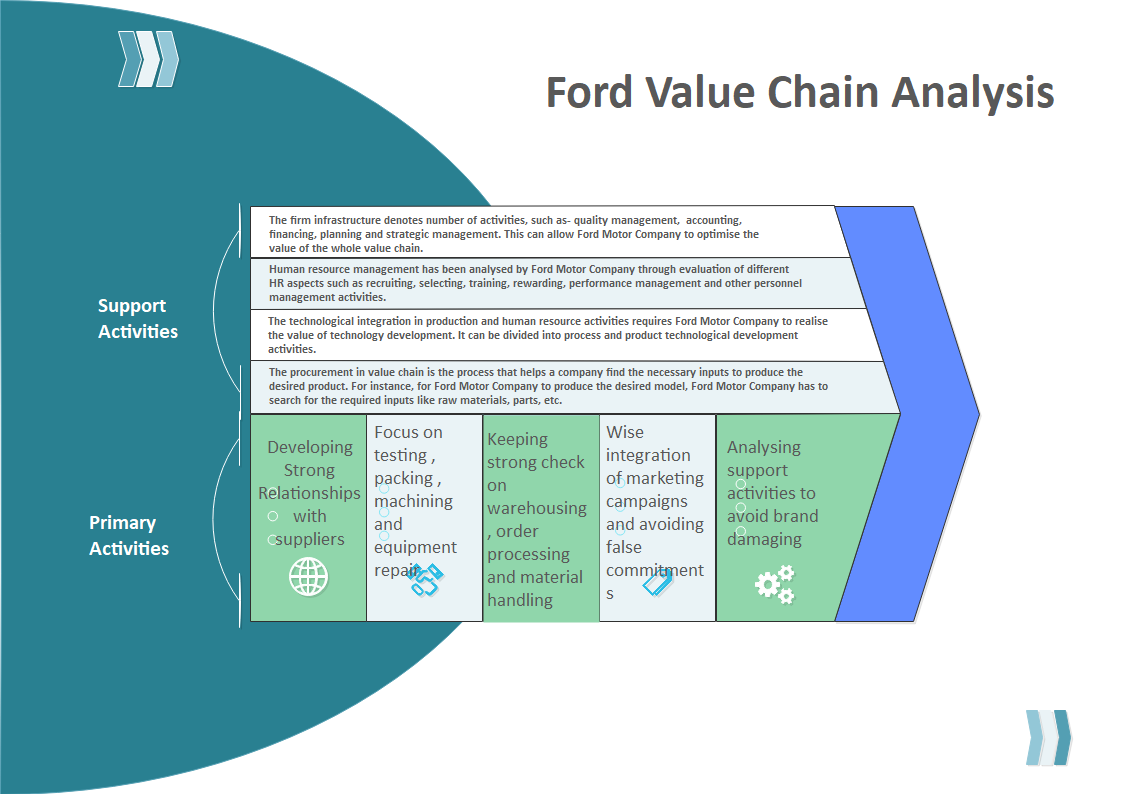 Primary Activities
Inbound logistics

It means storing goods and receiving them when they're needed. It's often called 'picking,' which many companies do. So, if you receive something from someone else, you put it in inventory. If a company has too much inventory, it may not be able to turn around things fast enough to meet customer demand, so companies should have less inventory. Ford builds these parts directly into its cars or stores them as inventory. They recently announced a move to a lean production cycle, thereby limiting inventory build-up.

Operation

The operation stage of production. When we talk about operations in the automobile industry, it refers to the final stage in the manufacturing/assembly process. At this stage, Ford takes a mass of individual parts and brings them together to make a finished vehicle.

Outbound Logistics

Ford's vast distribution network makes it easy for them to service the world. It's not just access to markets around the globe but also access to factories. Not to mention their plant locations are all carefully situated to optimize logistics.

Marketing and Sales

Ford is the most recognizable automotive brand in the world. It operates stores worldwide that offer sales, warranty, and service in addition to financing and insurance. Each store offers customers several options and options to help them find the right car for them. It also invests huge money in television and online advertisements to attract new customers, especially highlighting its expertise in the green industry.

The marketing team is located globally, providing significant coverage across many countries, including the U.S. The sales team at each location can tailor various options to customers, especially those interested in environmental concerns. The company spends significant money on advertising to attract new customers, especially on television and online.

Service

After-sale warranty/service is a three-year/60,000-mile plan covering everything that goes wrong. There are options to extend the warranty period and a loaner car to facilitate faster repairs. Ford guarantees the vehicle for three years and provides an extended warranty period.
Support Activities
Procurement

Procurement has a huge impact on the bottom line. This department must procure the parts and raw materials for the various vehicles manufactured by Ford at the lowest cost possible. As the company gets more competitive, it has become a partner to the other suppliers and has eliminated the "spot" trading used in the past. Other changes the company has made include consolidating orders into longer-term contracts and sharing best practices among suppliers. This department also uses IT better to coordinate the procurement activities of all the departments.

Technology Development

In the auto industry, staying up to date on and innovating the newest technology is an absolute necessity to stay competitive. Although many of these advantages are only temporary, they are still important to differentiate one year's model from the next. Technology development, firsly has to do with R&D and improving the tech and design of the car. Secondly, the large amounts of money invested into developing/acquiring technology would improve Ford's efficiency in procurement, production, and distribution. With a growing push towards high-value cars at low costs, these companies must maximize their efficiency and minimize their overhead.

Human Resource Management

Ford is an organization that's committed to having one company, one team, and one plan, even if it requires putting other people out of work or having others make sacrifices. HR is in charge of identifying, acquiring, and compensating talent. This includes engineers and innovators whose skills can help to create the future of Ford.

Firm Infrastructure

For more than a century, Ford has had a worldwide presence. The brand operates in 119 countries and has more than 11,000 Lincoln/Ford Dealerships across the globe.
3. How to Draw Value Chain Analysis Online?
Using the EdrawMax Online, we can easily design different kinds of diagrams. You can even create some professional graphs and charts in just a few minutes. This section will show you how to do value chain analysis in EdrawMax Online. It includes the following steps.
Step 1: Preparation (Gather information, open EdrawMax, and login)
Gather information regarding the matrix before starting to develop your matrix. First, identify the vague descriptors that describe your customer groups. Remember that a single keyword can describe multiple groups, while multiple keywords can represent one group.
Step 2: Select a Template or Create from Scratch
When designers decide whether to design a new project or modify an existing one, the most common choice is modifying an existing template or designing a new one from scratch. You can go to Templates Community to get the template you want.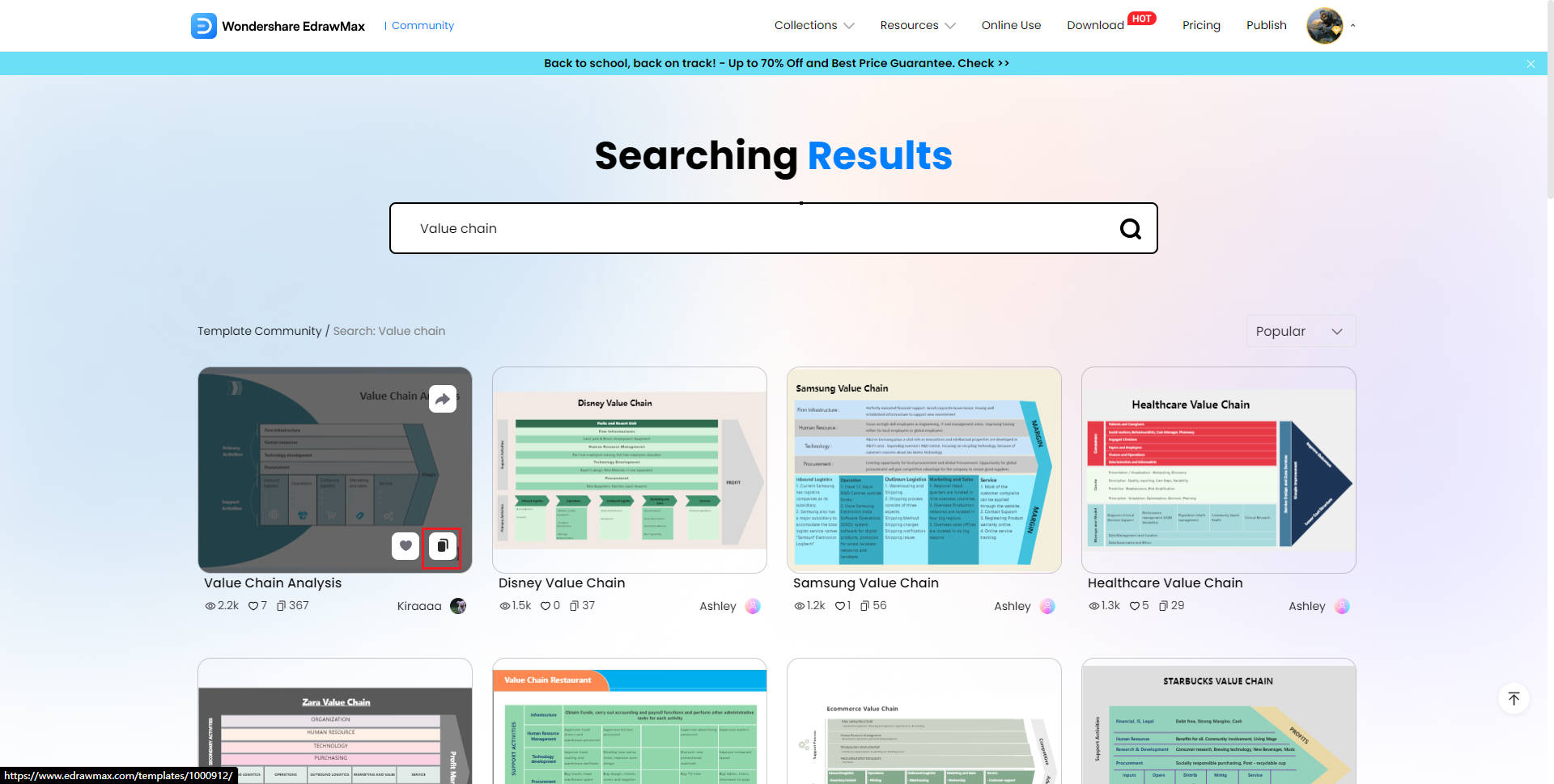 Step 3: Add Textual Information
Text information is most useful when it is an integral part of an image. Adding textual information where it's not needed can distract from the primary focus of an image and may turn your viewers away. But adding extra text information where needed can be a very effective strategy for enhancing the overall look of your image.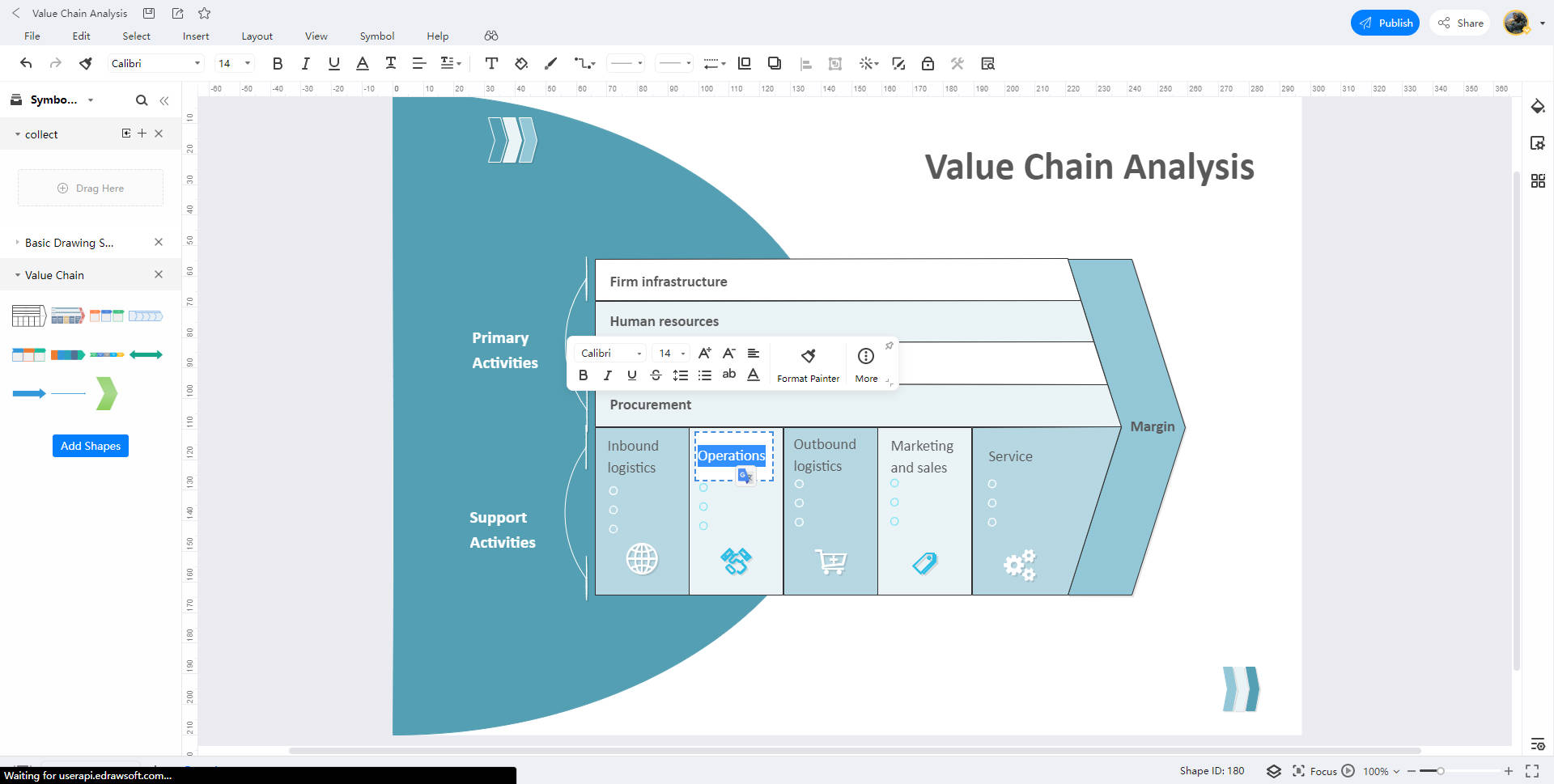 Step 4: Add other components/ Customize Your Work
You can add some components, change their colors, and modify the size and transparency of the background. You can choose the desired color from among the options available by clicking the color picker. You are free to add a background, change its color, modify its size and transparency, and remove its border.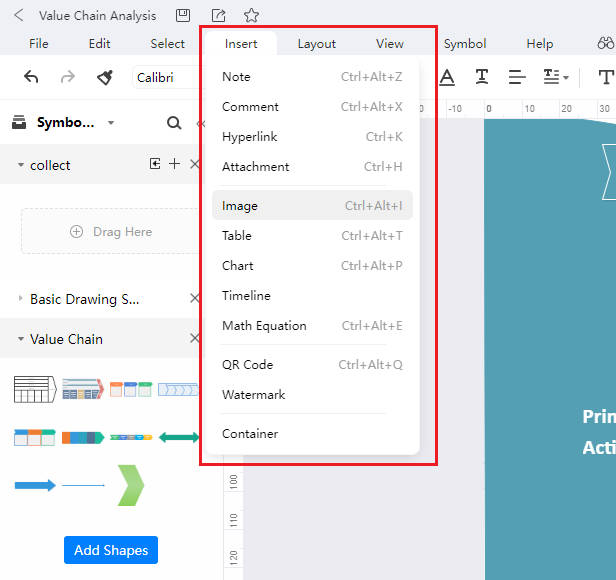 Step 5: Save and Export
You can save and export any elements and objects created in the program to several formats, including JPG, PDF, and PNG. They are stored in the current project's file, which means you can then save and export them to another project or to the hard disk, where they can be used to create a PowerPoint presentation, web page, or another type of document.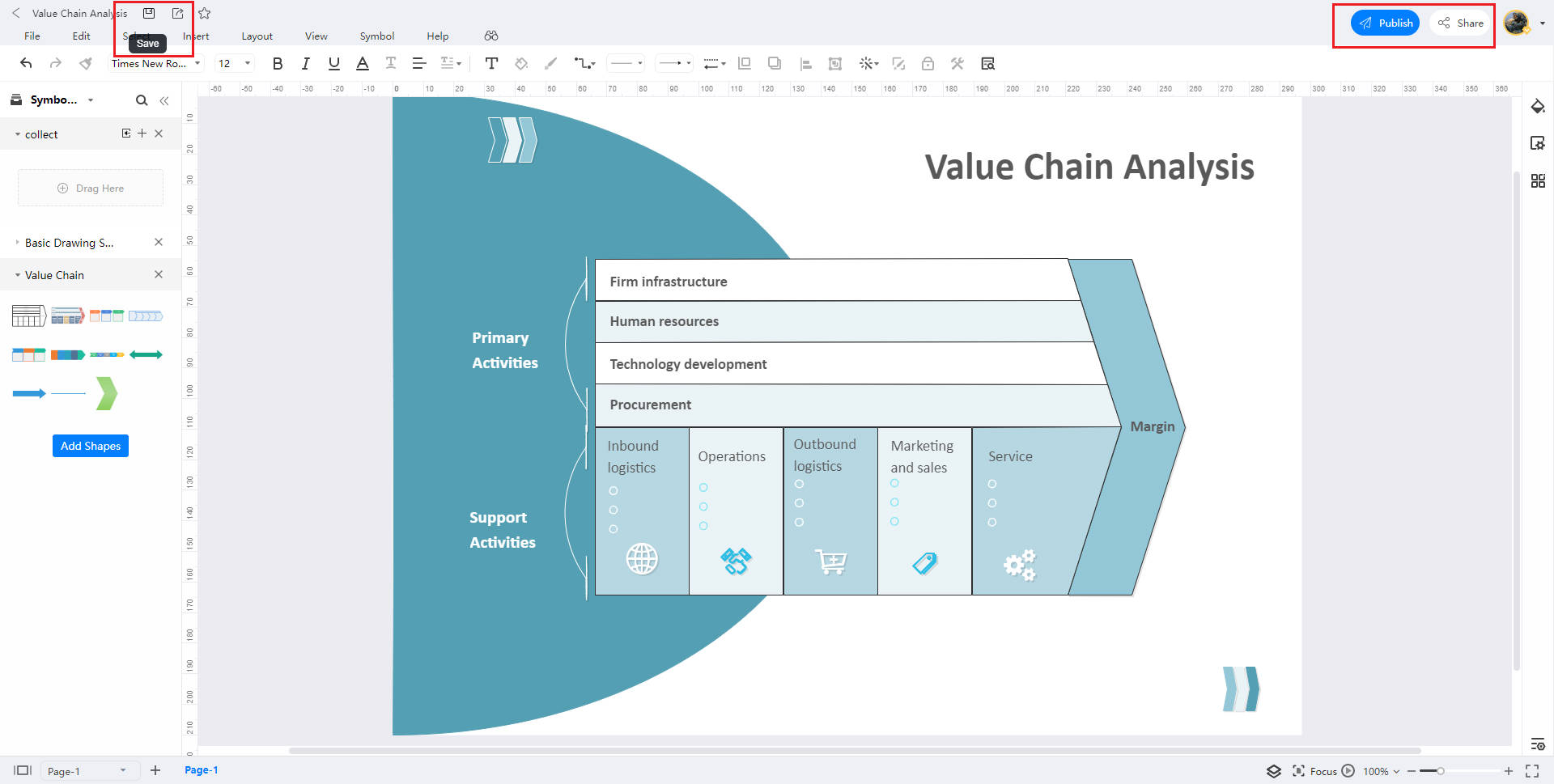 EdrawMax Online
Create 280+ types of diagrams online
Access diagrams anywhere, anytime
Everything in desktop + Templates Community
Team management and collaboration
Personal Cloud and Dropbox Integration
4. Key Takeaways
All in all, we introduce detailed Ford Value Chain Analysis in this article. And most businesses have a value chain. A value chain is an approach to analyzing the relationships between a business's activities or products. It identifies inputs and outputs, the people or processes involved, and the steps, stages, or stages along how products or services are delivered to customers. The value chain can be broken into several components. In the upstream portion, you need to identify the input material, including raw materials, parts, components, labor, etc. You also need to identify the output, product, or service.
EdrawMax Online Value Chain diagram templates help quickly understand the value chain's relationship. Using these Value Chain templates, you can easily design your value chain diagram. It saves you time to design your value chain diagram template quickly. Also, these Value Chain diagram templates show how products move from manufacturers, suppliers, wholesalers, and retailers to consumers.
5. References
Sturgeon, Timothy J., and Jo Van Biesebroeck. "Global value chains in the automotive industry: an enhanced role for developing countries." International Journal of Technological Learning, Innovation and Development 4.1 (2011): 181-205.
Wee, H. M., and Simon Wu. "Lean supply chain and its effect on product cost and quality: a case study on Ford Motor Company." Supply Chain Management: An International Journal (2009).
Related Articles