Google BCG Analysis
We will use the Google (BCG) Matrix to analyze the revenue-generating Google products. By analyzing the Google products, we can assess the amount of money each of these products generates.
1. Introduction
Business Architecture is the activities and information that underpins and supports the value proposition. So what is BCG Matrix in the business world? In the corporate world, the term BCG refers to a four-part matrix used by marketers to evaluate their advertising campaigns. It helps managers better understand and analyze the market context in which they compete.
The Boston Consulting Group (BCG) matrix is helping companies evaluate their organizational structure. In this article, we will discuss Google BCG Matrix in detail.
This framework shows a list of customers' needs and a list of alternatives for each of those needs. We use this framework to understand where we are today and how far we need to go to meet customers' needs. Thus we compare our strengths and weaknesses with other companies. We can analyze their solutions. So we can identify where we need to improve.
Background of Google
Google was founded by Stanford Ph.D. students Larry Page and Sergey Brin in their dorm room in 1996. The first search engine was built by co-founders Page and Brin while they were still in college. By 1999, Google was incorporated as a private company. In 2004, it was acquired by Google Inc., which led to the birth of Google.com. Google makes many products, including search, email, maps, mobile devices, YouTube, Android, and Google Plus. Google's annual revenues in the years 2020 and 2021 are 181.69 and 256.74 billion dollars respectively.
But it's also a company with a singular vision: To organize the world's information and make it universally accessible and helpful.
Every day people visit the Google website and do searches. This helps the company know which products to build next. Google also sells products to advertisers to use Google technology to target customers and measure their performance. Search engines help you learn about all kinds of things – the latest news, people, places, businesses, events, images, and videos – on the web. And because Google has such a large share of the search market, it makes a lot of money.
2. Google BCG Matrix
The BCG Google matrix help identify the downfalls and points of the apps and businesses launched by google. Google has been a leader in using products as strategic tools. The BCG Google matrix helps one determine which products will be the leaders in the long run. Every new product of Google has a certain degree of innovation; innovation usually means taking an existing product line and making some adjustments to be more beneficial to the customer.
In this section, we will conduct a detailed BCG Matrix analysis of Google. So firstly, we will go in-depth to analyze the market growth rate and relative market share.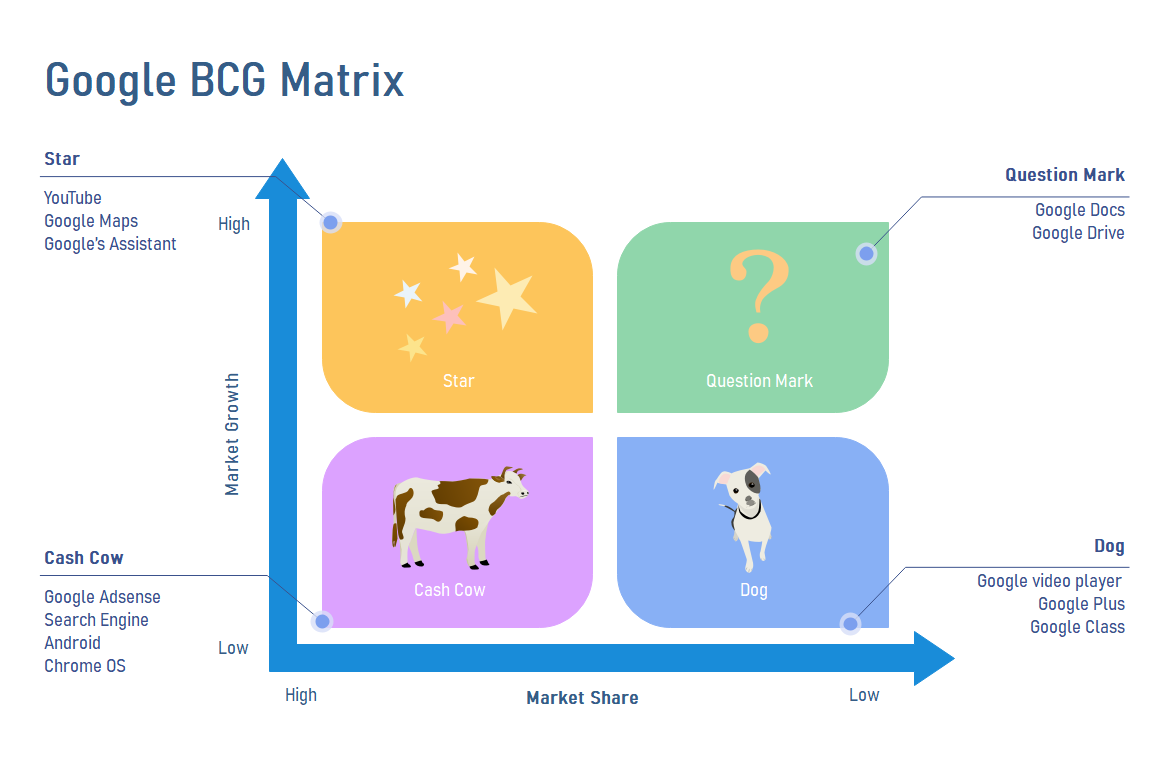 Market Growth Rate
Google's maximum revenues are generated through the Google Ads platform. In 2021, advertisers earned $209.49 billion from Google Ads with an increase of 28 percent from the previous year. Google is the world's largest advertising company. It generates over $50 billion in annual revenues with a market value of $300 billion and nearly a third of the internet search market share. Google makes money by selling ads for things people search for on the internet.
Relative Market Share
As of June 2020, Google accounted for more than 84 percent of worldwide desktop search traffic. Google holds a relative market share of around 93 percent in a wide range of digital markets, having little to no domestic competition in many of them. These numbers are not surprising, as Google holds the majority of the market worldwide. Most countries around the world see very limited domestic competition.
BCG Matrix of Google has four components:
Cash Cow
QuestionMark
Dog
Star
Cash Cow
Google has a variety of products that generate high revenue each year and they are termed cash cow products. It has also made a lot of other money-making projects, such as Android, the world's most used mobile operating system. Google has been making some of its most dramatic moves in the past few years. Adsense generates about $1.3 billion a year in revenue for Google. And as we recently reported, Google search generates more than $20 billion annually, which accounts for 90% of Google's operating profit.
Google has released its annual earnings report for the last four years. The search engine giant has revealed a growth rate of revenue in the previous four years and is growing at an impressive rate of 25%. According to Google, it was a record year for the company, with $90 billion in revenue. This is a massive jump from the $79.3 billion recorded in the previous financial year.
Google and Microsoft (MS) are top players in the field of mobile operating systems. . Chrome OS is also a cash cow productAndroid is developed by Google, which allows users to access the internet, send messages, and make calls through an Android-based mobile. In 2020-2022, Google made Android its mainstay and the topmost-selling operating system. It has become the world's most significant and fastest-growing mobile platform, with an estimated 1 billion active users.
Question Marks
The question mark Products category covers those products whose growth is slow. It is not necessarily in the problem category. Google Drive and Docs are an example of this. The growing demand for data protection and storage increased the cloud storage market and faced strong competition from Microsoft Office, which has a larger share of the office productivity market.
Google Docs isn't necessarily a wrong product, but it isn't likely to grow fast. The reasons for the lack of demand are many. Some products may fail to become popular because of poor quality and overpricing. Others may not succeed because people are not interested in them. Many factors can affect a product's success. Google is growing slowly but steadily in these products so that they can be classified as stable but not highly successful products.
Dogs
For Google, it was an actual dog product because they invested too much into something that did not take off. An example would be their Video Player, a project launched in late 2005, and then they spent over $3 million acquiring YouTube as well. Google eventually acquired Youtube and put it under the 'Google' label. That's where you will find every video on Youtube. Hence Google video player failed to get income.
Google Class might be another example of a product that was supposed to be a success, yet somehow didn't work out. It was a concept that many tech enthusiasts loved, but the public never warmed up to. There were many issues with the product, which never managed to impact the public.
Google Plus was another such failure, which was supposed to be one of the big players in the social network field.
Stars
Google Assistant, YouTube, and Google Maps have been driving the growth of mobile internet. Google is the largest search engine, and Google Maps is the number one navigation system. All three applications can be used to find out things, including getting directions, finding nearby businesses, and learning more about places, like where famous people live. These applications provide content that people can use daily, which is why they make Google more money.
YouTube, Google Maps, and Google's Assistant will generate maximum revenue from 2020-2022, according to a new forecast from Gartner. The research firm expects video advertising to grow at an annualized rate of 30 percent, with social media platforms accounting for 80 percent of the $50 billion industry.
3. How to Draw Google BCG Matrix Online?
This section discusses how to make a BCG matrix in EdrawMax Online. With EdrawMax, you have complete control over the layout of your matrix. You can add any content within the four main areas, headers, columns, rows, and footers. You can even add columns and rows between any content.
The 5-step process for creating a BCG matrix starts with outlining.
Step 1: Preparation (Gather information, open EdrawMax, and login)
Before you start building a matrix, it is essential to gather some information. Make sure to download all relevant information, such as logos, videos, webpages, etc. You may need to access this information on a computer to be able to create a matrix.
Step 2: Select a Template or Create from Scratch
You can get a set of pre-made templates, or you can create a blank BCG from scratch. In the Edrawmax software, there are many pre-designed templates for brochure design. Each template can be opened to design a different type of print media.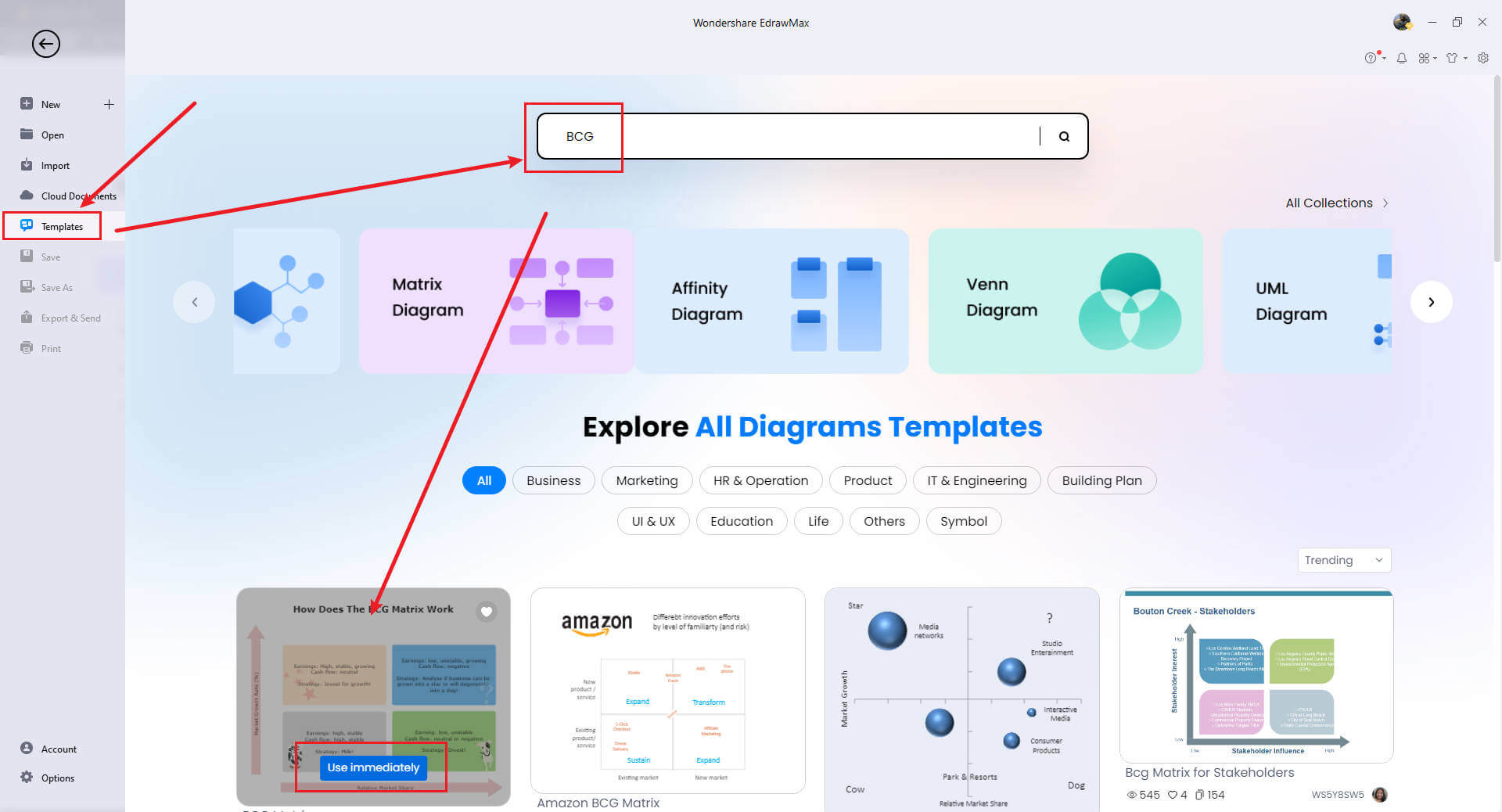 Step 3: Add Textual Information
Creating the text boxes is easy. When a row or column is clicked, the corresponding text box opens.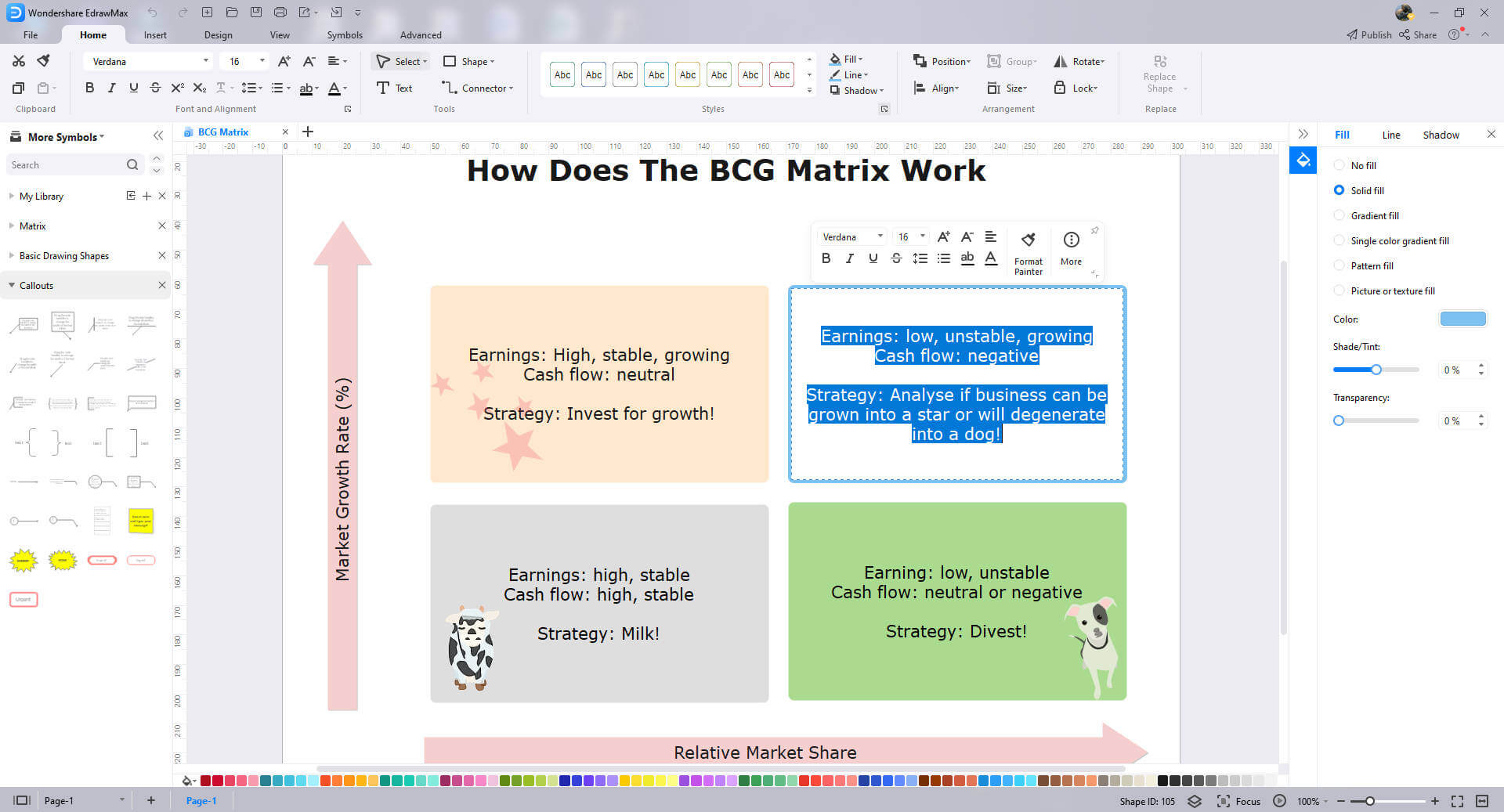 Step 4: Add other components/ Customize Your Work
After that, you can add some components and change the colors. To change the text box's color, click on the color picker and select the desired color from the options displayed. You are free to add a background, change its color, change the size of the background, and make it transparent. It's up to you!

Step 5: Save and Export
You can save and export files this BCG matrix file from EdrawMax. It allows you to save and export any objects (elements, shapes, text boxes, etc.) created in the program to various formats, including JPG, PDF, PNG, etc.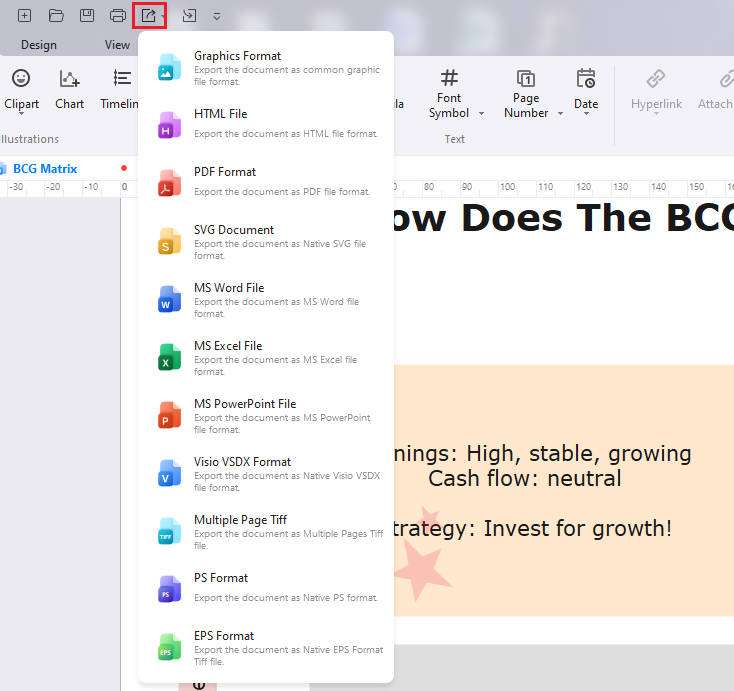 EdrawMax Online
Create 280+ types of diagrams online
Access diagrams anywhere, anytime
Everything in desktop + Templates Community
Team management and collaboration
Personal Cloud and Dropbox Integration
4. Key Takeaways
In this article, we used it to get ideas and made our own version of the BCG matrix of Google with a detailed analysis of its products. To master the art of BCG matrix, it is essential to make matrix diagrams in EdrawMax. Now you can create BCG matrix diagram templates and BCG matrix charts with labels, draw the matrixes by hand and export your work in PowerPoint, JPG, PDF, EML, etc. Edrawmax provides an integrated solution that can help you get a grip on the complexity of the matrix, enhance your productivity, and get you the best results with the least effort.
5. References
Hambrick, Donald C., Ian C. MacMillan, and Diana L. Day. "Strategic attributes and performance in the BCG matrix—A PIMS-based analysis of industrial product businesses." Academy of Management Journal 25.3 (1982): 510-531.
Reeves, Martin, Sandy Moose, and Thijs Venema. "The growth share matrix." BCG–The Boston Consulting Group (2014).
Related Articles