How to Create an Organizational Chart in Visio
An organizational chart serves as a graphical representation of hierarchy within the organization and indicates the relationships among employees and other members in the group. Today, several online providers let you create organizational charts with ease. Complicated as it may seem, but as you go through this article, you will learn how to create org chart in Visio and EdrawMax Online.
1. How to Create an Org Chart in Visio
A Visio org chart can be done through Microsoft Visio. You need to install the application to get started. There are two methods for creating an organizational chart in Visio.
1.1 Create an Organizational Chart from a New Data Table
1. From the File tab, select the New option. Here you will be presented with different diagrams; choose Organization Chart. Then choose either Metric or US Units.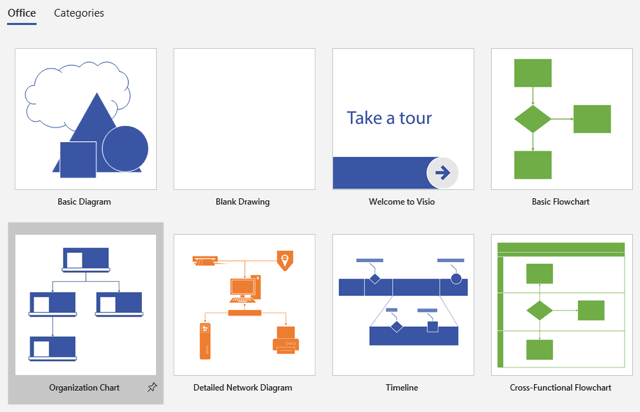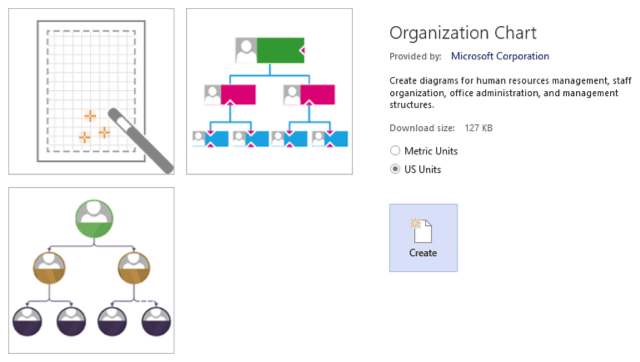 2. Here you can already customize your chart. Select your preferred shape from the box on the left of the screen. Just drag the shapes to the document. Input the employee's name and title. To insert an employee's image, select the blank image, then click on the Change option in the top ribbon of the Org Chart tab.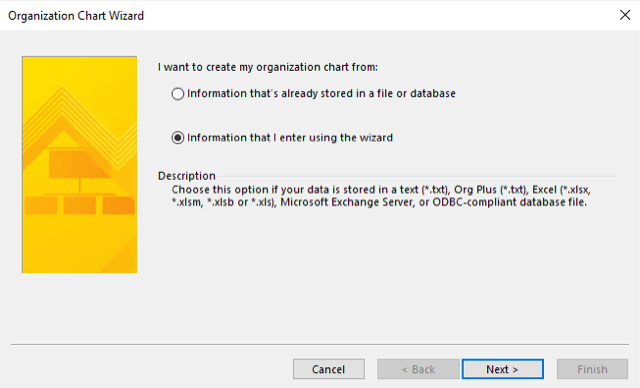 3. The Org Chart tab provides options for you to arrange the layout of your chart, change shapes and their height and width.

4. You can drag the subordinate shapes to the superior shapes or manually do it by using connector shapes.
1.2 Create an Organizational Chart with an Existing Data Source
This method of making a Visio org chart is best used when the information you want to include is already saved in a document such as Microsoft Server directory, Org Plus text file, an ODBC-compliant data source, or Microsoft Office Excel.
1. First, you need to ensure that your worksheet is complete with columns for names of employees, IDs, who reports to whom, and other essential information you want to include in the chart. See the photo below.

2. The same as the first method, from the File tab, select the New option. Here you will be presented with different diagrams; choose Organization Chart. Then choose either Metric or US Units.
3. When the Organization Chart Wizard pops up, tick the small circle beside the "Information that's already stored in a file or database" option, then select Next.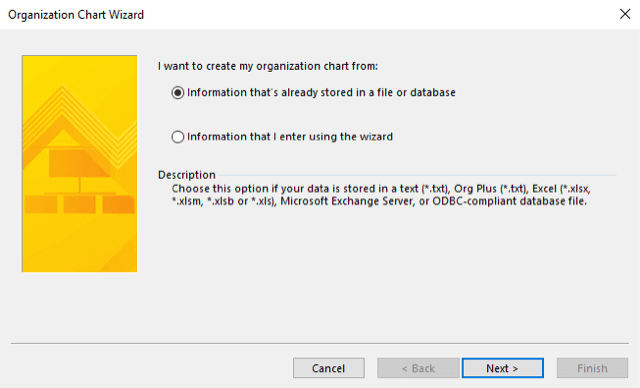 4. You will then be redirected to another dialogue box and choose the file type of your document (Org Plus, Excel file, or a text), then select Next.
5. Once that is done, locate the file in your drive by clicking Browse, then Next.
6. On the dialogue box, choose the column fields that define your organization, like the employees' names and who they are reporting to. Then select Next.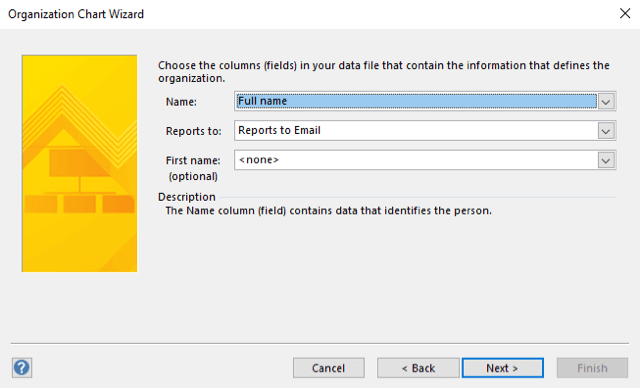 7. You can also add additional information that you want to appear in your org chart. Just click the Add and Remove buttons. Then click Next.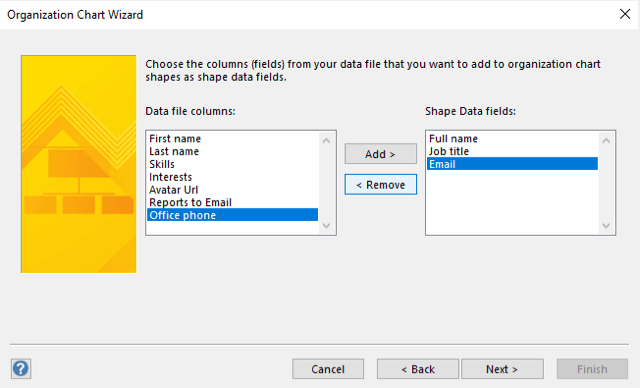 8. Add images to your chart ticking the small circle beside the "locate the folder that contains your organization pictures" option—Click Browse to select images. Double-check the file names of your photos to avoid confusion with your chart. Follow the remaining instructions on the dialogue box, then click Next.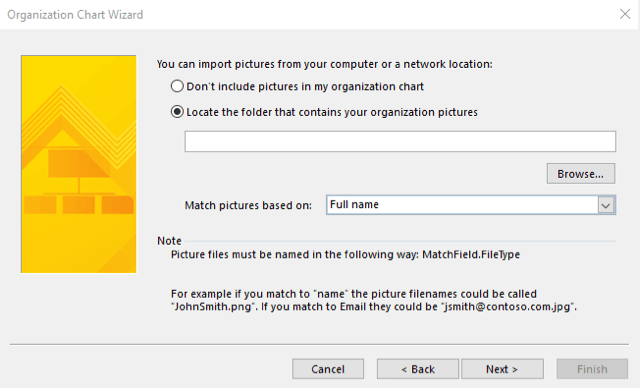 9. If the Visio org chart seems larger to be on one page, you can split them into several pages. Automatically generate the layout by ticking the option "I want to automatically break my organization chart across pages." Then select Finish. You can also adjust your org chart's appearance by exploring the options in the Layout group.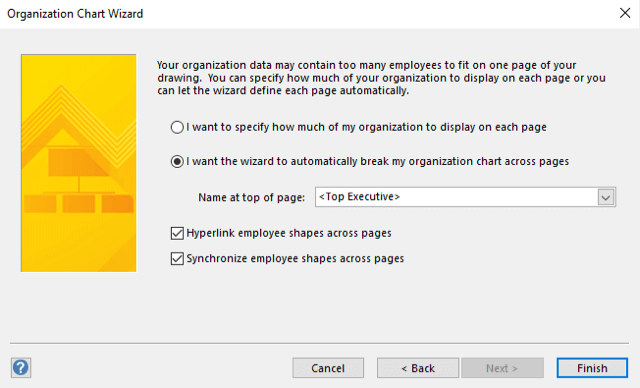 2. How to Create an Org Chart from Excel?
Besides create org charts in Visio, you can import and make an organizational chart using EdrawMax Online. Here's how.
2.1 Create an Organizational Chart from Excel
Step 1: Import the File
You need to launch EdrawMax Online or desktop, then open a New org chart document. On the right side of your screen, under the Organizational Chart section, click Import.

Step 2: Locate the Excel File
Another dialogue box will pop up, then click Browse to locate the Excel file that contains your organizational chart information.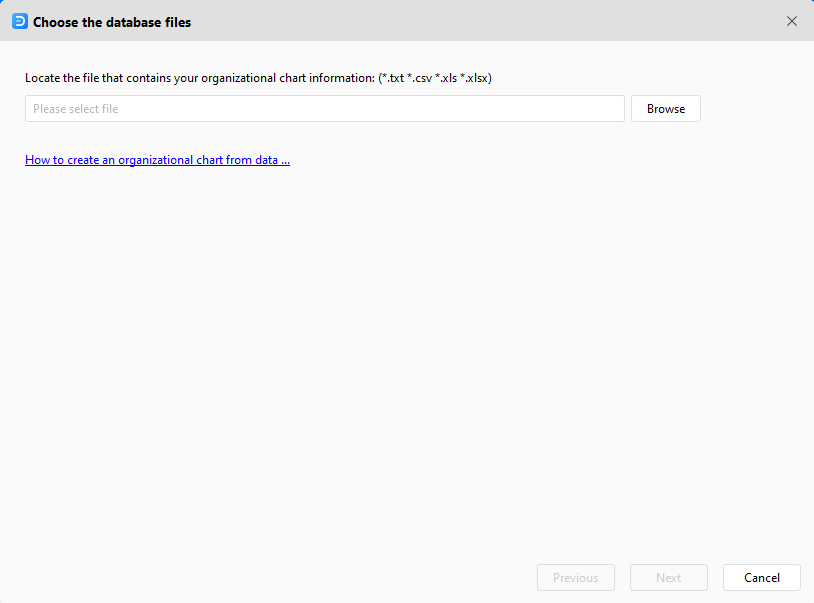 Source:EdrawMax Online
Step 3: Modify Data
Once you click Next, you will see your data in the worksheet appearing on the data import window. Suppose your data source has more than two fields for names (e.g., first name and last name), choose the last name field, and in the First Name box, select the first name field. Then click Next.
Source:EdrawMax Online
Step 4: Customize Your Chart
The next e will show you options to customize your chart. You can select what employee information you want to show on the shapes and how you want to display it. You can also add photos if you wish. Once you're done, click Finish.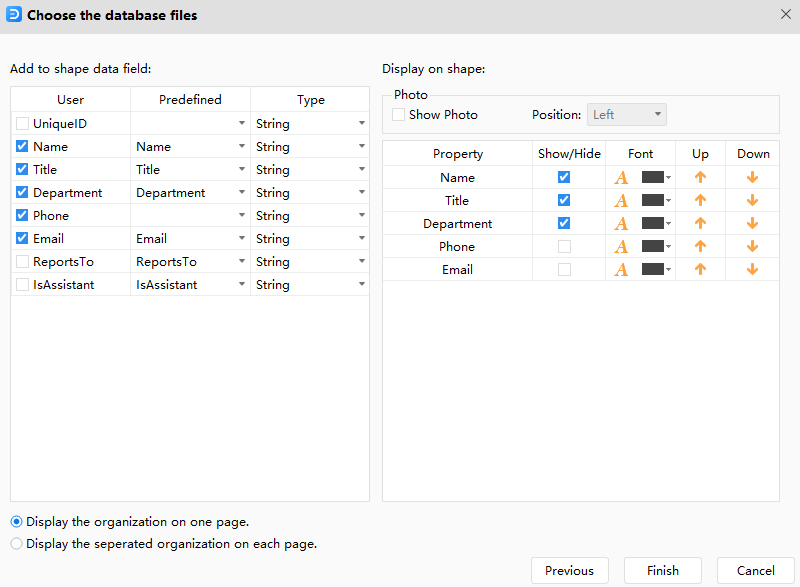 Source:EdrawMax Online
Step 5: Get your Work
After clicking Finish, you will see below the final output.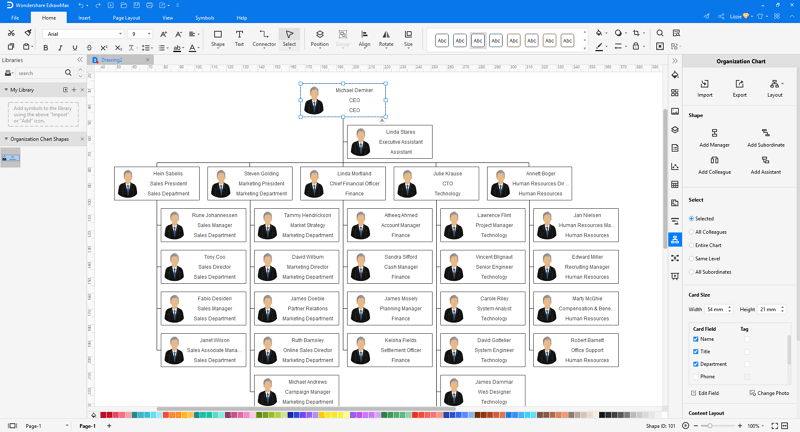 Source:EdrawMax Online
2.2 Create an Organizational Chart from Scratch
Once you launch the EdrawMax Online, you can select several pre-built org chart templates, or you can choose to build your own. Check the steps below.
Step 1: Create your Work
On EdrawMax's interface, click New, then Organizational Chart. Under it, you can see a box labeled Blank Drawing; select that.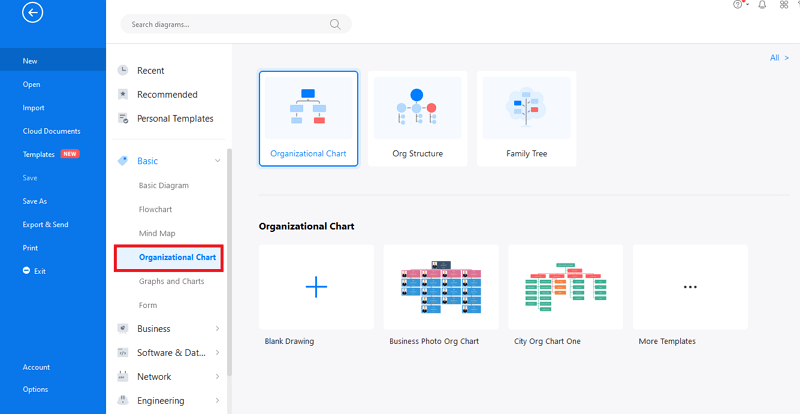 Source:EdrawMax Online
Step 2: Subordinate your Chart
Once you are in the document, you can add a colleague or a subordinate to your chart. The simplest way is to go to the Organizational Chart Section on the right side of the interface. You can also add a shape for a manager and an assistant. Several tools as well are on the same corner to customize your chart.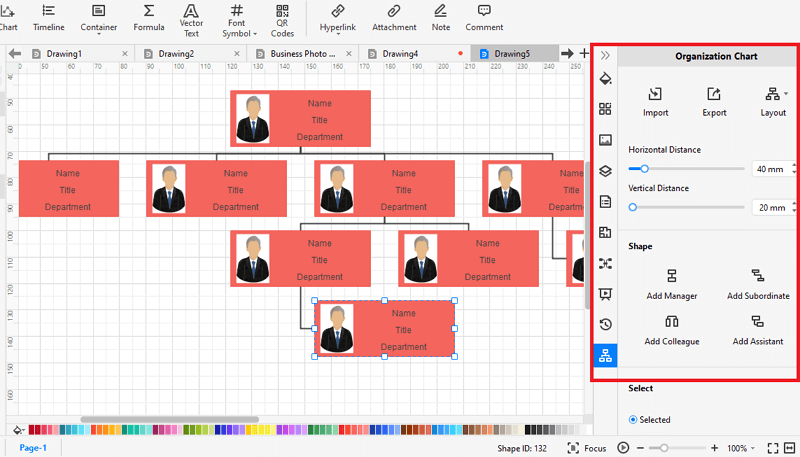 Source:EdrawMax Online
Step 3: Check Auto Layout Box
You can check the Auto Layout box, so the whole chart will rearrange itself when you add or delete an employee on the diagram.
Step 4: Save and Export
When you finish the diagram, you can export it to Visio, PDF, Word and other file formats.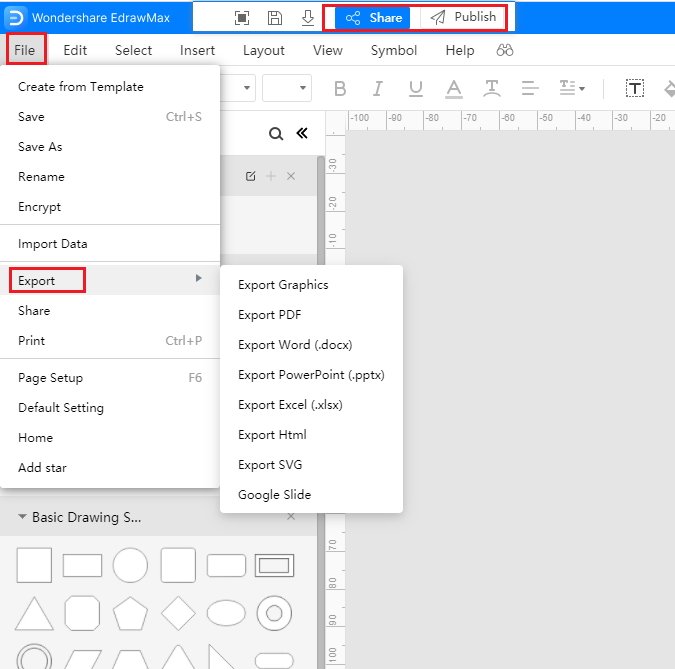 3. How to Create an Org Chart with Templates
Visio Org Chart Templates
Suppose you want to create an org chart in Visio; the first that comes to mind is how. The most basic organizational chart is the company structure type of diagram showing the hierarchy of employees in a company. Visio has several org chart templates where you can base your diagram and download them in different formats like PDF, PowerPoint, Excel, Html, SVG and even have it as graphics.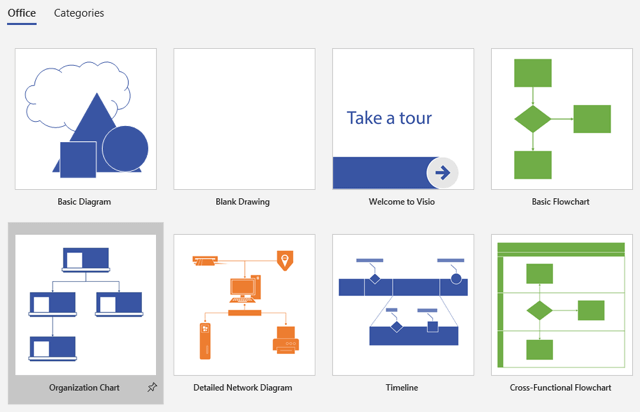 MS Visio Org Chart Template
This template below is an example of an information system and organization where you can include documents, processes, equipment, and other records. When you click on the "use immediately" button, you will be redirected to EdrawMax's website to edit your chart.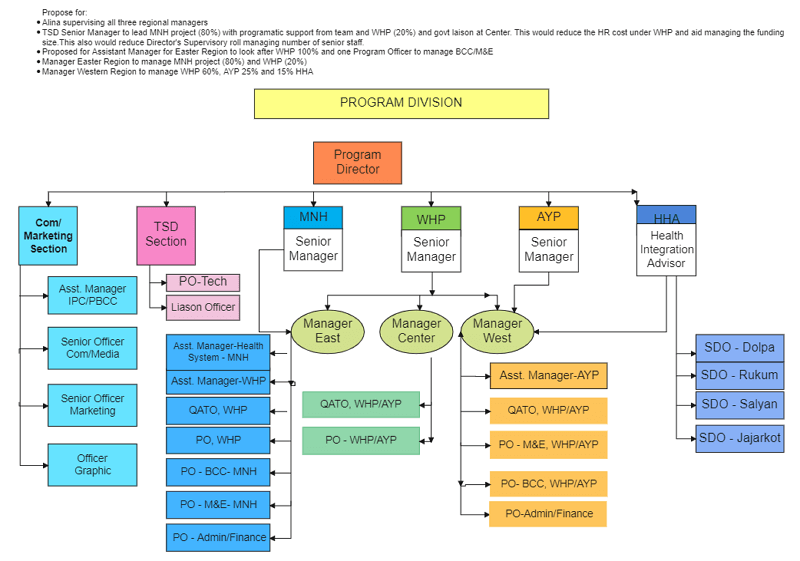 Source:EdrawMax Online
Org Chart Visio Template
Sure, you can use Visio to create organizational charts and put specific duties on each employee in an organization. However, with EdrawMax, all you need to do is click your desired template then immediately edit it on the browser. A company org chart can be overwhelming at times, especially in large companies. Hence the creation of a program division. With this template below, label all your department or division members with their corresponding tasks properly. And once you are done, you can export your chart into different file formats like PowerPoint, Excel, SVG, PDF, and many more.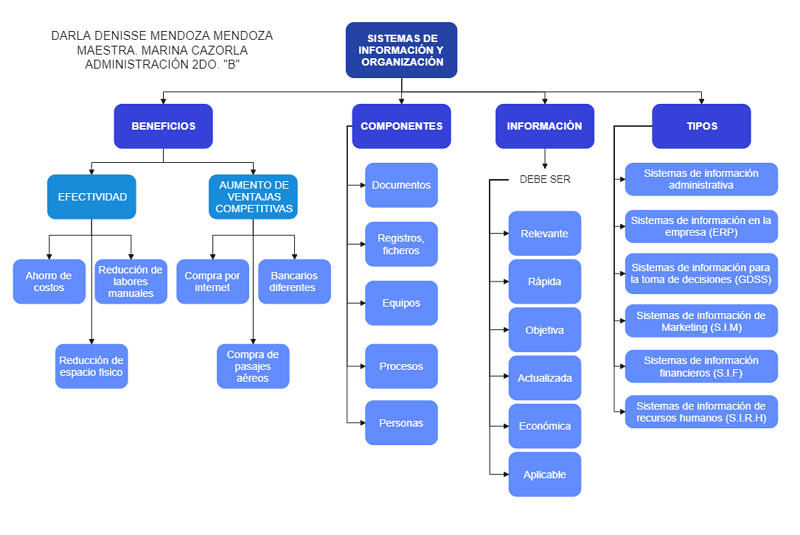 Source:EdrawMax Online
4. Online Org Chart Maker
EdrawMax Online offers a free organizational chart maker so you can try the tools and navigate your way through organizational charts of your choice. If you want to visualize data in your company, the templates from EdrawMax are data-interactive. This lets you turn the data into a chart, providing efficient planning and decision-making. EdrawMax has a free online organizational chart maker and free download versions, so you can switch devices and collaborate on a project at any time on any device. This is one best feature EdrawMax have compared to Visio where you need to install the application to get started.
Moreover, it encompasses hundreds of different symbols and shapes all designed by professionals. On the other hand, the canvas offers plenty of options from different types of connector lines, line colors, layout, line styles, symbols, blocks, and much more. This ensures that the user is able to produce the desired diagram, which converts the complicated part to a more comprehensible and interesting process.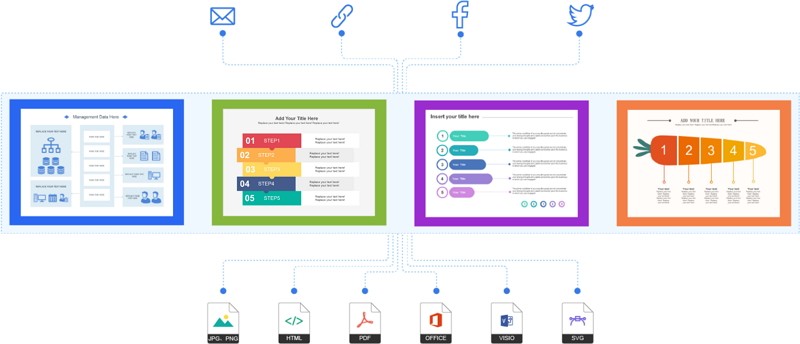 Why Choose EdrawMax Online
Create over 280 diagram types
Supports team collaboration
Personal cloud & data protection
Print, share and download
Powerful template community
5. Key Takeaways
The birth of online org chart makers has been beneficial for people on the go and those who do not have the luxury to download and install applications to create organizational diagrams. The key factor about why EdrawMax Online is effective is its accessibility. Even with only a browser, you can organize information and present it professionally wherever you may be. Besides the option to create org chart in Visio, you can also start with org chart templates from EdrawMax Online.