You know the situation when, as a team, you miss your deadline, your team members become confused, and everything goes haywire. Now, you have missed your goal.
It happened because you failed to create a proper action plan. No matter how small or big your objective is, you always need proper planning, that's one thing for sure. Are you wondering what project management timeline is, and how it can help us? You are going to find the answers soon.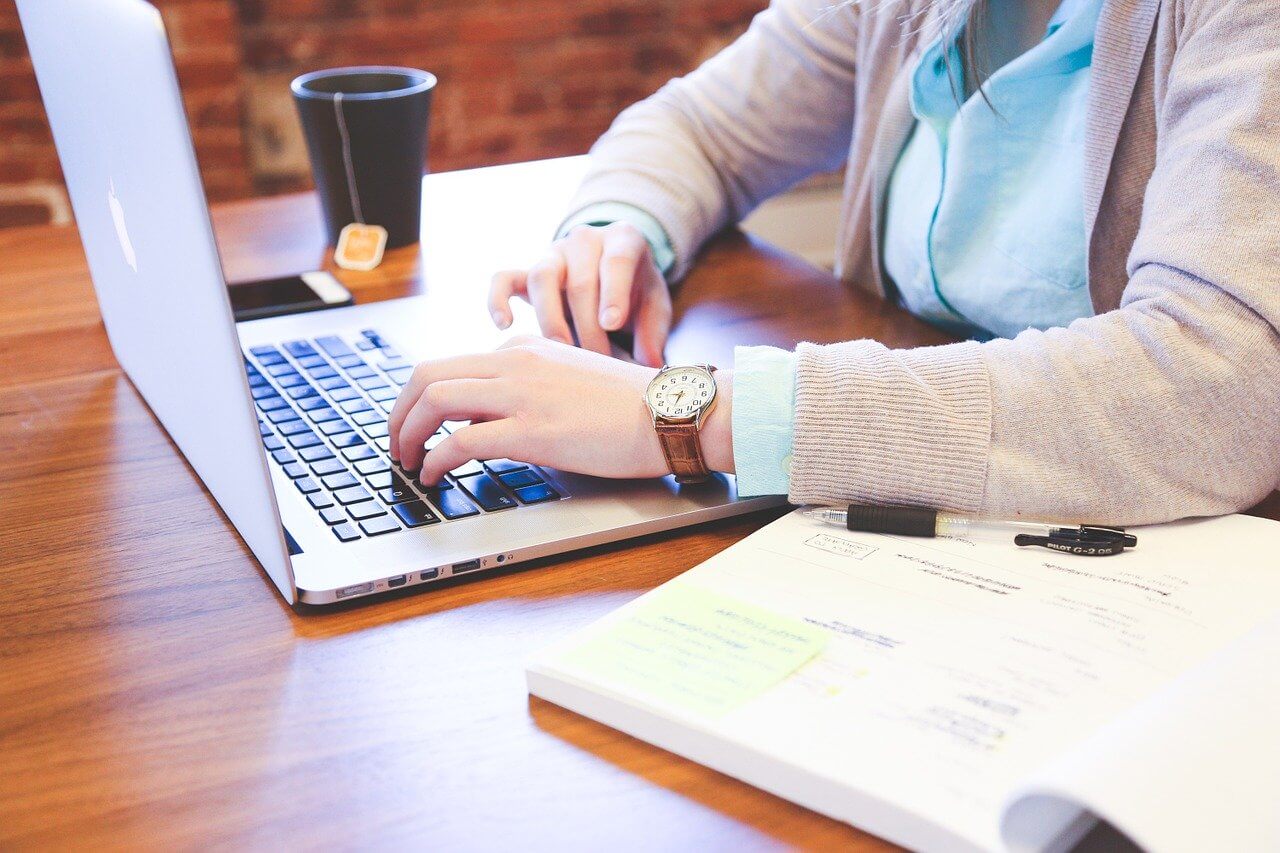 What is a Project Timeline?
A project management timeline is the beating heart of every project. It is the visual chronological order of events or actions with dates to complete a task. Therefore, it makes it easier to read.
Moreover, a project timeline helps the teams and project managers to keep their projects on track. It shows how a team will accomplish its agenda.
Key Elements of Project Management Timeline
The key elements of a timeline project may vary from one task to the next. But the main components are as follows:
Tasks you have to accomplish
Task duration
Task date (start and due date)
Dependency between task
What is Project Management Timeline Used for?
Improving Communication
It improves communication, so every team member is on the same page. Moreover, a timeline efficiently communicates essential tasks and milestones, so everybody knows who is doing what.
Tracking Project Progress
It shows the essential milestones of a project in chronological order. These members can see their work performance, and they know which tasks need to be accomplished next and by which date.
● Visualizing Events
It enables members to visualize deadlines, crucial project actions, and other significant events from beginning to end.
● Managing Time
It delivers you an overall view of the project; hence, you avoid working mindlessly on tasks.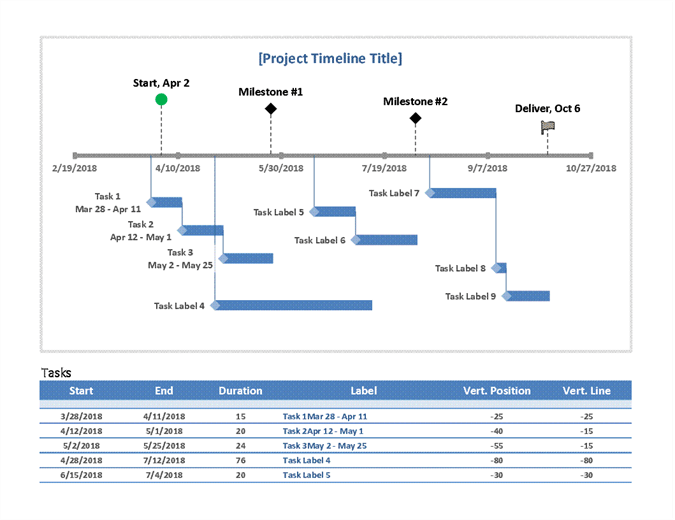 Image Source:
https://templates.office.com/en-us/milestone-and-task-project-timeline-tm16410085
Project Timeline vs. Gantt Chart
The Gantt chart is similar to the project timeline. But the thing that separates the Gantt chart with the project timeline is its purpose.
Purposes of Gantt Chart
Show relationships of tasks
Visualize project progress and current tasks
A Gantt chart is a tool that provides a detailed and closer look at the individual project task. Moreover, if a Gantt chart does not show relationships of tasks, it is not a Gantt chart.
In contrast, a project management timeline shows the high-level and overall progress of the project. It can be dense or sparse as necessary.
Furthermore, a project timeline can skip task dependencies, while for a Gantt chart, it is necessary. A project timeline may look like a Gantt chart, but a Gantt chart may not seem like a project management timeline.
How to Build a Project Timeline?
The creation process of a project timeline will remain the same regardless of how little or more detail you want to add. If it is your first time creating a project timeline, or are professional in this, follow these no-fail steps to make a perfect project management timeline.
Let's see the process in detail below.
1. Jot Down Your Project Scope Statement
To create your project timeline, it is essential to determine the scope of your project. It summarizes the deliverables you are planning to produce at the end of the project. For example, a scope statement can be: We will make size eight shoes in black, red, green, and yellow.
The two most essential elements of the project scope management are:
● Internal and External Goals
Every project has a stated goal that matters to the project's sponsor. A project can have several or a single goal, and this is called external goals.
Internal stakeholders want to accomplish something from the project, such as profit for the agency. This is called internal goals. While making our project outline, make sure to add these goals.
● Preferences of Stakeholders
In every project, a stakeholder wants to meet their individual goals, and these may be related to a project's objectives.
However, you can sometimes translate these demands into project goals. But most of the time, these are simply "preferences," such as completing a deliverable before the schedule or making changes because a key stakeholder said so. It is better to understand these preferences before starting a project.
2. Make a WBS (Work Breakdown Structure)
A WBS explains everything a project needs to accomplish a goal. It is organized into different levels and then shown graphically.
To make a WBS or scope baseline, you have to begin from your scope statement. Divide your deliverable into smaller pieces, and every sub-deliverable is called work package.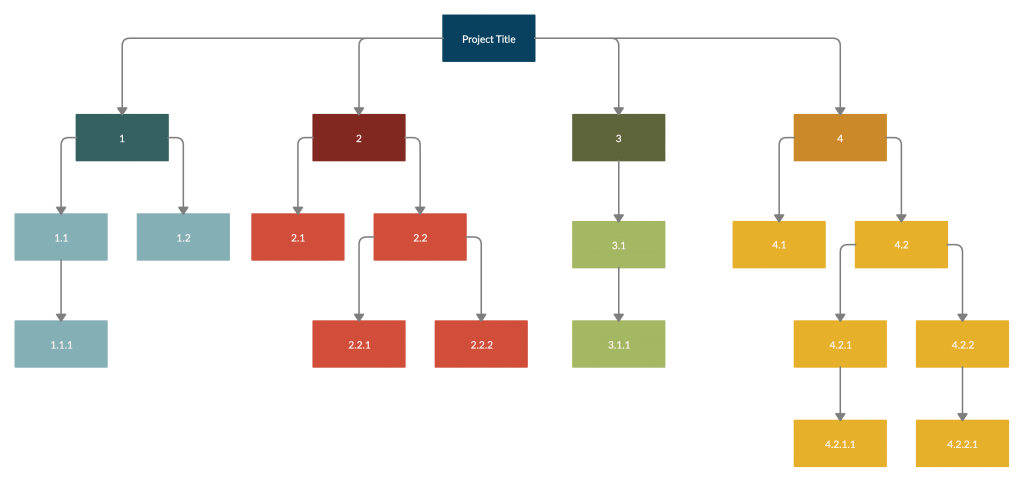 Image Source:
creately.com
3. Divide Your Work Package into Different Tasks
To achieve this step, you have to make a to-do list for each of your work packages. Think about what you have to do to reach your desired goal.
For example, to make a shoe, you'll need to:
Cut a leather
Cut eyelets for shoelaces
Stick sole
Stitch the leather pieces
4. Figure Out Project Dependencies
Dependencies are those tasks that you cannot begin unless you have completed the other task. For example, to stitch the leather for your shoes, you have to cut it first. Moreover, creating a diagram will help to identify and visualize all the dependencies.
5. Estimate the Time You Need for Each Task
Go backwards to your dependency list and accurately estimate the time you need to complete each section. You can use a critical path method to determine the total time required for each deliverable.
6. Determine the Availability of Resources
In this step, you have to identify how much time your employees or team members can spend on an allotted task. It may take a day to complete; however, it is crucial to expand the designated time to a few days or weeks.
7. Determine Milestones
Milestones are markers that show the project's progress. It helps to track the progress from start to finish. Therefore, if you fall behind, you can adjust your expectations or plans to stay on your target.
Image Source:
creately.com
8. Build Your Project Timeline
Once you're done with the steps above, this part is fun. Build your project management timeline by lining up your tasks with an allotted time, and then add milestones.
You've successfully created a project timeline!
Project Timeline Software
Here are a few software tools you can use to create your project timelines.
● ProjectManager.com
It is a tool that helps to create colorful and dynamic project timelines instantly. Within seconds it maps out all your tasks. Moreover, it helps team members to collaborate, track, and plan online.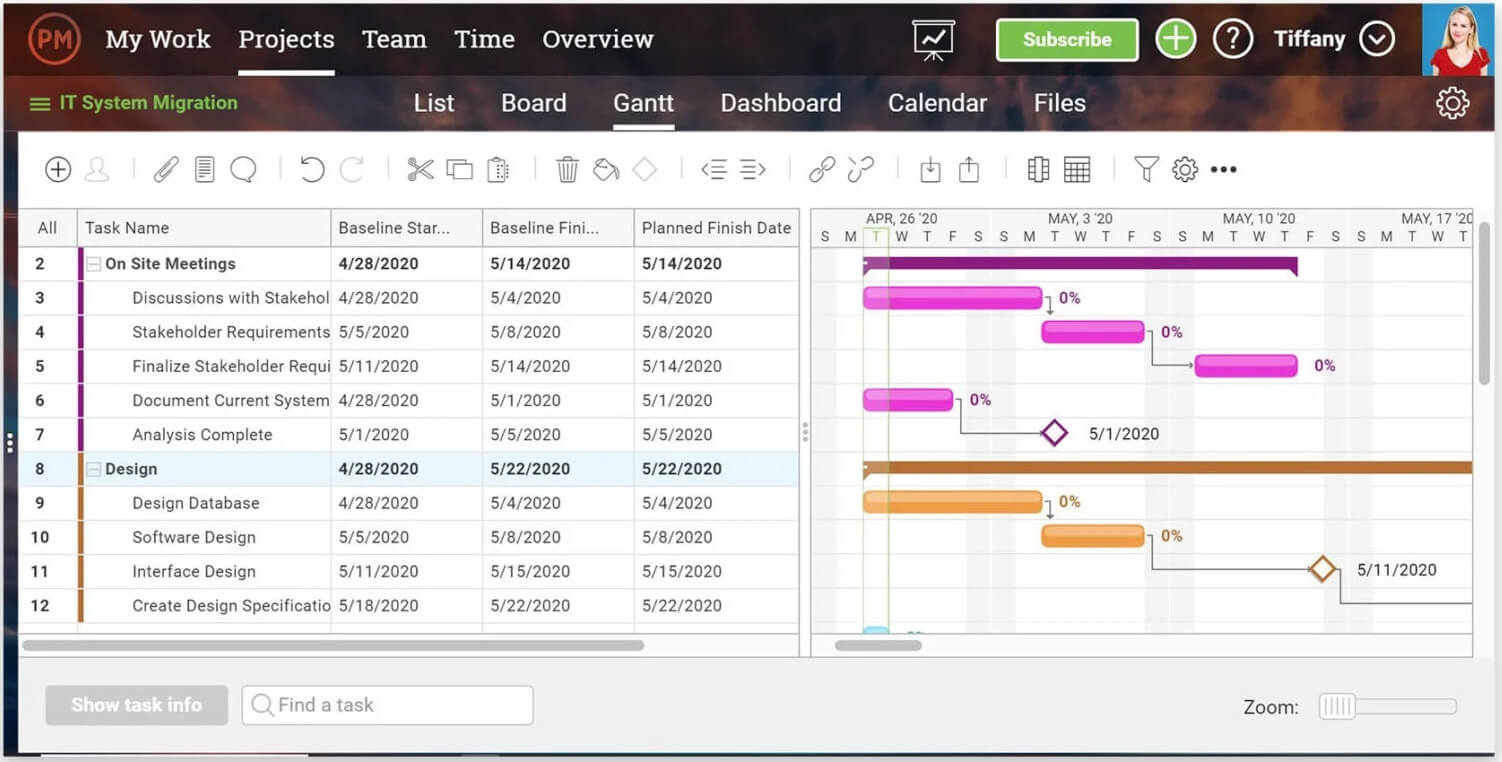 Image Source:
projectmanager.com
"This software is straightforward to use and is very user-friendly. It allows you to maintain internal communication within the team and allow freedom to download any document."
● Workzone
It is a powerful and robust tool that is very easy to use. It is a cloud-based tool that enables project managers to track team members and their progress.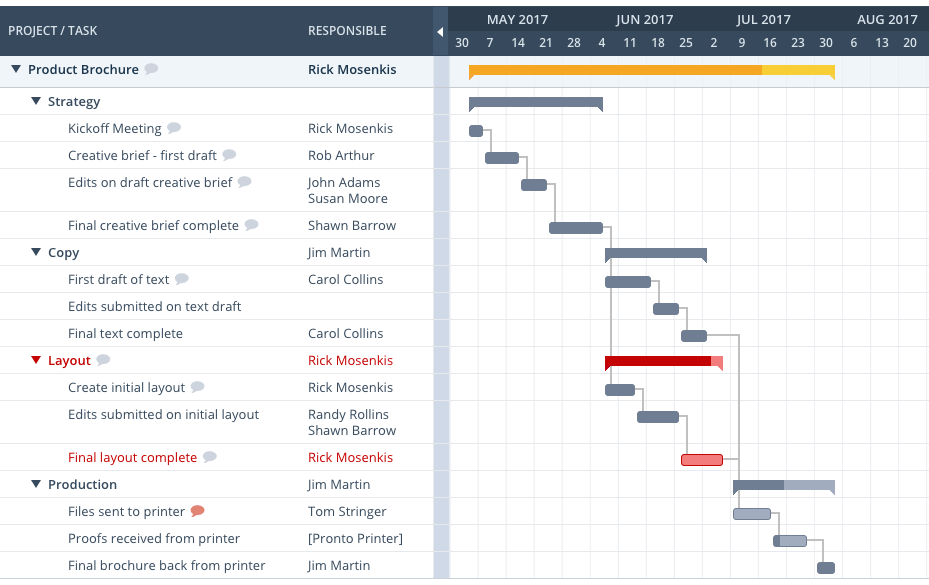 Image Source:
filestage.io
"It is a great project management tool that keeps track of all our deliverables. We have made over 500 projects. This tool shows our management, progress, and manpower issues. "
● EdrawMax Online
It is a trusted online diagram software that helps to create professional timelines and illustrates your project milestones.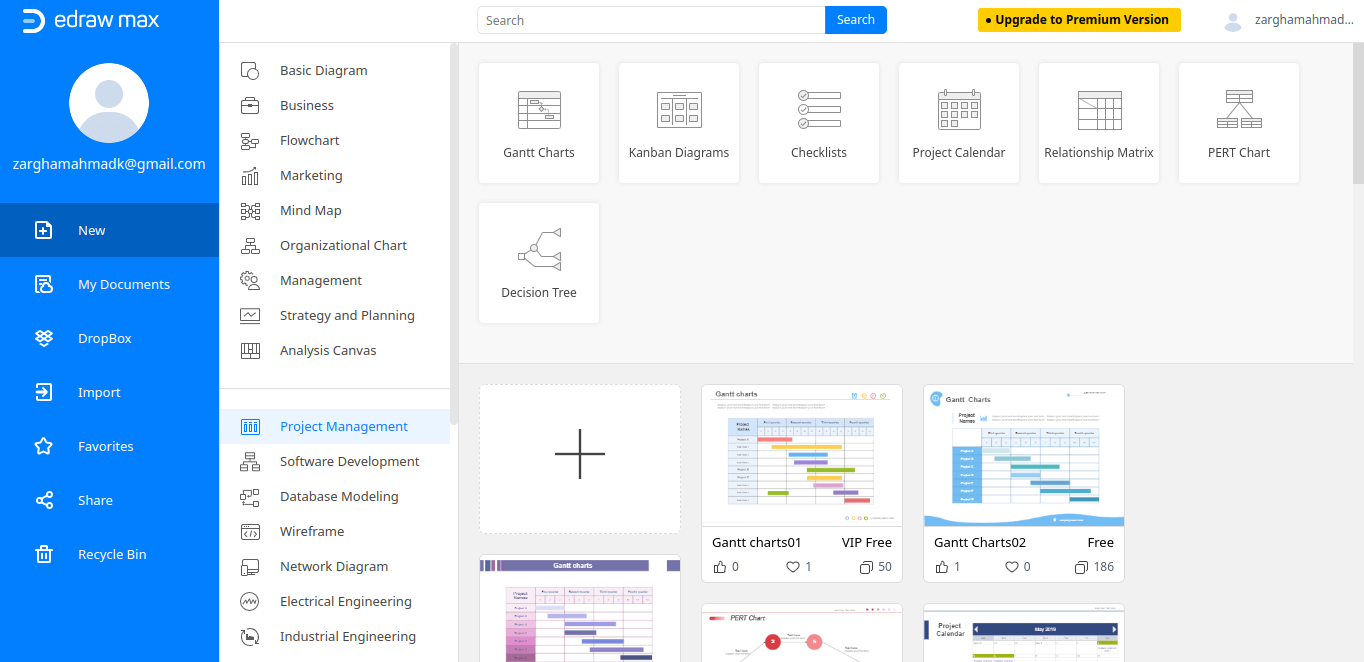 Image Source:
edrawmax.com
"The Edraw Max experience is one of the best. This software made for professionals in project management is user friendly. I love it!"