What is A PERT Chart?
PERT is the short form of "Program Evaluation Review Technique". A PERT chart is a statistical chart used for project management to analyze and represent the different tasks in a project. The PERT chart was initially designed by the U.S. Navy in 1950 for submarine navigation. Since then, PERT charts have been widely used in software development, engineering, and business management. It displays the flow of work to help coordinate, schedule, and organize various tasks. Different elements of a PERT chart include nodes, arrows, slack, path, and lead time.
Today, we will tell you how to make a PERT chart, but first, let us take a look at the uses of a PERT chart.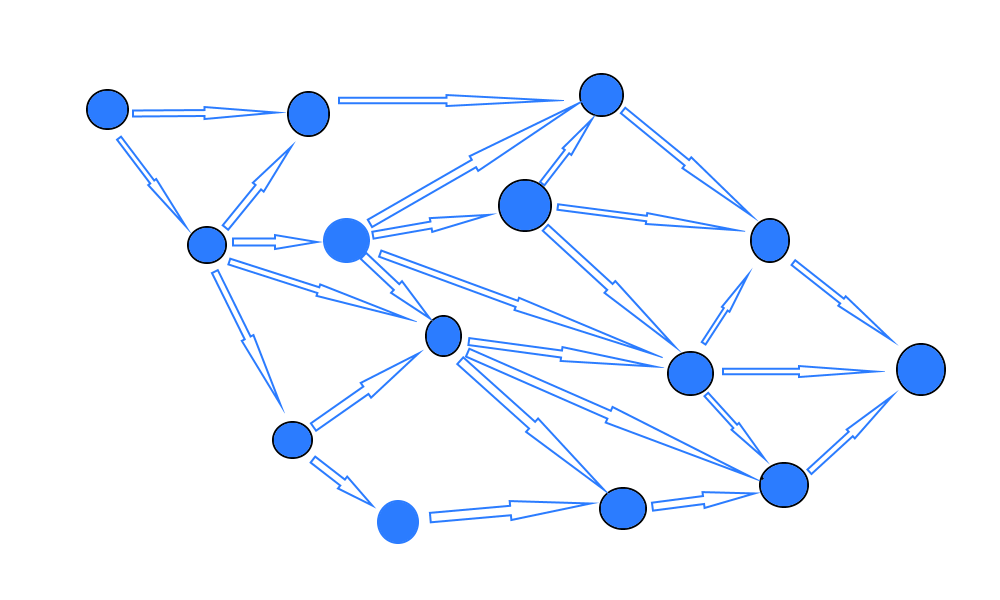 Image Source: https://cdn.twproject.com
When to Use PERT Charts
PERT charts are commonly used across a wide range of fields. Some uses of PERT charts include: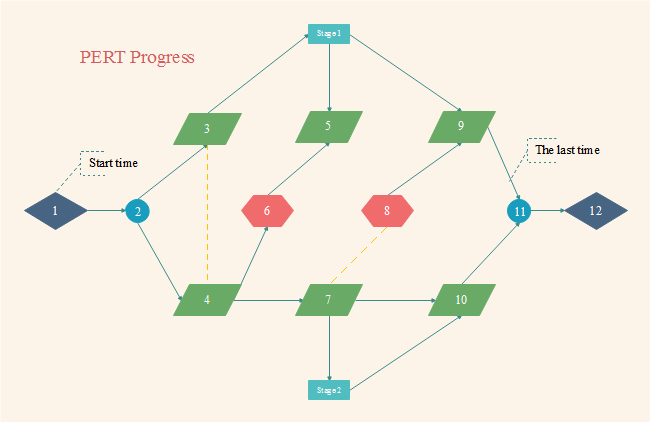 Website Development

PERT charts can be used as an efficient tool to help schedule and track different tasks involved in building a website.

Project Management

PERT Charts are very popular in project management tasks because they make sure that the project follows the timeline.

Software Creation

PERT Charts can be used to analyze, design, build, and test software projects.

Work Package Control

PERT Charts are designed to keep track of different work package controls in business operations.

Educational Programs

PERT charts are used to schedule and divide long-term educational programs like a Ph.D. program.
Now that we know what a PERT chart is, how you can use it for different purposes, let's see how to make a PERT chart online.
How to Make A PERT Chart Online
Edraw Max Online is a multi-purpose drawing tool with many drawing tools and advanced features. Follow these steps below to create PERT chart using Edraw Max Online.
Step 1: Open Edraw
Open your browser and go to Edraw Max online website, i.e.:,https://www.edrawmax.com/online/on your browser.
Step 2: Select PERT Template
There are two ways to create a PERT chart in Edraw Max. The first one is to use a premade template and customize it to suit your requirements.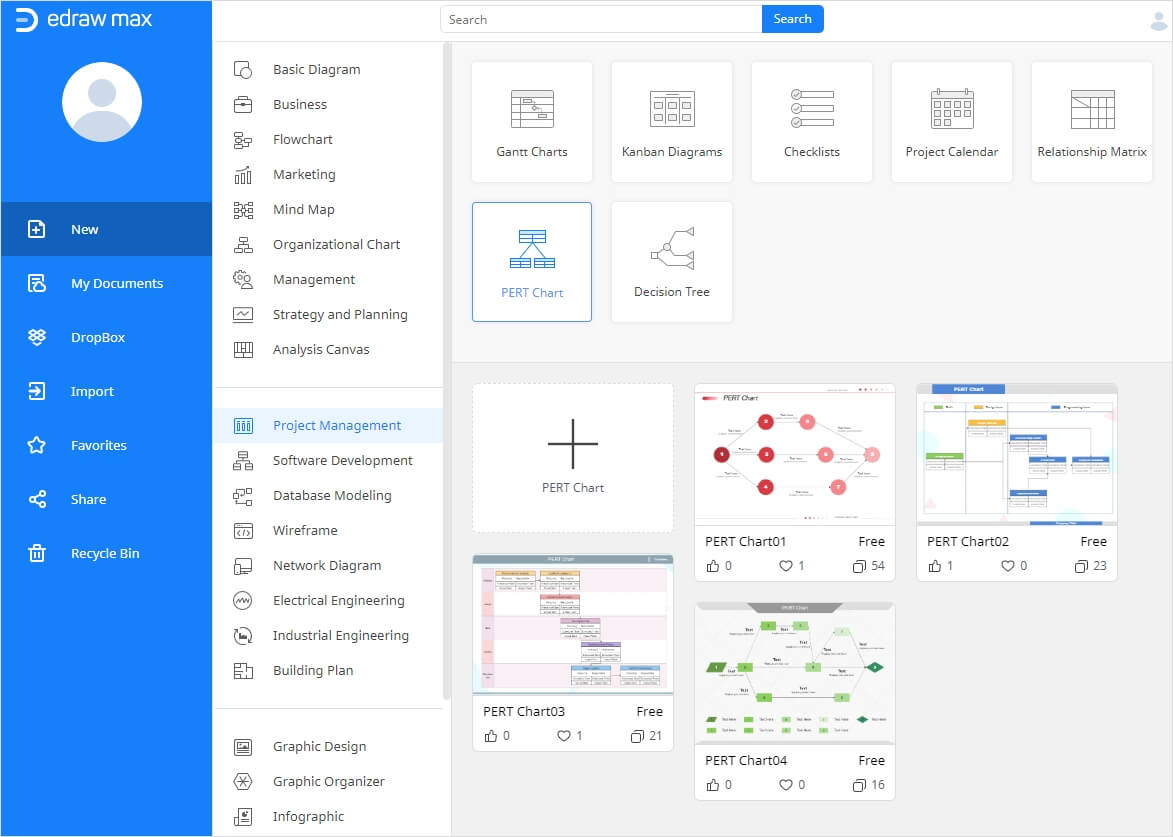 The other option is to select a blank template and create a PERT chart from scratch.
Step 3: Design
Once you click on the blank template option, a new tab will launch where you will get the online drawing tool. You will find a symbol library on the left side of the screen and a formatting pane on the right side of the screen. On the menu ribbon, there are different tools present along with different tabs like file, edit, insert, layout, view, and symbol.
Steps 4: Create a PERT Chart
Before you start making a PERT Chart, first identify the specific activities of the project, the sequence of those activities, estimated time required for each activity/event, and the critical path.
Now, to create a PERT chart from scratch, select the shape from the symbol library and drag it onto the drawing canvas. Keep placing the shapes according to the order of activities in the project. Add connectors between the tasks by using any one of the connector options in "connectors" on the menu ribbon. Finally, enter the information related to each task of the process.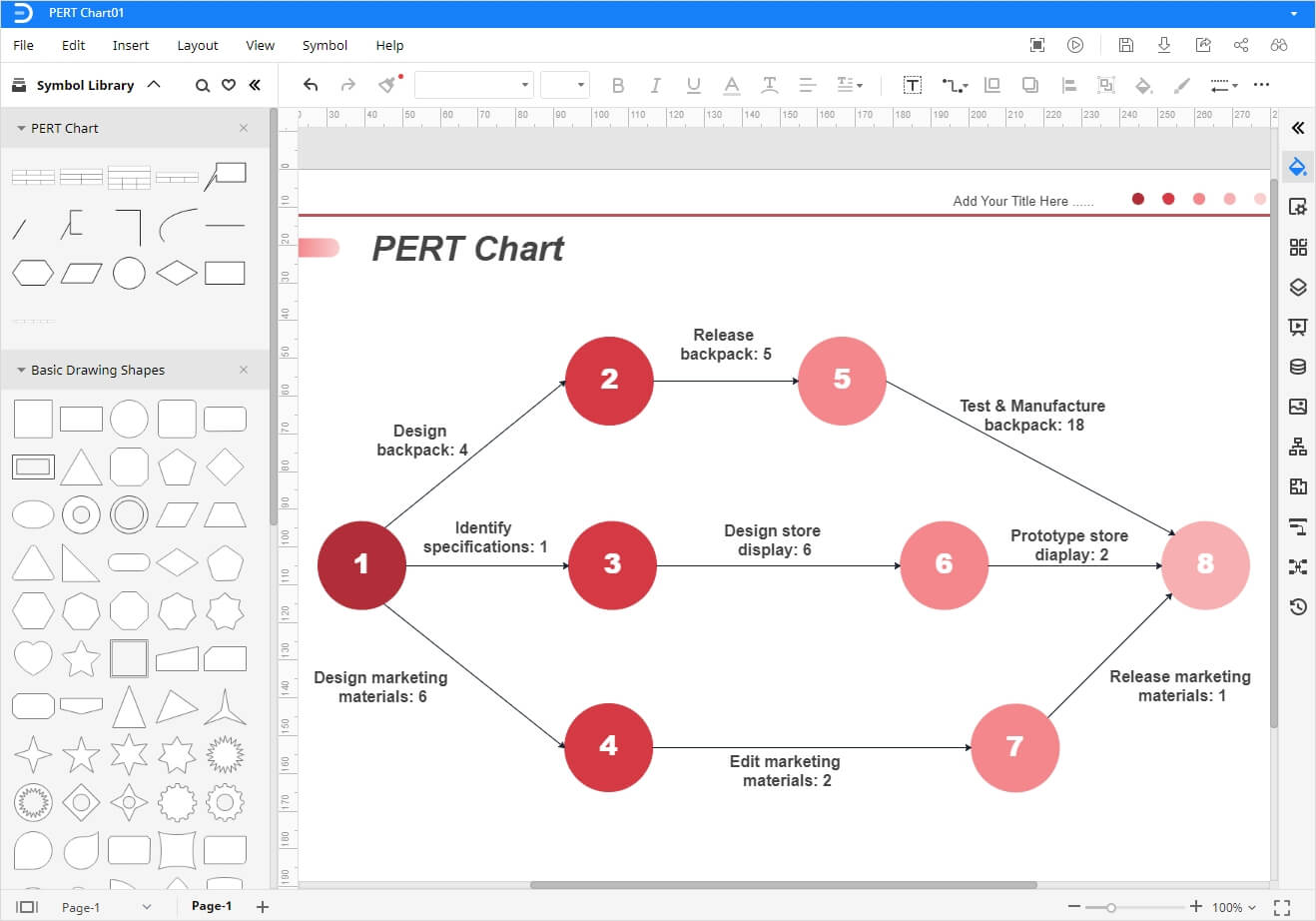 Step 5: Add Details and Save
Now you can add colors, symbols, illustrations, and images using both the symbol library and formatting tools. Keep using different ways to enhance their parents of your PERT chart until you are delighted with how it looks.
When your PERT chart is complete, go to the File tab and save it. You can save a PERT chart made in Edraw Max Online by using different saving options under the file tab. Go to File Tab and click on "Export" to select to download your document in commonly used file types.
To save the file in local storage, click on "Save,"; name the document, select file location, and store your it on your desktop. Alternatively, you can also save the file in cloud storage such as Google Drive and Dropbox by clicking on "Save As."