A birthday card is a greeting card issued or sent to an individual for their birthday celebrations. Birthday card rituals differ from people's preferences, almost like a birthday cake. The emergence of computers and the onset of the internet era and social media introductions have contributed to mobile birthday cards or even Facebook updates to deliver birthday messages.
To a lot of people, a birthday card is a sweet personal gesture. It is also well known as the most common way to express your care for those you care for.
Benefits Of A Birthday Card
You are going to a birthday party

When you're going to someone's birthday party, turning up with a birthday gift and a birthday card is a gesture of courtesy. Giving a traditional birthday card with a smaller gift card simply says the recipient's name and 'happy birthday' are also appropriate, particularly if you're not close to the person.

You are seeing someone on his/her birthday

If you're visiting or meeting someone on their birthday, it's smart to get a card to give them a gesture of courtesy. If you find yourself short of time, you can easily create a birthday card online.

You can impress people on their birthday

The interesting part about birthday cards is the customization flexibility it offers. You can customize it to the person's preference and put a thoughtful message on the card. This can easily impress them.
Why Do You Need A Birthday Card Online?
When you need an inexpensive birthday card, use Microsoft Word to create your own and print it. The software helps you to create a customizable birthday card with its easy to use tools to design.
You may not be able to find the right card that shares your thoughts and feelings towards the other person, but Microsoft Word helps you to write your own words — including but not limited to poetry.
The software lets you design a birthday card by inserting the name and a photo of the recipient. You can make someone's birthday very memorable with a handmade card coming from your heart. Once you start making your birthday card, it is vital to bear in mind the design and writing style you would like to implement.
How To Make A Birthday Card On Microsoft Word?
Step 1 - Open a new document in Microsoft Word. From the "File List", click on "New." Then choose the "Greeting Cards" option under "Microsoft Office Online Templates."
Step 2 - Select "Occasions and Events" from the "Greeting Cards" menu. Choose a template to use on your birthday card. After you choose a template, click "Open" from the bottom right corner.
Step 3 - Customize the birthday card by changing the text. To change the font, text type, font color, and text orientation, click on the "Home" menu.
Step 4 - Adjust the layout of your birthday card. You may change the color or size of an object in the context. To change the color or pattern, double-click on an item. If you want to adjust an object's dimension, press the clip art once and pull down either of the little white boxes to make it smaller or bigger.
Step 5 - Fill up the birthday card with clip arts. If you don't want to use the given clip art, simply pick the object and press the "delete" button on your keyboard.
Step 6 - To print the birthday card, select "Download" from the top's file menu.
How To Make A Birthday Card in EdrawMax?
Step 1 - Open EdrawMax -> click 'Card' -> 'Birthday card'.
Step 2 - Once selected, you can choose a template or the option for a blank canvas.
Step 3 - Create your birthday card from a wide range of shapes, colors, and grids available. You can also add a personalized message.
Step 4 - Save and export your diagram to any file type you wish to. EdrawMax is compatible with multiple file types.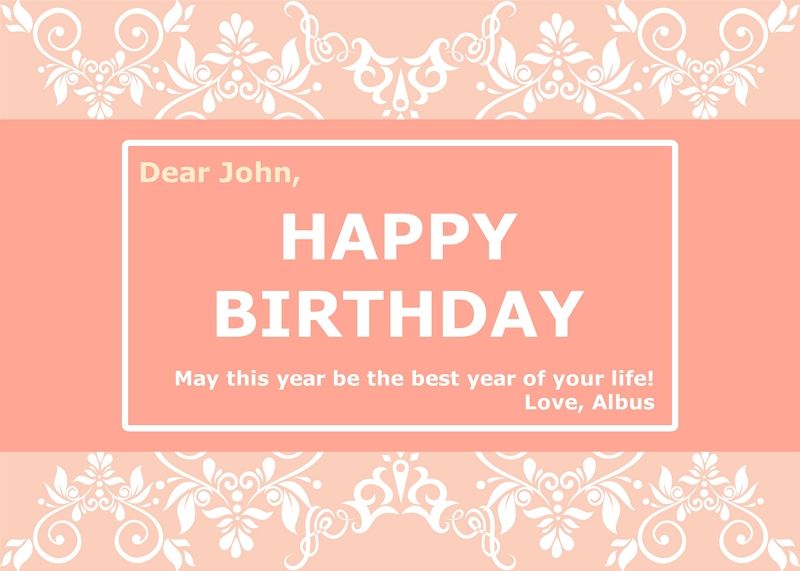 Video Tutorial: How To Make a Birthday Card?
Why Use EdrawMax To Create Your Diagrams and Cards?
EdrawMax is easier to use when it comes to designing birthday cards. Due to its user-friendly interface and multiple templates available, EdrawMax is the perfect solution for designing cards and diagrams. Here's why EdrawMax is the ideal choice -
Compatibility across platforms - Edraw Max supports all types of operating systems like Windows, Mac, and Linux as well as all common browsers like Chrome, Firefox, IE, and Safari as a web-based program.
100% security of privacy - With the highest degree of SSL encryption, all communication and file transfers are secured.
Template Options - There are many templates and design options available to ease making these graphical diagrams.