How to Make a Pyramid Chart in Excel
A pyramid chart is in the form of a triangle with different sections representing different values. All the parts are usually represented in different colors to distinguish easily. The width of each section is different. Pyramid charts work best when data is needed to be presented hierarchically. The purpose of this article is to tell you how to create a pyramid chart in Excel and Edraw Max.
How would you like to create your Pyramid Chart?
How to Make a Pyramid Chart in Excel
The pyramid chart in Excel is very easy to create. There are two ways to create a pyramid chart in Excel. Either you can use SmartArt Graphics or built-in chart tool. To create using the SmartArt Graphics, follow the below steps.
Step 1 – Open Excel and insert your values
Open Excel on your computer. Start a new worksheet and write the values that you want to represent in the pyramid chart.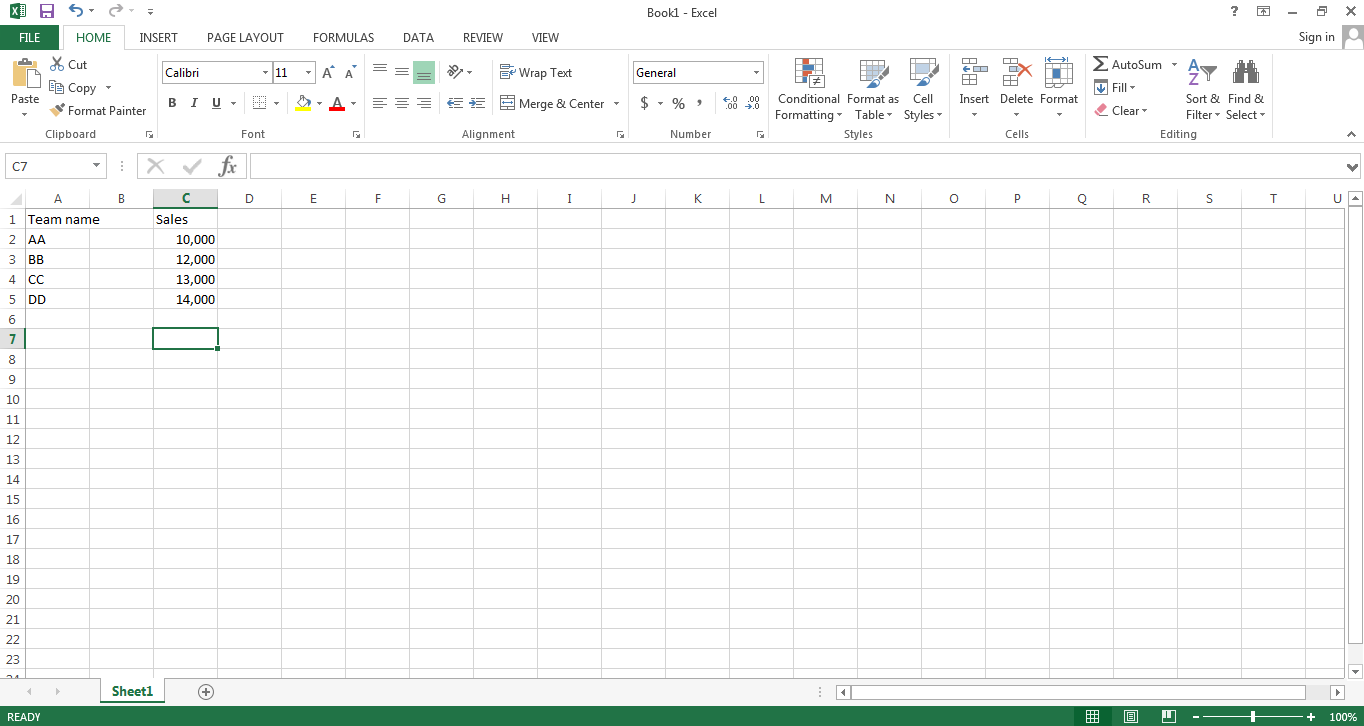 Step 2 – Select SmartArt Graphics
From the Insert tab, select the SmartArt Graphics and choose the Pyramid from the available options. To show the values in the chart, write your values in the small text box.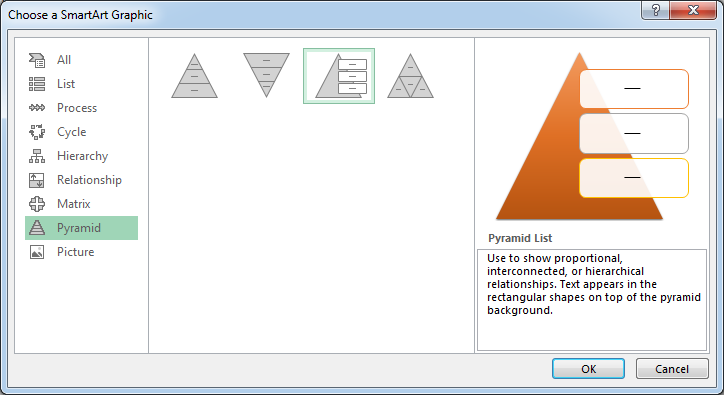 Step 3 – Insert your values
To show the values in the chart, write your values in the small text box.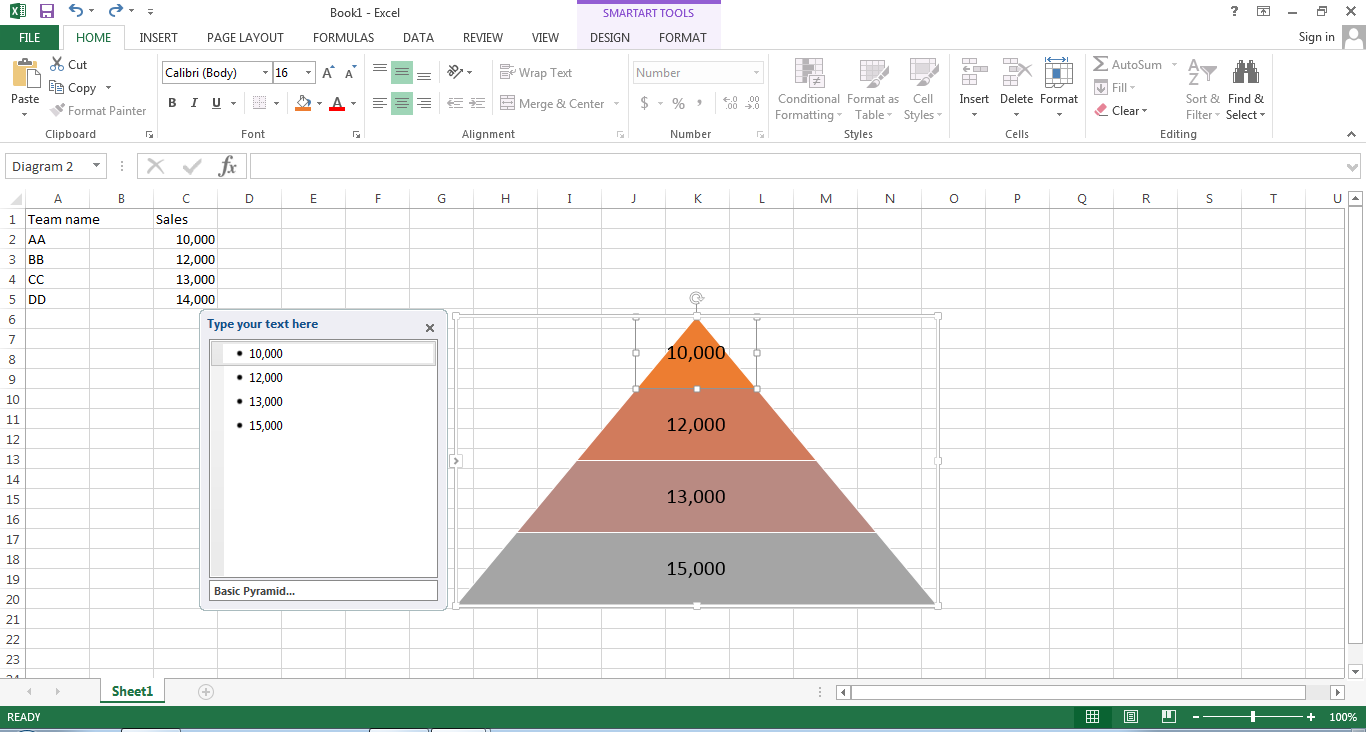 There you go! Your pyramid chart is ready.
How to Make a Pyramid Chart in Edraw Max
In case you've to do a quick assignment that involves creating a basic level pyramid chart that serves educational purposes, then Excel works just fine. But as far as a professional solution is concerned, there are better options available than Excel. Specialized software like Edraw Max is much better software to create a pyramid chart. It will not only serve your education purposes, but it is also a brilliant choice for expert-level pyramid charts.
Let's learn how you can create a modern and attractive pyramid chart in Edraw Max.
Step 1 – Login to Edraw Max Online
The first requirement is to have a registered account on the Edraw Max online tool. If you've got one, then Log in to your account. Once you have access to the online platform, you have tons of different options to create modern and professional designs for several purposes.
Here you'll be creating an expert yet very comprehensible pyramid chart.
Step 2 – Go to Marketing > Pyramid Diagrams
In the Marketing template, you can find the Pyramid Diagrams tab. Click this option to get access to several free and editable high-quality and very attractive templates that you can use as a base upon which you can build your pyramid chart. The primary focus should be on providing the information rightly in your pyramid chart and keeping it attractive will help to engage the readers.
Choose a template from the available options that you think can be a viable option.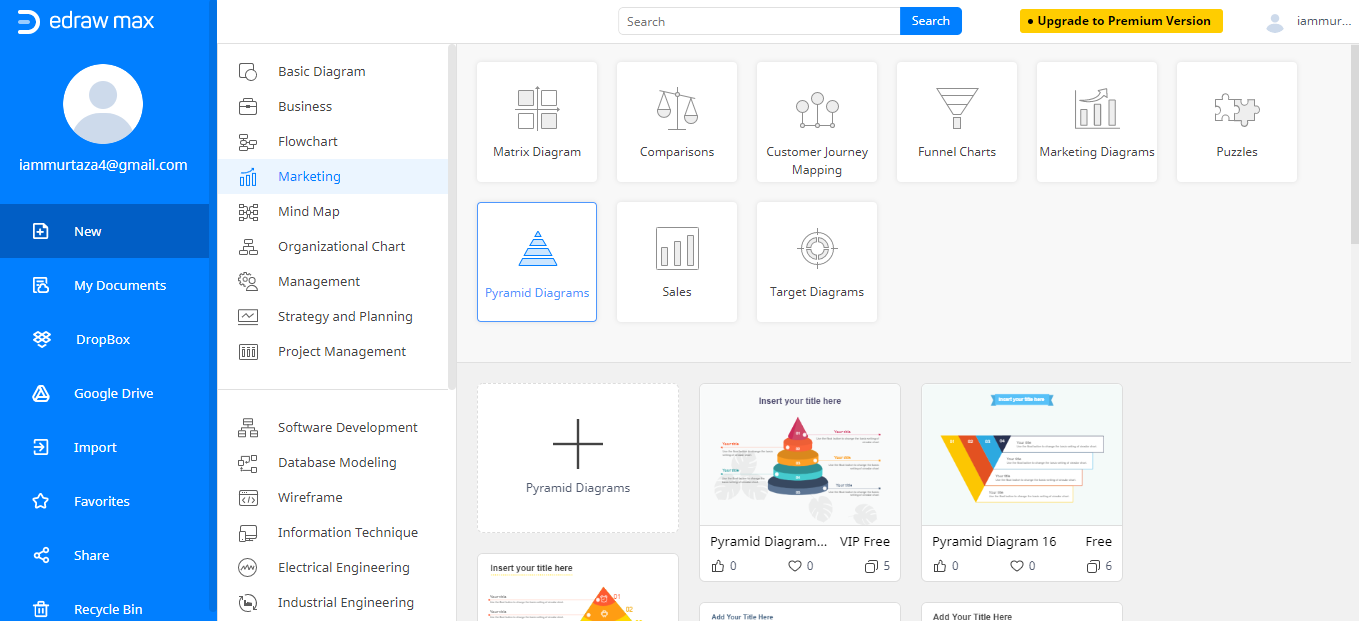 Step 3 – Edit your template
Choose the right template that can act as a solid structure for your data that you want to indicate in your pyramid chart. Below is the screenshot, you can see that it is a typical pyramid chart which is perfect for the hierarchy level formation chart.
Once the template is opened in the Edraw Max editor, you can use the editing tools to transform the template into your pyramid chart. The editor's interface is very user-friendly and navigation is also very clear so you can edit the template easily.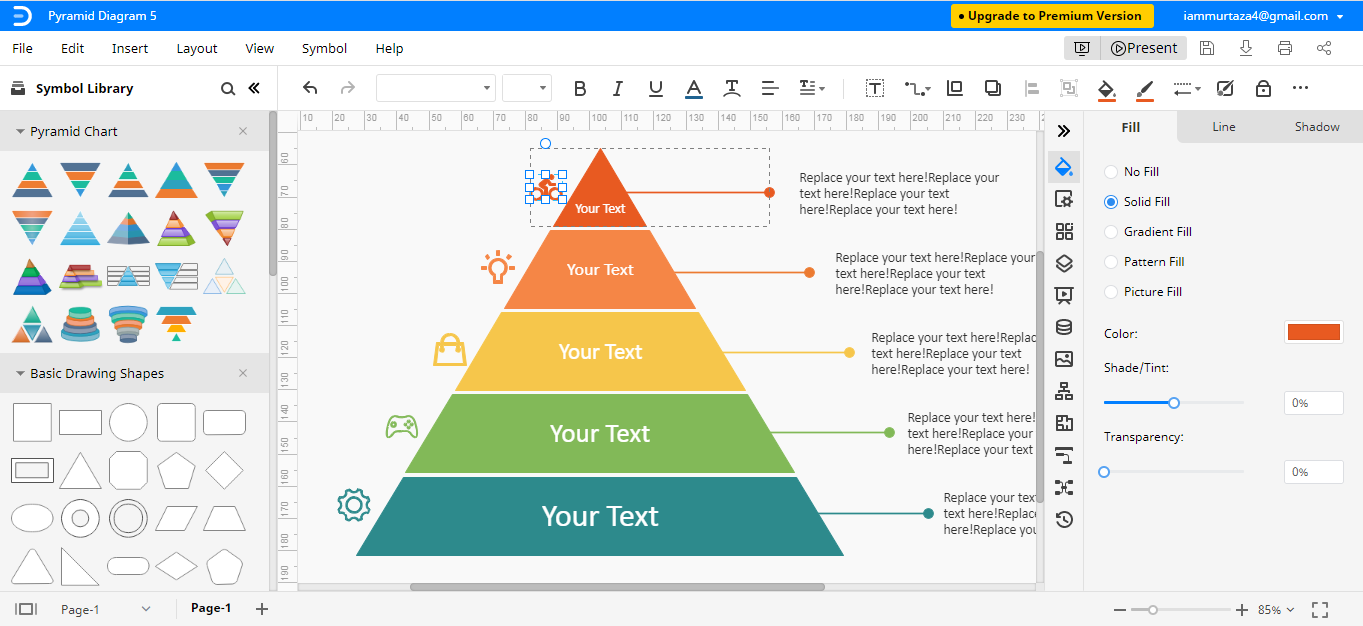 Step 4 – Add the required data
A complete and professional pyramid chart is a combination of multiple aspects and you'll need to ensure that those aspects are visible in your chart. Now, as the template is visible in the editor, make sure that every section has a different color so it is distinguished from other sections. The data or information should be visible. Let's say the background color is sharp, so the information should be in lighter colors.
To replace the text or information in the template, click the placeholder text and type whatever you want to indicate in your pyramid chart.
If none of the templates match with the blueprint that you have in your mind, then explore the Symbol Library and you'll find different pyramid shapes that can be useful.
How to Export an Edraw Chart as an Excel File
Edraw Max enables the user to have the ease of editing the Pyramid chart in Microsoft Excel. You can save your pyramid chart in Excel format. Later on, it will be very easy to edit the final chart if you need to edit something. From the File menu, navigate to the Export option and select Export Excel (.xlsx).
Edraw Max has cloud service integration as well which means you can save your pyramid chart directly to your cloud storage like Google Drive and Dropbox.
Microsoft Excel is complete software for accounting and finance-related tasks, but designing Pyramid charts is not its specialty. You can expect only basic level functions from Excel. On the other hand, Edraw Max is a specialist tool for creating basic to high-level charts and designs. If you're looking to create a professional pyramid chart for your top-level audience, then Edraw Max is the right choice to create a standout pyramid chart.