Free Editable KWL Chart Templates Examples
Engaging students in creative activities help them quickly understand new lessons and develops critical thinking. A KWL graphic organizer is the best helping tool that keeps students engaged in the topic and sharing their thoughts. Educators use KWL charts to access students' knowledge before and after teaching them something new. Here are some KWL chart examples and their uses.
1. What is KWL Chart
KWL chart templates or graphic organizers are tools that help students learn new topics, organize information and share their prior knowledge about the subject in question. KWL charts are easy to understand because students write them independently and share information regarding the lesson they are about to learn. Using a KWL graphic organizer is also beneficial for group work, and it develops communication skills. Students can learn more about their knowledge gaps regarding a specific topic with these charts.
2. KWL Chart Examples
There are various formats of KWL charts that are commonly used for multiple learning activities. KWL chart examples give you a clear understanding of the types and uses of these charts for various topics and subjects. Students focus and learn new topics every day. With KWL charts, they can easily organize their prior knowledge before learning something new and their understanding after learning the new lesson. It helps them realize their improvement because they are in charge of their learning outcome. Here are some KWL chart templates and examples.
Example 1: KWL Chart Template
This KWL chat template is the best example of how educators use these charts to understand better the knowledge gaps of their students and their input on any new topic. The chart starts with the student writing their name and class. Next is the topic statement that tells students what they are learning today. There are three columns in the template, each titled know, wonder, and learned. The KWL is an acronym for these three titles. Students ought to fill these columns based on their understanding of the topic.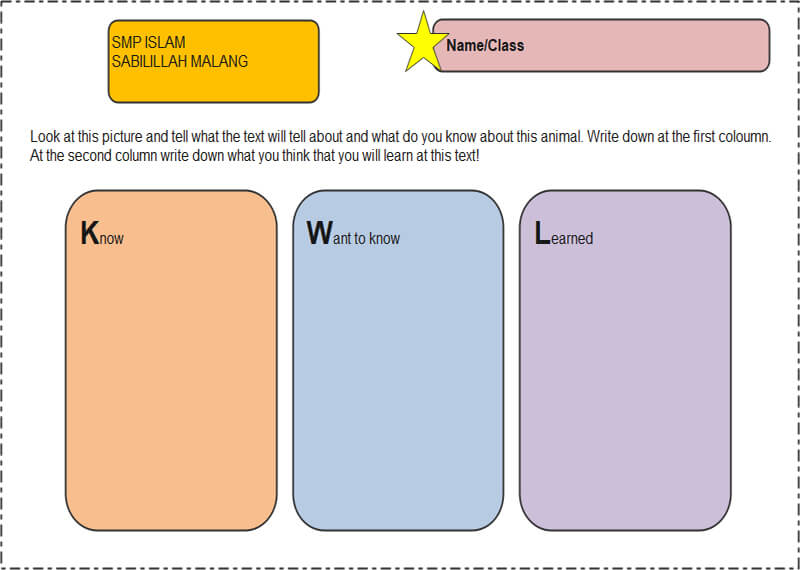 Click on the image to edit. Source: EdrawMax Online
Example 2: KWL Chart Template Google Docs
In this example, the KWL chart template google docs is a simple graphic organizer that students from all grades use to organize their information logically. There are three columns and three different titles for each of these columns in the chart. The names of these columns are K, W, L. In the K column, students enter their prior knowledge about any new topic they are about to learn, and they write everything they want to know about that topic in the W column. For the last columns, students input their outcomes after learning the subject.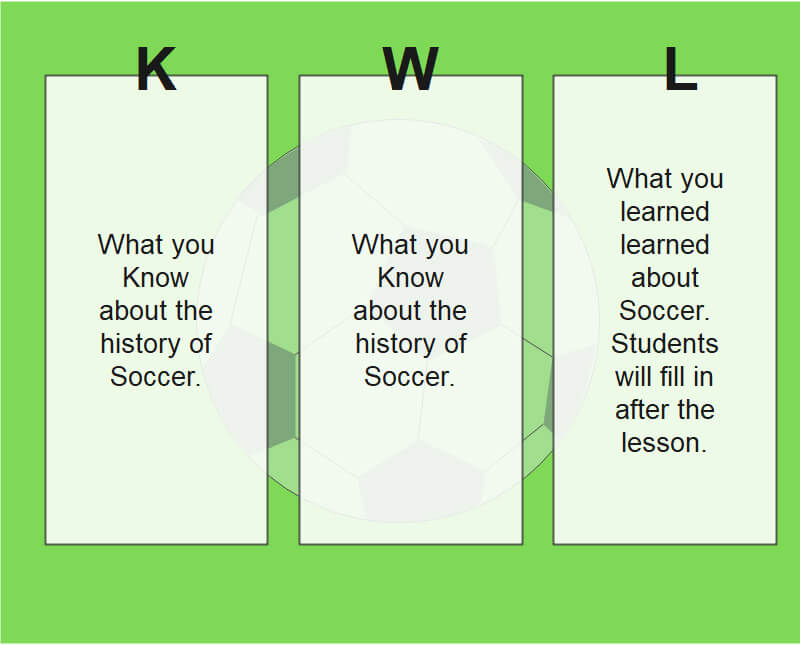 Click on the image to edit. Source: EdrawMax Online
Example 3: KWL Chart Template Word
This is a KWL chart template word example that educators use to get input from all the students in the class before and after teaching them any lesson. The topic is about animals, and each student is sharing their prior knowledge and queries before learning the subject. In the first section, those students who know a few things about today's topic share their information. The second section is students asking various questions about that topic. Students will write about what they understood after learning about that topic for the third section.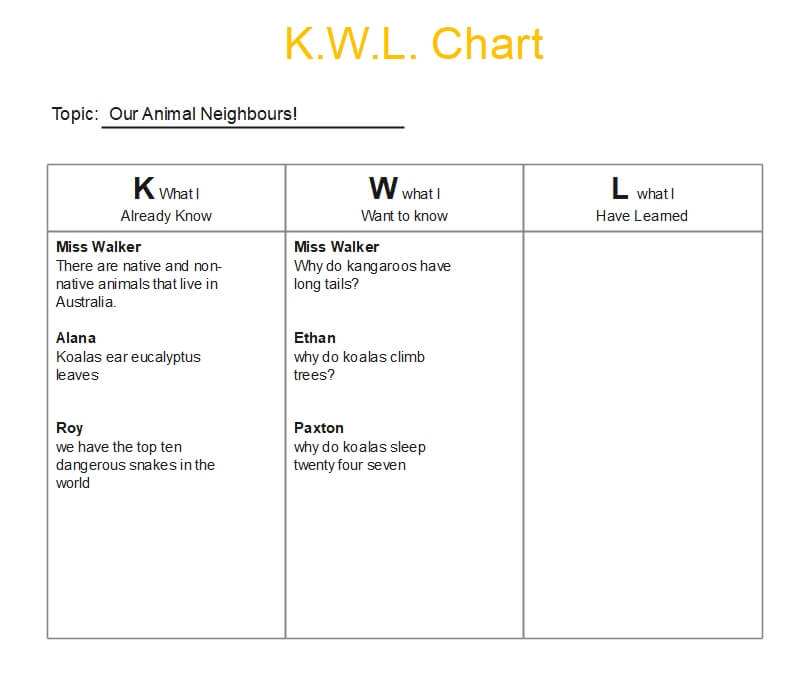 Click on the image to edit. Source: EdrawMax Online
Example 4: KWL Chart Example
This is a KWL chart example. It is a simple template that you can easily create with diagramming software. If you don't want to add icons and other customization, you can make it on the word. There are blanks at the top of this template where students can write their names and date. Its chart follows a standard KWL graphic organizer format. There are three empty columns with their titles. Students fill these columns in three different stages. They fill the first and second columns before learning the lesson and give their output in the third column after completing the class.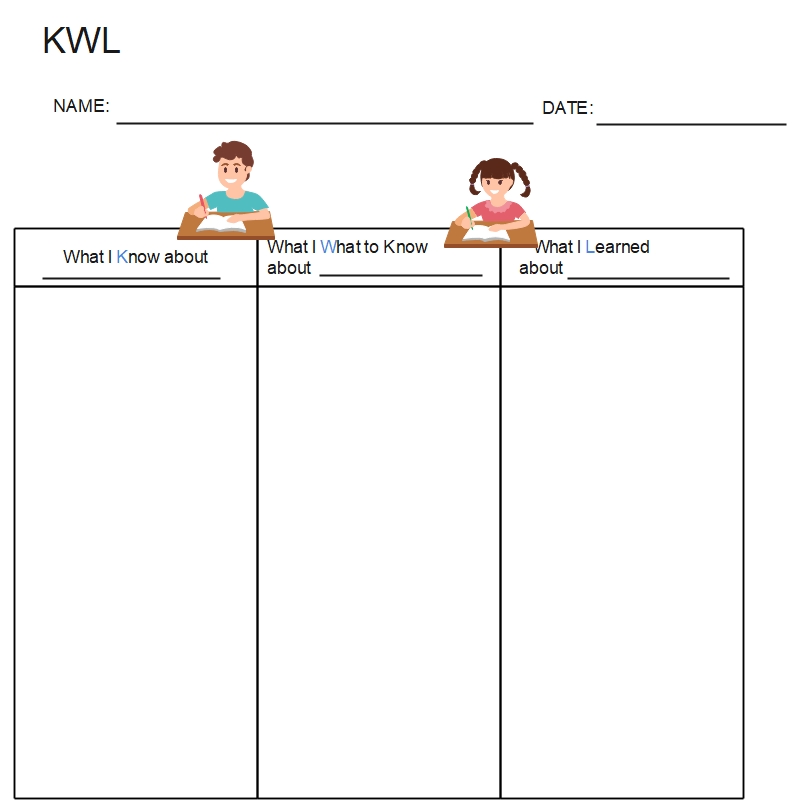 Click on the image to edit. Source: EdrawMax Online
Example 5: Free KWL Chart Graphic Organizer
The free KWL chart graphic organizer in this example comes in a different format than a simple KWL chart. Most KWL charts only have three sections, one for what students already know, one for what they want to know, and one for their learning outcome. There are three more sections in this template where students can write about new information they get after learning the topic. They can also write about everything after confirming their prior knowledge. Students can also represent the misconception that they had before learning that topic.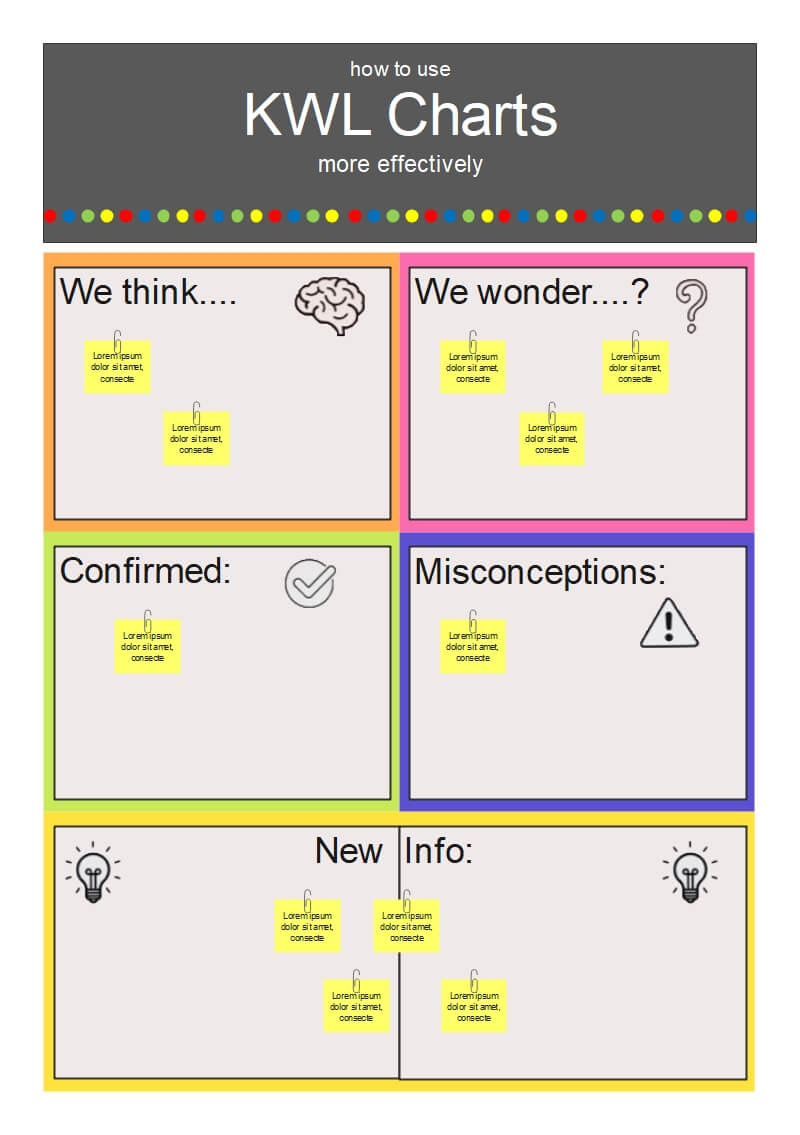 Click on the image to edit. Source: EdrawMax Online
Example 6: Blank KWL Chart
A blank KWL chart template is a great helping tool for educators to teach new lessons and topics to their students creatively. The template in this example and simple and easy to create. There are few details, only a simple chart with three columns and some icons. In the first column know, students will input their prior knowledge about the topic. The students will put their questions and everything that they wonder about the topic in the second column. After learning the lesson, students will share their new understanding of the topic in the third column.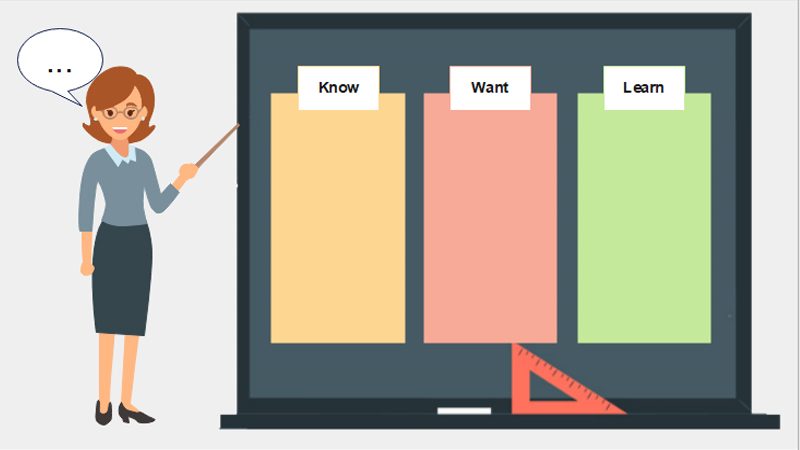 Click on the image to edit. Source: EdrawMax Online
Example 7: KWL Chart Kindergarten
The KWL chart kindergarten template is ideal for fun teaching small children various new things. Kids like engaging and creative activities. A KWL chart with bright colors and funny icons and images is best to teach them something new. They take it as a playing activity instead of learning; that is why they pay more attention and learn a lot. The template in this example is a standard KWL chart about pets. Kids will write what type of pets they know about, what they wonder about, and what their teachers told them about pets in school.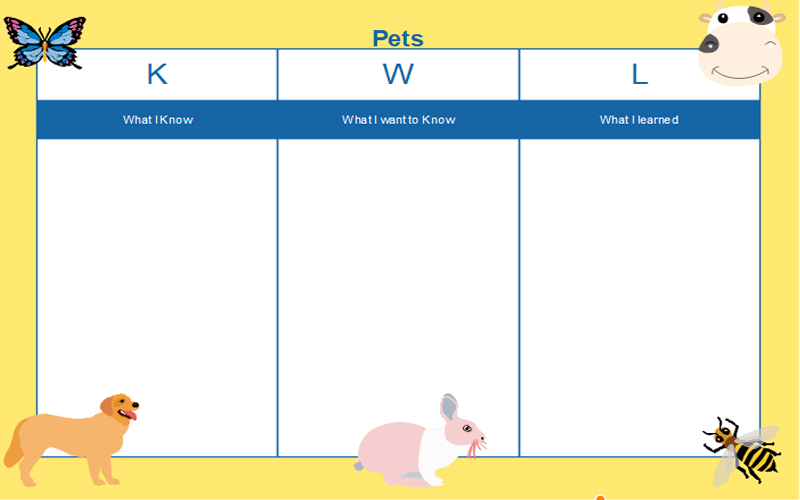 Click on the image to edit. Source: EdrawMax Online
Example 8: KWL Chart Printable
This KWL chart printable template helps educators teach new lessons to small kids in kindergarten and other small grades. A printable template helps out a lot because teachers can go to a diagramming software, get a template and print it as it is instead of wasting time and creating one from scratch on a piece of paper. The KWL chart in this example is most commonly used for small kids, and they write their prior understanding of what they will learn in the first section and present their questions in the second section.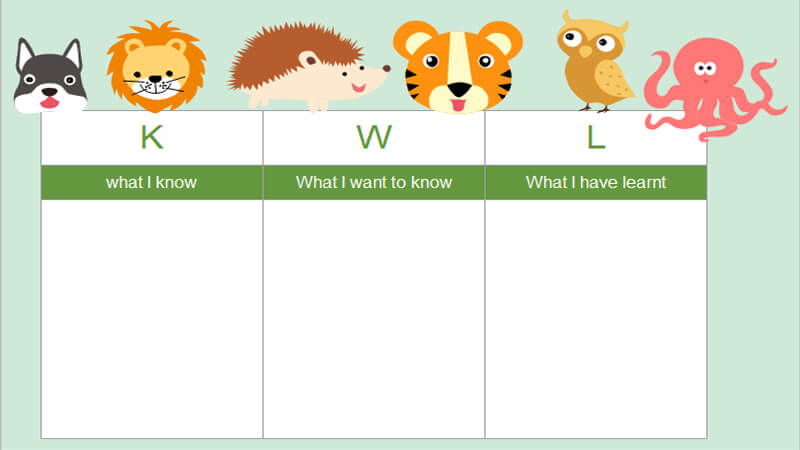 Click on the image to edit. Source: EdrawMax Online
Example 9: KWL Chart Spanish
This is a KWL chart Spanish example. The format is similar to a standard KWL chart, only the language used is Spanish. In the first section, students will share their understanding of the class's topic they are about to learn. Students will then mention their queries and what they want to learn from today's topic. In the last section, each student will write their learning outcome after the teacher finishes explaining the new topic.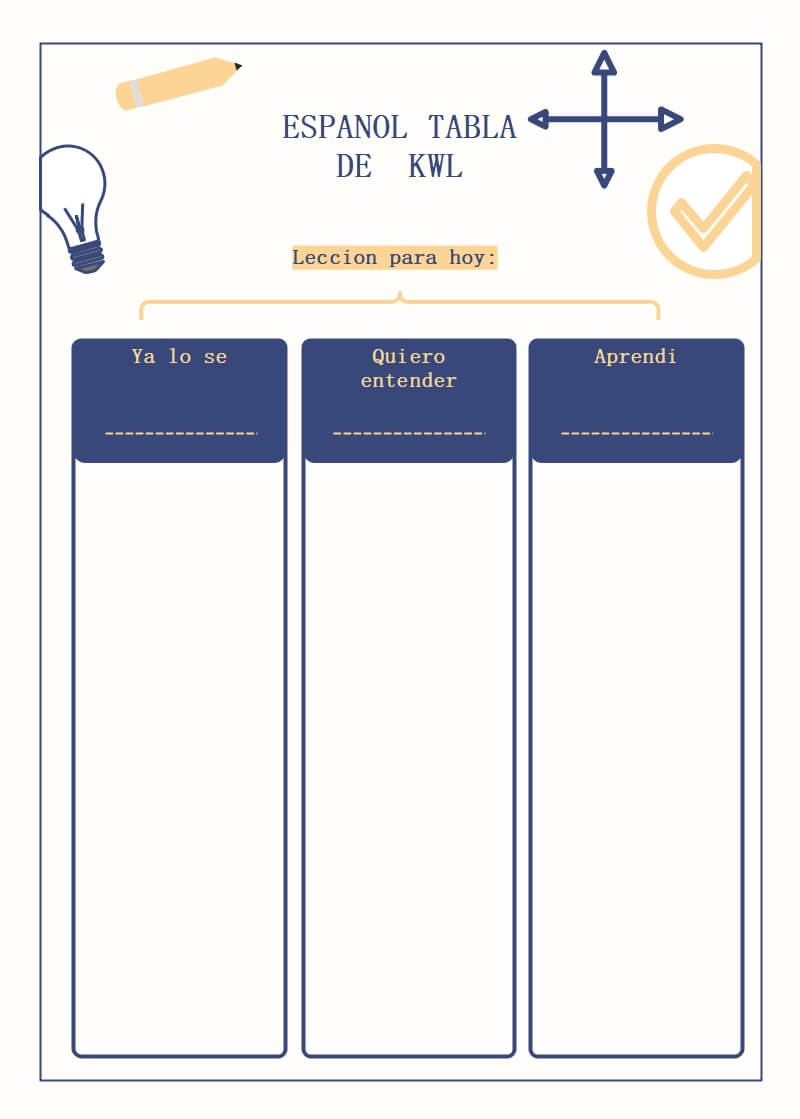 Click on the image to edit. Source: EdrawMax Online
3. Online KWL Chart Maker
KWL chart templates are graphic organization tools that help teachers take note of each stage of their teaching process, and they focus on teaching the things that the whole class wants to learn. For students, filling KWL charts is easy because they only have to write what they know, but for teachers, making KWL charts is hard, and it takes a lot of time. EdrawMax Online is a diagramming tool and the best online KWL chart maker out there. It comes with a collection of KWL templates, including all the templates that you saw in our examples. Teachers can take any of these templates from EdrawMax, customize and print them only with a few clicks.
EdrawMax Online
Create 280+ types of diagrams online
Access diagrams anywhere, anytime
Everything in desktop + Templates Community
Team management and collaboration
Personal Cloud and Dropbox Integration
4. Key Takeaways
KWL chart templates come in various formats, each with its respective uses and creativity. KWL charts for students from small grades should be different from those for students from higher grades. These charts help educators understand the knowledge gap of each student in the class and help them focus on teaching those things that the students have an interest in learning. Making KWL charts from scratch might take some time, but with EdrawMax Online, anyone can create these charts in no time. EdrawMax Online gives you a comprehensive template community and a symbol library that you can use to create diagrams and charts. Find more graphic organizer templates in the templates community.
Related Articles