Free Editable Life Mapping Examples
A busy life schedule often prevents an individual from enjoying the little blisses life has put on their path. Gratitude exercise, life paths can be a way to find those little things in life. A user can make a timeline. Here they write down their memorable events of life or milestone successes. They can also note down their challenges, happiness, perception of life in those life maps. As life maps are of different patterns, the users can check the life mapping examples before creating their life maps.
1. What is The Life Map
Life mapping examples are positive exercises that can help a person track down the things and ideas that they value in life. An individual can make a timeline to list down the important moments or activities they cherish. They can also plan their plan and challenges. These life maps allow a person to have an overall view of their life.
2. The Life Map Examples
Life mapping is a powerful self-catering exercise. A person can add their achievements, beliefs, challenges in those notes. It can help them to find the thought process that has impacted their life so far. The life maps can be of different types, and therefore a user can check life mapping examples before starting one of their own.
Example 1: Life Mapping Exercise
Although many people consider Venn diagrams a scholastic approach to complicated issues, a simple life map can also help in representing it. A person can record their way of life, resolution, thoughts through Venn diagrams. Here is a life mapping example that records some habits of a person's life early starting of a day and some healthy ideas like valuing the warm embrace of love that they get at home.
Source:EdrawMax Online
Example 2: Half Life Mapping
A person may feel burdened with the thought of achievements if they have not planned them properly. Planning things and their proper timings are significant for success. An individual can use life maps to organize things to enjoy their work process without feeling troubled. Given example is a life map of a person. It consists of the lists of works a person plans during their college days.

Source:EdrawMax Online
Example 3: Life Mapping Example
Life maps are the visual timeline, and hence a person can create a whole map while describing some memorable moments of their life. These can help them remember the past things they have enjoyed or moments that have teared them up. A person can also include the events they think as important in their life. Here is a life map example where a person has recorded their best moments from birth till the present. The life map has helped them.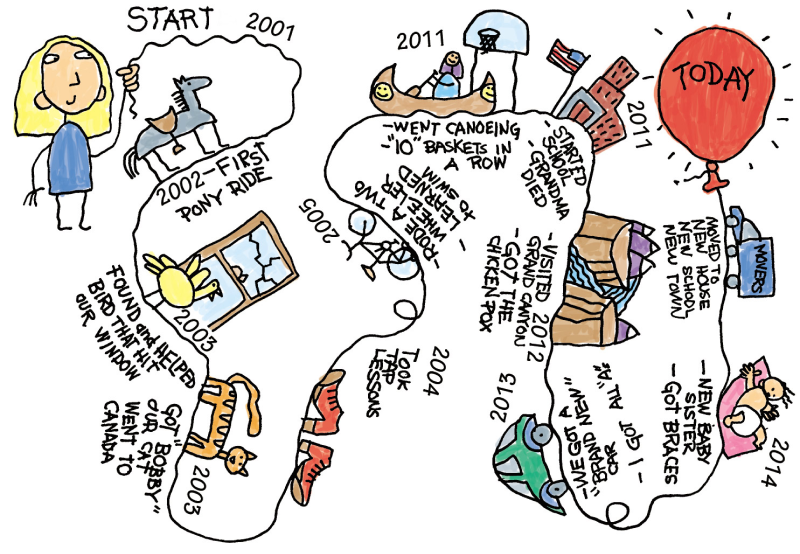 Example 4: Mapping Your Life
A person can use the neuron-like complex branched format for their life map. They can make columns like the past, present, change, challenge, expectations, etcetera., to find out their achievements and future endeavors.
They can also find their in-general view of life. The mind maps help in simplifying things for a better understanding. In the given life mapping example, the person has noted their milestone ideas.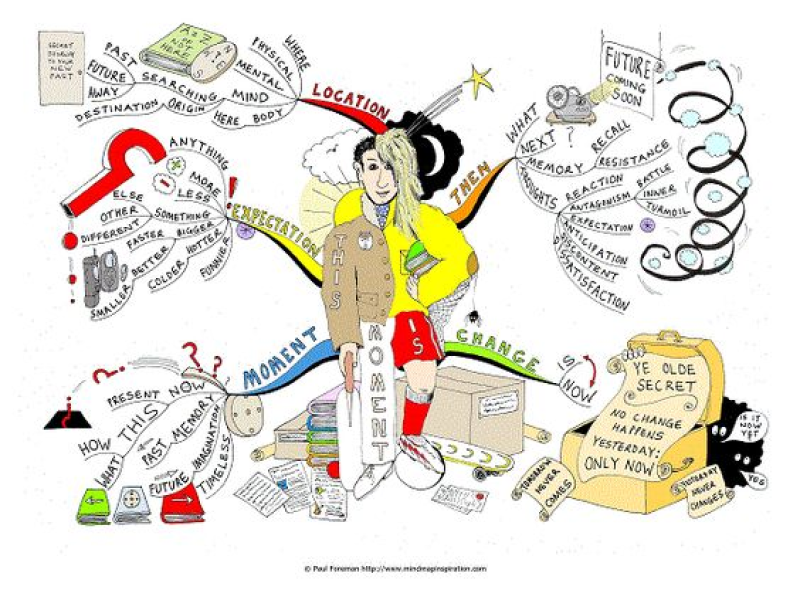 Example 5: Diyfish Life Mapping
When a person is working on their life maps, they can use these branched mapping techniques. It will help them to create a timeline of their life. A person may also consider listing the ideas and thoughts they value in life. It can give them an idea about the keynote that plays the tunes of their life. Here is a life mapping example that follows the format of mind mapping.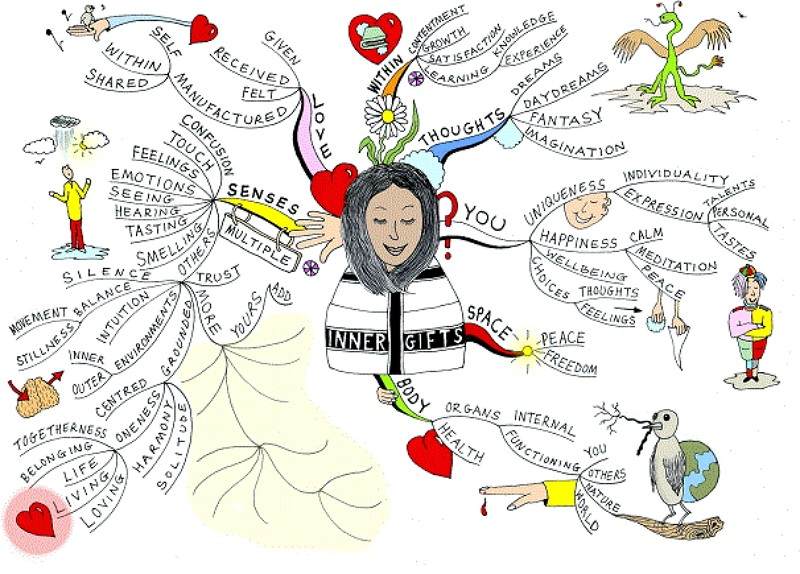 Example 6: Mapping My Life
Life maps can show an individual how to value the moments of their life. When a person enjoys their activities and moments, there are chances that they can contribute to a happy and prosperous society. An individual can list their favorite activities, things that make them happy, their creative outputs, etcetera. It can help them to spot the positive thoughts that drive their life.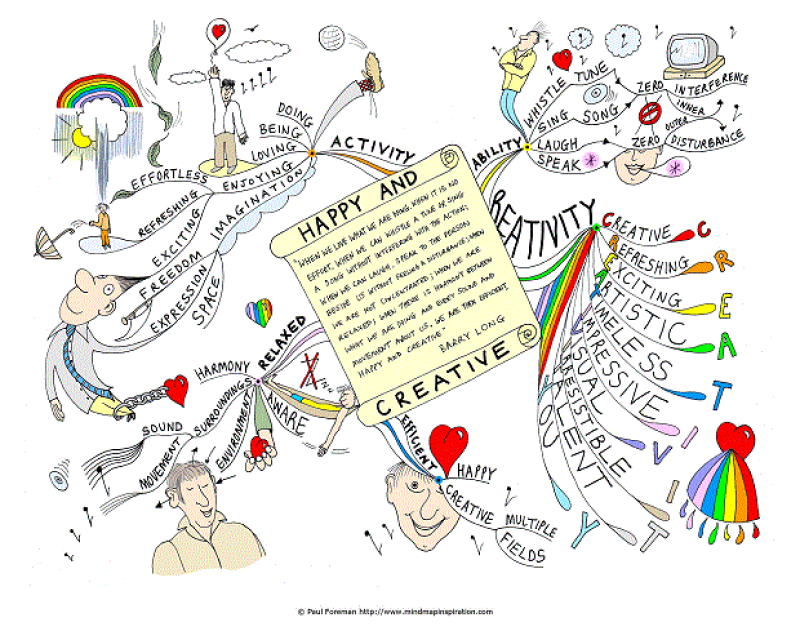 Example 7: Life Mapping Planner
A person can plan their overall growth over the years using this life mapping technique. An individual can have distinct goals for different chapters or parts of their life. They can unite them in a life map where they can list those ideas with classification. Here is a life mapping example that shows the person's goal. It includes varied segments such as attitude, education, public service, personal growth, career, health, wealth, relationships.
Source:EdrawMax Online
Example 8: Life Mapping Template
A life map can give an individual an opportunity to point out the things related to their identity. The person can write about their dreams, hobbies, creativity, family, etcetera in their life map. It can allow them to know their thoughts about life and how their perception sees different things. Here is a life mapping example that a user can take as a reference.

Source:EdrawMax Online
Example 9: Life Map Example
Anyone can use life maps to set their goals. A person can set their goals and work on them with the help of life maps. The given life mapping example shows how an individual can plan their life goals. Life goals can be of two types, personal and professional. The user can break down these two types of goals into smaller tasks, considering the minute details. They can also incorporate the ideas like enjoying the task and feeding the enthusiastic mind in their work-life mentioned in the life map.

Source:EdrawMax Online
3. Online Life Map Maker
As the life mapping examples can be of different formats and styles, making the life maps may seem tricky. The users can take the help of online life map maker tools. They can use EdrawMax online life map maker for this work. The application comes with some templates, which make it easier for inexperienced users to work with them. They also have their resource team, and the users can seek help if they need any.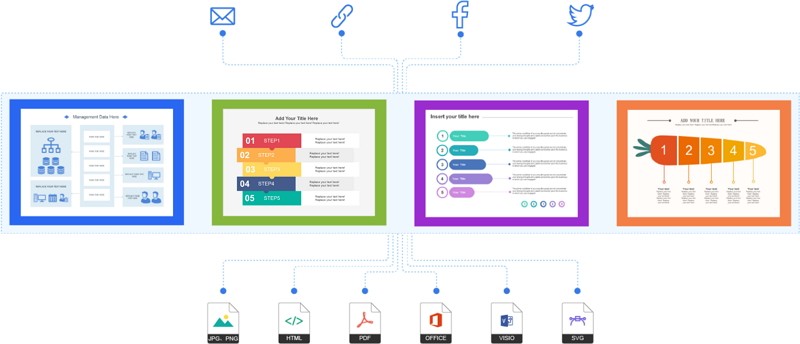 Why Choose EdrawMax Online
Create over 280 diagram types
Supports team collaboration
Personal cloud & data protection
Print, share and download
Powerful template community
4. Key Takeaways
Life mapping examples allow a person to have an assertive view of life as they can list down their thoughts and ideas which tune in their life. A user can make life maps with the help of online tools like EdrawMax. It is a user-friendly tool that can help them to create one very quickly.
In conclusion, EdrawMax Online is a quick-start diagramming tool, which is easier to make Life Maps and any other visuals. Also, it contains substantial built-in templates that you can use for free, or share your design with others in our Template Community.