What is Personal Finance Flowchart
A personal finance flowchart is important for your financial condition. We have suggested just 5 simple steps with template to make a personal finance flowchart that will help you to achieve satisfaction with your financial condition.
1. Lead-in Part
Anyone who has tried navigating the world of personal finance knows it can be a minefield. It can be difficult to decide which of the many goods and services offered will meet your needs. Thankfully, there is a personal finance flowchart that can help you make sense of it all.
Personal finance flowcharts can be a helpful way to keep track of your bills and finances. By starting with your income and then tracking where your money goes, you can create a budget and see where you may be able to save money. Personal finance flowcharts can also help you keep track of your bills and payments, so you can be sure that you're staying on top of your finances.
2. What is Personal Finance?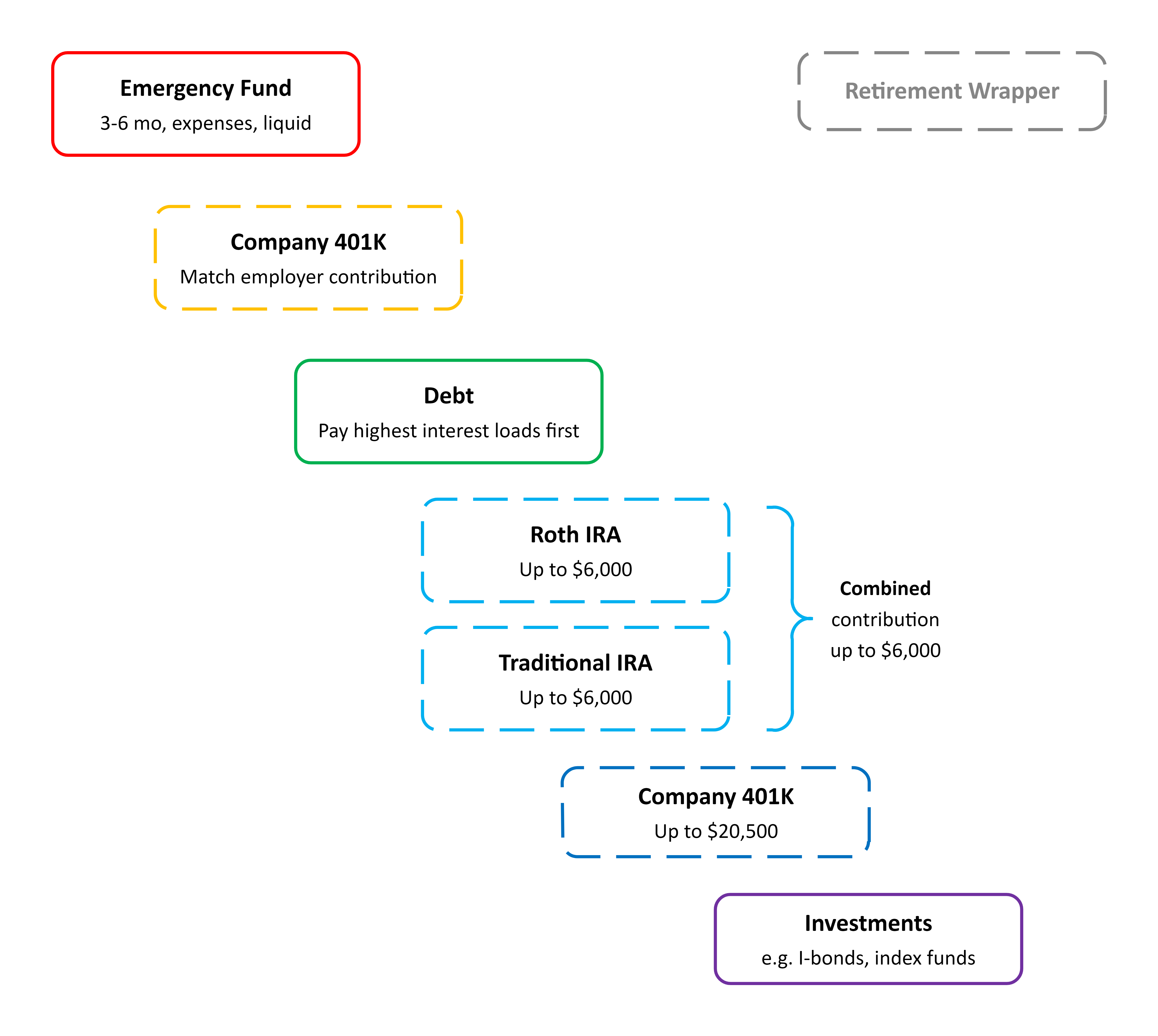 Personal financial management is the process of making and directing choices regarding money. This includes everything from budgeting and investing to saving for retirement and insurance. Personal finance is also about taking on debt, such as mortgages and student loans.
Your spending habits should help you make sure that your funds are working for you. It's about making choices that help you meet your financial targets, such as purchasing a house, saving for retirement, or financing your child's schooling. Personal finance is about getting the most value from your money and ensuring it's effective for you.
#1 Why is personal finance important?
Financial well-being is crucial. Is it because it affects how you live? It would greatly assist if you weren't concerned about your financial situation. In the American Psychological Association's study "Stress in America: A National Mental Health Crisis," 64 percent of Americans consider money to be the primary cause of stress.
One way to conquer anxiety and stress is by doing something about it. It's acquiring the necessary skills and knowledge to manage your money in saving, investing, and saving. These skills and knowledge can all help you reach your financial goals.
Your financial situation is in your hands. There is a lot of great advice available to help you get started. You're already on the right path. Due to personal finance, you can achieve these kinds of goals:
Financial literacy is the key to a healthier lifestyle
You develop good savings habits
It helps to increase awareness of and a sense of responsibility
It creates a positive connection between money
It helps to promote the stability of your finances.
3. How to Make a Personal Finance Flowchart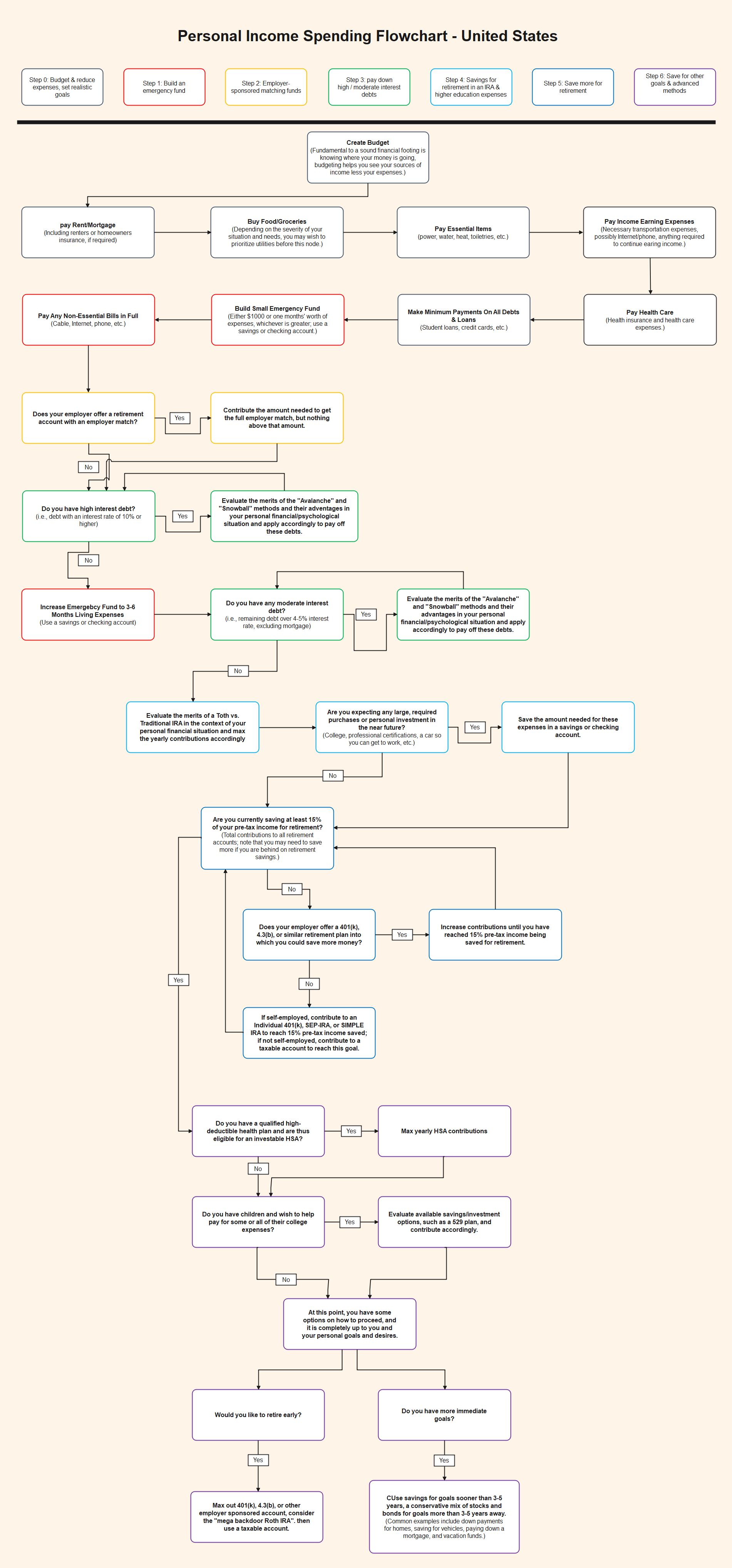 1. Build up your emergency fund
Personal financial management is the procedure that involves budgeting, saving as well as investing money to meet your financial goals. Many people think that Personal finance is only about money, but it's also about making smart choices with your money to reach your goals.
Building your emergency funds is among the first stages in personal finance. The emergency funds are for unexpected expenses, such as medical bills or car repairs. Many experts recommend keeping 3 to 6 months' worth of expenditures for living in an emergency savings account. When unplanned expenses arise, establishing an emergency fund in place might prevent you from getting into debt.
Do not worry if you haven't any funds. Start modestly by allocating $5 each week. Once you have saved up $1,000, you can start working on building up your 3-6 months of living expenses. Personal finance is all about making small changes that add up over time. Start today, and you'll soon be in the process of achieving those financial objectives.
2. Utilize your employer's 401(k) match
Personal finance is a critical but often overlooked aspect of life. Without a solid understanding of personal finance flowchart, it can be easy to fall into debt or make poor investment choices. However, by learning about personal finance and developing a financial plan, you can set yourself up for success. One of the first steps to creating a personal financial plan is to use the 401k match offered by your employer.
By contributing enough to receive the entire match, you can instantly give your retirement savings a boost. Not only will this help you to reach your retirement goals sooner, but it can also save you money on taxes.
In addition, most employers offer other benefits, such as matching contributions for charitable donations or tuition reimbursement, that can help improve your financial situation. By taking advantage of all your employer's benefits, you can set yourself up for a bright financial future.
3. Pay down your debt
You can concentrate on paying off your debt if you have amassed emergency savings and are making contributions to your retirement funds. The most efficient approach is to concentrate first on the debts with the highest returns. When you pay off the high-interest debt, you will cut down on interest payments and free up money to use towards other debts.
Thinking about transferring your balance to an interest-free credit card or obtaining personal loans is also possible. Decreasing your spending will hasten the process of paying off the debt.
4. Increase your IRA and 401(k)
Personal finances flowcharts are organizing and managing your finances to attain the financial objectives you have set for yourself. A significant aspect of personal financial planning is saving money for retirement. There are many ways to save for retirement, but two of the most common are 401 k plans and Individual Retirement Accounts (IRAs). Tax benefits provided by 401(k) plans and IRAs can encourage you to increase your retirement savings.
Additionally, most employers offer some matching contributions for 401k plans, which can further boost your retirement savings. For these reasons, it's often recommended that people max out their IRA and 401k contributions. If you're uncertain of how much you can put into your retirement funds, see a financial counselor. They can help you figure out how much you need to save based on your unique circumstances.
5. Continue investing
A number of financial decisions need to be made throughout one's life, and the goal of personal finance is to make these decisions in a way that leads to financial success. Investments are the most crucial component of financial management.
Through investing, people can place money into assets that may appreciate in value over time. This could be a significant source of income during retirement and assist in protecting against inflation. These factors make it crucial to keep investing even after achieving your financial objectives. Doing so will help keep your finances on track and ensure long-term financial security.
4. Online Personal Finance Flowchart Maker
A personal finance flowchart is a great way to monitor your financial condition. It is essential to continue investing even after reaching your financial goals. Edraw Max is a free diagramming tool that can be used instead of pen and paper or other traditional tools.
You're wasting most of your precious time if you've been scribbling on your diary or notebook back and forth to create your ideal personal finance flowchart. You can now plan, visualize and create the perfect early retirement or any other plan without scribbling around with a pen and paper. EdrawMax Online allows you to make the ideal form of diagrams that you cannot create manually using a pen and paper. The best part about EdrawMax is that it is free software that offers you effortless innovative templates. Grab a template today or choose one from Templates Community and customization as per your taste.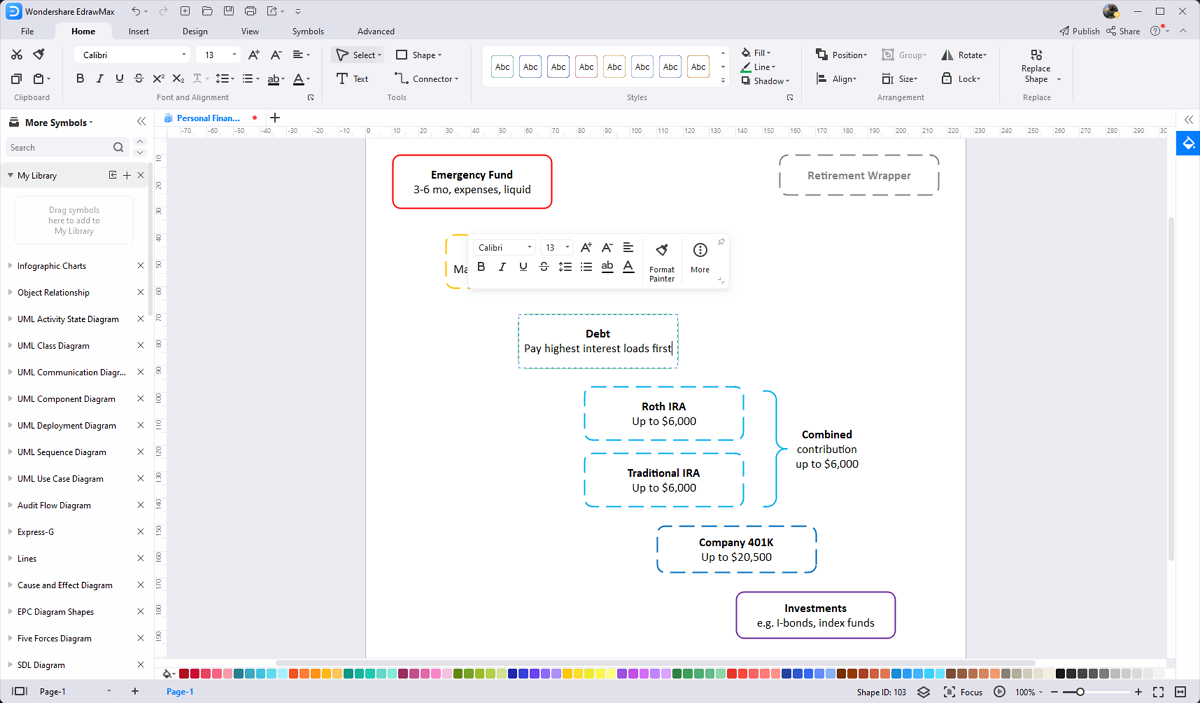 5. Key Takeaways
You may position yourself for a prosperous financial future by utilizing all of your employer's advantages. After you've established an emergency fund, you may concentrate on eliminating your debt. Tax benefits provided by 401(k) plans and IRAs can encourage you to increase your retirement savings. 401(k) contributions are often recommended, so max out your IRA and 401k contributions. Through investing, individuals can place money into assets with the potential to appreciate in value. EdrawMax allows you to create professional personal finance flowcharts and graphs that stand out in all possible ways.
EdrawMax Online
Create 280+ types of diagrams online
Access diagrams anywhere, anytime
Everything in desktop + Templates Community
Team management and collaboration
Personal Cloud and Dropbox Integration
Related Articles