Free Editable Infographic Icons and Symbols
An infographic is a chart made up of data collection, visual diagrams, and information presented in an attractive way using infographic icons. It uses data visualization such as pie charts, bar graphs, waffle charts, and line graphs to deliver loads of data in a simple chart that is easy to understand.
1. What Are Infographic Icons
An infographic combines data visualization, graphical elements, and text to present a wealth of information precisely. The graphics elements are mostly consistent with widely accepted infographic icons. There are many types of these infographic icons that summarize and efficiently communicate complex information and ideas. Graphic features include symbols and notations related to different fields. For example, a traffic infographic includes traffic signs, traffic signals, and road graphics. Data visualization infographic icons are an essential part of almost all types of infographics. This is because data in raw form is difficult to understand and needs time to comprehend. At the same time, data charts and graphs summarize this data into a visualization that is simple to grasp.
In the next section, we will introduce different infographic icons commonly used in various fields. Such as food, education, medical, marketing, and PowerPoint infographic icons.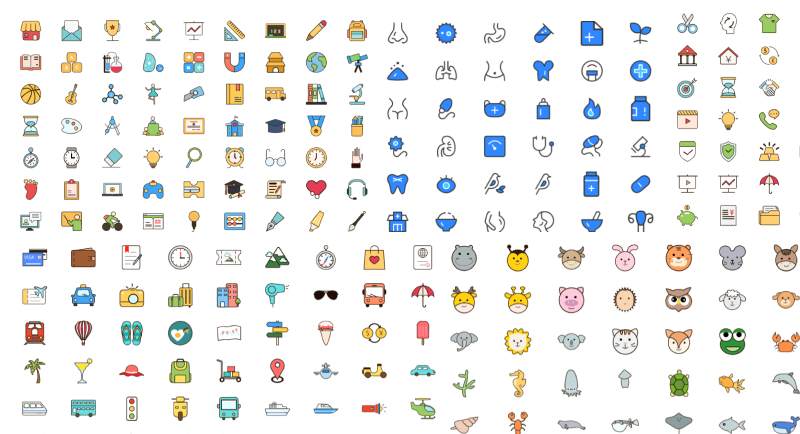 Source: EdrawMax Online
2. Infographic Icons Explained
2.1 Food Infographic Icons
Food infographic icons are a collection of graphical symbols that encompass infographics related to food and diet. There are many applications of these graphical charts. For example, a chef uses food infographic icons for presenting her recipes or tips. A dietitian uses the same icons to provide the diet charts and instructions attractively. A food researcher or analyst uses food infographic icons for showing advantages, disadvantages, and general guidelines for using types of foods. So, next time you are serving Thanksgiving dinner to your family, why not post the menu using a food infographic? Impressive, isn't it? Find more menu examples.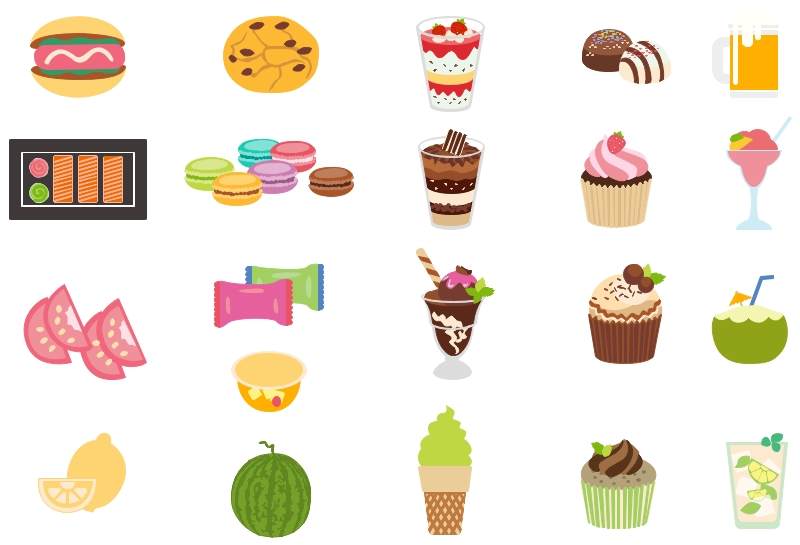 Source: EdrawMax Community
2.2 Education Infographic Icons
As we know, more than sixty percent of the population is visual learners. This is why education infographic icons are very popular in education from many perspectives. Students can take advantage of infographics for idea generation, notes taking, and information retention. While teachers also use them for presenting the information for students in a visual and attractive manner so that students take interest and absorb information and matter easily with less time and effort.
Education infographics are popular in special education. Since students with autistic, ADHD, and disabilities usually think in pictures, therefore infographics are the best tools for them. It makes the teacher's task and students' learning simple, fun and fruitful.
How can we forget those PowerPoint slides used in the project and assignment presentations by the students? Everyone is set to impress, and graphics and visual tools are the best way to accomplish this task.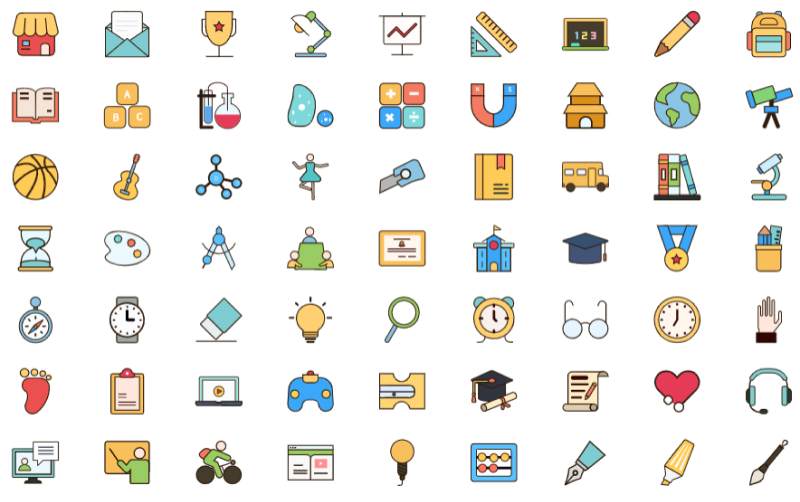 Source: EdrawMax Community
2.3 Medical Infographic Icons
You must have seen medical infographics in clinics, hospitals, and other medical facilities. Do you remember those charts with information about a disease, medicine, or vaccine? Yes, those charts use medical infographic icons to deliver pretty boring yet informative text in an attractive presentation. Medical infographics have many applications in multiple fields. For instance, medical researchers make use of infographics for unveiling their research and critical information for fellow researchers. Medical infographic icons are also used for creating awareness campaigns and mobilizing people for health-related best practices.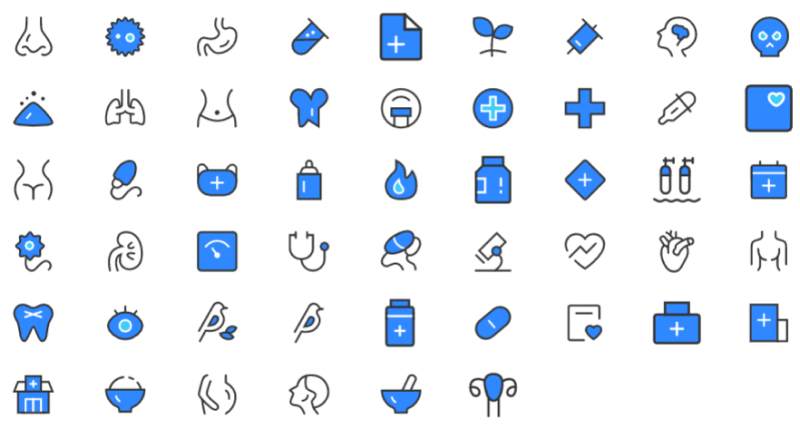 Source: EdrawMax Community
2.4 Marketing Infographic Icons
Marketing is probably the most popular field in which infographic icons are used. The texts, reports, and the marketing materials like pamphlets, brochures, and handouts are all types of marketing infographic icons. The complex numbers, data, and ideas are made easy to understand by using different types of charts, graphs, and icons. Markets also deliver their innovative ideas and solutions through infographics because the only text is not enough to make the right impression.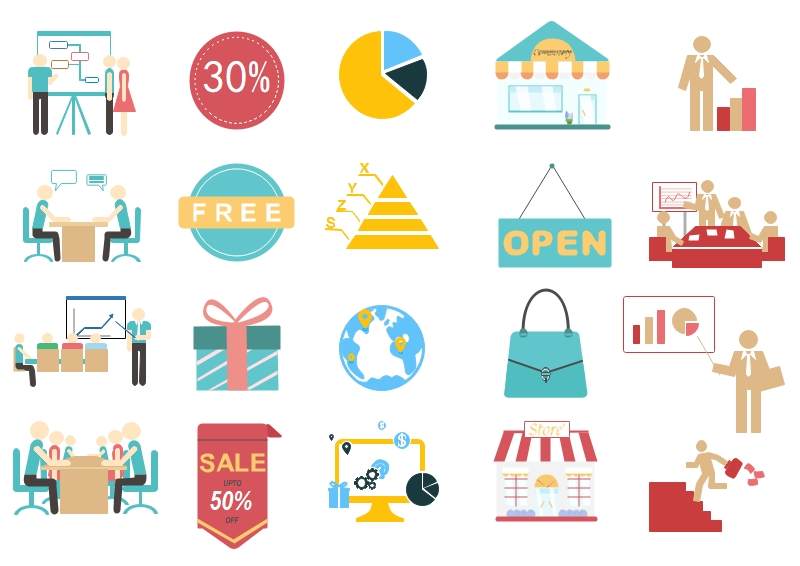 Source: EdrawMax Community
2.5 PowerPoint Infographic Icons
Do you also consider your first PowerPoint presentation as your first graphics project? Well, many people surely do. Though the times have changed and now there are many tough competitors for PowerPoint, but it still remains among the popular presentation programs. Interestingly, you can combine your infographic icons with PowerPoint slides to make killer presentations for your school, clients, research proposals, or even for your idea discussion. Present your tricky statistics and boring analytical data with attractive charts and graphs to keep the audience engaged in the discussion.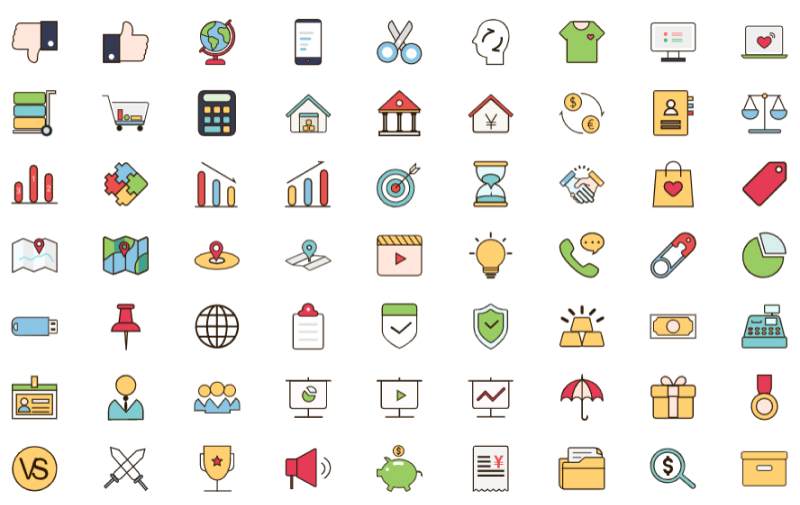 Source:EdrawMax Community
3. Tips for Using Infographic Icons
EdrawMax Online is a premium drawing software that supports more than 280 types of diagrams and drawings. EdrawMax Online makes it very simple to make attractive infographics with free infographic icons, charts, text customization, and visual elements. You can use the drag and drop layout to add different elements to your infographics concept.
3.1 Use a Professional Infographic Maker
1. Find infographics icons at EdrawMax Online>Symbol Library. You can add the bars and charts library from EdrawMax Online>Symbol Library>Graphs and bars>infographic charts. Interestingly, you can use thousands of different symbols from virtually every field because EdrawMax has libraries for more than 280 types of drawings. So, the sky's the limit.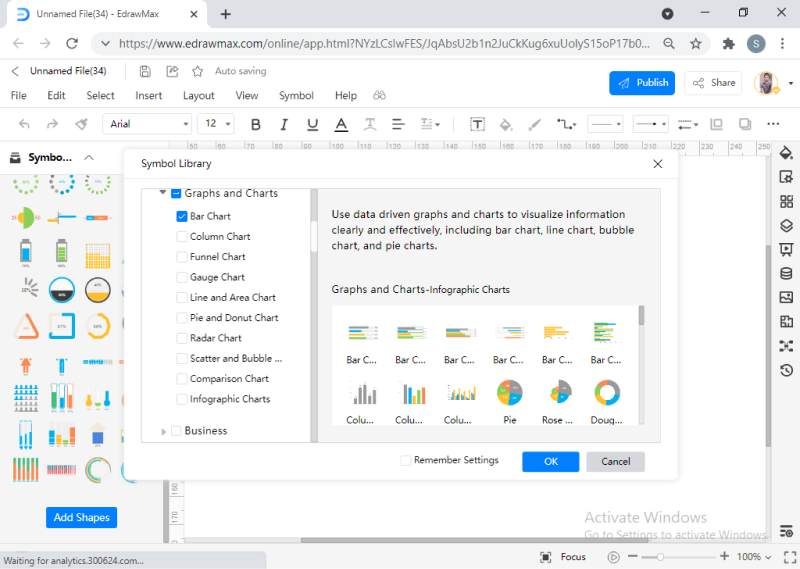 3.2 Create Symbols by Yourself
EdrawMax Online has a comprehensive symbols library for infographic icons, bars, and charts. However, if you want to add any unique graphic element, you can easily do it with a few clicks. Import of symbols is available for images, symbols, or data from files format such as SVG, VSSX, etc. You have to navigate to the library option on the left-hand sidebar and click on the import icon. In the new window, you will find options for importing your file in different formats.
You can also learn more from this video. YouTube.
4. Conclusion
Infographics use images, graphs, infographic symbols, and numbers to deliver information fast but in a visually attractive way. Since statistics and numbers are hard to understand, infographics use visual elements to make them eye-catching, concise, and easy to read. However, using so many elements can become increasingly difficult and hard to manage. Using an easy-to-use drawing and presentation software like EdrawMax Online makes it simpler to create infographics with the use of a well-stocked infographics icons library and ready-to-use templates. The templates are very well crafted and can be fully customized according to your requirements to give you a quick start. Find more infographic examples in the templates community.
EdrawMax Online
Create 280+ types of diagrams online
Access diagrams anywhere, anytime
Everything in desktop + Templates Community
Team management and collaboration
Personal Cloud and Dropbox Integration
Related Articles