Reflected Ceiling Plan Symbols and Meanings
A Reflected Ceiling Plan or RCP shows features of the ceiling as if shown onto a mirrored floor below. RCP uses different reflected ceiling plan symbols to deliver the view from looking down at the interior ceiling. The main elements of the RCP plan include electrical wiring, light fixtures, ceiling treatment, and other items suspended from the ceiling.
1. What Are Reflected Ceiling Plan Symbols
Reflected plan symbols include lights, smoke detectors, light fixtures, lighting panels, sprinklers, speakers, cameras, monitors, grilles/diffusers for HVAC grilles and diffusers. The reflected ceiling plan also specifies the height of the ceiling, type of ceiling, whether it is conventional, suspended, tray, beam, and the kind of ceiling treatment or finish such as plaster, drywall. In other words, you can say it must give all details that help the user visualize how the ceiling will look in texture, treatment, and dimensions.
Along with the basic concrete reflected ceiling plan symbols, the other constituents of an RCP plan are a key about symbols used on the plan and another key for letters assigned to each fixture.
2. Reflected Ceiling Plan Symbols Explained
There are a variety of reflected ceiling plan symbols. It starts with a simple light, ceiling fan, and probably louvers. The advanced stage has a complete framework of all lighting, telecom, safety, and HVAC reflected ceiling plan symbols, along with textures and treatments. Let us review the basic categories of all symbols that make a reflected ceiling plan.
2.1 Lighting Symbols
Lighting is an essential part of any structure, be it an office space, house, or commercial setup. In the preliminary phase, you can identify the place where you will put a general light symbol. As you add details to your RCP, you can specify what light you will use and add a specific reflective ceiling plan symbol accordingly. Here are the types of lighting symbols available.
Downlight: It is the light with an angle towards the floor, so its reflection goes downward.
Multi-light bar: It is a bar with multiple lights on it.
Batten Fluores: A batten light is a long tubular light for clear light across a large area.
Modular Fluores: The modular fluorescent light fixtures can be configured with the tubes in both modules being parallel or perpendicular to each other.
Emergency Light: For warning about situations.
Emergency Sign: Emergency light with good sign.
Light: Generalized light fixture.
Ceiling Light Outlet: Light mounted on the ceiling.
Recessed Ceiling Light: They are installed in the ceiling and are mostly used for low ceiling structures.
Ceiling Fan: Common ceiling fan sign
Weatherpressure Landscape: Shows weather landscape.
Ceiling Light With Pull: Ceiling light with pull switch.
Emergency Battery Unit: Works in place of main power in an emergency.
Spotlight: Mostly used in artistic infrastructures.
Exit Sign: Usually employed in big industrial, commercial, and workspaces.
Roadway Light: Street light.
Twin Lights: A pair of lights for brighter illumination.
Integrated Light: These are the panels already fixed with LED.
Night Light: Usually a dim light for night use.
Louvers: A set of angled slats fixed or hung at regular intervals to allow air or light to pass through.
2.2 Telecom Symbols
Technology is an essential part of life now. As the technology is advancing, more and more telecom fixtures are being introduced in the market. Therefore, an RCP must be flexible enough to accommodate the current telecom needs and cushion for more additions. Let us review the reflective ceiling plan symbols related to telecommunication.
Digital Satellite System: This shows the satellite system and will probably be used in advanced telecom settings.
Telephone Jack: Telephone Jack is an outlet for connecting telephone.
Telephone Outlet:: It is a telephone wiring inside a building for connecting to a telephone network.
Antenna: For radio telecommunication.
Radio Relay Station: A radio relay receives weak signals and retransmits them in different directions.
Radio Station: Radio stations are electronic equipment responsible for radio wave communications.
2.3 Sensors Symbols
Sensors are now important in any structure. It is a legal restriction to use proper sensors in some commercial and other architectural structures.
Temperature sensor: Signals when the temperature goes out of range.
Humidity sensor: Shows humidity level.
Enthalpy sensor: It senses and combines the temperature and humidity of the air outside.
Pressure sensor: Shows the current air pressure.
Flow sensor: Senses the flow of liquids and gases.
Smoke detector: For fire safety.
Other important symbols are the Velocity sensor, Voltage sensor, Rotation sensor, Light sensor, Power sensor, Air quality sensor, and Heat sensor.
2.4 HVAC Symbols
HVAC stands for Heating, Ventilation, and Air Conditioning. This category of reflected ceiling plan symbols includes all symbols related to this equipment, including diffusers, ducts, outlets, and thermometers. The main symbols in this category are Grille diffuser rectangular duct, Linear diffuser, Troffer diffuser, Supply diffuser, Supply air grill, Return diffuser, Grille side, Fan ceiling, and Thermostat.
2.5 Switches Symbols
Switches include all devices that can control any electronic or electrical fixture's turning off and turn on. There are many different types of switches that you can employ in your reflected ceiling plan. You can use a general switch symbol for simplicity, or you can go ahead and use more specific symbols like a single-pole, three poles, four-pole switches. Then the dimmer switch is also there for controlling the power transmission.
2.6 Electrical Outlet Symbols
Electrical outlets in a reflected ceiling plan show the outlets for electrical connectivity. The most common electrical reflective ceiling plan symbols are Single sockets, double sockets, fan outlets, dryer outlets, dishwasher outlets, etc. The complete list of available electrical outlet symbols is as follows.
Singleplex receptacle outlet
Duplex receptacle outlet
Double Duplex receptacle outlet
Triple Duplex receptacle outlet
Quadruplex receptacle
Duplex receptacle outlet-split wired
Range outlet
Dryer outlet
Waterproof convenience outlet
Switch and convenience outlet
Split wired duplex outlet
Split wired triplex outlet
Duplex special-purpose outlet
Dishwasher outlet
Drop outlet
Fan outlet
Lamp holder
Pull switch
Blanked outlet
Clock hanger outlet mounted
Socket
Three-hole socket
Socket outlet
2.7 Fire and Security Symbols
Safety and security are important whenever any structure is built. Especially in current times, when high-rise buildings and more compact structures are becoming a norm, safety and security mean saving lives. The most common symbols in this category are bell, doorbell, electrical bell, buzzer, card access, and fire alarm. A smoke detector is also an essential symbol. Considering the more advanced security threat, television and telephone outlets are also part of this symbol category.
2.8 Ceiling Fan Symbols
Ceiling fan symbols are also very important and come in many varieties. It includes a ceiling fan, exhaust fan, louver fans, and fitted fans.
3. RCP Symbols PDF
We have created a printable reflected ceiling plan symbols PDF file that you can download and print if you want a quick reference. You can download the file by clicking on the image below.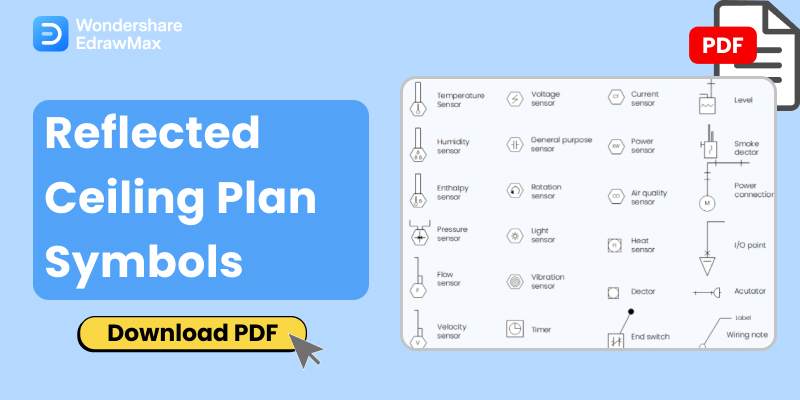 Click the image to download RCP Symbols PDF.
4. Expert Tips for Using Reflected Ceiling Plan Symbols
Reflected ceiling plans are an important part of any architecture. As the technology is getting advanced, more and more fixtures are getting fixed in the ceiling. This plan may include HVAC, security, safety, fire alarms, sensors, telecommunication, and lightning symbols.
With this wide range of symbols and utility, easy to use and efficient software is a must-have tool for all architects. EdrawMax Online is a recommended program, but its trial version is free to use and comes with extensive libraries of all types of symbols and templates. You can draw RCP plans along with 280+ other drawing types. Here are some tips for using reflected ceiling plan symbols.
4.1. Use a Professional Reflected Ceiling Plan Maker
Find floor plan symbols quickly from From EdrawMax Online>Symbol Library>Floor Plan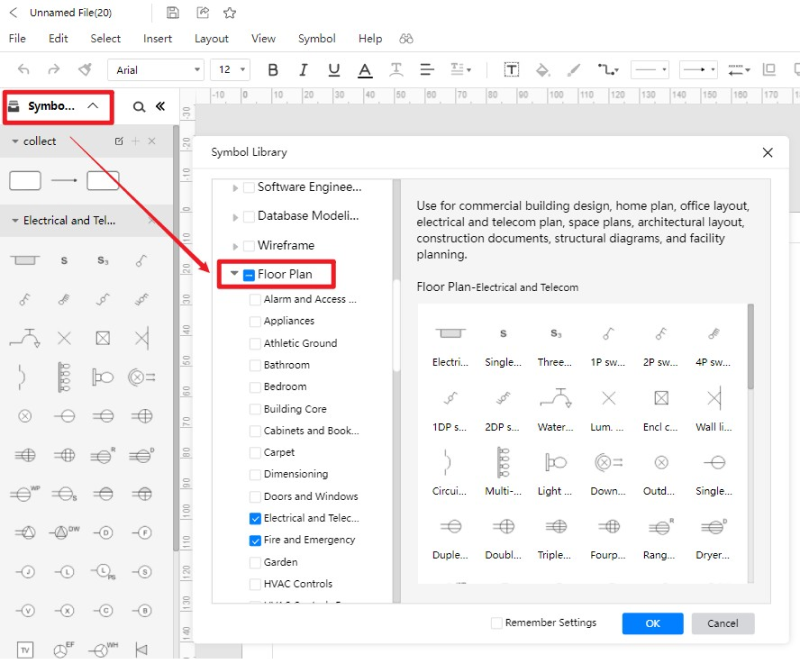 4.2. Create Symbols by Yourself
Though EdrawMax Online has a comprehensive RCP symbols library. However, if you want to add more symbols, then you can import. Create your symbols by yourself and add them to the library. Go to the library option on the sidebar and click on the import icon. A new pop-up window will appear, and from this, you can import images, symbols, or data from files format such as SVG, VSSX, and so on. Here is a video to learn more. If the video doesn't play, please visit it at YouTube.
5. Conclusion
Reflected ceiling plan symbols make ceiling plans very easy to make. More specific and detailed symbols build a foundation for implementing the plan and procurement very easily. Graduating from floor plans to more advanced plans is like building brick by brick for comprehensive and measured architectural practices. EdrawMax Online is a great tool for every architect because it has libraries, templates, and an almost exhaustive symbol repository for all architectural plans. Its simple layout and drag and drop feature enable even beginners to use it effortlessly. Check out this reflected ceiling plan maker and create rcp plan right now.
EdrawMax Online
Create 280+ types of diagrams online
Access diagrams anywhere, anytime
Everything in desktop + Templates Community
Team management and collaboration
Personal Cloud and Dropbox Integration
Related Articles