1. What Is Roadmap Infographic
Roadmap infographic is strategic planning documentation that is used to express long-term objectives in briefings or PowerPoint presentations. They emphasize critical dates, targets, and benchmarks for an organization or department to attain over a duration of time (typically quarterly or annual). Roadmap infographics are very useful in presentations since they make critical dates and project schedules that are straightforward and easier to grasp! Roadmap infographics are handy for aligning units within a business or team members inside a division. Product managers, executives, heads of departments, and team leaders utilize them to assist people in working together towards a common goal.
2. The Roadmap Infographic Examples
Mostly everyone agrees on the value of user perspectives and a well-defined methodology, but the function of the roadmap is far more complicated. Who must have exposure to the roadmap, and how much information should they be given? What should the best product roadmaps achieve (and what should they avoid)? Are roadmaps a remnant of history, obsolete in today's dynamic modern age?
To answer all these mind-numbing questions, it is important to analyze some of the roadmap infographic examples, as they serve as a boon for understanding or conveying information in a more simplified, straightforward way. So, without further ado, let's jump into analyzing the roadmap infographic examples.
Example 1: Roadmap Infographic
A standard roadmap infographic focusses on conveying a specified route to an objective. To be more precise, a roadmap infographic is a visual representation of the final destination of an objective and the path that leads to it. Solid typography, vibrant colors, and understandable symbols are critical aspects of a well-designed roadmap, such as this one. The route is beautifully specified with stopping points that serve as subheads to achieve the set goal at the bottom.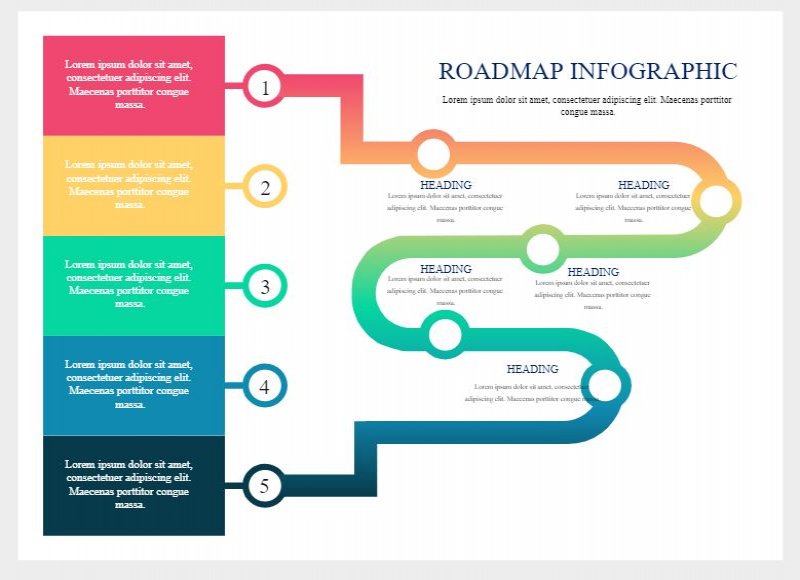 Example 2: Roadmap Infographic Template
This roadmap infographic template specifically focuses on logos and icons to graphically represent the core objectives and the path that leads to it. The entire roadmap is filled with stopping points defined using icons to understand the importance of the goal, followed by a short description. Users now can easily understand the various steps involved in reaching the goal by understanding the titles and reading the descriptions.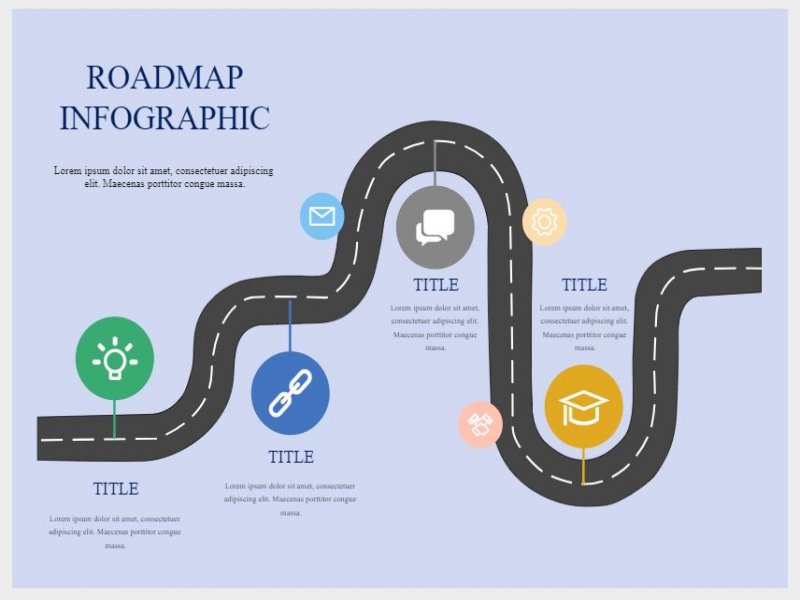 Example 3: Product Roadmap Infographic
Design must shake things up with new efforts, origins, and discoveries in the face of fresh product approaches and targets. This product roadmap infographic primarily shows how to convert product objectives into creative values by utilizing four links: assessing activity tactics, brainstorming ideas, narrowing keywords, and defining design purposes. Understand the event's methodology, explain the event's aim, attend product-related workshops, and discuss product strategies with both the marketing unit and commodities.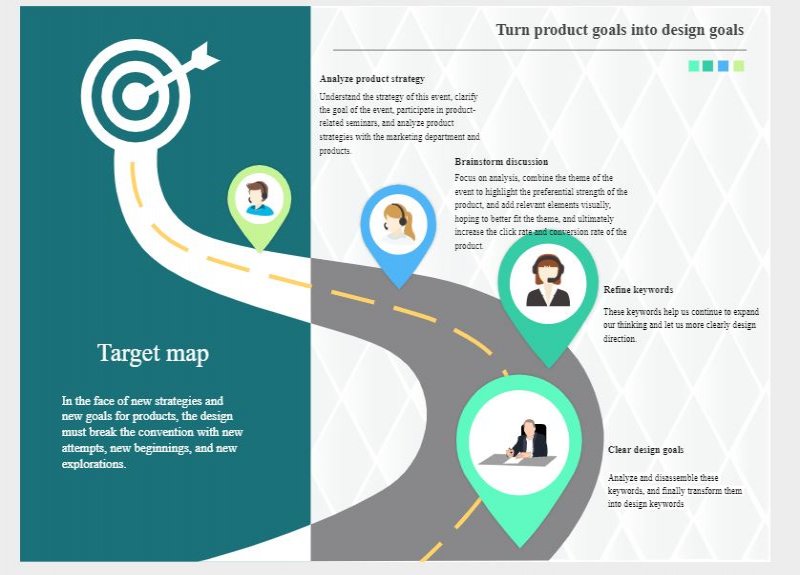 Example 4: Blank Roadmap Infographic
Unlike other specified roadmaps, a blank roadmap infographic does not incorporate any enticing icons or symbols. Instead, a blank roadmap infographic focuses on the core subheads and descriptions to lead a user to achieve an objective. Here, the stopping points are indicated only with pointers and a brief explanation.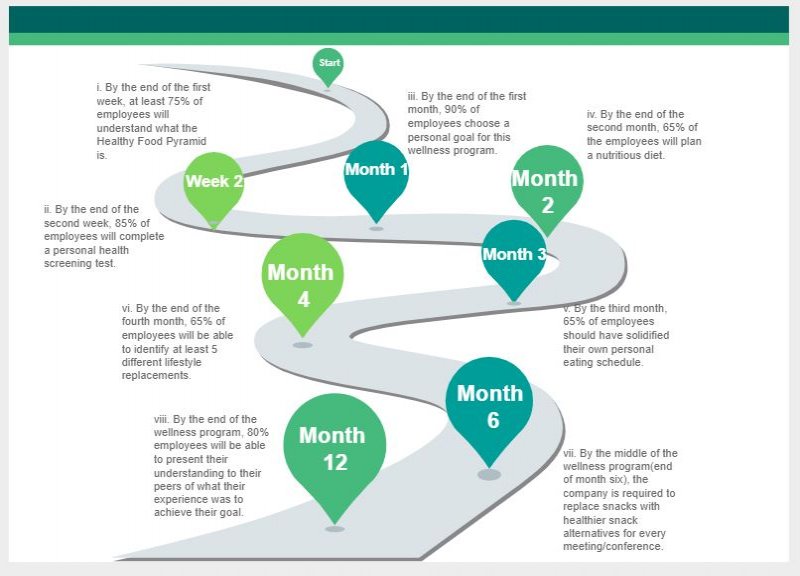 Click on the image to edit. Source: EdrawMax Online
Example 5: Project roadmap infographic
The project roadmap infographic above depicts the three primary stages of a product's development, beginning with assessment, research, and completion. As shown in the diagram above, there are four key areas: proposed, scheduled, in-progress, and completed. A business team may use swim lanes (mentioned in the diagram above) to plot objects on a customizable layout and select attributes for both vertical and lateral slides.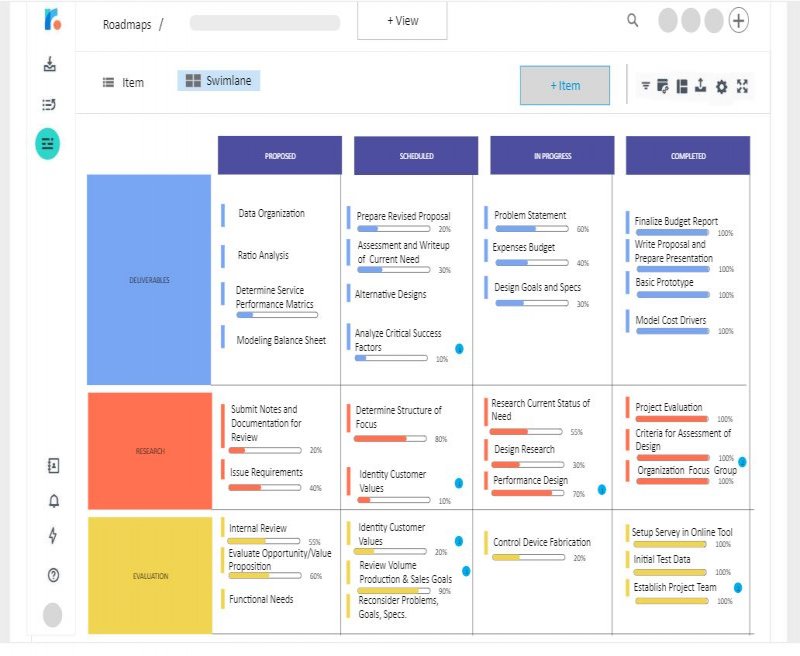 Example 6: Technology Roadmap Infographic
Users can view specific facts about a set topic in the technology roadmap infographic. The diagram above depicts a memory technology roadmap. These kinds of roadmaps are often accompanied by an image and simple boxes of information. Unlike most roadmaps, here, there are no short or brief descriptions. Instead, straight-up facts that would seem convincing to read and analyze.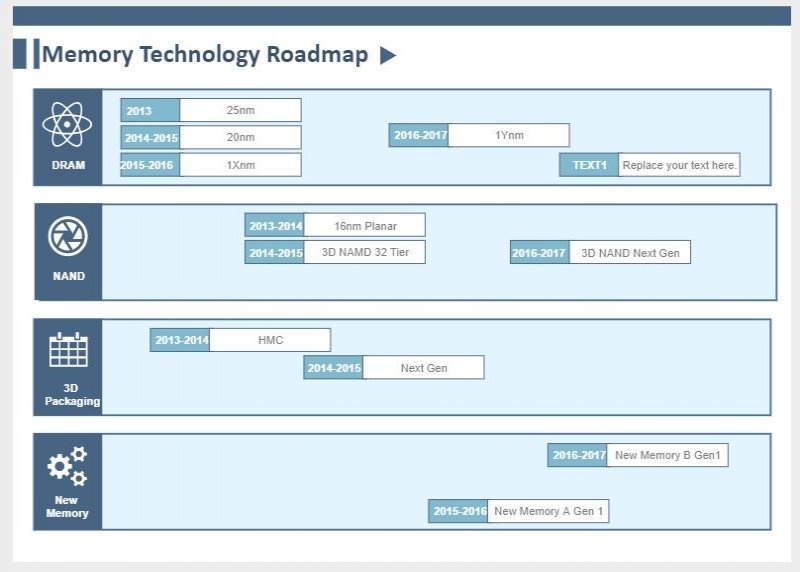 Example 7: SEO Roadmap Infographic
This SEO roadmap infographic basically conveys the process of achieving a better SEO ranking through a numbering break points and descriptions from one breakpoint to another. This roadmap also specifies the uniqueness of each breakpoint to eye-catchy visuals and a colorful path.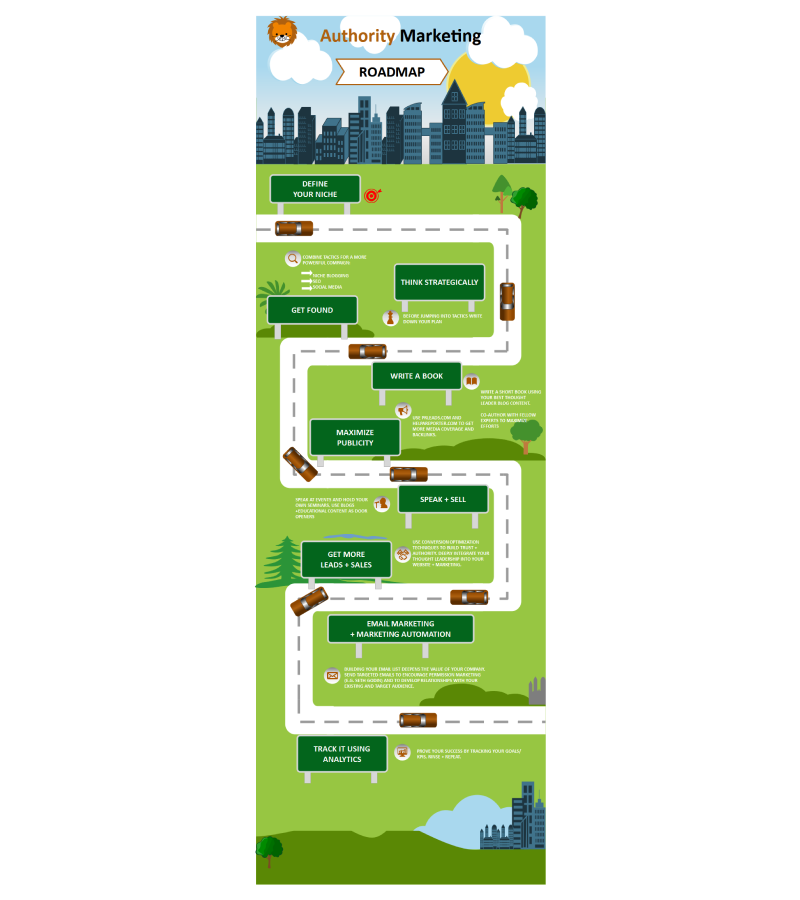 Example 8: Online Marketing Roadmap Infographic
An online marketing roadmap infographic explains marketing from nine perspectives, including visibility, customer service teams, coordination, sales teams, executive leadership, information technology and development, marketing teams, and product teams. It may be used to create a brand promotional presentation. An online marketing roadmap is a powerful visual overview of your product's purpose and development across time. The roadmap also conveys the why and what of what you've been doing!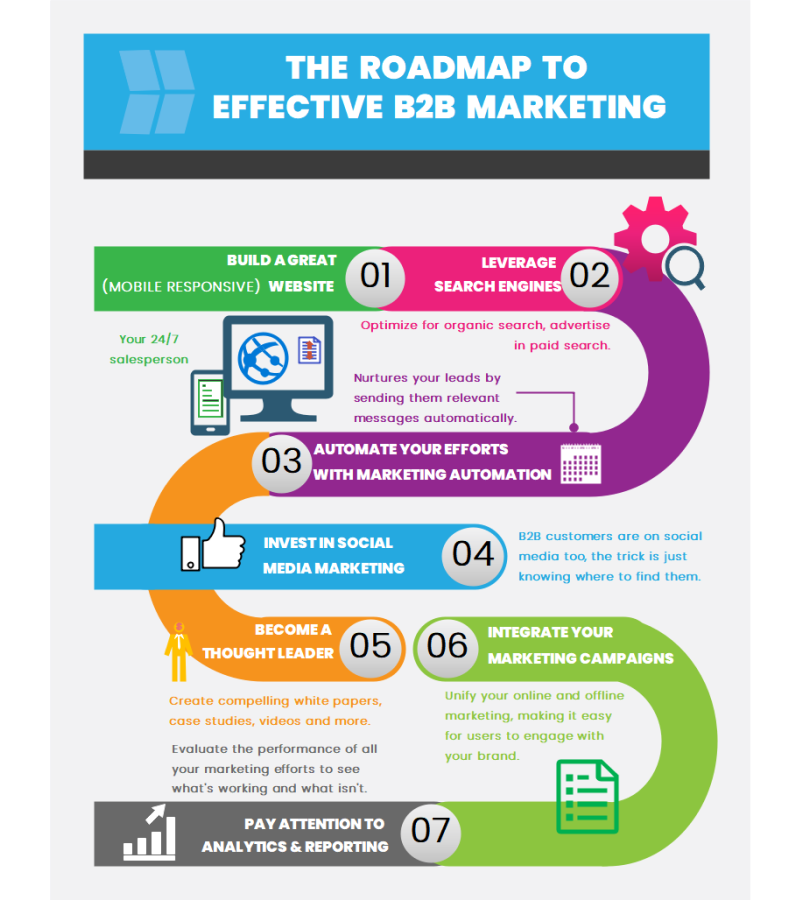 Example 9: Career Roadmap Infographic
A career roadmap infographic a sequence of subheading indicating the different approaches to a job that forms a career objective. As the above diagram depicts, the road is filled with stopping points with diagrams and short descriptions of the subheads. A career roadmap starts with the degree program and ends with career focus pointers.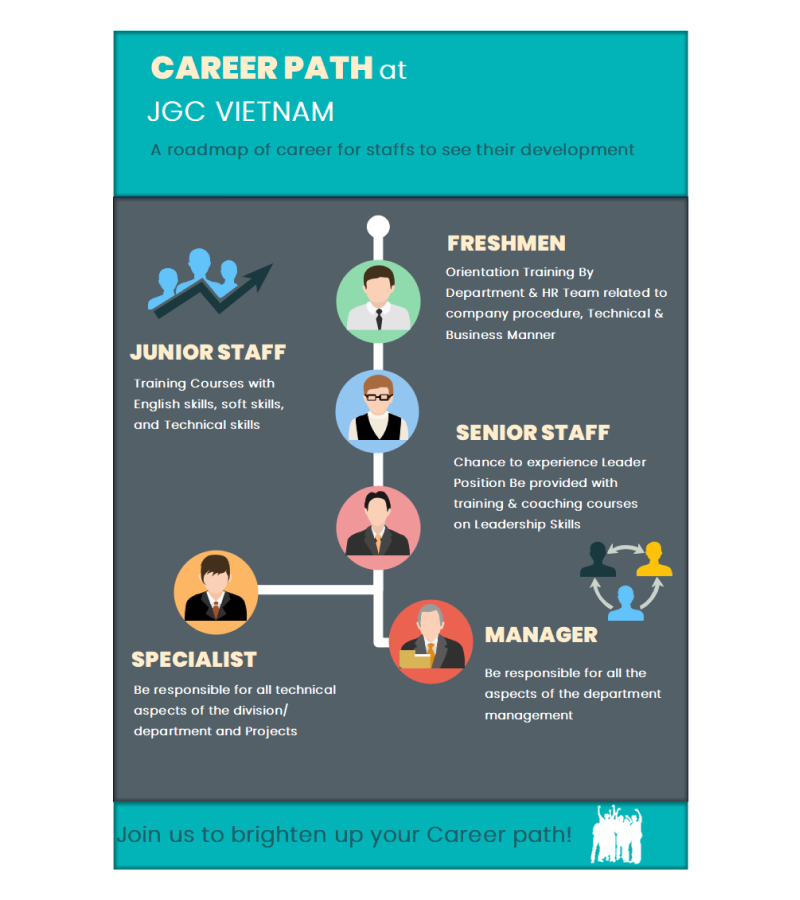 3. How to Design a Roadmap Infographic
Designing an appealing roadmap infographic is not as complex as it sounds. Simply follow these straightforward steps and create your very own roadmap within minutes!
Step 1 - Creating the start point and the end point: For creating any roadmap, the primary and the initial task is to fix your starting point and the end point. To be more precise, you have to analyze where you stand at the moment and what is your specified objective. Connecting these two with subheads, breaking points, descriptions, etc., form an appealing roadmap.
Step 2 - Listing down the subheads: Here, the subheads refer to the tasks that have to be done on the way towards reaching your objective. It can be three tasks or four tasks, depending on the type of the objective.
Step 3 - Connecting the dots: Now that you have specified your starting point and end point, and your tasks along the way, it is time to connect all the tasks together. This is where you would want to design a "road" that touches all the subheads. Along the road, start mentioning some of the key points of focus and pointers that could benefit in making the task simpler.
Watch this video to learn more. If the video doesn't play, please visit it at YouTube.
4. Best Online Infographic Maker
Though there are a lot of infographic makers online that are now available in the market, the best should be Edrawmax. From circuit diagrams to flow charts, Edrawmax is an all-in-one platform that supports and aids in preparing your desirable infographic. In-built with more than 280 diagram types, Edrawmax is, without a doubt, a place where all your ideas and visions can come into life through visual interpretation!
EdrawMax Online
Create 280+ types of diagrams online
Access diagrams anywhere, anytime
Everything in desktop + Templates Community
Team management and collaboration
Personal Cloud and Dropbox Integration
5. Key Takeaways
Roadmap infographic is the best companion that can lend you a hand in analyzing and fulfilling your objectives in an effective manner. These strategic planning documents give you the freedom to incorporate and emphasize key takeaways, critical steps in achieving an objective, and a detailed briefing of the path that you may take. So, what are you waiting for? Head over to the Edrawmax templates community section to get your dream templates and start designing your roadmap today! Find more infographic templates.
Related Articles