Free Editable Kitchen Layouts
A kitchen layout does a lot more than just organizing your kitchen. It adds style and finds the perfect functionality and style with your available space.
1. What is a Kitchen Layout?
A kitchen layout is essential for designing your home or your restaurant. The kitchen must provide functionality and style. A kitchen layout gives us a visual representation of what we want our kitchen to look like. There are several types of popular kitchen layouts in the market:
1.1 Types of Kitchen Layouts
There are six main types of kitchen layouts. Each layout has its orientation as we adjust the cabinetry, appliances, fixtures, etc.
L-shaped Kitchen Layout
The L-shaped kitchen layout is one of the most popular layouts. This kitchen floor plan can be efficiently designed, especially if little space is available. The L-shaped design offers multiple workstations in a small area.
U-shaped Kitchen Layout
The U-shaped layout is similar to the P-shaped floor plan. You can use these if you have an open floor plan. You can work in the kitchen while simultaneously managing other things in the living area.
G-shaped kitchen layout
The G-shaped kitchen layout is also known as the peninsula layout. This layout stems from the L-shaped layout with an additional workstation with cabinets. This also provides more storage space.
Single Wall Kitchen Layout
This single-wall kitchen layout is perfect for mobile homes, small condos, or lofts. The design entails the stove, sink, and counter along one wall, which can be adjusted using the stationary or movable island.
Galley Kitchen Floor Layout
A galley kitchen is based upon the idea of cabinets and workstations on either of the walls with a hallway between them. This maximizes the storage space and allows enough counter space to keep appliances. This layout is excellent for those who live alone, especially in dorms.
Island Kitchen Layout
Island kitchen layouts are popularly used with an L-shaped design. This layout is also very effective for small spaces or if you want to merge the dining area in the kitchen. The workstations are along the wall, and the middle island can also be used as a workstation.
1.2 What to Consider in a Kitchen Layout?
You can not just accept any kitchen layout available to you. A good kitchen layout must have certain features that improve efficiency and comfort. However, you might have your requirements for your kitchen layout, and the layout should also meet those. If you have no idea how to find the proper kitchen layout, here is how you can start:
Theme and Style
While choosing the layout for your kitchen, make sure it is in line with the design of the rest of your house. It is not suitable to design an open plan kitchen if the rest of your house is designed in a closed format. Also, make sure that the theme is similar to the colors and shades the rest of the place has. If your house is rustic, go for the rustic vibe in the kitchen rather than choosing a modern or boho-chic theme.
Budget
The layout you choose for your home should also be well within your budget. You can not choose the layout if you can not afford the design.
Available Space
The kitchen is a vital part of your house. It should be spacious enough to allow you to cook freely. Do not choose a design for big spaces if you do not have enough space. You need to find the correct number of storage cabinets and organize everything accordingly. Make sure there is enough airflow and light in the kitchen. Also, keep in mind the number of family members you would entertain in the kitchen. The kitchen should be big enough to hold all of you.
Light and Lifestyle
Your kitchen should not be dark and make sure there is always enough light for all your workstations. If you can afford it, you should go for large windows and doors in the kitchen. The natural sunlight will add an aesthetic appeal. If windows are not possible, you can always go with the lights under the cabinets or dimmers. These look extremely attractive and give a very sleek look.
Appliances and Functionality
You can take a look at your space, and you will know where you can adjust any extra storage space or where you want the island. Similarly, you can also adjust the appliances like refrigerator and microwave nearby. You should also have a good amount of electrical sockets depending on your appliances.
2. Kitchen Layout Ideas & Examples
While you are out looking for some great kitchen layouts, here are our two cents on it. We have scoured the web and found the best kitchen layouts of all varieties. You can get a look at these and plan your kitchen. With some ideas in your mind, you will be better equipped to find the proper layout for your kitchen.
Example 1: Kitchen Layout
This is an excellent layout for your kitchen, incredibly when short on space. You can cook and move the dirty dishes to the sink with good counter space and the stove and sink evenly distributed throughout the kitchen. The counter space can also be used for eating your meals and is just adjacent to your stove so you can serve them hot and fresh. This simple square design is perfect for a central open floor plan so you can watch your food from any side, or you can construct this in a closed floor plan.
Example 2: L Shaped Kitchen
An L-shaped kitchen is modern unique and gives your floor plan a stylish appeal. With this L-shaped kitchen layout, you have two sides' worth of counter space, and the rest of the two sides are open, making it easier to move around. The stove is next to the fridge, which makes cooking very easy, and there is a lot of counter space between the stove and the sink to keep all the dirty dishes or make cabinets to keep in the clean ones. The L-shaped design is excellent if you have an open floor plan but will work great in a closed floor plan.
Example 3: U Shaped Kitchen
If you like your kitchens spacious with ample space to keep all your items and move around, you will love this U-shaped kitchen. You will have enough drawers and cabinets to keep all the spices organized and the utensils. The middle counter can be used as a kitchen island. From the island, everything like the stove, fridge, and sink is within arm's distance, so you can enjoy eating here any time you want.
Example 4: Kitchen Floor Plan
For those looking for a kitchen layout for a commercial kitchen, this layout is an excellent example. There are two sinks on either side of the kitchen, ensuring that the dishes don't pile up in one area. In the middle, there is the preparation station which is easily accessible from any side of the kitchen. The preparation and the cooking station ensure efficiency and save time taken for food to move from one station to another. Another essential component of this is the dry storage area adjacent to the main cooking area.
Example 5: Small Kitchen Layout
Use your kitchen as a dining area with this multi-purpose small kitchen layout. This layout is perfect if you enjoy some quality family time while cooking. With your dining area and kitchen merged into one, you can enjoy freshly made meals right away. With the counter in the middle, you will have some extra storage space to put your stuff in and on it. This layout keeps in mind the small area and shows multiple cabinets to put your things in. The stove and sink are adjacent for convenience.
Example 6: Kitchen Layouts with Island
You will undoubtedly adore this kitchen plan if you love kitchen layouts with islands. This layout is very spacious, and the island in the middle offers extra storage capacity and counter space. The sink is next to the trash and dish drawers, separating the dishwashing area from the cooking area. The cooking range, pantry, oven, and other appliances are near, making it the cooking area. The island in the middle can be used for dining or doing all the prep for the cooking.
Example 7: Kitchen Cabinet Layout
Need some ideas regarding arranging your cabinets in your kitchen? Then find the cabinet layout below. This is a lateral section of the kitchen showing cabinet ideas. In a small space, multiple kinds and styles of cabinets can be adjusted to give you ample storage space without overcrowding the kitchen with shelves. You can add more cabinets to the space depending on your available space. You can also replace some of the cabinets with drawers and change the design as per your needs.
Example 8: Open Floor Plan Kitchen
An open floor plan kitchen is a fantastic way to bond with your family over food and spend quality time. You can adjust your kitchen in some of the living rooms with a small dining area in it. This kitchen layout shows the sink and fridge on the side with the stove. The cabinets provide ample storage space to keep your dishes and groceries. The counters are expansive, and the small dining table can also work as an island to do all the prep work for cooking.
Example 9: 10x10 Kitchen Layout
Design your 10 x 10 kitchen using this incredible 10 x 10 kitchen layout. This layout can work exceptionally well with both open and closed plan kitchens. The layout is spacious to arrange kitchen stools and any appliances on the counters. The sink and the stove are pretty near, ensuring efficiency, especially if you are multi-tasking. This plan can be used for commercial as well as your kitchen.
3. Online Kitchen Layout Tool
With all of the above examples, if you are impressed but not sure if any of them meet your needs, you always have the option to design your kitchen layout. You can create your kitchen layout with the help of an online tool - EdrawMax. EdrawMax Online is an incredible software that is very easy to use and gives you professional results. You can use EdrawMax for all your diagramming needs, including charts, mind maps, infographics, or floor plans. EdrawMax has a vast library of vector symbols and powerful tools that will allow you to create whatever diagrams. It contains all the symbols regarding whatever you are drawing, and you can connect them simply by clicking on them. It also offers customization to the symbols. You can change the line color style and fill it with the symbol to make a kitchen layout.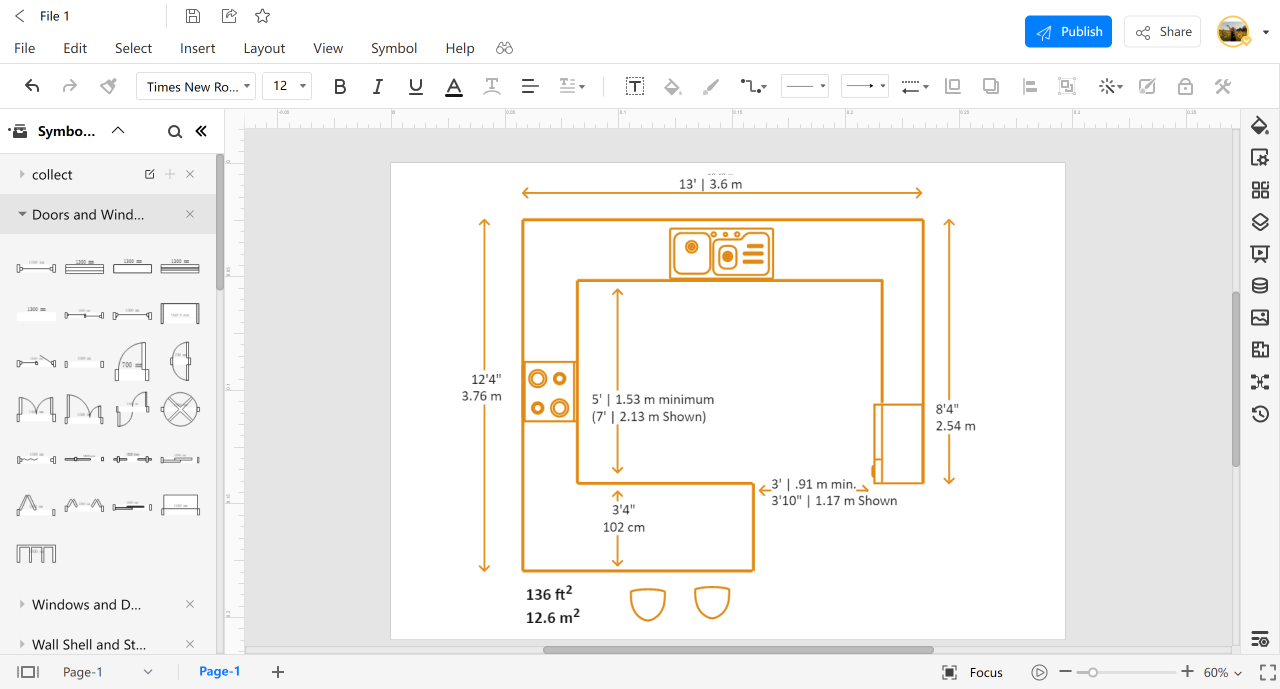 If you are just a beginner, not at all versed in drawing a layout, you can choose from the thousands of free available templates. The professionally designed templates can be edited and modified to personalize them. You can make any additions if you like and then export them in the file format of your choice. You will find no difficulty navigating the software with its interface similar to MS Office Suite. It is familiar and very intuitive. When you are done, you can even submit your layout to be considered one of the templates in EdrawMax! You can effortlessly create any kitchen layouts in EdrawMax and share them with friends and colleagues.
4. Key Takeaways
Kitchen layouts will help you maximize your kitchen space and create storage for all your needs. Using the proper kitchen layout will give your home an aesthetic appeal and complete all the functional requirements. You can create your kitchen layout, keeping in mind the dimensions of your kitchen. EdrawMax is an online tool that helps you create your floor plans and layouts. You can create one from scratch or use a template. Give it a try and see what you can create!
Related Articles