Free Editable Garage Floor Plans
Are you a car enthusiast? Want to redesign your garage so you can work on your project car? Learn how to design garage floor plans using the tips, tricks, and tools from EdrawMax.
1. What is a Garage Floor Plan?
Almost every household has at least one car or maybe two or three. The users need a safe place to park their vehicles, where garages come into play. The location and shape of garage floor plans have a significant impact on your house.
Tips for Designing a Garage Floor Plan
Here are some tips and tricks that you should keep in mind while designing garage floor plans.
#1 Dimensions
Take proper dimension if you are remodeling or demarche properly the location where you want to build your garage. An average car is about 16 feet long and about 6 feet wide, so you need to consider car sizes while planning a garage. Jeeps or SUVs tend to take more space. You may also need space to store car parts and tools, so bear that in mind.
#2 Positioning
The positioning of the garage can have a significant impact on the overall look of your house, so you have to decide it carefully. If your garage is inside the house, you do not have many options, and you can only offset it a bit on the inside or outside. This type of positioning will significantly block natural sunlight. However, suppose your garage is on the side of the house. In that case, you can position it in the front or the back of the house, depending on your choice of complementing the look of your house or diminishing the garage.
#3 User Requirement
You will have to check before planning a garage what the user requires. There can be several answers to this. Maybe, they want a garage with three car slots. Maybe they want only a single car slot but with ample storage for car parts and tools as they might be a car enthusiast. Keep the user requirements in consideration while planning.
#4 Height
You will have to make sure that height of the garage doors is tall enough so your car or jeep does not hit the roof while maneuvering. The taller the doors are, the easier it will be for you. If you increase the height to 8 feet, you will have to raise the ceiling to at least 9 feet and the rest of the house for both of them to be of the same height.
#5 Appearance
Garages do not need to be big and bulky anymore. You can always change the appearance of your front-facing garages by matching the windows and using two smaller doors instead of a single large one. Doing this will add to the looks of your modern house as well.
2. Garage Floor Plan Examples
Here are some examples you can look up to while making your garage floor plan.
Example 1: 3 Cars Garage Plan
This is a three-car garage floor plan, and it has three doors, one for each car. The length and width of the garage are appropriate for all mid-sized cars. The garage has windows on both sides and an entry into the house from the side, along with stairs that lead to the upper floor. This is for users who live on the upper floor, with the garage being directly underneath the house. There is also some space left on the front that you can use to store tools and other stuff for the cars.
Example 2: 4 Cars Garage House Plan
This is a straightforward yet effective garage floor plan. It is common in a more prominent family where you have more than one car. You can easily accommodate up to 4 cars side by side without the fear of getting any car stuck by parking directly behind it. The only downside might be that you may not have enough storage space for other things, and the place might get a little cramped up with four vehicles simultaneously.
Example 3: Garage House Plan
This is a unique and safe garage floor plan as all the entrances to the house are located in the garage. The stairs and the door leading to the front, basement, and upper floor are very convenient for everyone living in the house. This garage plan can be very effective and efficient for a family with people living in different parts of the house. The only downside to this design is that anyone visiting the house will have to enter the garage to enter the house, which may or may not lead to potential privacy issues.
Example 4: Garage Floor Plan
This is a relatively simple house floor plan, including the garage. It has enough space required to park a sedan car and an entrance into the house. It opens directly into the living room and has a window as well, so the car can be seen directly from the bedroom. The issue of the entrance is resolved in this specific plan as it has a direct entrance from outside the house as well, which can prove to be very helpful and practical in actuality.
Example 5: Angled Garage House Plan
This is an angled garage plan, attached and detached from the house simultaneously. It is safer and larger than other garage types as well. It does not affect the look of the house, but it also adds to the value of the place. Angled garages are usually larger than standard garages and might also include a workshop or a hobby space. It can also make parking cars easier as they are at an angle, and the driveway might lead straight to them from the street.
Example 6: Garage Apartment Floor Plan
This is the plan of a garage attached to an apartment. Such garage plans are essential and help users with evacuation under emergencies and imminent threats. This plan has a systematic exit plan with all types of exits; immediate, lateral, and partial. The garage has doors from inside the apartment as well as outside the apartment allowing users to access the space from any available entrance. This execution can be used in other types of plans to increase the safety and well-being of users.
Example 7: Small House Plan with Garage
This plan is a small house with a reasonably small garage to park one car. The garage is oriented so that the entrance is from the side, and it also saves the square footage of a house and does not occupy any extra vertical space in front of the house. A small house with one or two users is a fair-sized garage as mostly, users with a limited family only have a single car. The downside is that there is no direct entrance to or from the garage into the house, and there is minimal space for storage or movement.
Example 8: Duplex Plan with Garage
This is the plan of a duplex, a house divided into two symmetric units and identical to each other. They both have garages with twin car parking and ample storage for car parts and maybe a workshop if the users have only one car. The conjoined garages can also have a door between them, so if the two users are working on a project car, they might be able to shift things with ease without using alternate routes and entrances.
Example 9: House Plans with Side Entry Garage
The garage in this house plan has an entrance from the side. This is helpful for people who are conscious about the appearance of their house. Having an entrance like this saves the users from having large and bulky opaque doors in the front of the house and rather have matching windows or doors similar to the ones used. It also leaves room for a lawn to be made in the front as the driveway will be further on the side of the house.
3. Online Garage Floor Plan Maker
These floor plans can be made online using the templates or from scratch using one of the best online floor plan makers - EdrawMax. EdrawMax Online has tons of free templates you can choose from to demonstrate your idea and use its expansive range library to add symbols and blocks to pose and pitch your idea to your friends and the builders. Sharing the floor plans is also not an issue, as you can save and share the floor plans in any format with your friends and family using EdrawMax's share feature.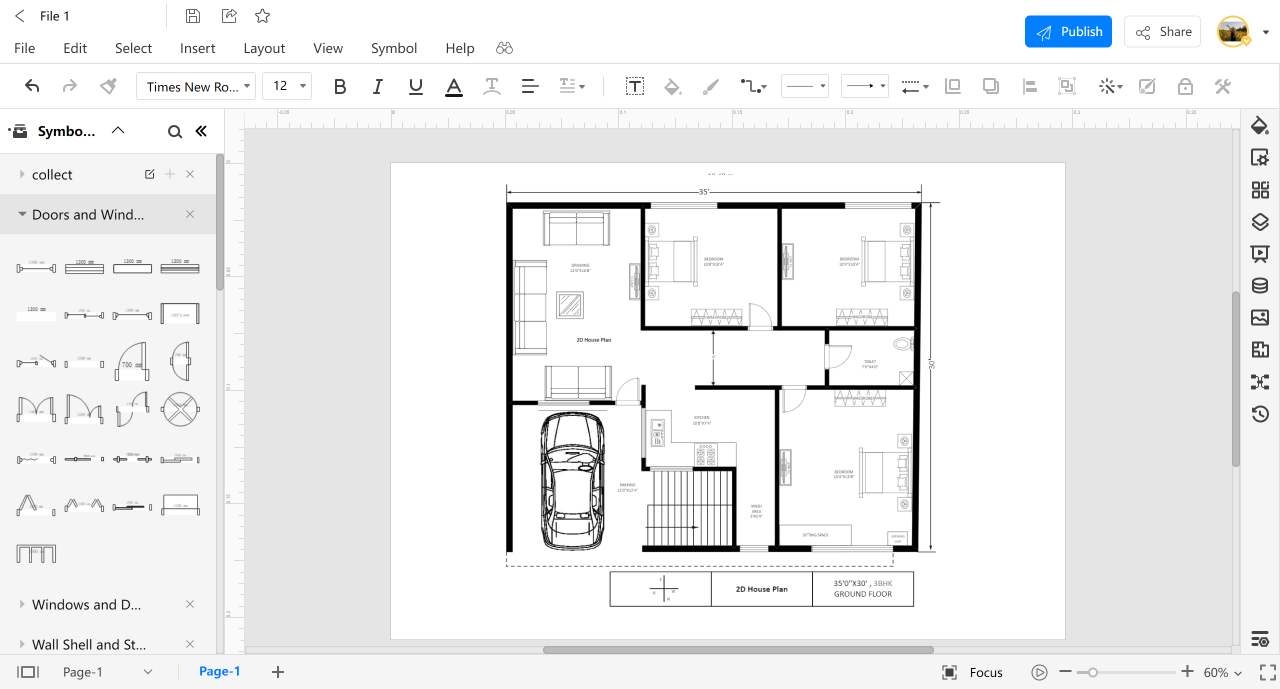 4. Key Takeaways
Now that you have learned how to draw garage floor plans specifically, parking cars will never be an issue again. Use the tips and tricks you have learned to make your dream garage a reality!
Related Articles