Sony BCG Matrix
Here we will discuss the BCG matrix of sony, with a solid understanding of their company's market position, from which we can better determine how to best different approach segments.
1. Introduction
BCG Matrix is a handy tool to use in a marketing campaign. It can help managers in the process of planning and executing their advertising activities. It is used in marketing as a management technique for strategic analysis of business models and competitive environments.
We gain insight into where you should invest in marketing and sales channels. The Matrix helps managers to focus on their businesses and determine the strengths and weaknesses within the business. In this article, we will be discussing the Sony BCG Matrix.
Background of Sony
Sony is a Japanese multinational conglomerate and electronics company headquartered in Shinagawa, Tokyo. It was founded by Masaru Ibuka and Akio Morita on December 1, 1946. In its early years, it focused on consumer electronics; today, it sells products across the board. It includes businesses ranging from home appliances to financial services to telecommunications. Sony Corporation and its subsidiaries design, manufacture, distribute, market, and sell consumer electronics and computers worldwide. Sony was a leading developer and producer of videotape and laserdisc media, including such brands as Betamax, LaserDisc, and DVD.
In the early 1990s, Sony invented the PlayStation, a modern video game console. This was the beginning of the gaming industry becoming profitable and mainstream. Other game companies would follow suit by creating video game consoles, such as Nintendo's Wii, Microsoft's Xbox 360, and Sony's PS2. Today, Sony makes almost all popular video game systems, including the PlayStation 4, the PlayStation Vita, and the PlayStation Network.
2. Sony BCG Matrix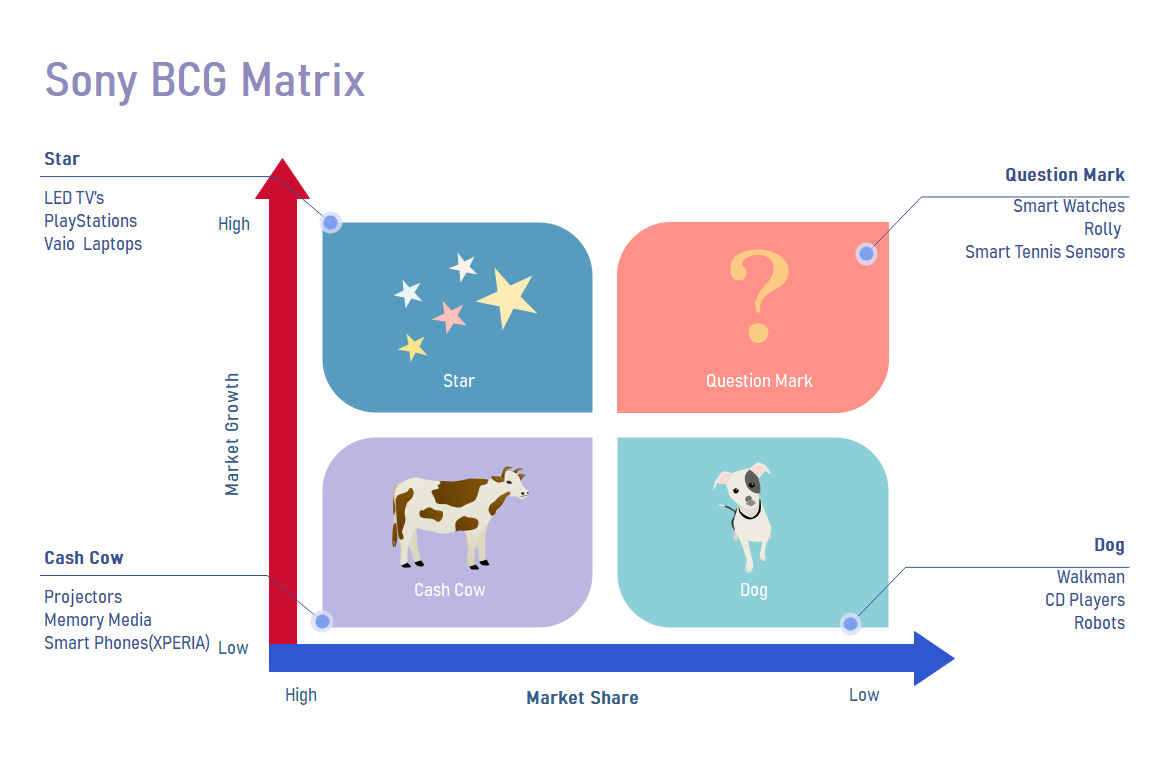 Market Growth Rate
The term market growth rate refers to the percentage of profit increase between two periods. To determine the market potential and size of the market for Sony, we will discuss the annual revenues here. Sony's annual revenues for 2020 and 2021 are $84.594B and $75.991B, respectively. It meant in 2020, there was a 2.56% decline as compared to 2019 revenue. And in 2021, there was an 11.32% increase compared to 2020.
Relative Market Share
Sony has a market share of 23.97% for portable electronic products. That is not very high for Sony. In the past year, Sony sold 5.85 Million units of its portable electronic products. This is a decline of 2.43% in 2020.
BCG Matrix of Sony has four components:
Cash Cow
QuestionMark
Dog
Star
Cash Cow
They are the primary source of revenue for a business. They provide steady earnings over time which helps the business avoid problems. For example, if a business has a steady stream of income, the business can manage expenses better. The cash cow gives a business a constant source of revenue, which means the business can grow organically and with no effort.
Another function of a cash cow is allowing a business to invest in new projects and ideas. They enable the business to develop new products. They allow the business to build new markets. They create the ability for the business to acquire new customers and grow into new markets.
Cash Cows of Sony include Projectors, Memory Media, and Smart Phones (XPERIA). These products make up Sony's Cash Cow portfolio. It's worth noting that Sony has no plans to sell its Cash Cow portfolio to other companies.
Question Marks
These products are often a lot more expensive than their peers. They are not always the ones who sell the most, but they can sometimes be the most profitable. As the company grows, so does its marketing budget, and it may be challenging to maintain these kinds of products. That's why it is essential to ensure that a company keeps its big spending on the ones who can give a good return on investment. Question Marks of Sony include Smart Watches, Rolly, and Smart Tennis Sensors. Managers don't usually spend much time analyzing Question Mark products. Still, a close look at their activities, strengths, weaknesses, and overall potential can help managers know where to focus their efforts and whether the company should maintain them.
Dogs
Dogs are the products that generate significantly less revenue and are pretty slow in the market competition. Low-growth products can be a pain in the neck. They can easily consume a lot of the company's resources. Dogs of Sony include Walkman, CD Players, and Robots.
In addition to financial issues, they can be challenging to sell and move, preventing companies from making money. If sales growth slows, revenue growth can suffer as well. It is necessary for these companies to sell out or liquidate certain underperforming products. Companies should watch the dog products closely to see if they are only consuming resources and divesting them instead of wasting more time and resources.
Stars
Star products have huge profit margins because they enjoy significant cost advantages and are highly efficient in their production processes. They are among the largest and fastest growing businesses in the world. The star strategy is based on the fact that few markets grow faster than others. The first product that the company will be developing will be a star. This is a strategy that is best suited for companies with high returns, a small growth rate, and long product life cycles. These are the markets that the company can invest in and that will yield the most revenue. Star Products of sony include PlayStation, LED TVs, and Vaio Laptops. Sony is making a huge bet that its PlayStation 3 video game console and its new VAIO laptops will help to propel it to profitability. These products, which Sony has said represent its "core business," have helped boost the Japanese electronics giant's fortunes to the point where it's preparing to list on the New York Stock Exchange.
3. How to Draw Sony BCG Matrix Online?
EdrawMax is a complex graphics application that allows users to create many different graphics files and then save them as documents. It can help us create graphical templates, charts, and business charts. This tutorial will show you how to create a BCG matrix using EdrawMax Online.
The 5-step process for creating a BCG matrix starts with outlining.
Step 1: Preparation (Gather information, open EdrawMax, and login)
The first step is to prepare the layout of the BCG Matrix by gathering information, opening the drawing tool, and logging into the software. It is recommended that you download templates and create a custom matrix layout. The preparation process will vary depending on your business situation and your needs.
Step 2: Select a Template or Create from Scratch
In the Edrawmax, there are several pre-made templates for brochure design. Each template can be opened to design a different type of print media. It's like having an infinite number of brochures at your fingertips. You can use our built-in tools if you prefer to create a BCG matrix from scratch.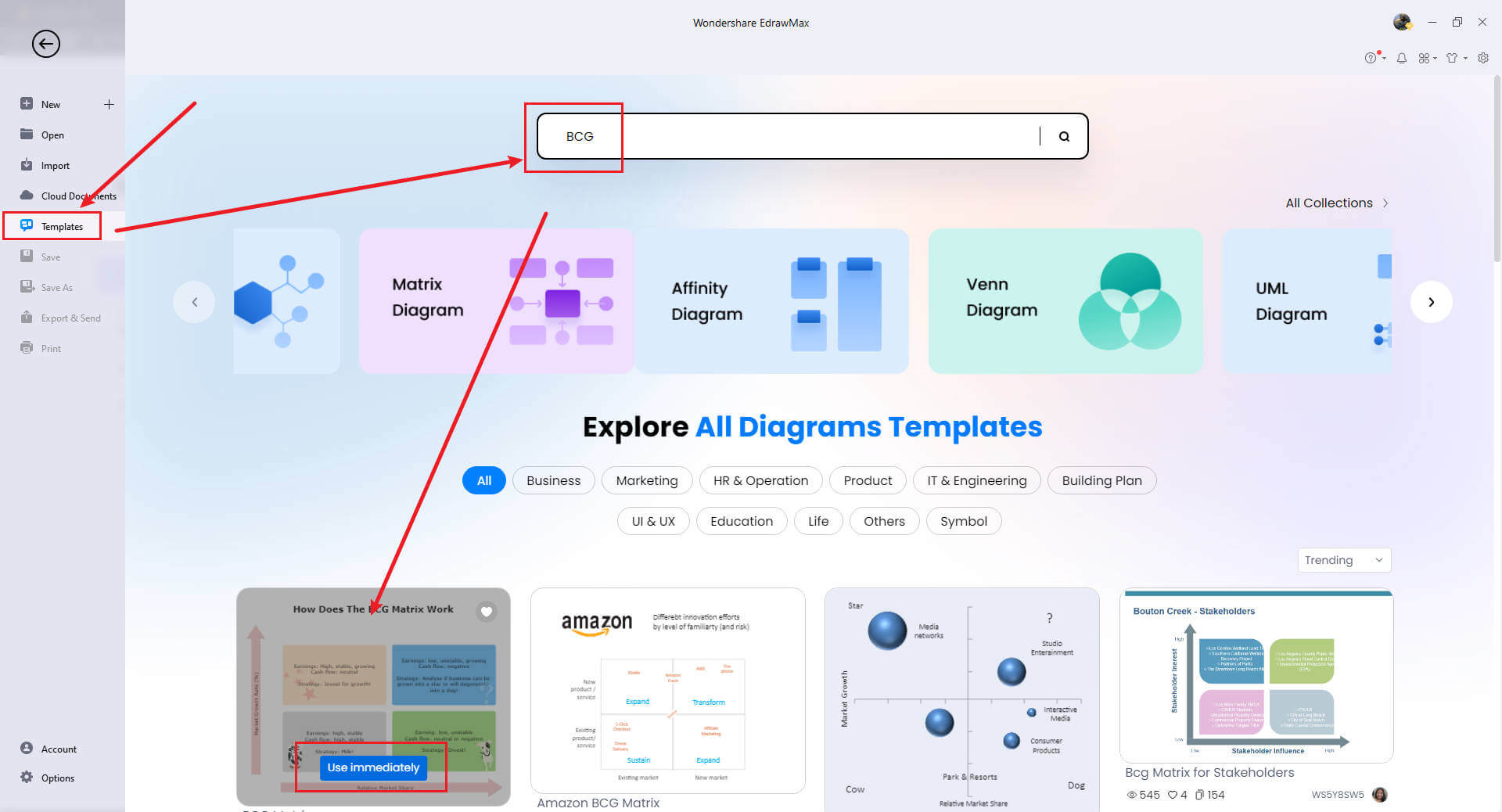 Step 3: Add Textual Information
If you need to change text properties, use the Font Options dropdown menu to choose the desired font.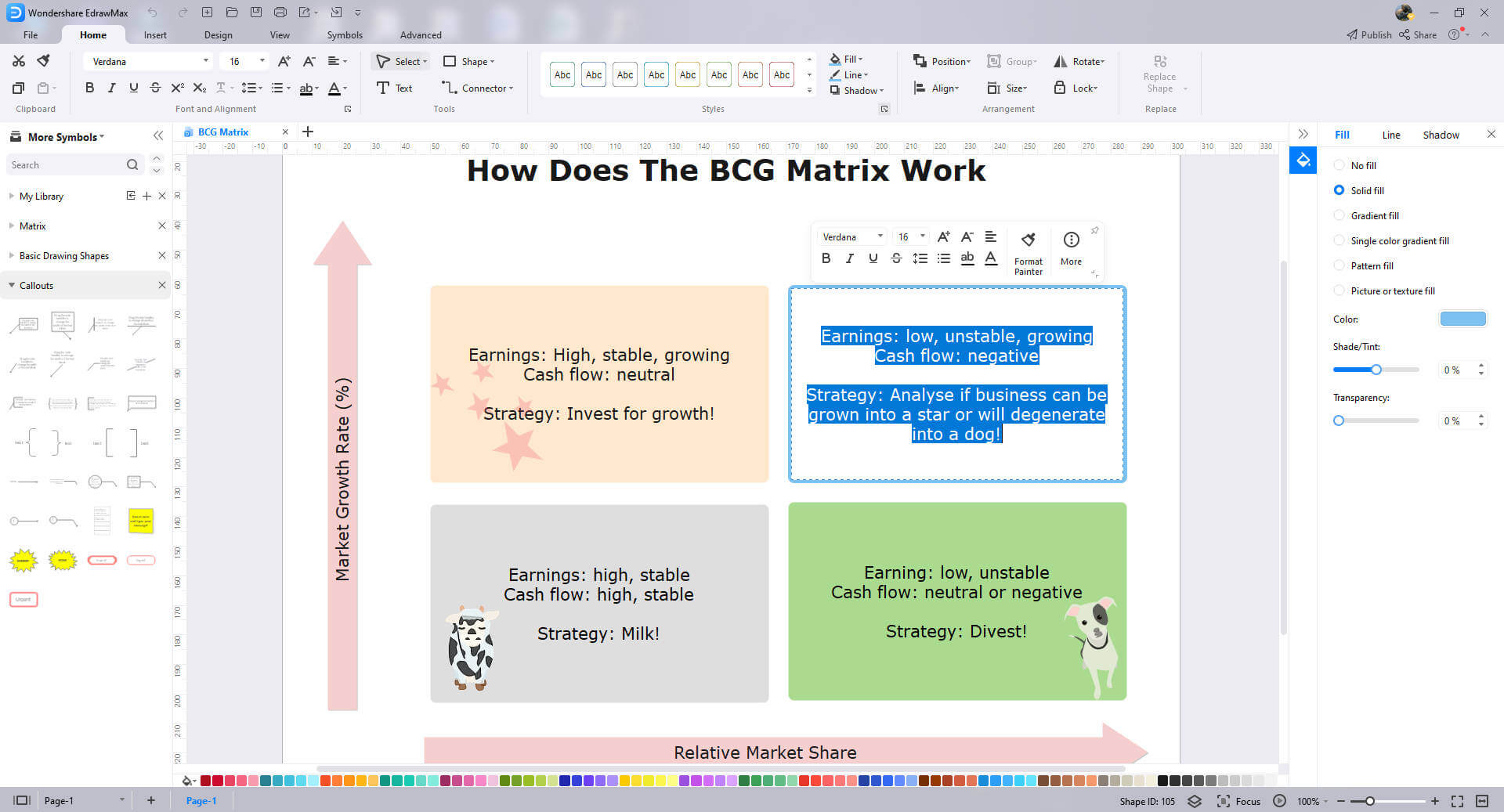 Step 4: Add other components/ Customize Your Work
You can draw the tables by hand, use the shapes, or even use the text tool to create custom text. You can also add a brand logo and a slogan or tagline to the top right corner.

Step 5: Save and Export
Edrawmax provides you the facility to either save the file (BCG Matrix ) you made or either you can share or export the required file in multiple formats.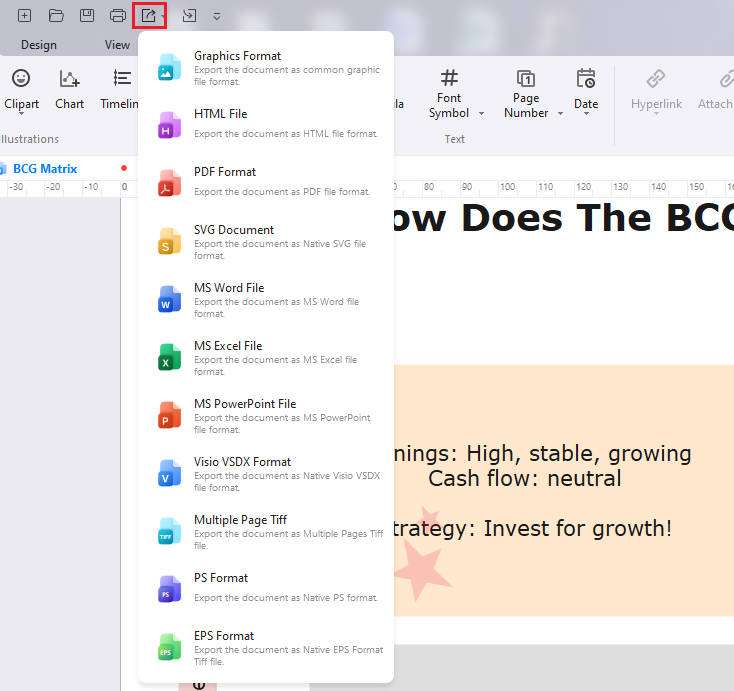 EdrawMax Online
Create 280+ types of diagrams online
Access diagrams anywhere, anytime
Everything in desktop + Templates Community
Team management and collaboration
Personal Cloud and Dropbox Integration
4. Key Takeaways
BCG matrix template is an effective communication tool that can be used in various areas such as marketing, operations management, project management, and HR. It helps the user to visualize, analyze and evaluate a problem effectively. It provides clear direction to the problem resolution. Thus, it saves time and resources by providing a simple way to visualize complex data and processes. And the Sony BCG Matrix shows Sony brand value and positioning in the market, along with Pepsi's performance against its rivals.
EdrawMax Online is one of the few tools on the market that allows users to make professional BCG Matrix Diagram templates. It is a complete tool with a simple interface and high quality. It can create diagrams for various fields such as medicine, psychology, sports, management, marketing, IT, etc. You can use the EdrawMax to get all the templates you need to create a BCG Matrix diagram. You can also utilize these templates as the basis for the BCG Matrix Diagram.
5. References
PepsiCo Limited. (2017). PepsiCo, Inc. Annual Report 2017 Form 10-K. New York: PepsiCoLimited.
Harshil. (2014, September 15). Product Life Cycle of PepsiCo. Retrieved May 10, 2018, fromJugookushal Wordpress: https://jugookushal.wordpress.com/2014/09/15/product-life-cycle-of-pepsi/
Related Articles