What is a Customer Journey Map
A customer journey map defines every touchpoint a consumer interacts with the brand. This narrative helps construct better strategies for targeting. This article will dive deep into understanding customer journey maps.
1. What is The Customer Journey Map
A customer journey map is a digital depiction of the consumer encounter that you have with the brand. It helps tell the tale of a customer's interaction with your company from an initial connection into a long-term relationship, ideally.
Upon first sight, the experience of a consumer is relatively straightforward. You offer it. They buy it. But once you get into the details, the customer journey is quite complicated and comes in a lot of varieties.
For example, promotion, advertising, social media, customer service inquiries, and above-the-line promotions, your clients can come into touch with your company in a multitude of ways, and from several different starting points.
A customer journey map is a whole experience that a customer has while communicating with a brand, which calls the full blueprint for engagement from brand exploration to purchase and beyond. The emphasis is not on sales but on how the consumer feels during brand encounters.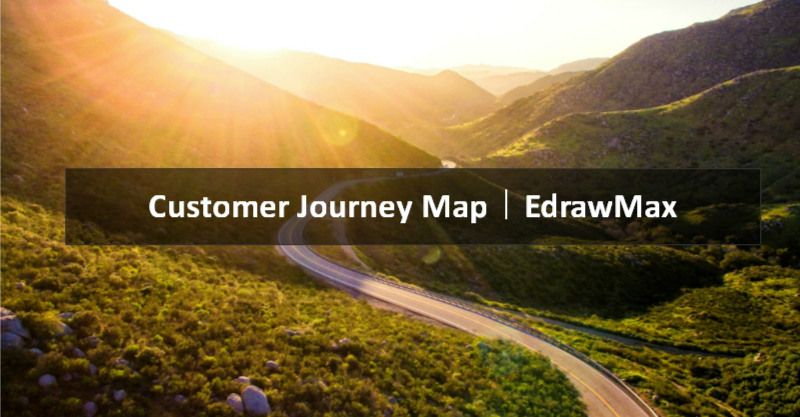 1.1 The Customer Journey Mapping
Consumer journey mapping lets companies get into the shoes of their clients and view their industry from the viewpoint of the customer. It helps businesses gain insights into customer pain points. And how they can enhance customer experience, and determine what customers and prospective customers need.
From a customer perspective, they want the connection and seamlessness of their experience with a brand. They expect companies to know and remember who they are and what they are looking for, across multiple touchpoints, so that the necessary information is available and without the need to repeat or clarify their needs. A map helps reveal problems in your business with the sales.
1.2 Why A Customer Journey Map is Essentail?
A customer journey map is a powerful tool. When you're marketing personnel, it is going to help you understand the product context. You will have a good view of where the consumer comes from, and what they're trying to do.
If you write a copy, it will help you understand what users have questions and how they feel. It provides managers with an overview of client experience. They can see how the distribution stream pushes consumers to join in.
That will help them find ways to enhance their experience. The diagram will demonstrate how improved customer support can differentiate the digital interface of the organization. A customer journey map helps to recognize holes, points in the customer experience, which are disjointed or frustrating for the user interface creator.
All in all, a consumer's journey map places the user's front and center of the company's vision, which compares with their tendency to glance at their goals.
1.3 The Benefits of The Customer Journey Map
Help you see where your business interacts with customers;
It focuses on individual consumer demands at various points of the sales funnel;
It helps to identify whether the client's path is in a reasonable order;
It gives an objective perspective of the selling cycle;
Showing the gaps between the customer experience desired and that received;
To optimize performance, you should focus on time and investment on what matters most.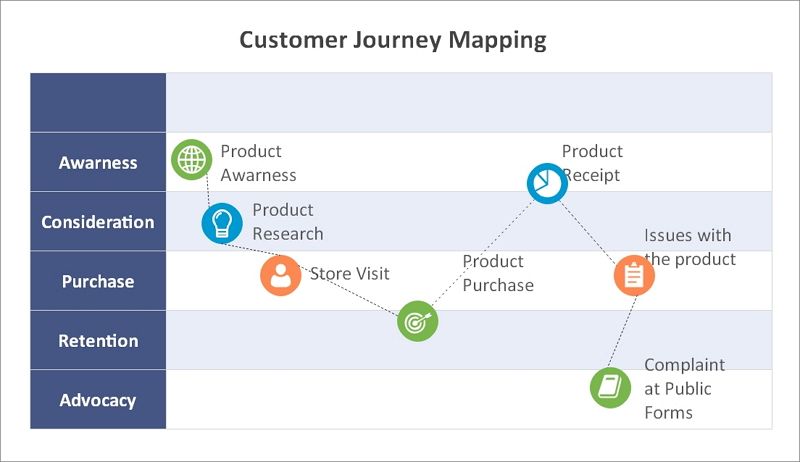 Source:EdrawMax
2. The Main Components of A Customer Journey Map
Create from a customer standpoint, not an internal company perspective.

The main distinction focused on an internal company point of view vs. a customer point of view is that an internal business point of view would use corporate procedures, structures, and individuals to visualize the journey. They would then usually incorporate the consumer into this fundamental vision.

Capture the assumptions of consumers regarding their experiences according to their priorities, desires, and aspirations.

The journey maps should have a purpose and be actionable.

Actionable journey maps explicitly define consumers' positive and negative feelings during their journey and place them in the perspective of consumer attitudes, priorities, and aspirations. Enterprises use their data to identify growth areas and determine the impact of present and potential CX / UX projects.

Illustrate consumers' present or potential experience through various touchpoints, instead of relying on a single touchpoint.

Most organizations are arranged in silos – with each silo focused on managing different platforms, touchpoints, and consumer service facets. Designing and measuring customer experiences independently of each other is not uncommon for each group or function within an enterprise. But consumers consider all their experiences with business as related. Consumer travel maps are an essential method to imagine a seamless customer journey through networks and touchpoints.

Include performance indicators.

A vital function of customer journey maps is to identify critical areas of opportunity based on an understanding of your customers' perceptions of their experiences. Quality metrics provide the basis for the assessment and make travel maps operable.

Many charts of consumer journeys use contextual knowledge to imagine the mental peaks and lows of consumers. Visual indicators are widely used, which means positive/neutral/negative or exceed/meets/does not meet expectations. A systematic approach to success metrics can easily be used to define and evaluate areas of development.

Visualize the consumer experience to maximize the awareness, interaction, and decision making of stakeholders based on the narrative of the journey map.

What makes journey maps for consumers especially useful is adding other important information onto the sheet along with the simple elements and the ability to interpret the map in a way that can educate and reach the target market.

In reality, several iterations of a consumer journey chart can be the most successful method for addressing different stakeholder audiences' needs.
3. Example of The Customer Journey Map
The example illustrates the customer journey map to watch a movie. It has critical components like - decide, travel, experience, and return.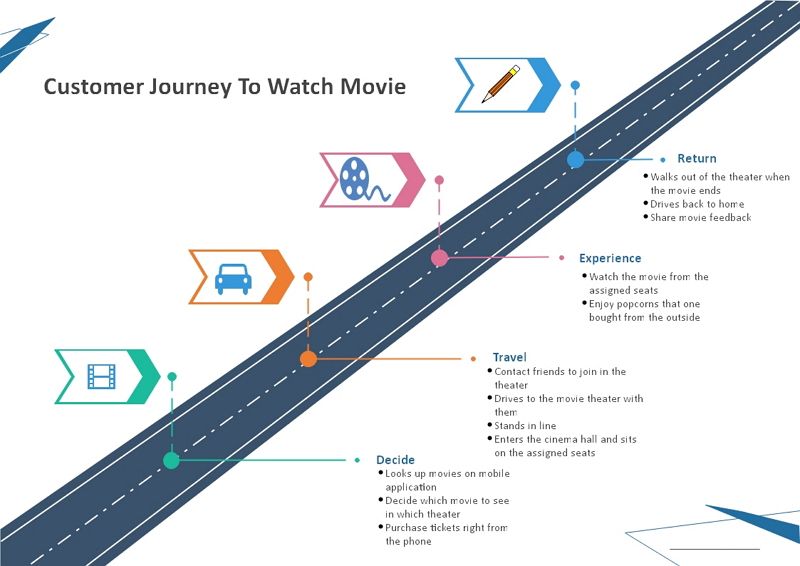 Source:EdrawMax
4. Summary
Efficient customer journey maps are both art and science. Make sure you optimize your investment in travel maps for customers by incorporating these five essential components.
Work together inside the company to pull together the latest ideas around CX / UX qualitative perspectives, CX / UX quantitative perspectives, policy, and architecture. Make sure you leverage visual designers or software like EdrawMax, which helps you visualize the data to make your customer journey maps engaging and actionable.