What Is a Customer Empathy Map?
Customer Empathy Map is an amazing resource that helps companies achieve greater control in customer service. They can be used on its own or in combination with other CX devices, including customer journey maps, customer persona, service blueprints, motivation matrix, and mind maps.
This human-centred design tool helps you gain a great deal of insight and understanding of how to get into the hearts and minds of your customers. You significantly increase the individual emotional intelligence when you use a customer empathy map. This gives you the ability to increase your organizational emotional intelligence.
Application Scenarios of Customer Empathy Map
Create accurate & detail customer persona
Greater awareness of important variations in the consumer category
Deepening awareness of consumer journey maps
To create vibrant user stories
Enhanced insight generation when paired with customer data
Uncover ways to boost your product or service
Creation of new goods and services
Strengthening creativity
Benefits of Using a Customer Empathy Map
Empathy mapping is a fast and easy task to complete. There is no need to spend a lot of time and resources in this process. What you need are a team and a simple setup.
The visualization process requires the involvement of several individuals. You are welcoming company owners, executives, software and non-tech experts. The more suggestions and points of view you receive, the better.
This allows designers to think beyond their expectations and to recognize that their ideal product vision can vary from the customer's point of view.
Using a customer empathy map to enhance UX design goes beyond the testing level. They can act as an additional tool or guideline for further design and development – prototyping, mockup making and testing.
Using field survey data, empathy maps generate a life-like representation of your marketing persona rather than subjective observations. It means that they are a credible source of knowledge.
Such methods are universal and can be applied to any area, industry or form of company.
Customer Empathy Map Vs Buyer Persona
A buyer persona tells you who your customers are and the customer empathy map tells you what the attitudes and actions of those customers are towards your brand. While they are both important parts and can be used separately, they can also be integrated to provide a 360-degree view of your customer and valuable insights.
In recent years, the formation of a buyer persona has become a popular method for specifically aligning a business product to the needs of the target market. However, a comprehensive quantitative and qualitative market analysis is needed for the approach to be used. After all, the identity of the purchaser must be based on facts and evidence rather than on arbitrary notions.
Although, customer empathy maps are different. Data plays a subordinate role here. Instead, the goal is to step into the shoes of a prototypic customer and to identify their emotions, actions and thoughts. Empathy is the priority, not the results.
6 Components Of Customer Empathy Map
The customer empathy map describes 6 important parts:
How the customer thinks and feels

This segment is the pointer to your buyer's feelings, so you'll need to study your buyer 's emotions and link them to the features of your product.
How does the customer react?
Which are their worries?
What are their goals for this?
Which are the ideals in their minds?
What's their method of thinking?
What the customer hears (how they are influenced)
They get advice and suggestions from their peers, their college friends, their professors, their parents, their ex, their family, the people they follow on social media. Suffice to say, most of the buyers are influenced by the people around them. The purpose of this segment is to solve the mystery of the advice that matters most and how that advice reaches them.
Who influences the client?
Was the consumer more convinced by their colleagues, acquaintances, or family?
Is the customer listening to their family and friends when they make suggestions?
Who values the consumer the most? Broadcast on TV, a comparative website, an online forum, or a social media group.
What the customer sees
The design elements of your company will create a personality for your brand in the minds of your own consumers, so make sure they're on board. Align your online presence, social media and website duplication, paper designs, product mock-ups.
What is the customer seeing?
What's going on in their environment?
Which kind of advertisements do they normally see?
How is the rivalry going to hit them?
What ads are they engaging with the most?
What designs and aesthetics do they inspire?
What the customer says and does
Your customers are people with unique and complex personalities. They interact with the people around them in a number of ways. Getting to know what your customers say and do will help you find out their true motives. For example, they may say that they are altruistic, but do their behaviour match up? Will they spend more time supporting others or making a lot of cash?
Their pains
There are a lot of strange, upsetting stimuli in the world, and some of them can affect your customer. It is one of the most relevant parts of the customer empathy map, as it will allow you to introduce your product or service as a response to some of these pain points. After creating these customer empathy maps, add features that will help them solve issues they didn't even know they had.
Their gains
When a customer spends their money, they want to get something of value. So it's important to frame the features as resources that can help them add to their lives. Better still – impress them by offering more value than they expected. Through making your product or service an important part of their success, you will create brand loyalty.
How to Create a Customer Empathy Map?
Step 1 Open EdrawMax and select a blank canvas.

Step 2 Use the wide range of symbols from the libraries available to create your customer empathy map.

Step 3 Add in your text and design the customer empathy map to suit the requirements. You can also icons from the multitude of options available.

Step 4 Save and export your diagram to any file type you wish to. As EdrawMax is compatible with multiple file types.
Example of Customer Empathy Map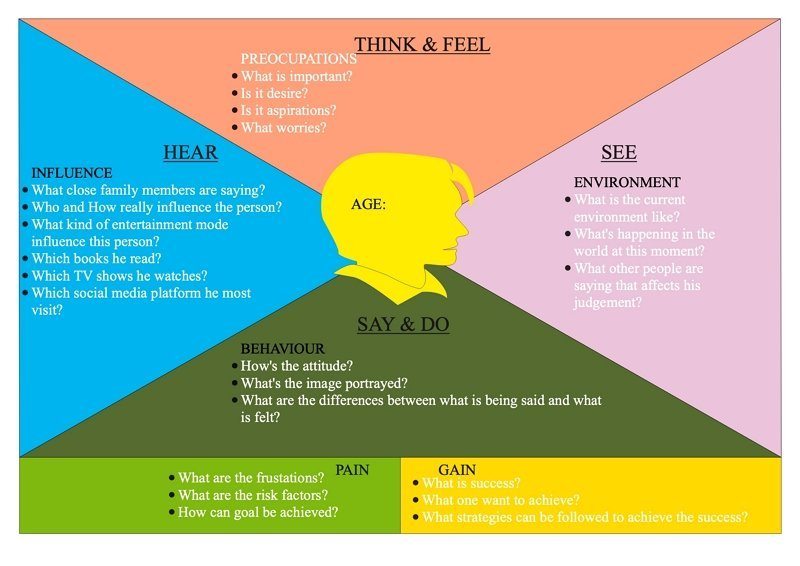 The example illustrated depicts the six components of the customer empathy map - think and feel, hear, see, say and do, pain, and gain.
Key Takeaways
Customer empathy maps are a genuinely valuable method to consider the meaning of your customer that goes beyond a typical form of a person. It provides a holistic approach of their thoughts and the tactile explanatory knowledge that accompanies their daily lives.
EdrawMax is extremely interactive and designed for convenient use. Thus, when it comes to creating a customer empathy map, EdrawMax is the best fit.