How to Make a Banner in Word
A banner is one of the most widely-used ways to showcase a message of a campaign in the form of a slogan, logo, or symbol. A banner is generally a flag-shaped piece of cloth or bar-shaped non-cloth with marketing content on it. In this article, you'll learn about how to make a banner in Word and EdrawMax Online.
1. How to Make a Banner in Word
A banner is the most popular and effective way to showcase your campaign with the help of a logo, message, or slogan. It might be your product campaign or maybe a poster for your college fest. It will give you the maximum reach.
You can make a banner of your choice with the aid of Microsoft Word. If you have Microsoft Office installed on your computer, it would barely take a few minutes to create a banner of your own. Concerning how to make banner in Word, just follow the few simple steps as described below.
Step 1: Install Microsoft Office and Open Microsoft Word
Before creating a banner, you need to go to Microsoft Office, install it on your computer, and click on Microsoft Word. Now click on the File tab and then on the 'New.'
Step 2: Choose a Suitable Banner Template
Find a suitable template for your banner. There are hundreds of templates available for you. You go to the search bar and type 'banner' on the search plate.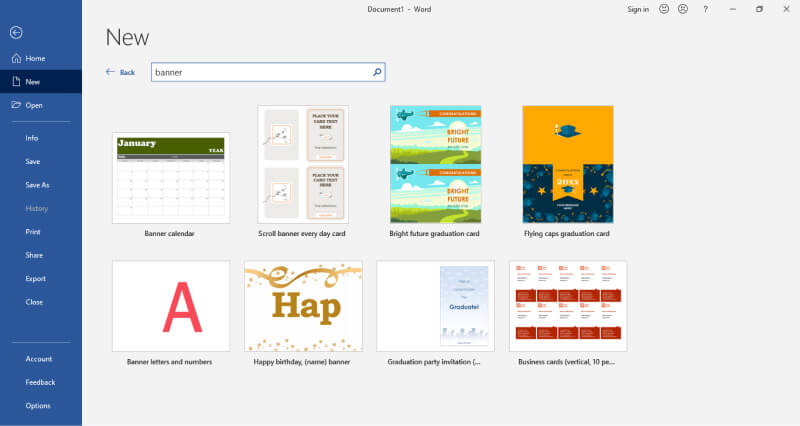 Step 3: Customization the Banner
Open the template of your choice, and click on the 'Create' button. It would enable you to customize the banner per your need. Or just create a banner from start, and find some pictures and symbols for making banner more attractive.
Or just create a banner from start, and find some pictures and symbols for making banner more attractive. Go to the Layout section, choose Margins, and select the Custom Margin to adjust the size of your banner.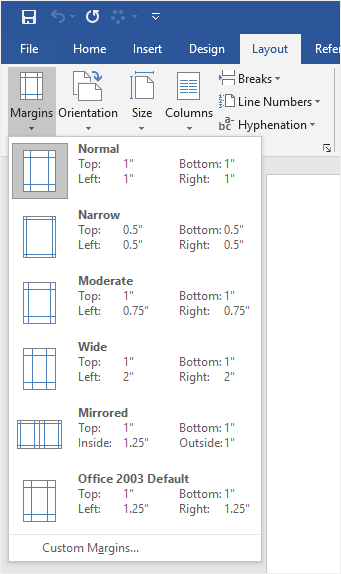 Step 4: Click Placeholder Button to Edit
Next, click on the placeholder button to replace and edit the title, the message or insert a picture according to your need. You have to go to the Insert tab then click the Picture button to insert any image.
Step 5: Final Save
After you have edited and customized your banner, you have to save it with the help of the Save icon. It is now ready for use.
A banner containing a message in the form of a slogan influences the people a lot, and they want to know about your campaign. So, you should be aware of creating a banner in Word.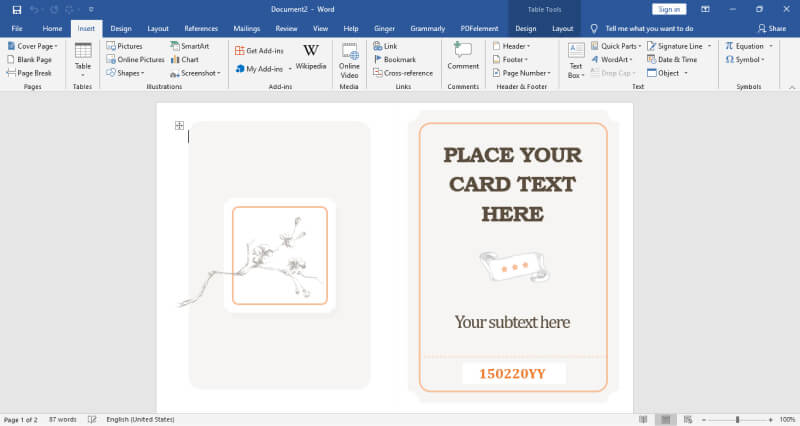 1.1 Advantages of Making a Banner in Word
Banner advertisements or simple banners are image-based rather than only text-based posters showcasing the intrinsic details about you, your company, or the vision that you wish you share across. There are several advantages of making a banner in Microsoft Word, like:
Microsoft Word has available banner templates under the Banner category, allowing you to design banners as per your choice.
MS Word is a popular word-processing program, but it allows you to import rich media data to design your banner.
The banner designs can easily be copied to a flash drive which serves as an external memory.
1.2 Disadvantages of Making a Banner in Word
Even though MS Word is one of the most popular writing tools, several designers do not opt for it to make a banner. There are several disadvantages of making a banner in Word, like:
You cannot easily create different diagram types like Flowcharts, Venn Diagrams, Graphs, etc. If you need such diagrams in your banner, you will have to use other tools.
MS Word is pretty expensive compared to other tools that offer more features.
Some functions in MS Word are not always intuitive and might take some time to get your desired effect or formatting in the banner.
1.3 Tips for Making a Good Banner in Word
There are certain tips, if followed, will improve your overall experience of making flyers in Google Docs, like:
Always choose the banner template that goes along with your vision. It will take less customization from your side.
Ensure you choose the right font and background colors. If you use external fonts, export the banner in PDF format. It will ensure you do not lose the font type.
Learn the MS Word commands before you start making the banner, as it will save you much time shuffling through your artwork.
2. How to Make a Banner Online Easier
There is a tool EdrawMax Online that shorten your time to create a banner online. Also, it contains substantial banner chart templates in product and template community that you can use immediately and create chart without efforts.
On EdrawMax Online, you can find thousands of readily available templates and design components to create all kinds of diagrams. The best part is that EdrawMax Online can also be accessed online, letting you work seamlessly on any platform. With simple drag and drop options, you can also create visually appealing banner via EdrawMax Online in the following way:
Step 1: Sign In EdrawMax Online
First of all, you need to log in to your EdrawMax Online account. If you haven't used EdrawMax Online before, you can sign up for a free account with your email address. Then you can use EdrawMax Online for free.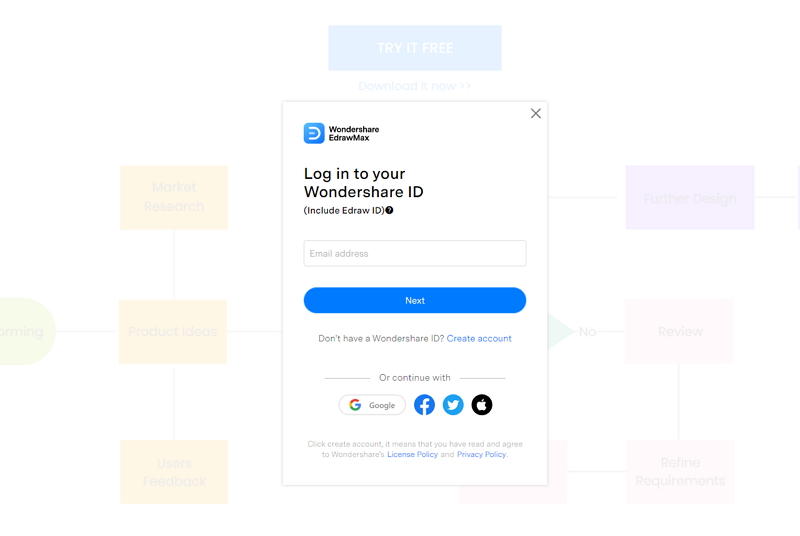 Source:EdrawMax Online
Step 2: Find Banner Templates
To make a banner, you need to open the Design section and find Banner on the sub-category panel. You can choose to create a banner by clicking "+" and enjoying the design procedure. Or you can also see some standard banner templates in the product or from template community.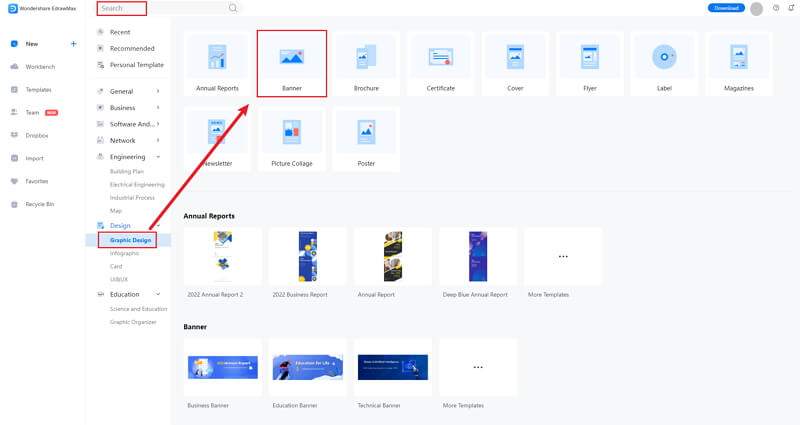 Source:EdrawMax Online
Step 3: Select the Banner Symbols
When you click the large + sign, the editor window will open. You need to find banner symbols from the Symbol Library.
Click the Symbol Library option on the top left side of the editor window. Next, a dialogue box will open. From the dialogue box, go to the Design menu. A dropdown menu for business symbol categories will appear. Then, mark the banner tab from the dropdown menu. Then, click the OK button to import the banner symbols in the editor window.
Or you can search the banner symbols from the Symbol Library. Then, select this option, it will appear on the left side toolbar.
Source:EdrawMax Online
Step 4: Add More Details
Once the symbols are imported to the editor window, you can drag and drop the banner symbols in the editor to create your banner chart using them. To edit the symbol, click in the boxes and enter your content. Likewise, you can make the boxes more attractive by using the Fill, Line, and Shadow options.
There are many editing options available in EdrawMax Online to make sure your banner chart is customized according to your needs. You can change the transparency, change, type of fill, as well as add and remove layers.
Moreover, you can also change the properties of the line and shadow to make it according to your preference. With EdrawMax Online, the editing tools available are endless to ensure that the file you want is what you had in mind!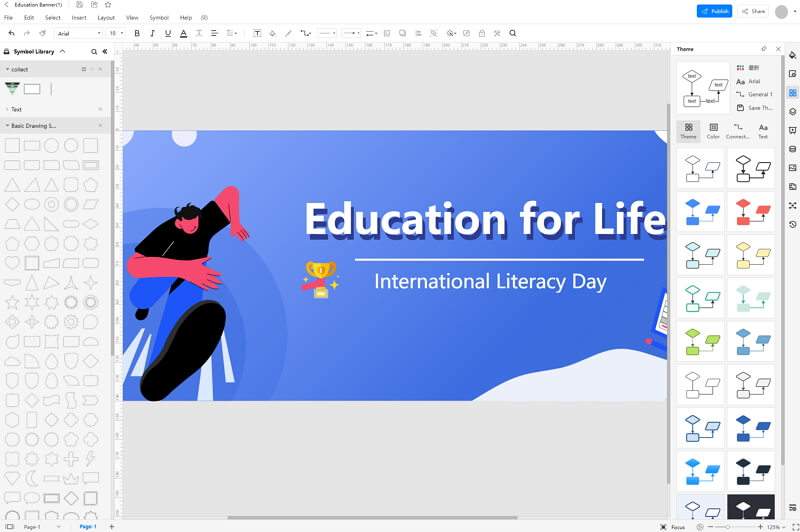 Source:EdrawMax Online
Step 5: Export Banner as Word Format
Click on File in the top left corner, from the drop-down menu select Export. From the Export menu, select Export to Word (.docx), and your Edraw banner chart will be saved as a PowerPoint file to your computer. You can also export your files to cloud services like Dropbox on EdrawMax Online.
So it is easy to make banner in EdrawMax Online, but you are still wondering how to make it, just check this banner guide to make creation easier.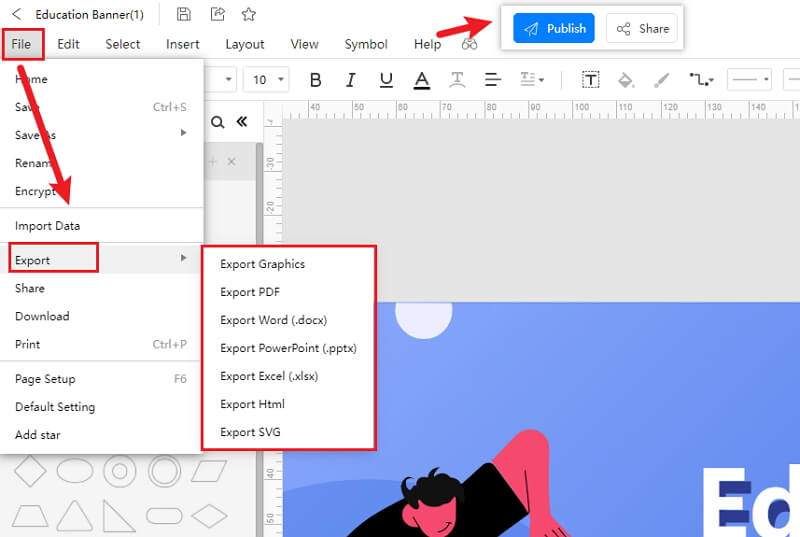 Source:EdrawMax Online
2.1 The Advantages of Making a Banner in EdrawMax Online
Compared with Word, there are many advantages that making a banner in EdrawMax Online:
EdrawMax Online supports to make a banner online, and will be automatically saved, which means you could make banner in any where at any time.
EdrawMax Online has a powerful Template Community, that you can find inspirations from thousands of templates made by Edraw users.
EdrawMax Online supports to export and import multiple file formats, which ensures that you can make continue your work from other platform to EdrawMax Online, or you can export your banner from EdrawMax Online, and attached to other files.
Or even you can showoff your banner with others by using Presentation Mode.
2.2 The Disadvantages of Making a Banner in EdrawMax Online
Even though there are some advantages of using EdrawMax Online as the tool to create your banner, certain limitations affect the overall quality of the project. For instance:
EdrawMax Online contains limited banner related symbols. However, it is good for you to make your own banner symbols, you can create symbols from EdrawMax, or you can import the symbols you like and save into your symbol libraries.
2.3 Tips for Making a Banner in EdrawMax Online
Creating banner in EdrawMax Online could be easier thing than making in Word, since there are resources and powerful export function.
Choose a built-in template from Template Community to start quickly.
Use powerful toolbars on the right and left sides of canvas to make your banner more stunning.
Export your banner in mulitple formats to meet your needs, or share to your social media, email, and print it out.
3. Word Banner Templates
The followings are the banner charts in Word templates, you can refer to them, or even use them immediately with ease. If these 3 templates can not satisfy you, there are more banner templates for reference.
Sales Banner Template
E-Commerce stores completely depend on social media platforms, especially Facebook and Instagram. These social media platforms have become a place to showcase ongoing sales or offers or other promotional activities. The above sales banner template is created keeping the ongoing promotion in mind.
Just like this flash sale banner, you can also create your banner with EdrawMax Online and share it directly to social media platforms. Such sales banners are always handy when introducing new offers or telling prospective customers about your platform's ongoing sales.

Source:EdrawMax Online
Youtube Banner Template
If you are an aspiring YouTube influencer or someone who already has a YouTube channel, you must know the importance of creating an aesthetically pleasing YouTube banner. The above is just an example of what a YouTube banner should look like. With EdrawMax Online, you are free to take references from such YouTube banner or create your banner by importing your image or content.
Several YouTubers have mentioned in the past that their banner have played a key role in showcasing their work and what sort of content they create. So, whenever you decide to make a YouTube banner, always consider your niche and then start using the amazing tools offered by EdrawMax Online.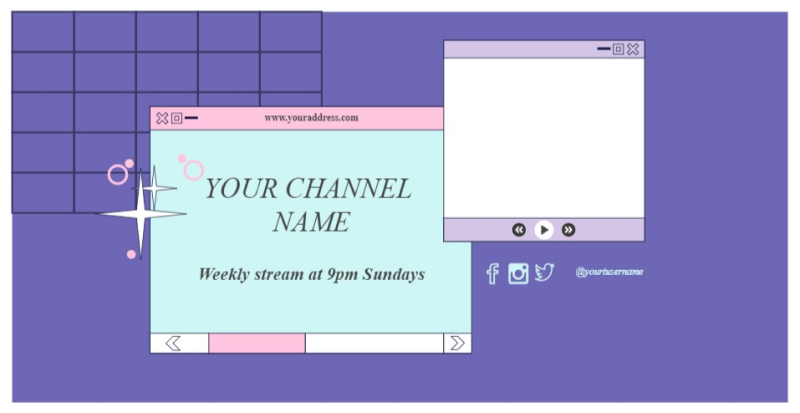 Source:EdrawMax Online
Business Banner Template
Every blogger needs a banner image that goes on the top of their article. This banner image should have a caption in it, introducing the blog's content. For instance, the blog banner below talks about growing your business through B2C sales.
It will give your readers an impression of what you intend to offer in the subsequent blog. Ensure that you choose the right background image for the banner. With EdrawMax, you can easily customize this business-grown blog banner template or take inspiration from it and create your banner from scratch.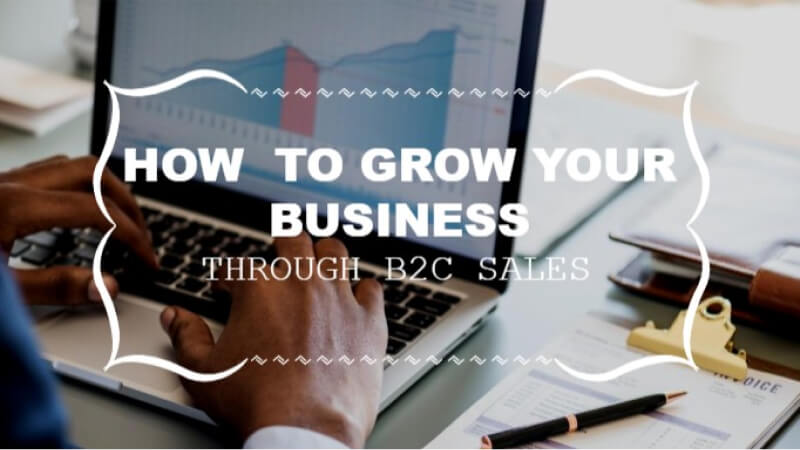 Source: EdrawMax Online
4. Free Online Banner Maker
EdrawMax Online is a free online banner maker that lets you create banner and over 280 types of diagrams in one single dashboard. Take the inspiration from the free banner templates and start customizing. This all-in-one banner maker has over 26,000 different symbols that you can incorporate in your banner design!
There are thousands of design elements in EdrawMax Online that can help you create 280+ different types of diagrams.
You can also browse its extensive range of templates in Template Communityand can readily customize them as per your requirements.
EdrawMax Online is a free cross-platform tool that you can access on any browser and use without any prior designing experience.
There are dedicated features to customize your diagrams and export them in numerous formats like PNG, PDF, TIFF, SVG, and more.
One of the most loved features of EdrawMax Online is the ability to have a remote team collaboration. You can directly collaborate with them online and see how well they prepare the banner for your business.
EdrawMax Online
Create 280+ types of diagrams online
Access diagrams anywhere, anytime
Everything in desktop + Templates Community
Team management and collaboration
Personal Cloud and Dropbox Integration
5. Key Takeaways
MS Word used to be one of the tools that helped create the banners. However, in the end, MS Word is a word-processing program tool and has several limitations in creating banners for your business.
Unlike MS Word, EdrawMax Online offers tons of feasibility when formatting the rich media, including charts and graphs, and ensuring that the banners you design have your brand identity. With EdrawMax Online, you can also export your banner into multiple documents, ensuring that robustness should be maintained at every level.