What is BPMN?
As the name suggests, BPMN is graphical modeling of business processes from start to end, along with the set notations. It operates to work on the flowchart technique that is much similar to Unified Modeling Language and activity diagrams. The set standards of Business Process Diagrams in BPMN help you to understand the procedures of internal business transactions and performance collaborations via graphical notations. The BPMN diagram is a handy technique to ease out the mapping processes with standard symbols.
To improve the business processes, the knowledge of Business Process Modeling and Notation as a subset of BPM (Business Process Management) is a must.
Hence, this article is determined to help you know about the BPMN and the capable software for drawing BPMN diagrams.
So, let's get started on an informative journey.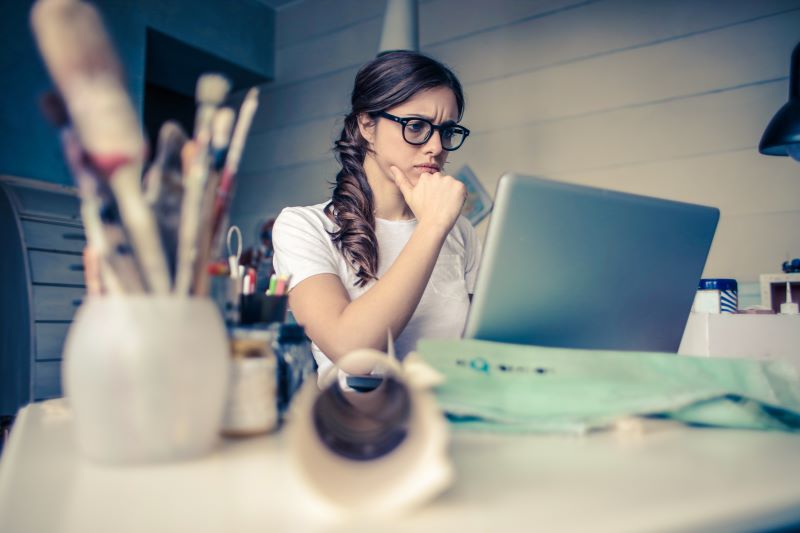 Image Source: pexels.com
How was BPMN developed?
The history of BPMN lay with another name when it was first developed in 2000 by BPMI (Business Process Management Initiative). BPMI is a non-profit organization concerned mainly with the origin of BPMN. In 2005, the BPMI group got merged with Object Management Group (OMG), which took steps to update BPMN from time to time.
The recent up-gradation is BPMN 2.0 with specific standards and various types of maps for representing the work processes of modern and real organizations. Now, the method name of Business Process Modeling Notation 2.0 is Business Process Model and Notation.
It has also been complemented to be known as the Decision Model, and Notation standard since 2014 as the BPMN doesn't lend itself naturally to decision flows.
Why do we need a BPMN diagram?
A BPMN diagram is a visual representation consisted of easy to understand steps.
The stakeholders dependent on understanding the business process will get huge benefits while going through the business process diagrams. It will let them make effective decisions and precise implementation through the presented business procedures and their sufficient details.
Since BPMN diagram is inclusive of a common and standard language, it is useful for all kinds of stakeholders, including business analysts, technical or non-technical developers, process participants, and managers, etc.
Here are some benefits that will help you understand the need for the BPMN diagram.
Relying on intricate workflow diagrams may be a hectic task when it comes to defining the business processes. In this case, only a BPMN diagram can help you out and make to look the process much simpler.
A BPMN diagram beautifully bridges the gap between the process implementation and the process intention by offering relevant details and clarity about the following business activities.
Typically, the large organizations mandatorily follow the concept of Business Process Management which requires using the standardized business modeling tools and completing the formal modeling and notation needs.
Elements of BPMN
Now, we are going to introduce BPMN 2.0 elements and symbols for business process diagrams. These main elements are as follows.
Flow Objects: Activities, Events, and Gateways
Connecting Objects: Message Flow, Sequence Flow, and Association
Swimlanes: Pool or Lane
Artifacts: Group, Data Object, and Annotation
Let's see the description of each element in the following section.
Activities
Activities denote the tasks to be performed by a business process. They are simple and represented with a rounded corner rectangular shapes. The symbol of activity represents the work to be done, an item on a to-do list, or a checkbox on the checklist. To make them detailed, you can add sub-processes, loops, compensation, and multiple instances.

Image Source: cloudfront.net
Events
The BPMN Model start and end with different symbols of events. An event refers to the happening of something, unlike an activity or task. The primary logo is a circle, and the icons are inserted within this circle to denote what is happening. For instance, there is an event of receiving or sending a message indicated via terms 'catching' and 'throwing.'

Image Source: cloudfront.net
The different types of events include the timer, message, error, signal, compensation, cancel, link, escalation, and so on.
Gateways
The symbols get indicated by diamonds and are a conditional element. They are a kind of decision point to adjust paths based on different events and conditions. Various types of gateways include exclusive, inclusive, event-based, and parallel gateways.

Image Source: cloudfront.net
An exclusive gateway represents only one option with the movement of workflow from one route to another.
The event-based gateways are dependent on other tasks that happen.
The parallel gateways denote two side by side paths that aren't dependent on each other.
Message Flow
Being represented by a dashed line with a circle at the start and an arrow at the end, message flow is a symbol to be used across pools or lanes to send information (not a strict action). It is the way to get work done in different organizations or departments.

Image Source: cloudfront.net
Sequence Flow
It is a symbol used to represent the pure flow of work. The sequence flow is necessary to connect different activities and show their order through a straight line ending with an arrow. It may sometimes show a default or conditional discharge.

Image Source: cloudfront.net
Association
Association The element of association is for tying the documents, artifacts, and databases with the activities. It is a dotted line used to link the event or text to a business or gateway. Image Source: cloudfront.net
Pool
The most significant units on a BPMN diagram map are known as pools. These areas include events, lanes, and tasks, etc. Pools represent who is doing the job. They indicate the whole workflow upon which different business processes are getting done. Pools show participants such as companies, departments, or companies.
Lanes
The most prominent element of the pool gets further divided into rows or lanes. Lane represents one parallel within the process and shows both responsibilities as well as the tasks of each department. However, lanes don't mean people or departments every time. They can also be general roles or specific positions in different organizations.

Image Source: cloudfront.net
Artifacts
Artifacts are additional information that developers provide to enhance the details of a BPMN diagram. It includes three types namely, the group, data object, and annotation. A group is a logical formation and grouping of activities that does not change any of the diagram's flow. A data object shows the necessary data for an operation. An annotation is an additional explanation to a part of the BPMN diagram.

Image Source: cloudfront.net
How was BPMN used in business?
The following examples indicate the use of BPMN in businesses. Go through these examples to understand the proper working of a BPMN diagram.
1. Business Trip BPMN diagram example
These examples get used in companies that mostly perform their operations using emails. The task flow will be more agile and simple to control. The blue circle indicates that the event is neither a start nor an end. They are known as intermediate events, just like sending a message. Similarly, the compensation event is also used to compensate for a previous activity in the process.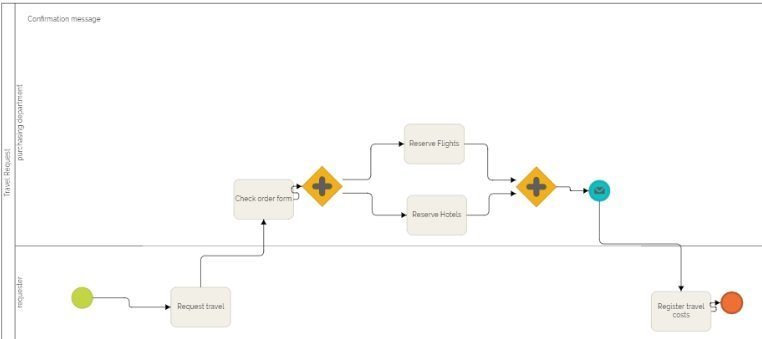 Image Source: heflo.com
2. Service Desk BPMN process diagram
The process of the service desk gets mainly used in technology services companies such as customer care companies. Here, start events get shown with green symbols. There are different symbols, such as multiples with another icon inside the circles. The end events get represented with red circles. They can also be multiple or closing with another circle inside a circle.

Image Source: heflo.com
3. Expenses Reimbursement BPMN process diagram
You can use the Reimbursement BPMN process diagram after the business trip. In this diagram, the gateway gets represented with yellow symbols. These symbols can also follow another branch.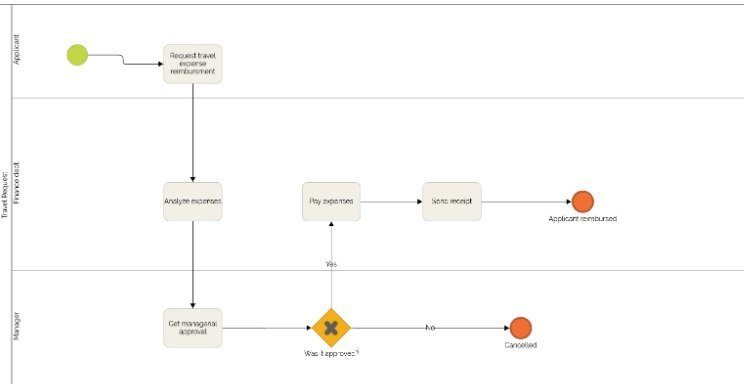 Image Source: heflo.com

Image Source: heflo.com
How to draw a BPMN diagram with EdrawMax?
In this section, we are going to review the most effective software and tool for drawing the business process modeling diagrams. EdrawMax consists of various BPMN symbols used by business participants.
To prepare yourself, learn the four basic types of elements i.e., Activities, Events, Flow, and Gateways. Flow is used to connect the other three essential elements out there. That's it, and you are ready to go for a BPMN diagram.
Now, create a BPMN diagram with EdrawMax, with the following steps.
Step 1: Prepare to create BPMN.
The first step is to start creating for a BPMN diagram from templates and examples provided within the Edraw BPMN software. You can either make your Business Process Diagram or choose from templates.
Step 2: Open the template of BPMN in Edraw BPMN software
In the software application, select the File tab and then click new, Flowchart, and then double-click the BPMN diagram. A new document with the selected BPMN template will open on the left panel.
Step 3: Choose BPMN shapes from the template.
There is a complete set of BPMN elements to choose from within the template. Add them to diagrams to produce choreography, collaborations, and much more.
Step 4: Drag and drop the elements to make flowcharts
You can drag and drop the items within the drawing area and connect them as usual. To label, click on them.
Add a pool to define the process participants in the diagram. Drag and drop the pool shape within the drawing area and adjust the size with a yellow control point. To write text, double click the shape.
Step 6: Add attributes of BPMN
Edraw has the facility to populate the BPMN 2.0 attributes where you can set each object as a BPMN defined characteristics in the contextual panel. For this, right-click the shape you need to attribute and click the property to set the custom property.
Several Tips for Business Process Modeling
Here are several quick tips on business process modeling.
Display business details rather than implementation details.
Use the form of 'verb+noun' to represent business processes such as 'Register Customer.'
Always indicate an end event.
Use job roles/titles on swimlanes.
Think of the reasons for modeling process flows.
Conclusion
So, after recognizing the importance of Business Process Modeling techniques, it is clear that we should also use the BPMN diagram to define our business processes graphically. For a simple drawing with pre-available templates, we highly recommend using EdrawMax BPMN software as it is a reliable and enriched software tool with great features.
Related Articles