How to Make a Brochure on Google Docs
---
A brochure is a folding pamphlet or template that has informative text or images to tell people about campaigns, initiatives, and other such activities. There are two ways to make a brochure using Google Docs: choose a template from the Google template gallery or create a brochure from scratch. This article is a step-by-step guide on how to make a brochure on Google Docs using templates.
How would you like to create your Brochure?
How to Make a Brochure on Google Docs
Step 1: Open Google Docs
Sign in to your Google account. After that, open Google Docs. You can access Google Docs at https://docs.google.com/
If you don't log in to your account, then you won't be able to create or access documents. Keep reading to find out how to make a brochure on Google Docs.  
Step 2: Select Template gallery
After opening Google Docs, you will see the Template Gallery on the upper right side of the page. Choose your template from the gallery.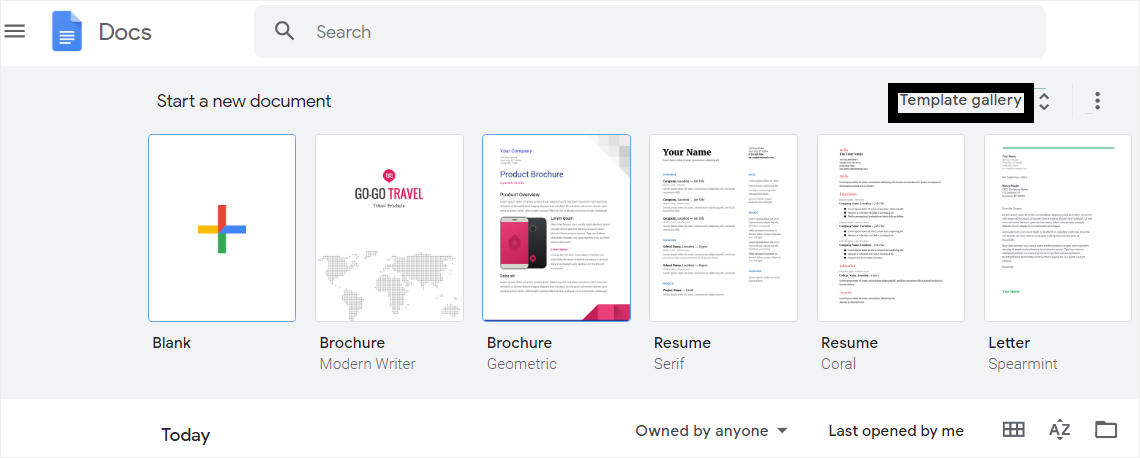 In case the Gallery Template option is not showing, click the Main Menu in the top left corner and then click Settings from the drop-down menu. Next, click the box under Templates. Now, the template gallery will be visible.
Step 3: Find brochures templates
When you click the template gallery, you will see all the templates under different sections. Now you need to look for the Work section. You will find two Brochure templates in there with the names of Modern Writer and Geometric. These two are the only brochures templates available in the Google Docs template gallery. You can choose any one of them that suits your needs and interests.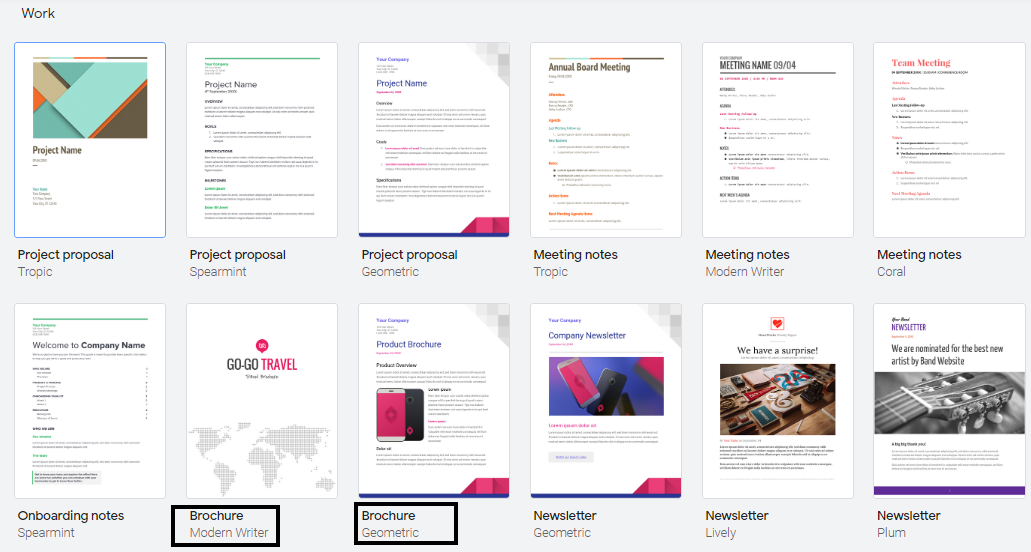 Step 4: Edit your brochure
After choosing a template from the gallery, your brochure will look like this in the document editing and reading interface.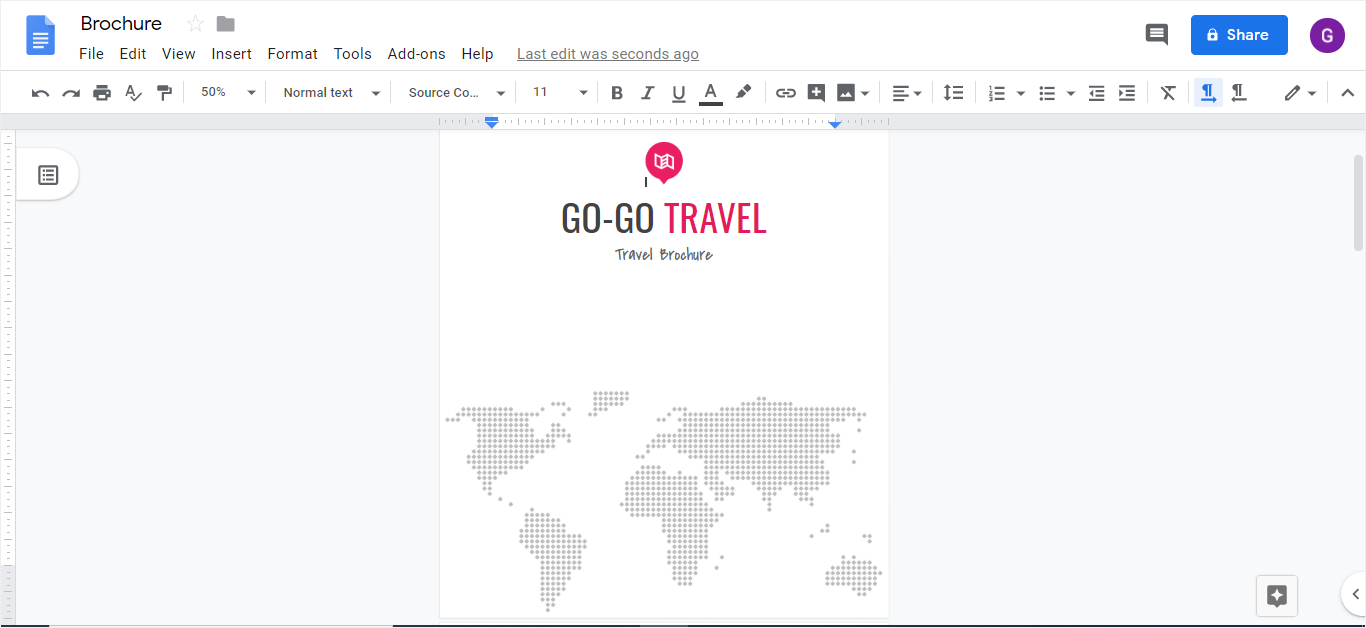 Now, you have opened the template. You can edit the content in the brochure template. You can change the content with whatever you want, add pictures, change colors, and adjust font styles and sizes; it is all up to you!
The purpose of these templates is to make things easy for you and to give you an idea of how you should design a brochure. If the template seems fine to you, you can use it.
An advantage of Google Docs is that it gives you various spaces, distinctive content sizes, and more thoughts of how you can utilize various tools and colors to make your brochure look attractive.
How to Make a Brochure in EdrawMax
Step 1: Log in to your Edraw account
To make a brochure in EdrawMax Online, you need to log in to your account. If you don't have an account on EdrawMax, then sign up for free using your valid email address. Once it's done, you can start using EdrawMax Online.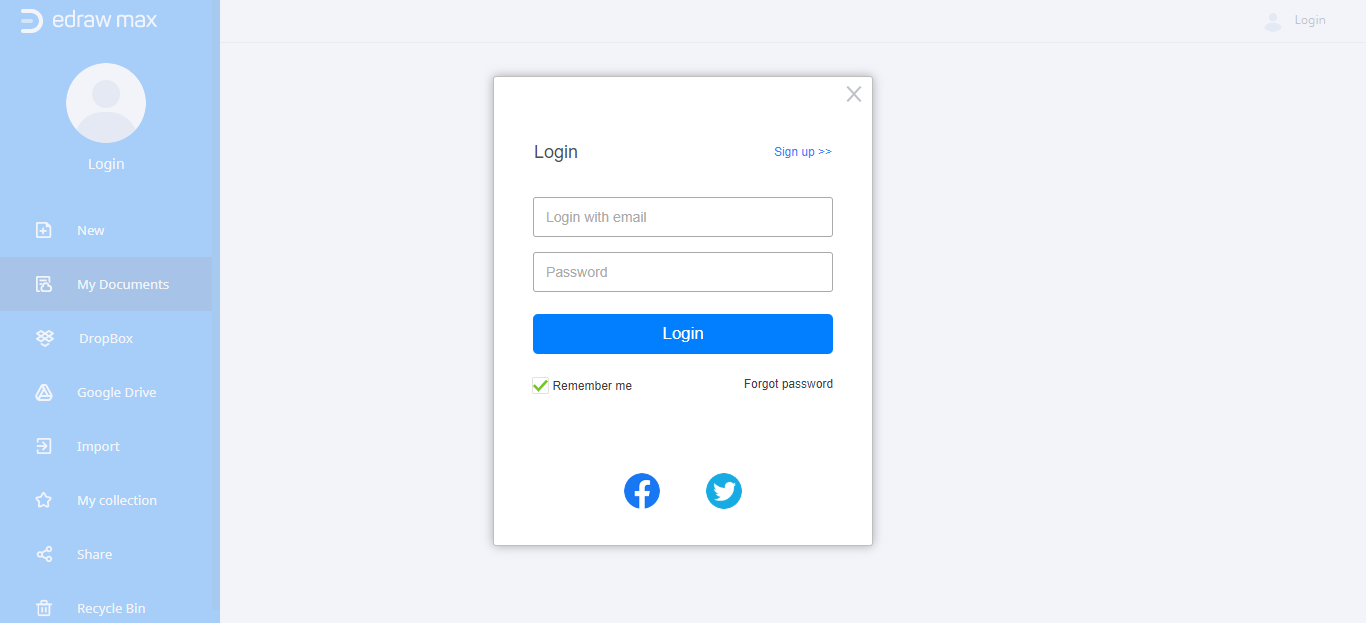 Step 2: Open Graphic Design section
Now, you need to select and open the Graphic Design section when you log in to EdrawMax Online. You can see it in the picture below.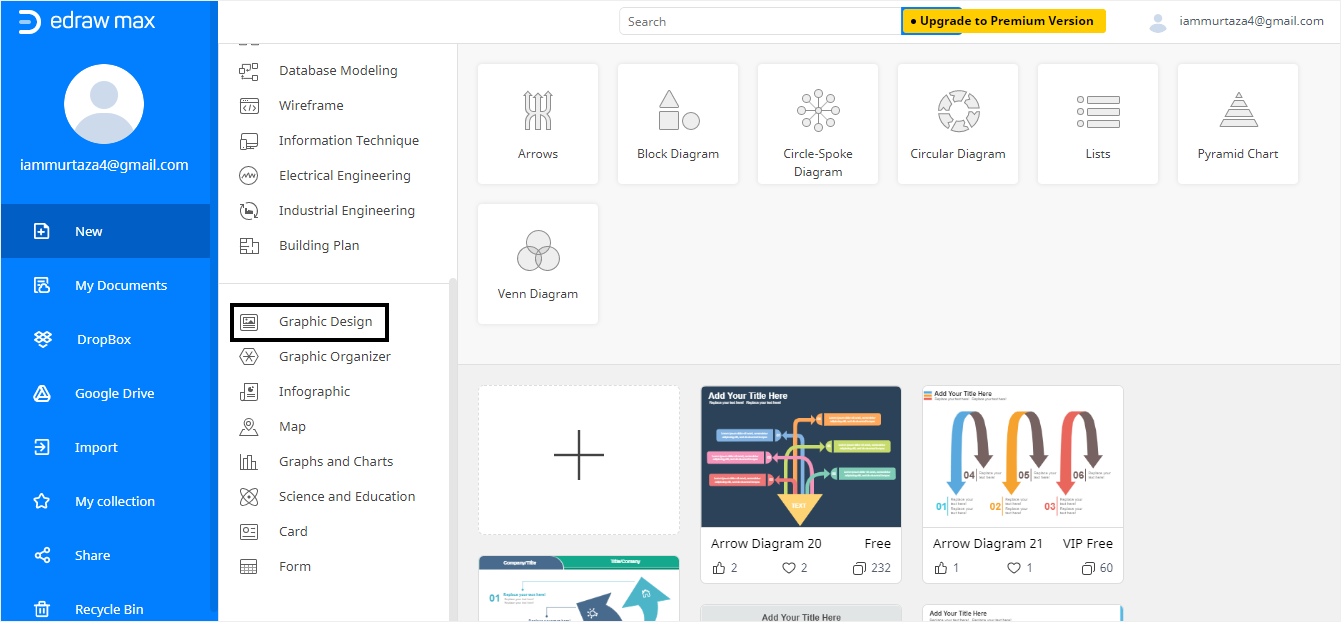 Step 3: Choose your Brochure template
Click the Brochure tab, and you will see many colorful and attractive brochure templates. You can choose any of the templates from the provided options. To create your brochure,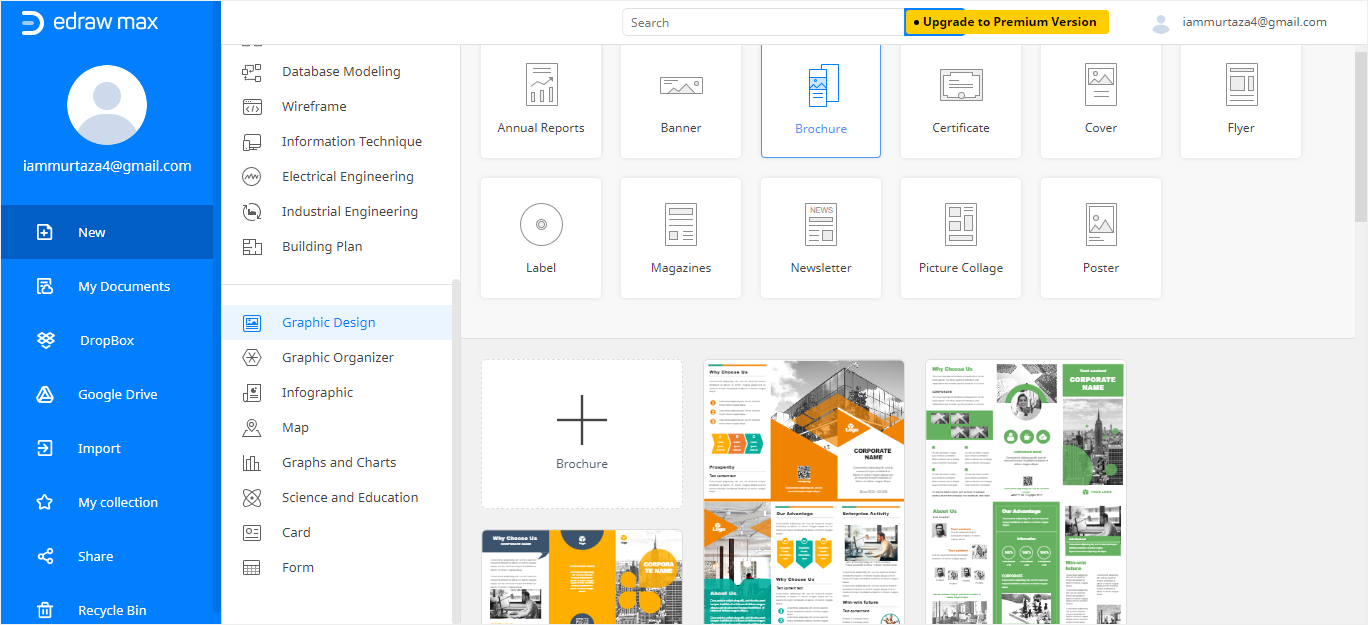 EdrawMax offers hundreds of free editable brochure templates that you can download and import and lets you edit the templates and make brochures according to your requirements and needs.
Step 4: Edit your template
You can extensively edit your template on EdrawMax Online. The editing features allow you to insert pictures, tables, QR codes, charts, and even watermarks!
Moreover, you can adjust the font size, color, and even style. With EdrawMax Online, you have the option to edit the template any way you like!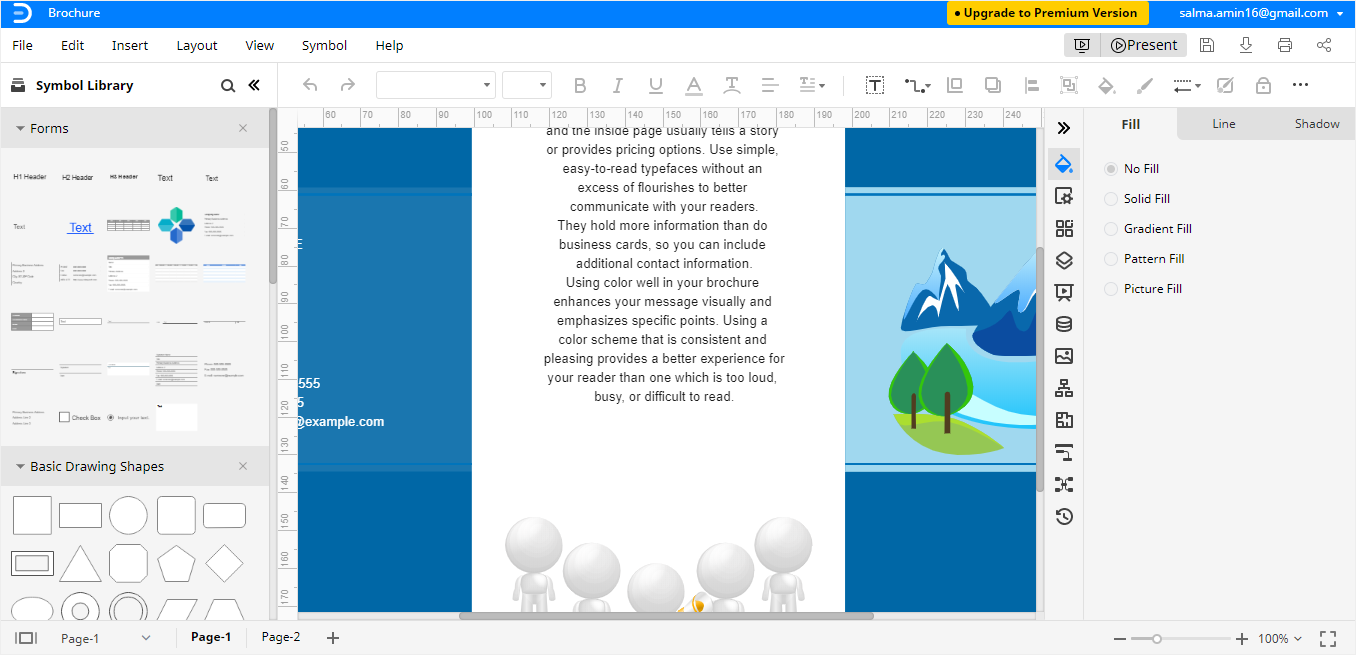 How to Save an Edraw Brochure as a Common File
After you have created your Brochure in EdrawMax, you need to save it to your desktop so that you can get it printed. Follow the steps below to export your file in different formats.
Step 1: Export the file
After making the brochure, click on File in the top left corner. From the drop-down menu, select Export.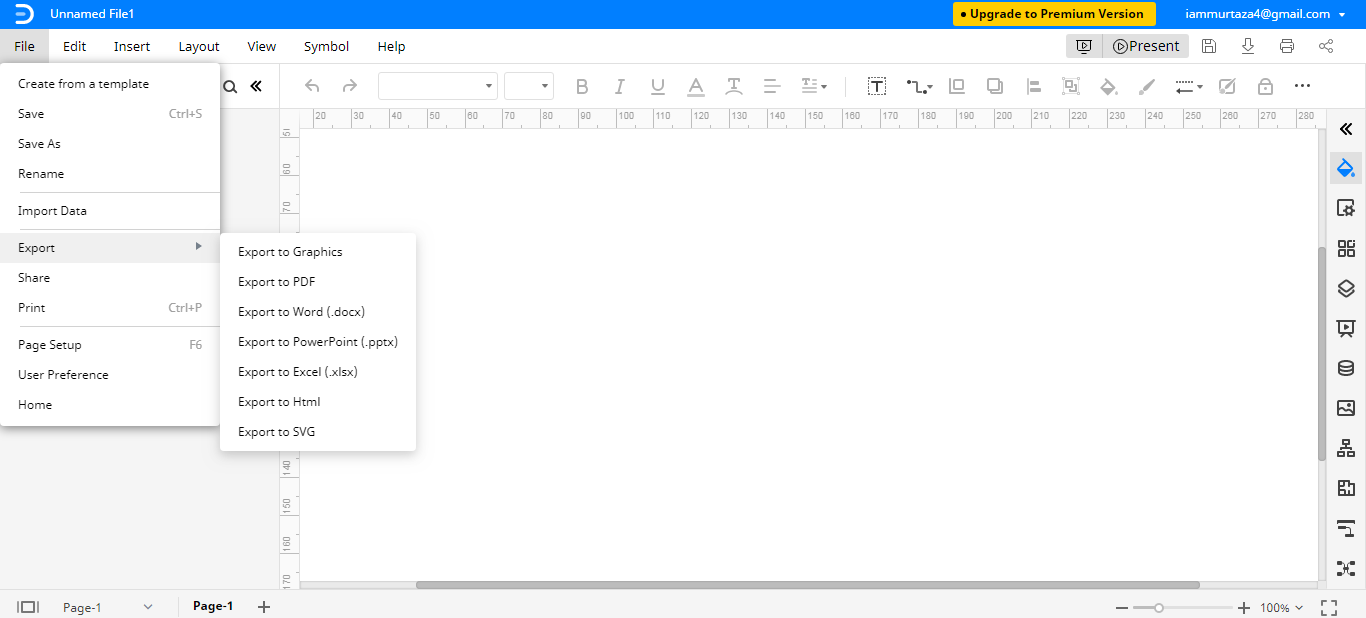 Step 2: Choose a file format
You can choose a file format according to your needs and save your brochure in your local storage. EdrawMax also has cloud service integration, which means you can export or import your files to DropBox and Google Drive as well.
With this, we end our guide on how to make a brochure on Google Drive!