How to Create a Fault Tree Analysis Diagram in PowerPoint
A fault tree analysis(FTA) is a deductive diagram which helps to determine the cause of failure. It is generally used in the reliability assessment of a system. A fault tree diagram is a top-down hierarchy of issues to fix that causes a failure.
This article is a descriptive tutorial about how to do a fault tree analysis ppt and Edraw Max. You'll learn the step-to-step procedure of making a fault tree diagram in Microsoft PowerPoint and Edraw Max online.
How would you like to create your Fault Tree Analysis?
How to Create a Fault Tree Analysis Diagram in PowerPoint
Step 1 – Open MS PowerPoint
Open Microsoft PowerPoint on your computer and select Blank Presentation.
Step 2 – Use SmartArt Graphics
Microsoft PowerPoint has built-in Shapes and SmartArt Graphics in the Illustrations section. You'll need to be aware of the use of different symbols for specific purposes.
Step 3 - Use Baisc Shapes
Use the basic shapes and other symbols to create a fault tree analysis in PowerPoint. Add text boxes and connect them by using the lines in basic shapes and symbols!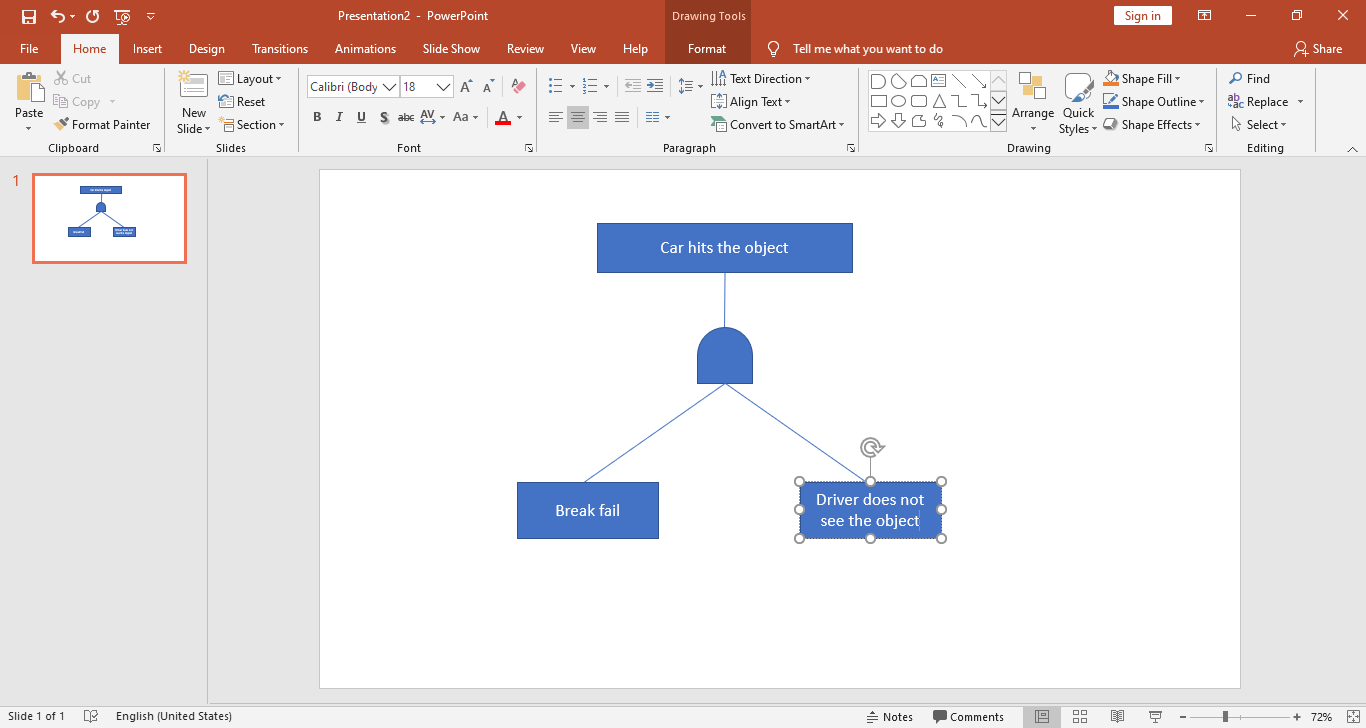 How to Make a Fault Tree Analysis Diagram in Edraw Max
Edraw Max is a specialized software for making professional designs and diagrams for any purpose. The fault tree analysis diagram needs to be in a very professional outlook and understandable to everyone taking part in fault analysis.
Let's see how Edraw Max can help to create a very advanced level fault tree diagram.
Step 1 – Login to your Edraw Max Online
You'll need to use the Edraw Max online platform to create your professional fta analysis. Edraw Max asks the users to create an account, and then you can design whatever you need. Log in to your Edraw Max account.
Step 2 – Go to Management > Fault Tree Analysis
Edraw Max makes it easy for everyone to create a modern and beautiful looking fault tree diagram. You can start with pre-made templates by Edraw Max or draw one from scratch in case you have a blueprint in your mind. Navigate to the Management tab and then select the Fault Tree Analysis option to create a professional visual tool that can enhance the brainstorming of your team to resolve an undesired state in your system.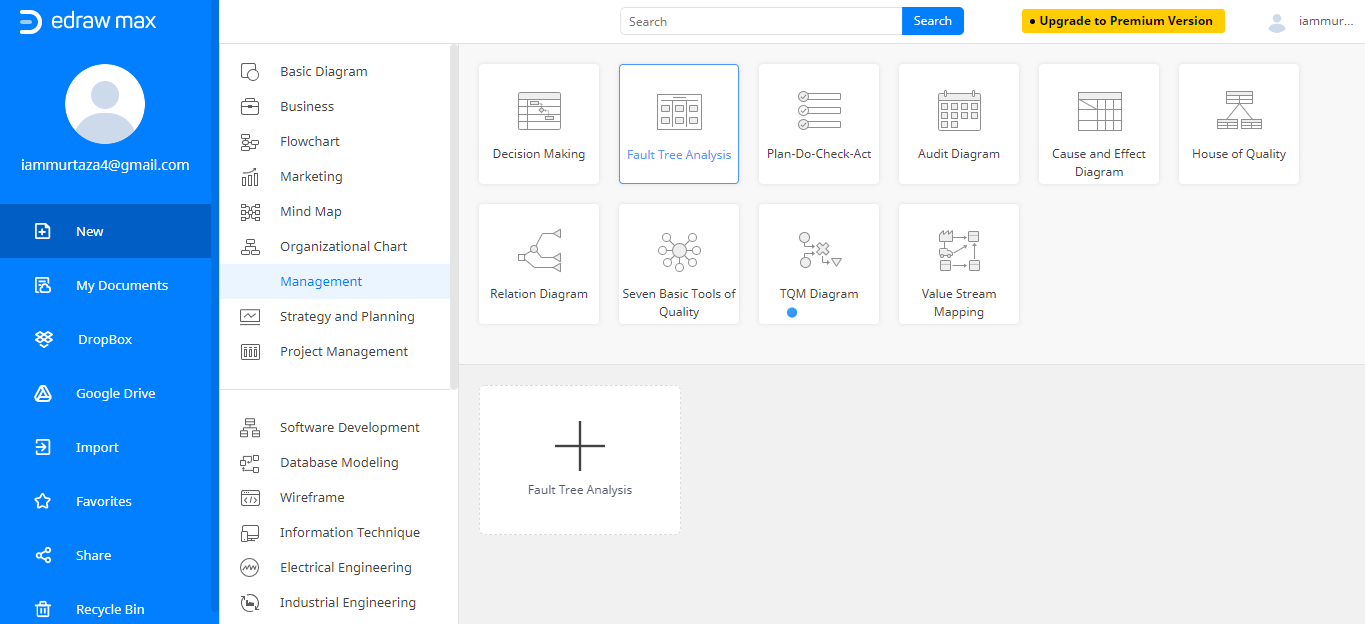 Step 3 – Choose your desired template
Edraw Max has several pre-made templates for a fault tree analysis diagram that you can use. Under the Fault Tree Analysis section, choose from a number of modern and professional templates to design your high-quality fault tree analysis diagram.
Once you have opened a template in the Edraw Max online editor, you'll have the editing tools and functions to translate the template to your fault tree analysis diagram.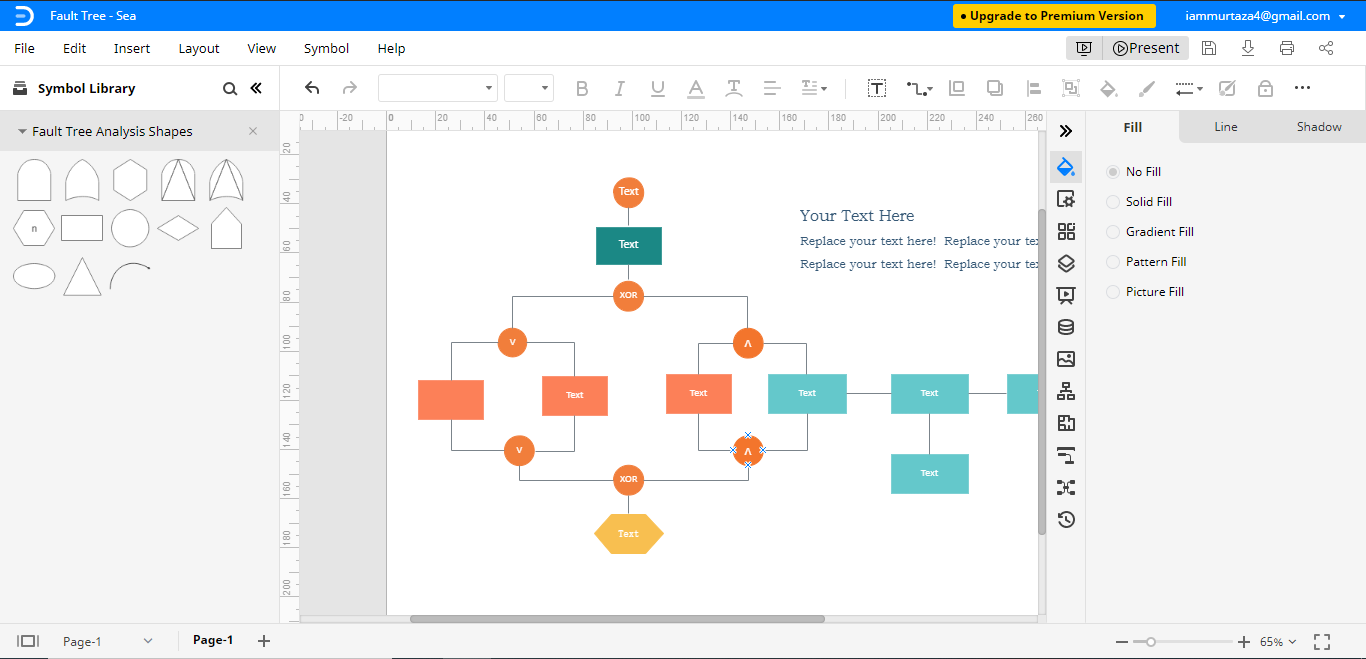 Step 4 – Edit your template
You can use this template as a blueprint for your fault tree analysis diagram, but the conditions may slightly change from the template. The logic gates applied in the template may not fit perfectly in your case scenario. In such a situation, having an idea of logic gate symbols can do a lot of good for you.
Thanks to the Symbol Library of Edraw Max fault tree analysis tool, you can change the connectors or shapes in the template.
From the left side, pick the most suitable shapes and replace them with the one you want in the template. With these slight improvements, you can give a complete professional and more comprehensible look to your fault tree analysis diagram. Edraw Max editing tool doesn't end here, and you can add different colors and text to different shapes to make them easy to understand and track the issue.
How to Export an Edraw Diagram as a PowerPoint File
One of the most useful advantages of using Edraw Max for making fault tree analysis ppt is that you can export the diagram in PowerPoint format. Go to File > Export > Export PowerPoint (.pptx)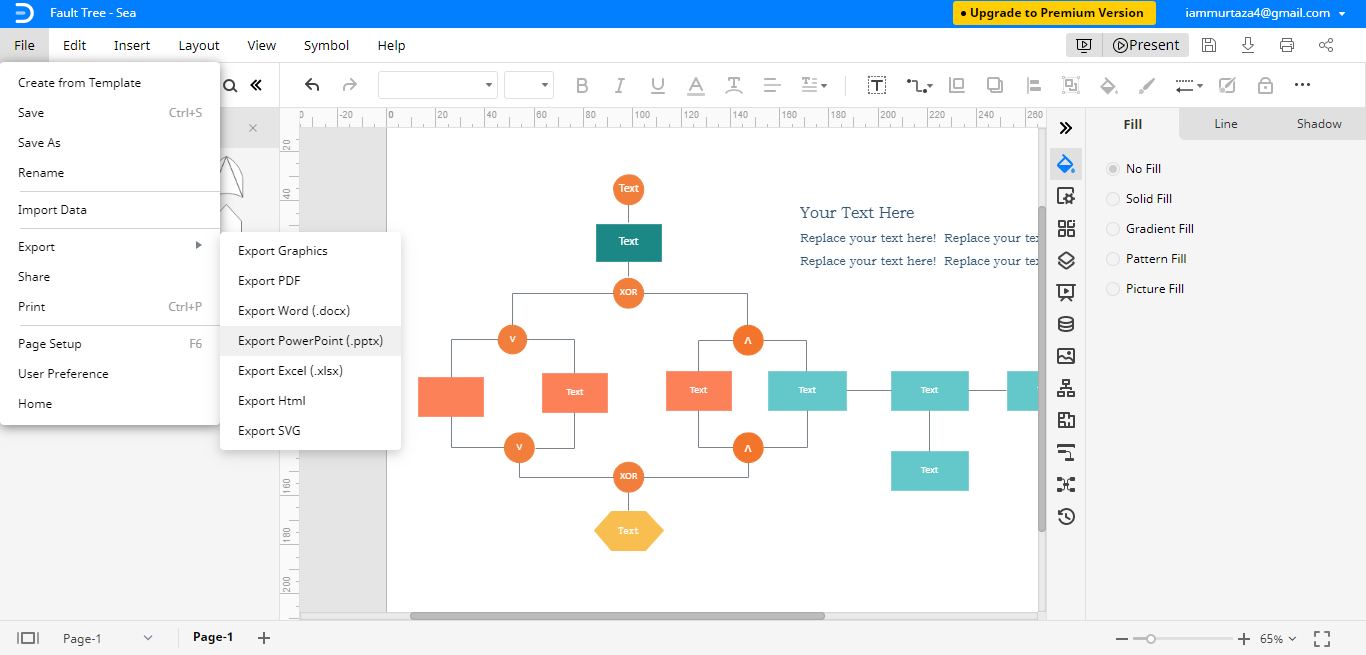 This enables you to open the Edraw Max files in corresponding programs on your computer. You can open the fault tree analysis diagram in Microsoft PowerPoint if you want to perform any changes.
When you're finished making your FTA analysis, you can export it to your Google Drive & Dropbox so you can access them at any given time.
Microsoft PowerPoint is easily accessible without any internet connection, and ease of use is great. However, it offers minimal functionality, and you can only create a fundamental level diagram for educational purposes.
On the other hand, Edraw Max is a specialized designing software with full-fledged features for making basic to advanced level diagrams. You can use professional templates or shapes available in the symbol library to create an advanced-level or basic-level fault tree analysis diagrams. So, if you're looking for a better choice, then no doubt Edraw Max beats the Microsoft PowerPoint in every aspect of making a fault tree diagram.