Free Editable Blank Menu Templates Examples
For any business or restaurant, their menu creates the first impression. You can also say that the purpose of a blank menu template is to attract potential customers or clients. It is essential to have a menu that stands out and captures the interest of anyone who sees it to promote your business. If you want to promote your products using menu templates, then make sure to read till the end.
1. What is Blank Menu?
A blank menu template is like a form that you can print and use as a menu for your business or restaurant. Designing a menu for your restaurant is an essential matter as your menu is going to invite customers to have an experience of your products. It is also the most effective method because you can use your creativity to design a menu template that showcases the authenticity of your business. If you want your potential customers to come and try your products, you have to tell them the appealing aspects of your products. You want your menu to positively impact your customers if you want to promote your brand image.
2. The Blank Menu Template Examples
A blank menu template is essential for your business as they embody your products' brand image and uniqueness. That is why it is better to use the right design and a proper layout. To promote your brand, don't forget to highlight the brand image on the menu. The background and theme also matter a lot so make sure it matches the image of your establishment. Also, try to make a flexible design to easily add and update your blank menu template to introduce new products. Following are the most popular types of black menu templates.
Example 1: Blank Menu Template
A blank menu template is commonly used to provide product descriptions using a clear layout. It is the most used type of menu template that acts as a guide for your products. You can easily download and customize it and turn it into a practical key according to the content of your products. Most restaurants use this template to create a classic design to promote their food and services. You can get these templates in many layouts and clean designs to showcase the high-quality food of your restaurant or guide for various other products. You can list items or foods by naming them and writing one or two lines about their uniqueness.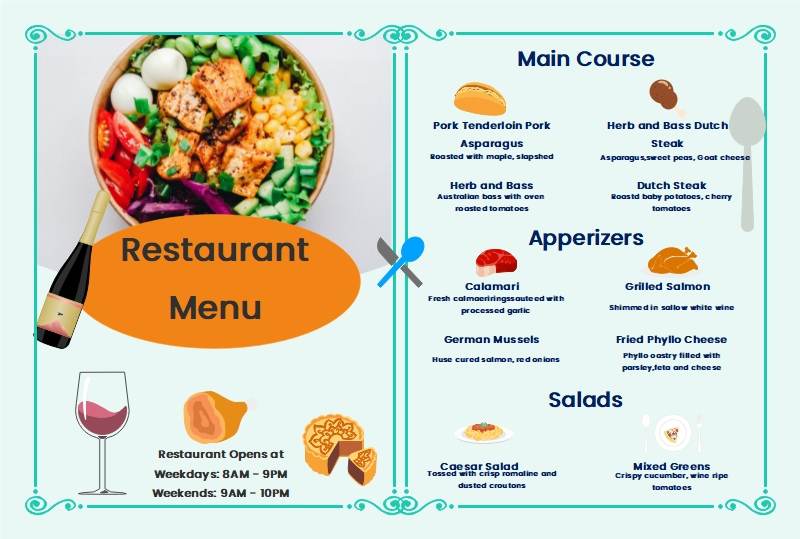 Source:EdrawMax Online
Example 2: Elegant Blank Menu Templates
Elegant blank menu templates are commonly used to display various options to the customers by giving them enough details about your food or products. You can add custom fonts to make it creative and to explain various dishes on your menu. You can write the dishes that are your restaurant's specialty so that customers and guests pick those dishes. You can add a suitable background image and use colors that carry your restaurant's theme or the food you are listing. You can add drinks and side dishes at the end of the menu that goes well with the main dish. These templates are the best choice if you want customers to read the details of your products.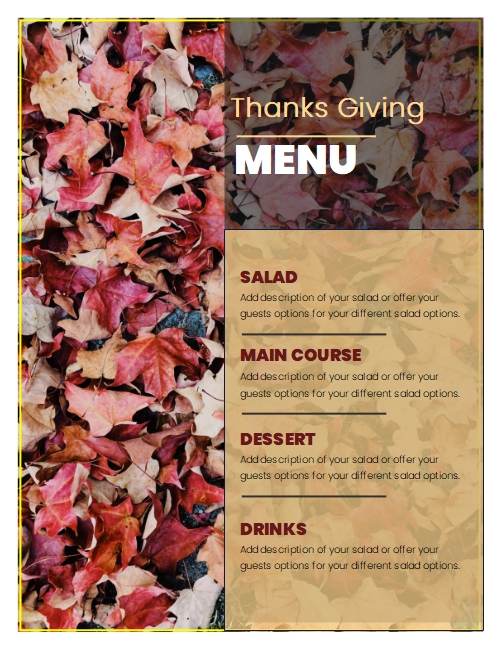 Source:EdrawMax Online
Example 3: Blank Weekly Menu Template
Many restaurants use blank weekly menu templates to create a weekly meal plan for the customers. Its layout is simple and easy to read. The only thing that is different from other food menus in the weekly menu is that it lists the weekdays parallel to the dishes and the times of the day when the restaurant will serve the dishes. Restaurants use this weekly meal menu to showcase their dishes that you can only eat at specific times. You can also plan your everyday meals and list the ingredients you need to buy from the market.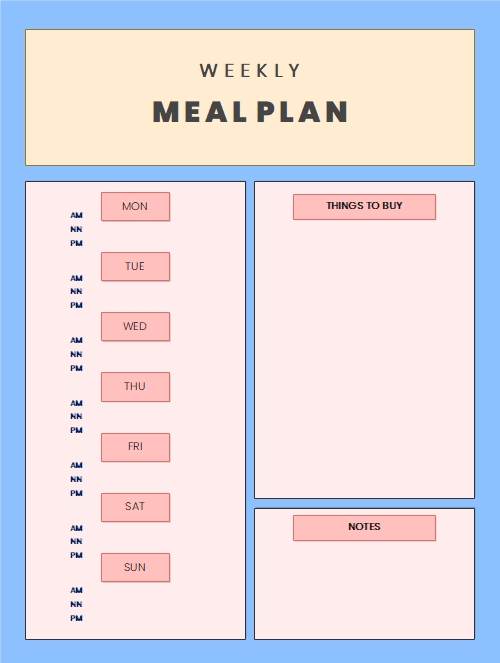 Source:EdrawMax Online
Example 4: Blank Christmas Template
A blank Christmas template is an event-specific menu template that helps promote unique dishes and discounts only for the Christmas holidays. It doesn't come with a massive list of dishes. Most of these only list one or two unique dishes for Christmas, and it gives customers every detail about the entire course of the special meal. You can list starters at the top, then you can add the main dishes for the day, and after that, you add deserts to complete the set. Most of these templates come with a Christmas background and a holiday theme that makes them more unique and creative.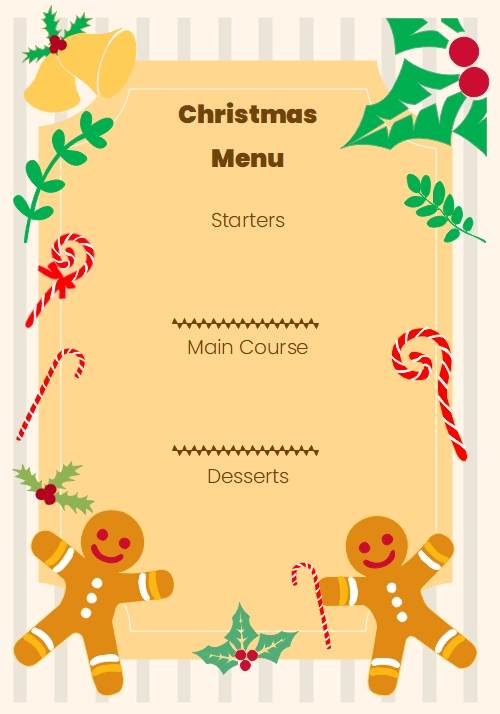 Source:EdrawMax Online
Example 5: Blank Food Menu Template
A blank food menu template uses a specific layout in which the main course of dishes, salads, desserts, and beverages lists on the front page of the template. It doesn't contain many details about the food. Instead, it uses its eye-catching design to attract customers and order food. Most cafes and restaurants use this type of menu template to showcase their unique dishes. Food menu templates stand out the most as it uses creative fonts and beautiful design.
Source:EdrawMax Online
Example 6: Blank Dinner Menu Template
A blank dinner menu template lists the dinner meals for high-end restaurants. It styles a simple and elegant design. There are not many decorations or colorful backgrounds on a dinner menu template, and it is just a straightforward menu with the main dish courses written at the center. What attracts people to a dinner menu template is its font style, and it makes it look like every dish on the menu tastes divine. This menu is the first choice for a restaurant with the best food.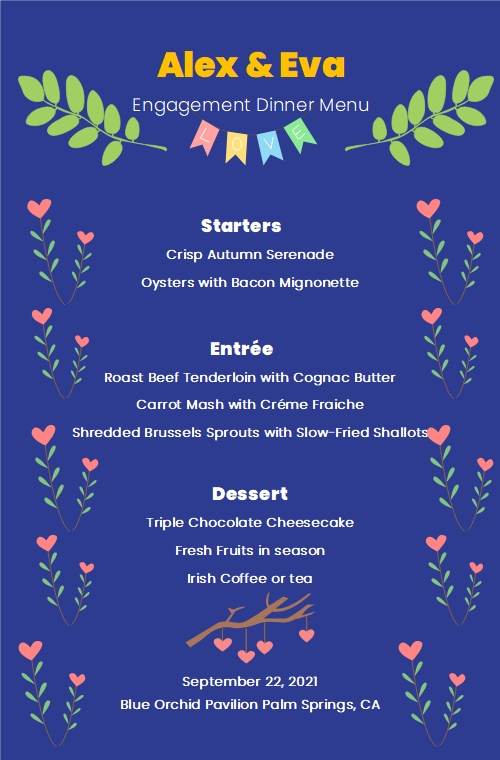 Source:EdrawMax Online
Example 7: Blank Restaurant Menu Template
You can use a blank restaurant menu template when you want to list prices next to each item in the menu and make it attractive. Customers like it when a restaurant menu lists prices as well, and it allows them to order the food knowing the cost of each item, and it makes it easier for them to calculate the tip and stop when they are spending too much. You can see that the menu template in the example is clearly designed, and even with the addition of prices, there is still a lot of room left to make changes in the menu later on.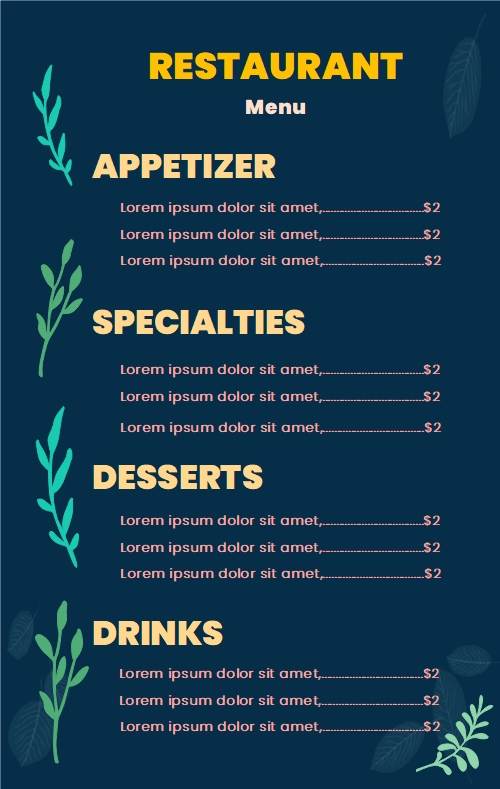 Source:EdrawMax Online
Example 8: Blank Dessert Menu Template
Most cafes and ice cream parlors use blank dessert menu templates to promote their snacks and desserts. These menu templates are colorful and eye-catching for everyone regardless of their age, and you can use almost any color as a background for dessert menus. They are mainly used to showcase a cafe or restaurant's best and popular desserts. Every listing on this menu is sweet snacks such as shortcakes, ice creams, and parfaits.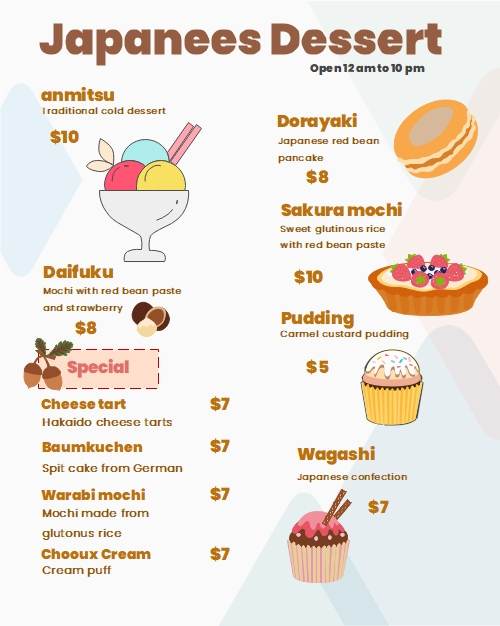 Source:EdrawMax Online
Example 9: Blank Daycare Menu Template
Blank daycare menu templates are the menu plan for a nutritious and balanced diet for one to year-old children. As well know that little kids need nutrients and a healthy diet to grow. Most daycare centers use daycare menu templates to carefully plan foods to serve the children, including breakfast, lunch, dinner, and even tiny snacks. You can use these templates to create a day-to-day healthy and balanced diet plan for kids.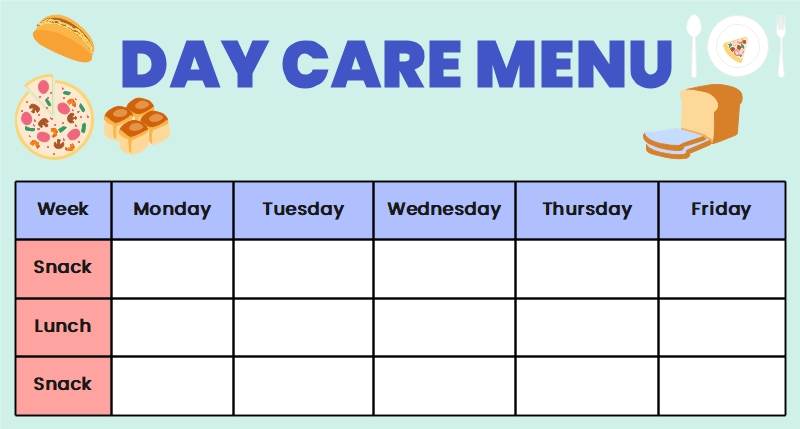 Source:EdrawMax Online
Example 10: Blank School Lunch Menu Template
Parents and kids use a blank school lunch menu template to make a weekly lunch plan. For kids in school, a lunch menu lists all of their favorite food for lunch. They write a different food for each weekday and ask their parents to give it to them according to the meal plan. Parents also use it to plan their children's lunches. The format of the lunch menu template is similar to a calendar. The names of the weekdays are at the top, and there are boxes where kids can write the names of the food they like to eat.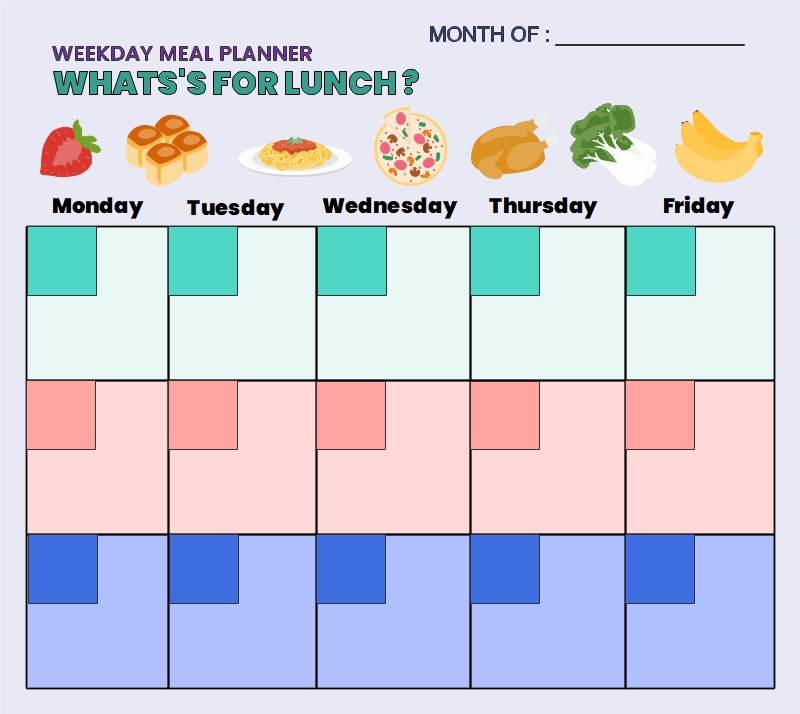 Source:EdrawMax Online
Example 11: Blank Cocktail Menu Template
A blank cocktail menu template lists various drinks and beverages of any bar or restaurant. It is a unique menu template because you can't add any food listings to it. It is mainly used to list both alcoholic and non-alcoholic drinks in a bar. Making this template is not hard as you can always use it with a separate drink menu to give details to your customers. Its layout is pretty simple as it only lists the beverage's name, type, and price.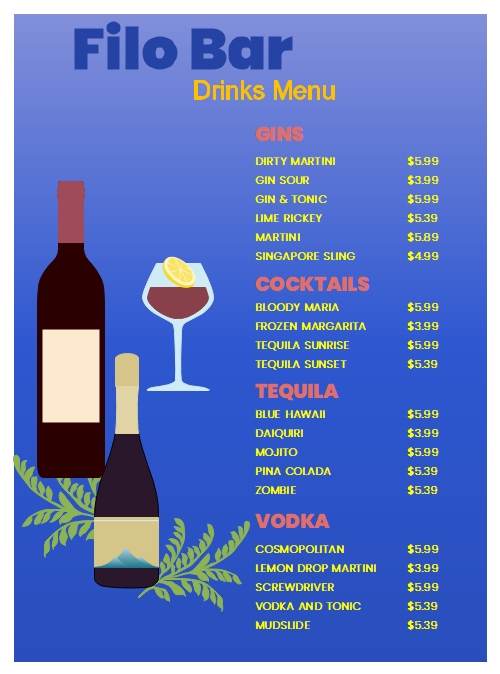 Source:EdrawMax Online
Example 12: Blank Menu Template PDF
When you are having a party or an event at your house, you can use the bank menu template in the example to let your guest know what will be on the menu. Most people use this template when having holiday dinners or family gatherings. Its format is simple and elegant. The background colors are not too bright, and the green font makes it classy. The color combination makes it attractive, and whoever reads it will get the impression that the food on the menu will taste divine.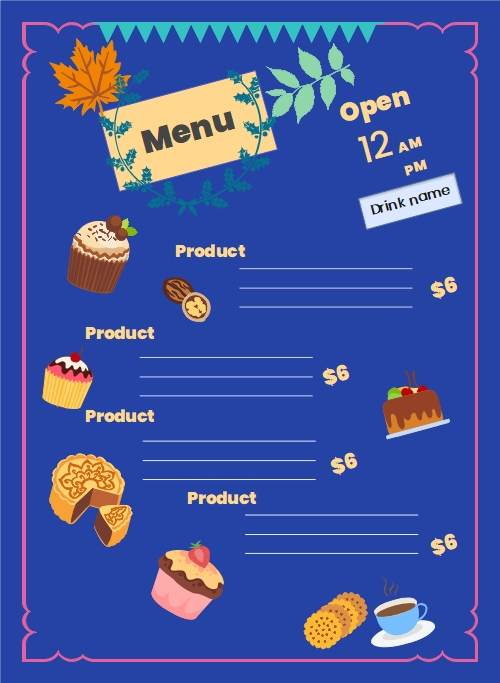 Source:EdrawMax Online
3. Online Resume Maker
A blank menu template is essential for restaurants and food businesses. It is beneficial in promoting dishes and food items by attracting people using its elegant and creative design and various delicious options. Having it is a must for any restaurant, café, or bar. If you also want to create a blank menu template, you can use a diagramming or menu-making tool EdrawMax Online. It comes with various customization tools, professional templates, icons, images, and media libraries to add to your menu template with a simple drag and drop. With EdrawMax Online, it is effortless to create personalized blank menu templates.
EdrawMax Online
Create 280+ types of diagrams online
Access diagrams anywhere, anytime
Everything in desktop + Templates Community
Team management and collaboration
Personal Cloud and Dropbox Integration
4. Key Takeaways
Blank menu templates are forms you can use to create and print menus for your restaurant. The purpose of creating a menu template is to attract customers and showcase a restaurant's dishes. There are many types of blank menu templates that you can use for your business. You can use cocktail menu templates, dessert menu templates for cafes, and dinner menu templates for restaurants if you own a bar. You can find out more menu templates in the Template Community.