LucidChart vs. EdrawMax: Which Is the Best Tool to Create an Org Chart?
This comprehensive debate compares the process of creating an org chart with LucidChart and EdrawMax to determine which tool has more potential.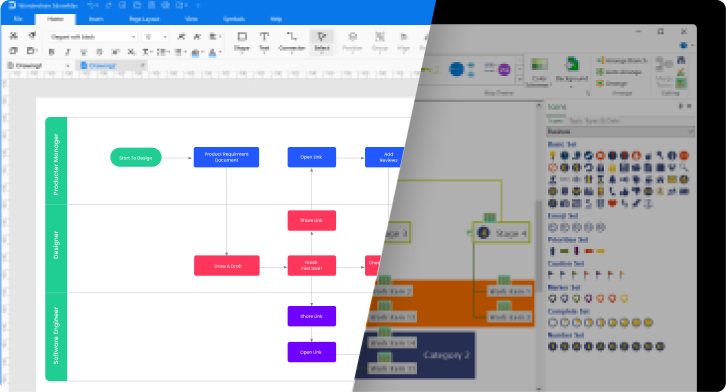 Well, creating org charts help you illustrate the chains of command and reporting relationships within your organization. The employees' names and designations are usually put in boxes, and lines are used to link them to different departments and employees. In simple words, an organizational chart presents the complete hierarchy of a company.
When exploring today's market, hundreds of potential tools are readily accessible, but trusting every utility is difficult. LucidChart is listed among the few top-grade tools designed to create org charts and other diagrams. This article focuses on creating a LucidChart org chart and presents a worthy alternative to this tool. Let's get into the detailed specifics.
1. How to Create an Org Chart with LucidChart?
Lucid Software Inc., a well-known software solutions development company based in Utah, United States, has developed LucidChart. It is a web-based intelligent diagramming software designed to create a wide variety of diagrams, like organizational charts, mind maps, and seating charts, to help teams collaborate and build the future with better decision-making.
According to the official website of LucidChart, the most eye-catching thing associated with this diagramming tool is that 99% of Fortune 500 companies (including Google, Amazon, HP, NBC, and NASA) use this utility to create their organizational charts. This is why LucidChart is successfully helping more than 15 million people living in 180 countries worldwide.
When creating your org chart, you can connect LucidChart with different applications, like Slack, Atlassian, Google Workspace, and Microsoft. The option to connect your charts with the live data in Google Sheets enhances overall efficiency and productivity. Let's now look at the process of creating an organizational chart with LucidChart.
2. A Step-By-Step Guide to Creating a LucidChart Org Chart
When it comes to managing a team of several employees in your organization, LucidChart appears as one of the best tools. It comes with a library rich in all the important figures and shapes you need to create your LucidChart org chart.
You have the option to create a chart from scratch or use a built-in template to get this job done. Apart from that, it gives you complete control over customizing your Lucid Chart org chart. Let's look at the steps you need to draw the chart.
Step 1: Open any browser on your laptop or computer, and go to the official website of LucidChart.
Step 2: Now, tap on the "Login" button and enter your credentials to sign in. If you don't have an account, sign up to create a new one. You can also sign in to LucidChart with your Slack, Office 365, and Google accounts.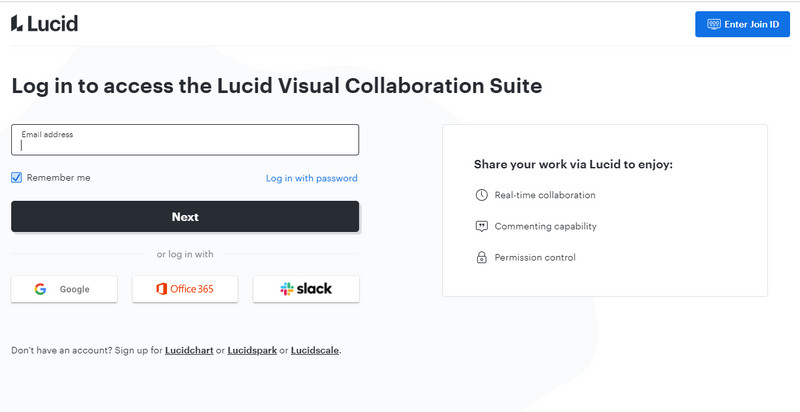 Step 3: Once you sign in to your LucidChart account, a dashboard will appear on your screen. Now, you can tap on the "New" button to create your chart from scratch or choose a specific template to make the job easier.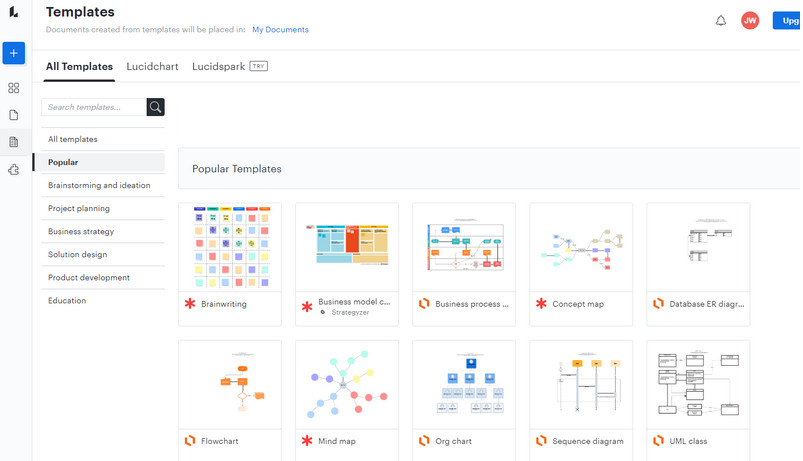 Step 4: When moving your cursor over the nodes, the "Plus" button will appear in multiple directions. You can hit these buttons to add more branches to your chart. Once done, it is time to edit the responsibilities and pictures of each branch, as shown below.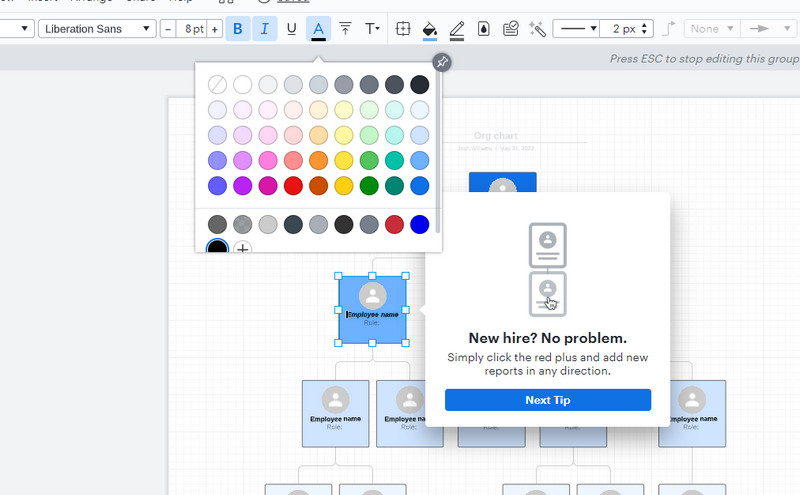 Step 5: Once you are done with making your LucidChart organizational chart, tap on the "File" menu from the top of your window, as shown below. Now go to "Export" and select the suitable file format you want to download your chart in.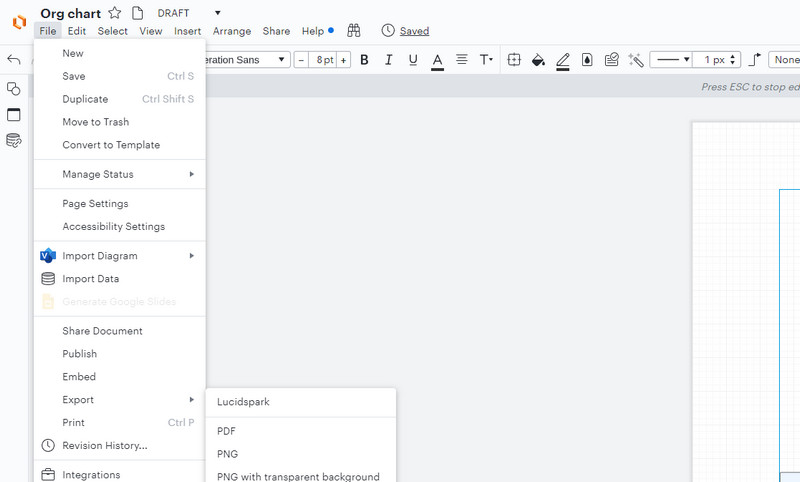 3. An Incredible Alternative to LucidChart for Creating an Org Chart - EdrawMax
Have you used LucidChart earlier to create org charts? Doesn't this tool make you feel comfortable throughout the diagramming process? Looking for a worthy alternative or competitor you can trust? If yes, look no further than EdrawMax. It is a wonderful all-in-one diagramming utility that helps you create decent, simple, and easy-to-understand organizational charts.
EdrawMax assists teams in visualizing the complete hierarchy within the organization and innovating the process by maintaining effective collaboration. It enables teams to enhance their productivity and efficiency at the same time.
Over 25 million users worldwide happily use EdrawMax to create organizational charts and a variety of other diagrams. Big multinational brands like Sony, Facebook, and Puma also trust this utility. Let's look at some potential parameters that set EdrawMax apart.
EdrawMax Desktop
Create over 280 types of diagrams
Windows, Mac, Linux (runs in all environments)
Professional inbuilt resources and templates
On-premises software for business
Enterprise-level data security
EdrawMax Online
Create over 280 types of diagrams online
Access diagrams anywhere, anytime
Team management and collaboration
Personal Cloud and Dropbox Integration
3.1 What Makes EdrawMax Stand Out?
Below is a list of the prominent features that have contributed to making EdrawMax the top choice of millions of people around the world.
Regardless of the nature of the business your organization does, maintaining a simple workflow when creating an organizational chart is very crucial. Thanks to EdrawMax which simplifies your visual workflow and makes charts easily understandable for everyone. Along with creating organizational charts, around 280 kinds of diagramming solutions are available in EdrawMax. It clearly indicates that you can benefit from this amazing utility at any stage of the workflow.
2. Helps You Make Scalable Org Charts
Scalability is something that helps organizations and entrepreneurs keep their heads up in the competition. EdrawMax comes with more than 26,000 symbols and over 1,500 pre-built templates for various diagrams, including organizational charts. With this diagramming tool, you get the opportunity to make highly scalable org charts. Interestingly, you can become a member of the template community to inspire yourself with what other Edrawers (EdrawMax users) are doing.
3. Makes Collaboration Effective
When it comes to maintaining a strong collaboration, sharing work becomes crucial for teams. This is where EdrawMax lends you a helping hand. With EdrawMax, you can share your work through any medium, with any file format, at any time, and anywhere around the globe. This is how this tool helps different teams stay connected to each other and makes unique ideas stand out in the market.
4. Keeps Your Data Secure
No one wants to compromise his or her important data or information. When using third-party utilities, data security becomes a primary concern for every other user. But this is not the case with Edrawers, as EdrawMax promises to keep your data 100% secure and private. This tool uses the highest SSL encryption level for file transfers, which means you remain the sole owner of your data, and no one else can access it without your permission. It shows that data security has always been a top priority for EdrawMax.
5. Compatible with Windows, Mac, and Linux
EdrawMax is super compatible with 32-bit and 64-bit operating systems of Windows 7, Windows 8, and Windows 10. If you use any of these Windows versions, you can use EdrawMax anytime to create organizational charts or any other diagram, like mind maps and floor plans. Apart from that, the MacOS, Linux, and Online versions of EdrawMax are also readily accessible. If you want to use the online version, there is no need to download and install any setup.
3.2 A Step-By-Step Guide
Below is a list of six super convenient steps you need to follow when creating an organizational chart in EdrawMax.
Step 1: Download any EdrawMax version, keeping your device's compatibility in mind. Install it on your system. This is a quick process that takes only a few minutes.
Step 2: Now, launch EdrawMax and hit "Sign In" from the top-right side of your main window. A new window will appear on your screen. There, it will ask you to enter your credentials. As soon as you provide the necessary information, click the "Create Account" button to create your EdrawMax account.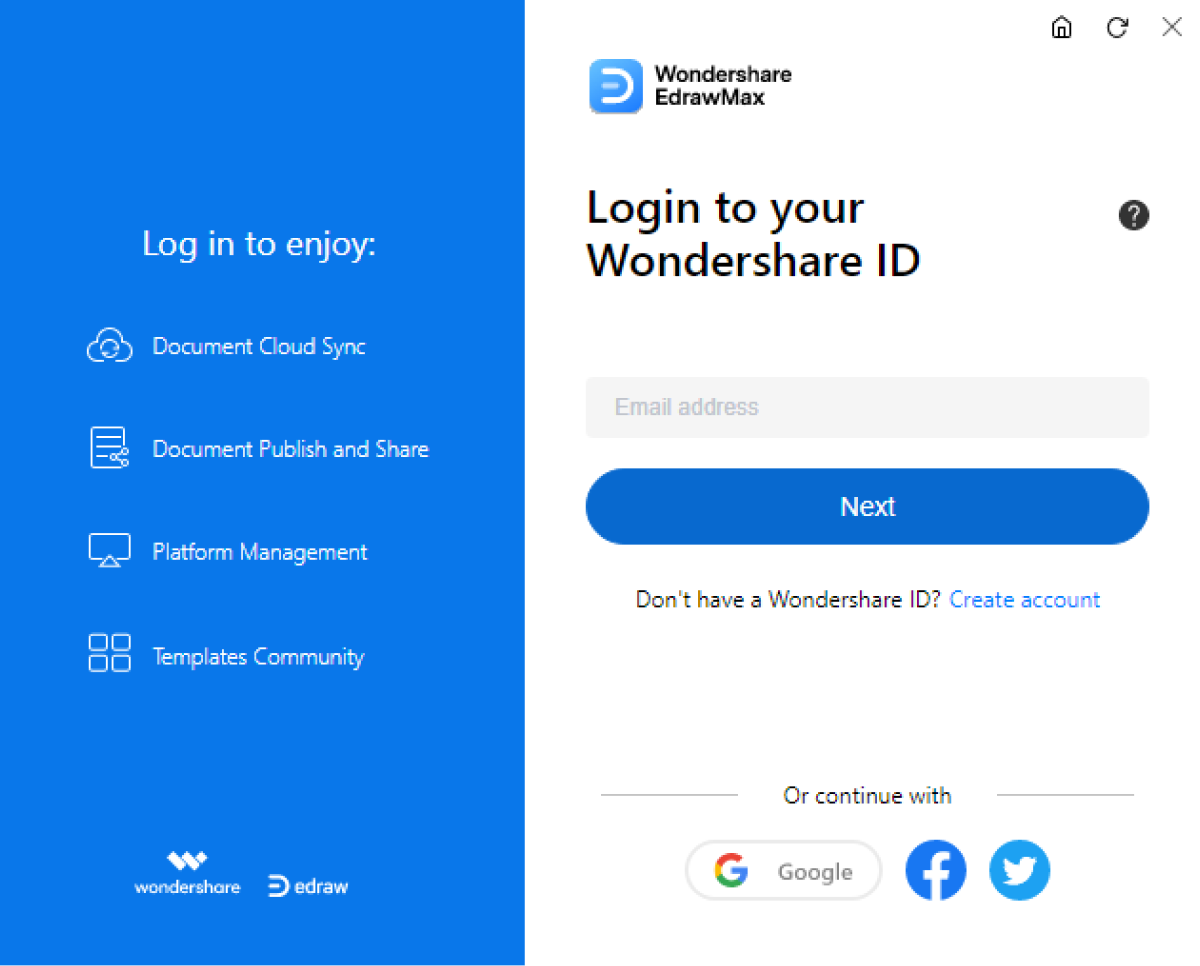 Step 3: Let's start with creating an organizational chart from scratch. For this, you don't need to choose any particular template. Tap on the "New" option from the left menu, and hit the "Blank Drawing" button. Doing this will open an empty window on the canvas.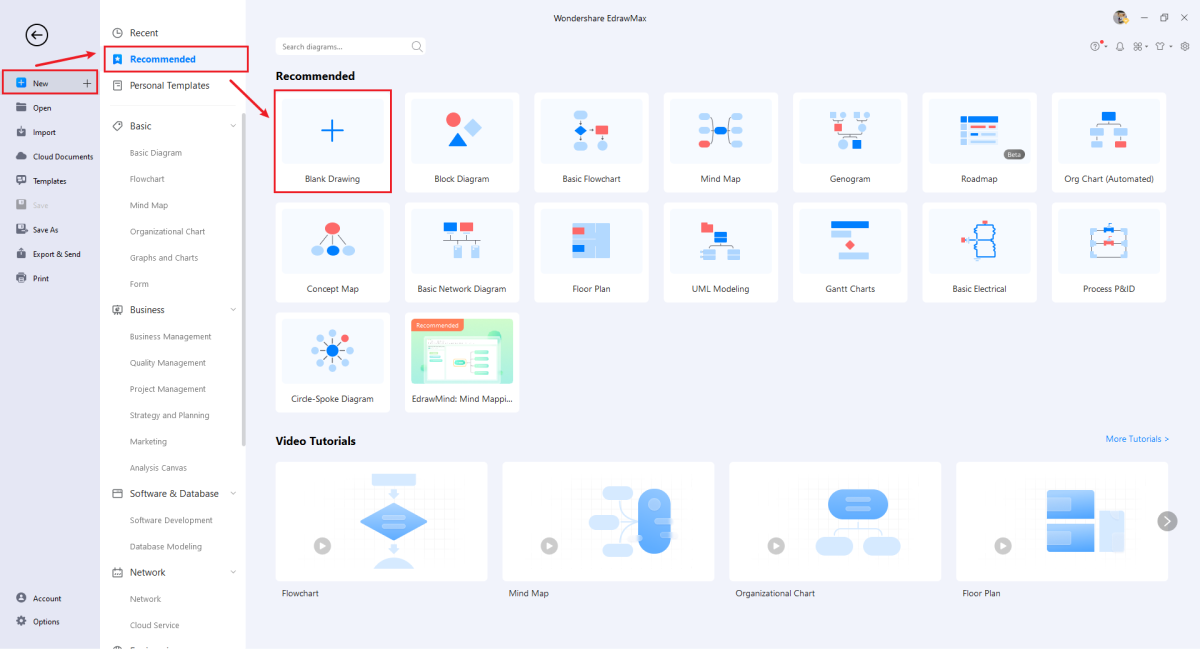 Step 4: It is time to look for the shapes or symbols you need to create an organizational chart. For this, tap on the "Symbols" option and choose any specific symbol or shape that suits your needs.
Step 5: This step is about connecting shapes and symbols with each other to complete the drawing process. Use text boxes to assign different text to different shapes, as shown below.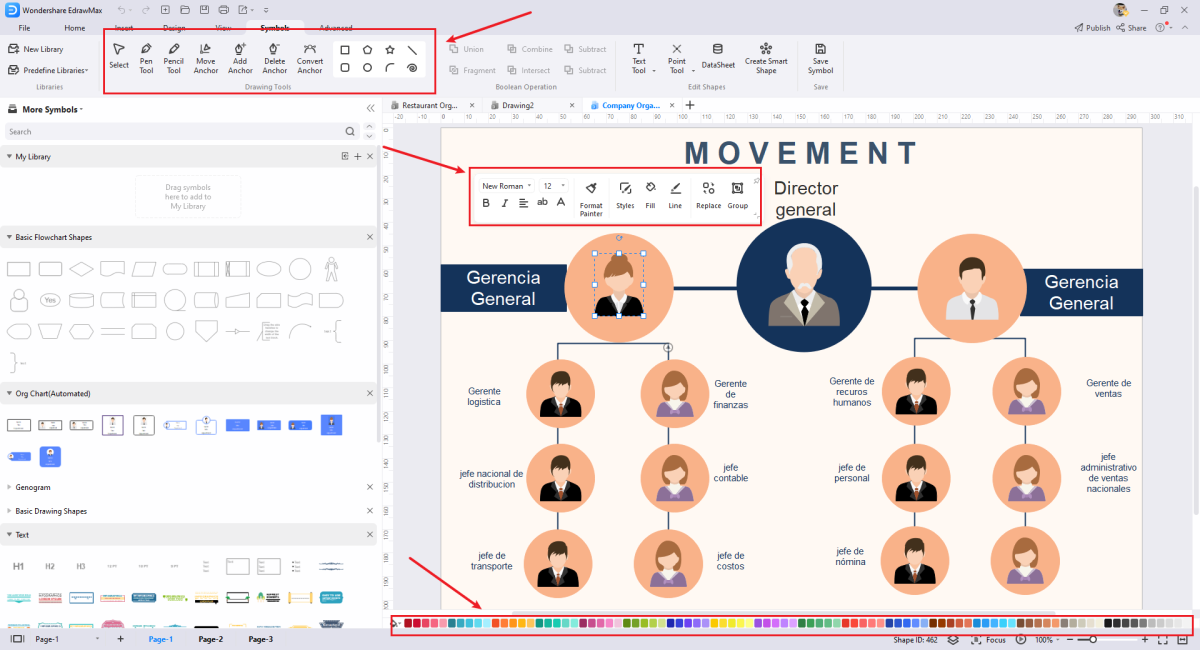 Step 6: Once you create the complete chart and are satisfied with it, go to the "File" menu, and tap on "Export & Send". Now, choose the desired file format to export the final chart version of your org chart. The top file formats EdrawMax supports include MS Excel, MS Powerpoint, MS Word, PDF, PNG, HTML, SVG, Visio, and JPG.
The above steps are for creating an organizational chart from scratch, as stated earlier. The good news is that you can also use built-in org chart templates to save your precious time. For this, all you need is to choose a suitable template and edit it according to your needs. It is a perfect way to draw your chart in no time.
Note: Don't forget to watch this video for a detailed guide to creating your org chart more conveniently.
4. LucidChart vs. EdrawMax: An Honest Comparison
LucidChart and EdrawMax are great tools for creating organizational charts for any business. Both offer a huge collection of shapes and symbols to make effective, efficient, and attention-grabbing org charts within a few minutes. However, there are certain areas where one tool gets priority over the other. The table below highlights a few areas to compare EdrawMax with LucidChart.
Parameters
LucidChart
EdrawMax
Supported Operating Systems
Windows, Mac, Linux, Online
Windows, Mac, Linux, Online
Interface
Easy to use
Easy to use
Collaboration Features
Good collaboration for free
Paid collaboration features
Import and Export
Multiple formats available
Multiple formats available
Web-Based Application
Yes
Yes
Video Tutorials
Available
Available
Free Trial
Available
Available
Language Support
7 languages
10 languages
Active Users
More than 15 million
More than 15 million
Price
$7.95 per month (individual)
$27 per month (team)
$55 per month (enterprise)
$99 per year (subscription plan)
$198 (lifetime plan)
$245 (lifetime bundle plan)
5. What Do Users Say About These Tools?
G2 is a well-known website where people from around the world share their views on specific products or services. Let's look at what this site has to say about LucidChart and EdrawMax.
On G2, Wondershare EdrawMax has received 61 reviews so far, and the overall rating is 4.3 out of 5.0. 44 out of 61 people have given this tool 5 stars, which shows that most users are happy with what EdrawMax offers.
On the other hand, 1961 users have shared their feedback about LucidChart. 1527 out of 1961 users have given this web-based tool 5 stars. The overall rating is 4.6 out of 5.0. It is a clear indication that LucidChart is meeting the expectations of a huge number of active users.
Let's look at some recent customer reviews on both diagramming tools.
| LucidChart | Wondershare EdrawMax |
| --- | --- |
| "I have been using it for about three weeks and have created three fairly detailed diagrams. I have found it easy to learn and have gained some efficiencies in my work" | "The interface is minimal and easy to use, and the import and export friendly software with any source software." |
| "So far, I have only used it (Lucid) for drawing and editing flow charts, and I have to say LucidChart is the best chart drawing app I have used in 20 years." | "Drawing plant unit operations and flow sheeting are awesome" |
| "The UI is so simple and clean. I have tried other diagramming tools like Visual Studio, but Lucichart outperforms them by far. When trying to organize different objects in a diagram, everything moves really smoothly. It has definitely helped me produce high-quality diagrams for my job." | "Best diagram software for flowchart, org chart, and more. The intuitive design of the software with good components blended to make user-friendly and ready-made templates for ease of use." |
Though EdrawMax has less number of reviews on G2 than LucidChart. But if you look at the customer reviews of both tools as a whole, you will see that the users of both LucidChart and EdrawMax are happy (apart from certain areas) with what they get from them, which proves that EdrawMax is a great alternative to LucidChart.
6. Final Words
LucidChart, without a doubt, is a tremendous web-based utility you can use to create not only a LucidChart org chart but also a wide range of other diagrams, including Venn diagrams and mind maps. You can use a pre-built template to create your chart, and creating it from scratch is also possible. LucidChart is currently operating in 180+ countries worldwide.
If you are looking for a wonderful alternative to LucidChart, your search ends here, as EdrawMax has everything to offer that you are looking for. It comes with hundreds of built-in templates and thousands of shapes to make org chart creation easier and simpler. It is available in ten different languages and is helping more than 25 million people across the globe with their diagramming needs.
Related Articles